A Winter's Tale
I last visited Rovaniemi in 2015, to take part in the eponymous fatbike race and had a fantastic time. Not least because I got to ride in ideal fatbike conditions, something we can so rarely do in the UK.
This Christmas I revisited Rovaniemi but, as I would only be there a few days, I had to leave my trusty Surly Moonlander at home. Hmmm.
A quick online search revealed that fatbikes have really taken off in Rovaniemi over the last few years. So hiring a bike would be a viable option. Now we're talking!
Now is the winter of our discontent…
If you've been following the Lapland weather patterns this year (as one does) you'll have noticed the later than normal arrival of the usual snow and sub-zero temperatures.
The river that serves as the start, and first section of the race series, was frozen over but all over town, signs warned people to stay off the thin ice. As I only had limited time, and with all of the riding areas I know being off limits, I decided to enlist the help of some local experts.
Having seen some awful rental BSO fatbikes rolling around town, I decided to visit Roll Outdoors. Their website promised the latest Canyon and Cube fatbikes and a whole host of route options. This was more like it.
I hooked up with co-founder Johannes, to discuss important stuff such as the sort of terrain I wanted to ride, my riding ability and fitness level. Taking the prevailing conditions into account, he recommended a route around Ounasvarra, taking in the summit of Tottorakka. It had seen fresh snow and featured singletrack and technical sections….uh oh.
Next came the most difficult decision, which bike to choose! While the promise of a techie descent made the Cube Nutrail with Blutos tempting, I opted for a Canyon Dude. The NX Eagle 12 speed gears, and an all carbon frameset, made this a truly lightweight ride – at least from a fatbike perspective.
As Johannes was nursing a nasty cold, his business partner and friend Heikki would be my guide.
Call of the Wild
Rovaniemi is right on the edge of the wilderness so we could ride to the forest from the Roll Outdoors bike garage. After crossing the iconic Lumberjack's Candle Bridge (Jätkänkynttilä), within minutes we had reached the trailhead and were riding through fresh snow.
Unlike UK slush, the snow is dry and powdery and you can see all the individual flakes. Tyres might pick up a light dusting, but it doesn't clump or stick.
Before long we reached a twisty section of single track through the trees. The Canyon seemed to wash out on every corner, as if the tyres were too hard. Heikki, a smooth and capable rider, let me catch up to see how I was getting on. After a while, it slowly dawned on me that in Finland, brakes are configured 'Euro style'. Following this revelation, the Dude starts to hold its line on the bends. Now I'm not leaning on the front brake, things are much better.
A prolonged climb criss-crossed through dense woodland. All the tree branches are heaving with snow. We stop at a trail fork and Heikki draws my attention to a bird call. It can't be far from us. The snow dampens all sound and the forest is deathly quiet so it had to be close.
Heikki goes on to say this is his home trail and 5km further, along an alternate path, we had reached his house! Jealous? Me?
The trails were practically empty. Apart from a couple of dog walkers, a cross country skier and a few nordic walkers ,we pretty much had the forest to ourselves.
We followed a swage of singletrack that contoured a steep slope before taking on a steep switchback. Then, popping out from the treeline, we reached the summit of Tottorakka. With the temperature comfortably below zero, we took advantage of the summit shelter to slurp down some hot lingonberry juice (what else?!) while Heikki pointed out the highlights of the scenery. Despite the cloud we could see for miles.
It's not wise to hang about in these temperatures so, after a brief stop, we hit the trails again. Back into the trees we had the choice of two ways to the bottom. On the right was a rocky descent called The Rollercoaster. Heikki explained that there was just enough snow to hide obstacles, but not fully bury them so it was best avoided this time round – exactly the sort of local knowledge that makes a good ride into a great one.
The alternative trail was no poor relation though. The descent was both of us foot out, carving great roster tails as gravity did its thing.
It is almost impossible to get your bearings deep in the forest and without warning, we were at the river! I politely declined the offer of a winter swim as we pass the designated bathing area. Yes it had its own pontoon and a tempting hole punched through the ice but the prospect of coffee and cake was too great!
Winter is not a season, it's an occupation…
Ride over, we headed off to the Koti Café. Over a Kahvi and Kakku (Coffee & Cake natch!) I chatted to Johannes about Roll Outdoors.
How long have you run Roll Outdoors?
Roll outdoors made its appearance on Instagram early in 2016, we tested routes towards the end of the year and after good feedback on the rides we were up and running fully during 2017.
Has the Roll Outdoors team always lived around Rovaniemi?
Both Heikki and myself are Rovaniemi, born and raised. I moved south to study Industrial design, and that took me from Finland to Sweden and Norway. After many years away I was happy to return with my family to Rovaniemi. I was running the IT side remotely from my laptop but nothing beats joining the team full time on site! Kuutti, the newest member of the team hails from Helsinki but the lure of Rovaniemi was too much and he loves it here!
What do you enjoy most about guiding?
Of course being outside and riding bikes is great, but the best part is getting to meet so many amazing people from all over the world. The satisfaction felt when you've helped someone have a holiday they won't forget, energises me and gives me a real buzz!
When did you discover fatbikes? Were you road or mountain bikers before?
Actually, back in the late 90's Heikki and I met snowboarding! We enjoyed the back country lifestyle and hanging out in the trees and on the slopes. While we'd had mountain bikes as teenagers, it was only then we got serious. We needed something to do in the summer! We hit on the idea that we could offer mountain bike excursions in the off season. Heikki was the first to buy a fatbike. After riding his we both saw the potential for tourists visiting Rovaniemi and that we could offer year round biking tours.
Of all the amazing riding opportunities within Lapland, where is your favourite riding area outside of Rovaniemi?
Right now we are both really into riding the Urho Kekkonen National Park. It's amazingly beautiful and has so much fun riding in the summer. For winter rides the trail network around Ylläs is hard to beat. With over 100km of groomed trails on hand and numerous cafés to fuel up in. It's a one of a kind paradise!
How do other trail users react to fatbikes in Lapland?
Mostly they are just interested in them! Of course, it's all trail etiquette and how we behave when we meet. We always slow down, smile and leave plenty of space. Skiers usually have their own trails marked out so we rarely encounter them.
Would you rent one of your bikes to someone entering the Rovaniemi 66/150/300 race in February?
Yes! In fact we have at least two racers using our bikes in the 150 in 2019.
What plans do you have for the future with Roll Outdoors?
Easy, to be the best MTB guides in Scandinavia! We have in place plans to expand into some super secret areas in Lapland. Further afield, we are looking to offer cross-border rides into Sweden and Russia. When the snow melts we have an extensive network of gravel forest roads, we'd like to become a hub for Fatbikers, MTB, Gravel, and even road riders!
I left Johannes and Heikki to get the bikes ready for their afternoon clients, a real shame for me as I could have talked bikes with them all day! It goes without saying that if you want to try fatbikes in Santa's back yard, you really should call in on Roll Outdoors!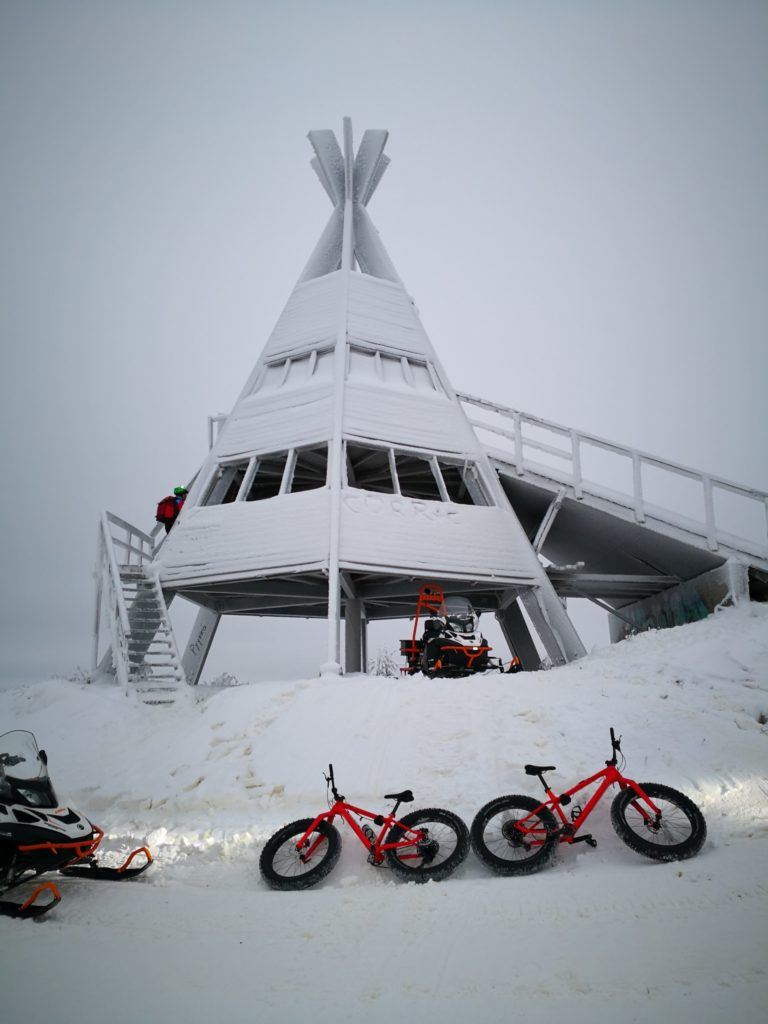 Last modified: 30th December 2018