The brief was simple. Build the most capable and fastest gravel bike possible. The type of bike you'd pick for hammering the 200km Dirty Reiver with the sole purpose of getting your best time possible. Load lugging and versatility were low of on the agenda. Speed the number one priority.
Frame
We centred the build around the stunning new Cervelo Aspero. The marketing strapline 'haul ass, not cargo' said all we wanted to know – this frame was going to tick all the boxes on our design brief. The Cervelo's combination of low weight and fast but comfortable road riding position and short wheelbase, has quickly made the Aspero a firm favourite for speedy gravelluers.
After hours of deliberation, we struggled on making a colour choice. The highly delectable teal Aspero was on an indefinite back order and Racing Gold was instantly dismissed as too bling. Which left us with one remaining option – Grandad's Rover Burgundy. However, the colour is growing on us even if it doesn't instantly shout racer.
Not just for gravel
The Cervelo Aspero takes the brands expertise of making ultra-fast road bikes and applies it to the gravel sector. It is one of those bikes that encourages you to go flat-out fast everywhere. Remarkably, it is no slouch on the tarmac. Set it up with some slicks and the only limiting factor to the Aspero is the gravel gearing. Fit a larger chainring and nothing will stop this gravel missile causing mischief on the Sunday club run.
Cockpit
After contemplating the idea of a full carbon cockpit, we opted for the stiffness of alloy bars to help on reduce flex in those tough, out of the saddle efforts on the climbs. Ritchey delivered a carefully curated selection of components which they picked after reading our project brief.
The flared Ritchey Butano WCS is the perfect gravel racing bar, with a 12 degree drop flare and 4 degree sweep on the tops. More aggressive than the venerable adventure favourite, the VentureMax, but less full-on than a cyclocross racer bar. For the finishing touch, the bars are wrapped in Ritchey WCS Race Gel bar tape. This tape features gel padding for extra cushion and comfort, along with a super grippy texture that even works well in wet conditions.
Keeping the Butano bars firmly clamped to the frame is Ritchey's WCS 220 84D stem in 90mm. There's not much to say about the 220, it does everything you want and nothing that you don't. It's strong, light and looks proper smart on whatever bike you fit it to.
Drivetrain
The simplicity of a 1x system was paramount. Shimano's GRX gravel groupset would be an obvious choice, but the temptation of electronic shifting was too hard to resist. But when it comes to setting up, the cabling spaghetti of Shimano's Di2 simply can't compete with SRAM AXS. The 100% wireless connectivity makes it a doddle and you can be rolling out of the garage in no time.
As this Aspero will see use in places with real hills, we wanted more range than the paltry 10-33t road cassette offers. Luckily, SRAM AXS opens up huge range options by allowing you to mix road and MTB components. SRAM Force AXS shifters and cranks were combined with an Eagle rear mech and 10-50t cassette. It's what is known in the bike world as a Mullet. With a 42t chainring, we knew we'd have enough gears at both ends of the range for almost every scenario.
Seat & Seatpost
Although there is a growing trend for dropper posts on gravel bikes, there's little need for them for flat out gravel racing. The Cervelo Aspero is 'internal dropper ready' so you can route the cabling internally without ruining the clean lines.
Ritchey supplied their excellent WCS Link Flexlogic carbon seatpost. The carbon layup is designed to give just that little bit extra compliancy, perfect for long distance gravel grinders. I prefer a smaller frame so I can have more seatpost exposed as this gives a little more flex and comfort. It may look a little gawky, but its worth it on a long ride!
Mounted to the post is a WTB Silverado 142 saddle. It's a personal favourite due to it's low weight and comfort – it has titanium rails but a flexible Nylon base which makes a huge difference when spending hours in the saddle. I'm 'saddle sensitive' and finding one that works has taken a long time. In the best possible way, WTB's saddles have been totally forgettable for me.
Wheels and Tyres
Width is the new king in the world of wheels. For our Cervelo Aspero we opted for the widely praised Scope Cycling O2 wheelset. Weighing just shy of 1,400 grams, the O2 feature exceptional build quality and durability. With an internal diameter of 25mm, they'll fatten up the profile of any tyre mounted to them.
For tyres, we once again turned to WTB as what they don't know about gravel tyres isn't worth knowing. The new 700x44c WTB Byway feature a slick centre-line for fast rolling and just enough side knobs to hook up in the corners.
You can't see them, but mounted inside the Scope O2 rims are a pair of Cush Core Gravel/CX tyre inserts. These lightweight inserts allow you to run lower pressures to help reduce fatigue and improve cornering grip. The reduction in trail buzz is immediately noticeable as soon as you hit a rough fireroad and at only 110g each, is a small price to pay for extra comfort.
Pack Light
Store all those bulky items like tools, tubes and food in a jersey pocket and you'll be fidgeting all the way to the finish line. Instead, use a top tube bag like this Miss Grape Node and lightening the load on your back.
There are loads of bag options now, but the chunky and easy sliding zipper on the Node is by far the best we've found. The elasticated side pockets are also useful for stashing used food wrappers or items you need to keep close to hand.
For events like the Dirty Reiver which feature a bag drop, it is pointless to load your bike up with bags containing clothes for all eventualities. Dress accordingly for the weather on the day and ride light. An ultra-lightweight rain jacket like the 7mesh Oro is the perfect backup garment to stash in your jersey pocket. Not only is it an excellent rain-proof, its also a brilliant wind cheater for those chilly descents.
Bottle Cages
There's nothing quite as infuriating as watching your bottle jettison off the bike thanks to a limp bottle cage. So a pair of strong and reliable cages was high on the wish list. And there's hardly a better cage than a King Cage. Unless it is a custom painted King Cage…
These limited edition 'stealth black' King Cage Iris cages are only available through Manchester based gravel experts, Keep Pedalling. They send away small batches to be painted in Cerakote in deepest, darkest black. And wow, they don't half look good! Lighter cages are available, but nothing grips like a King.
Unintentional Weight Loss
Our Cervelo Aspero has also undertaken its own voluntary weight-loss scheme. Claimed weight for the 56cm frame is 1,110g, plus 450g for the fork, but our bike decided it could shed even more.
The original chainstay protector peeled off after the first ride and various plastic covers on the frame have either fallen off or made a failed escape attempt. It's disappointing for a premium frame to be mired by small issues like this. Luckily, Lizard Skins took pity and sent over a small frame protector in carbon effect finish, which looks a lot more robust than the original.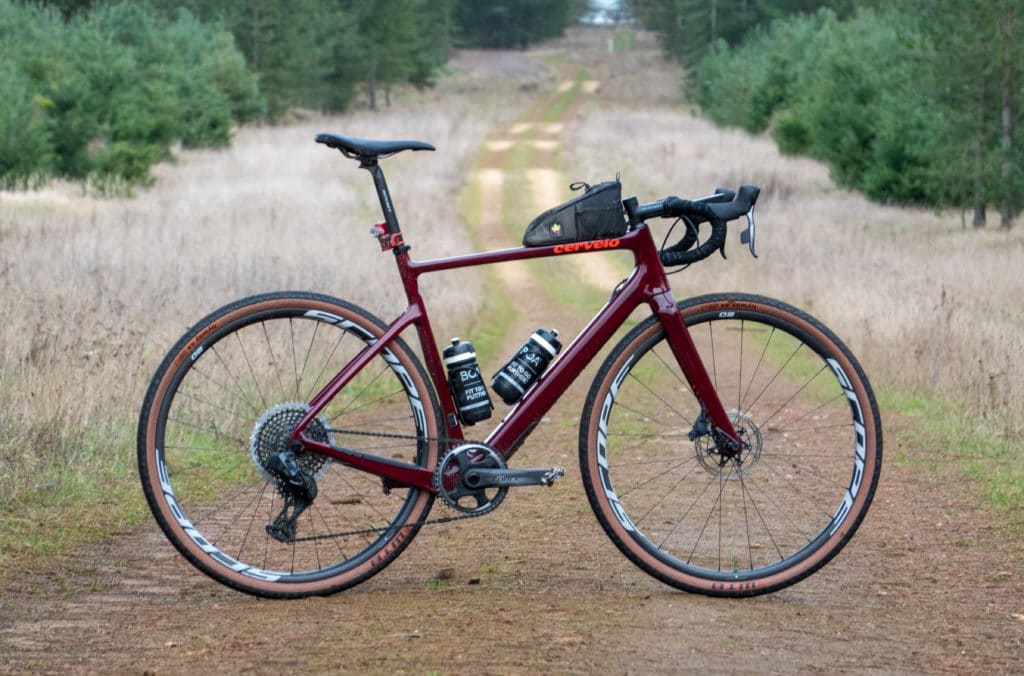 Cervelo Aspero – Project Gravel Racer – Full Spec
Rough Diamond
How does it ride? As you'd expect, the end result is an extremely fun and fast gravel bike! Hands down, the SRAM AXS makes this build feel super special, the Ritchey cockpit suits the concept of a 'gravel racer' perfectly and our chosen wheel and tyre combination makes short work of hardpack gravel roads.
Given the opportunity, how would you build your dream bike? Drop us your thoughts in the comments below.
Last modified: 9th December 2019