New for spring 2020, Recon 3.0 is Specialized's latest mountain bike clipless shoe design. Crafted with the XC and gravel rider in mind. Big grip, BOA closure and a flexy sole, have we got your attention?
Give the 'gravel rider' what they want
Where MTB shoes have typically been the choice of drop bar dirt enthusiasts until now, you'll find a few brands currently launching gravel-specific shoes. You see the thing is, not all gravel was created equal. From the Belgian Waffle Ride-winning Trek Madone set-up to multi-day bikepacking across rocky mountain ranges. Suggesting one gravel shoe would suit all is like expecting a cross country rider to race in flat downhill shoes.
Okay, perhaps I exaggerate, but you get the jist. The perfect shoes for a flat-out gravel race on compact, dusty dirt might just be road shoes. For technical riding, some will prefer not to be clipped in at all. But what about in-between?
Personally speaking, a significant proportion of my gravel riding isn't riding at all. Route recces that lead to almost impassable trails, tortuously steep hillside push-ups or simply tottering around cafes, walking is a part of it too. That's what makes shoe selection so important in this almost multi-discipline niche; we need design that performs well under multiple different scenarios.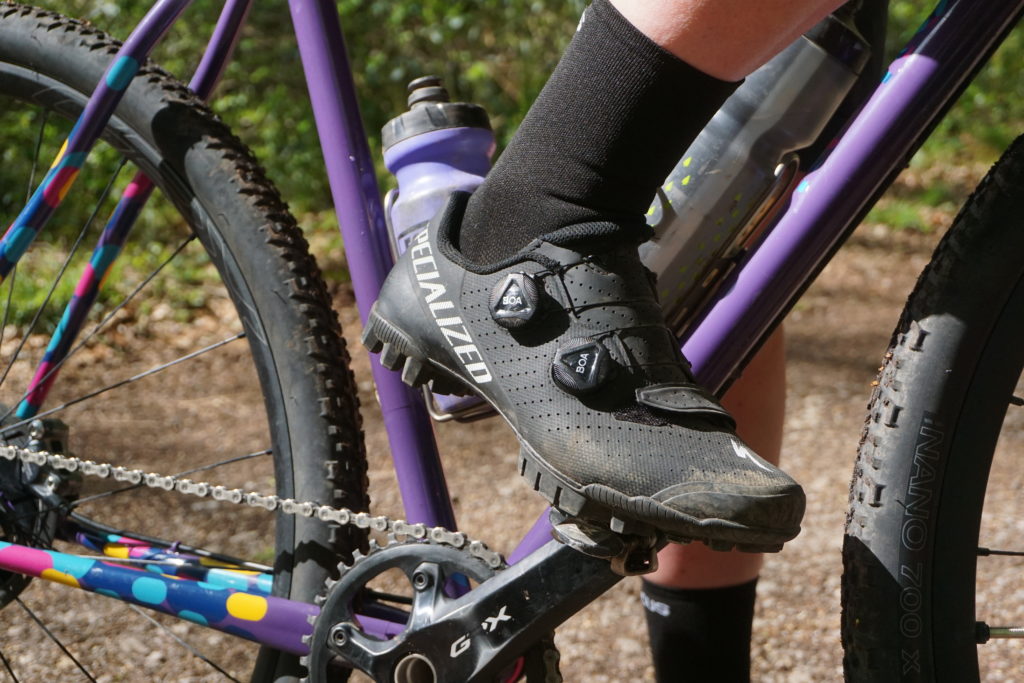 Specifics
Chunky soles, two boa dials and a velcro strap for closure and a perforated upper; introducing the Specialized Recon 3.0. Built on the success of their S-Works Recon shoe, the Recon 3.0 is a revision at a more humble price point of £210, compared to the former at an eye-watering £340.
It's no secret that Specialized invest a lot of time investigating fit; their 'Body Geometry' products are a result of extensive research involving physicians, engineers and a test group of riders. The Recon 3.0 shoes feature the Body Geometry sole and footbed, claimed to optimise alignment through the hip, knee and foot, while optimising power.
The upper is predominantly in one piece, welded rather than sewn, and extensively perforated across the inner and outer foot, toe box and tongue. A reinforced toe rises up from the rubber sole, and the heel appears to be more rigid too.
The closure system consists of two L6-Snap BOA dials. You can tighten these very easily on the fly, but to loosen you have to release the whole dial and then readjust. Wires link these across the width of the shoe to two guides, plus a further guide clip on the tongue. At the toe end, a single velcro strap manipulates the width at the widest part of the foot.
The inner of the shoe is lined with a mesh synthetic material, padded at the heel and tongue but otherwise very thin and lightweight. The tongue inner is different; a bright blue XPEL mesh that's developed to aid water-shedding properties of the shoe, a technology derived from the S-Works model. The bright green Body Geometry insole features quite a pronounced metatarsal button.
Moving to the underside, a series of deep hexagonal tread protrusions at the heel, more shallow through the midfoot and then again at the toe and either side of the cleat are formed of Specialized's SlipNot™ (see what they did there) rubber. Up front, two removable flat studs allow you to fit toe spikes, if cyclocross racing is your bag. You'll find a central plate with a series of indentations for fitting two-bolt SPD cleats here.
Specialized employ what they call 'Carbon STRIDE toe-flex technology' in the Recon 3.0, where the sole of the shoe is stiff where you need it; i.e. where the cleats fit for pedalling power transfer, yet flexible enough to allow a natural step off-the bike.
Weight-wise, my pair of size EU 40 (UK 6.5) come in at 728g including cleats. They're available in a wide range of sizes from EU 36-49 (UK 3.5-15.5).
If you're interested in the Recon range, you'll find two more models below these S-Works and Recon 3.0, including the Recon 2.0 with a single BOA dial, priced at £158, and the Recon 1.0 at an affordable £90, fitted with three velcro straps.
On test
Fit and comfort
After replacing the original Specialized insoles with my own (I have especially high arches), it only took a couple of short rides for the Recon 3.0 to feel super comfortable. Of course, like that perfect pair of bib shorts, the ultimate shoes are so comfortable that you forget you're even wearing them; and I'm not far off that. If you choose to stick with the original insoles, it's worth noting that they have a very prominent metatarsal button. It may work for others, but for me it felt like I had clenched toes after a few hours.
I admit that I've been a BOA convert for a while. Having enjoyed some trendy lace-up shoes for a year or so, it makes you realise how quick and easy this closure system is. Especially when your hands are freezing or you need to make a small adjustment because your feet are swelling during a long ride and need a bit more space. Riding into more remote areas, I had initial concerns about what would happen if a BOA broke. So far the only incident I've had was a dial popping off after scraping it against a rock. It just popped straight back on again no worse off.
It's also worth remembering that BOA dials have a lifetime guarantee. Should you have any issues,  support is there. As this model of BOA dials have unidirectional micro adjust, it does take a fraction longer to loosen, but that's a sacrifice that I'd more than happily pay for a reduction in the cost of the shoe.
You certainly don't need to release the velcro toe strap to get in and out of the shoes; in fact after relaxing this to a more comfortable fit I have simply left this in place. The round toe box also gives plenty of space which I found to be really comfy.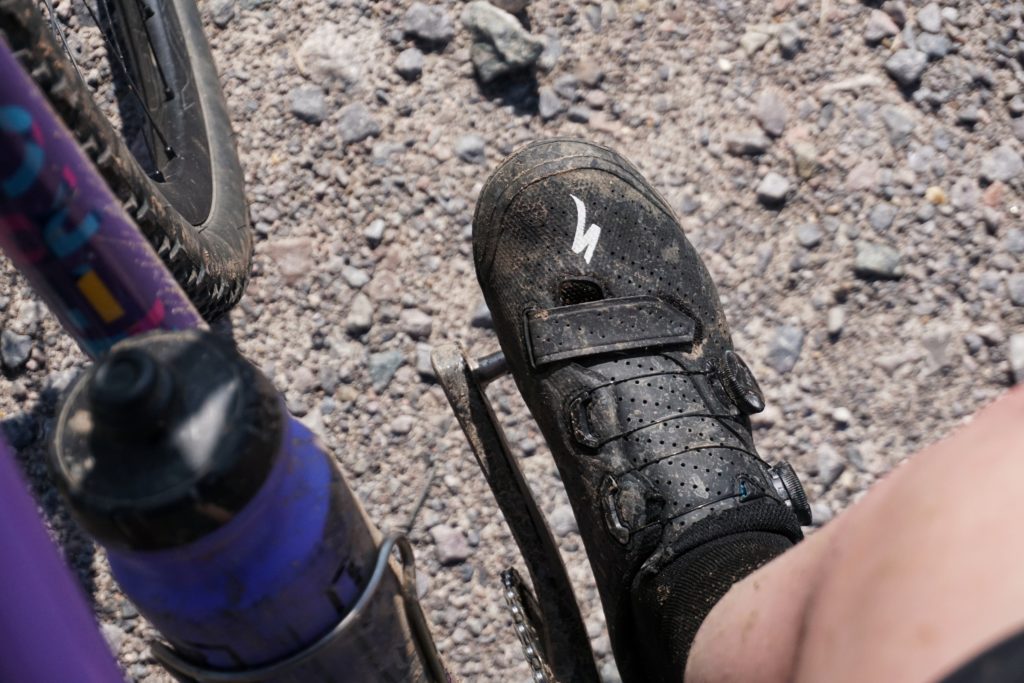 Grip
Undeniably, grip is one of the most important elements of an off-road shoe that's intended for use off, as well as on, the bike. I had high hopes as soon as I saw the honeycomb-like structures of rubber tread on the Recon 3.0. And I certainly haven't been disappointed. Unlike a few other models I've tried, the sole also has some smaller protrusions along the mid-sole. Looking at them now, I can see they've certainly seen some action too.
Whether hiking up an unrideable, steep bank or bimbling around the home workshop, they're both comfortable and planted enough to for walking. Part of this equation is the toe flex, which you're unlikely to find in comparable cross-country style shoes that prioritize power transfer and stiffness of the sole. In the Recon 3.0, the sole at the toe box truly is flexible, along with the upper (albeit that took a little longer to wear in), and teamed with a supportive heel cup, walking is no drama.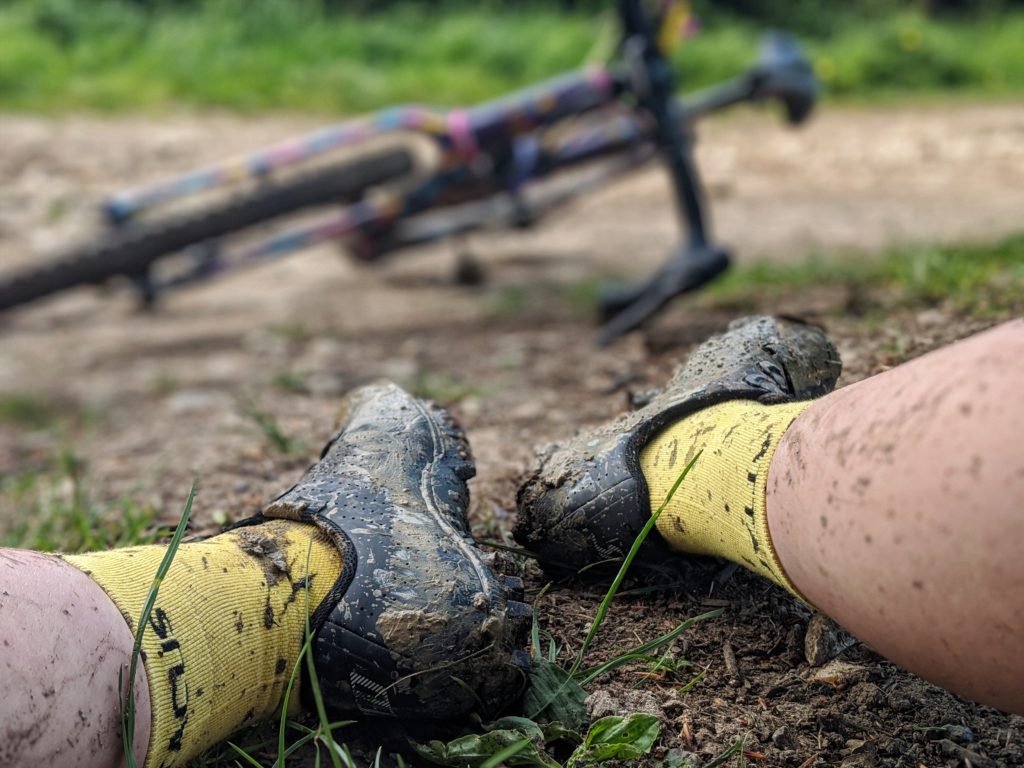 Robust
Scrapes and bumps are inevitable when pushing the limits of your gravel bike or hitting the trails on your MTB. Especially now shoes are one of the most expensive pieces of kit, we demand not only robustness but also durability.
While I honestly can't comment on the latter over great periods of time, I can certainly say that from the thrashing that I've given the Recon 3.0 over the last few months, they're certainly robust. The upper seems really strong without being bulky or inflexible. They're also well reinforced with a rubber toe and strengthened heel. So you don't damage them when you're kneeling down for trailside repairs.
At the end of all that, they're easy to wipe clean with a sponge when you're tenderly cleaning down your bike.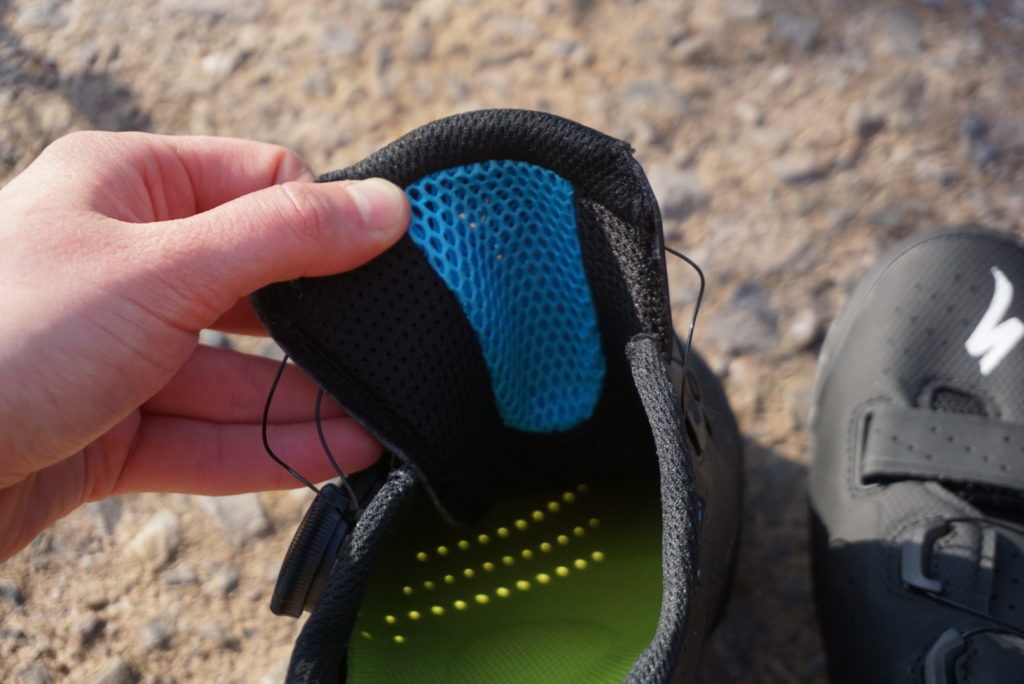 Fast drying
Winter puddles or remote river crossings; there's usually a good chance my feet will get wet during a ride. Rather than try to make a shoe that resists water ingress, Specialized have concentrated on making them as quick-drying as possible. Thin layers of inner and the mesh Xpel tongue help with this; after full submersion in the afternoon I found they were dry the next morning after a night at room temperature.
This is especially important for those multi-day rides where getting back into wet shoes the next day is pretty unpleasant. More seriously, it can lead to severe foot conditions. It's also this reason why I prefer to ride summer shoes year-round rather than boots in the winter; light construction means faster drying, even if you do get wet feet.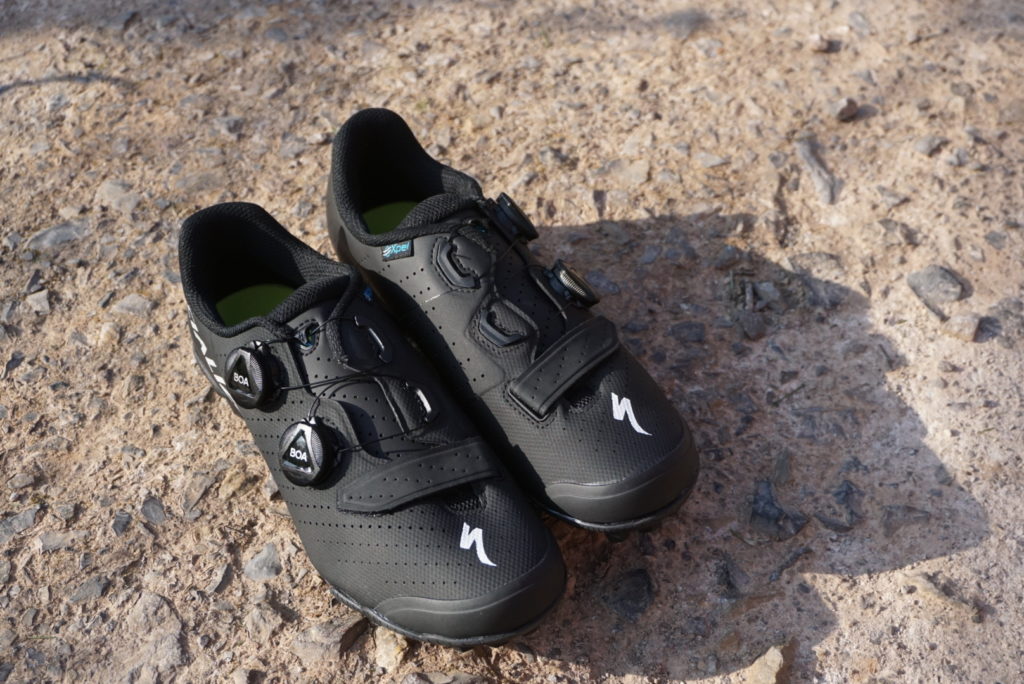 Aesthetics
Last in this list and probably also last on my ranking of priorities, the Recon 3.0 is a fairly simple style that also puts function over fashion. The Recon 3.0 is only available in the UK in black. I've noticed that in the US they also come in a two-tone red and two-tone turquoise colours.
For a black shoe, the branding is pretty obvious; the white Specialized squiggle on the toe for an aerial view and the wording across the outer foot and heel. Clever, but I'd prefer something more subtle.
Final details
It's evident that real thought has been put into the design of the Recon range. Indentations on the base plate for the cleats make them easy to match position over the two shoes. Holes for toe spikes mean that you can use these shoes in mucky cyclo-cross races too. One tip on that, though; if you intend to use spikes at any point, I'd slacken off and grease these bolts before wearing the shoes, as they will become damaged and harder to remove later without doing so.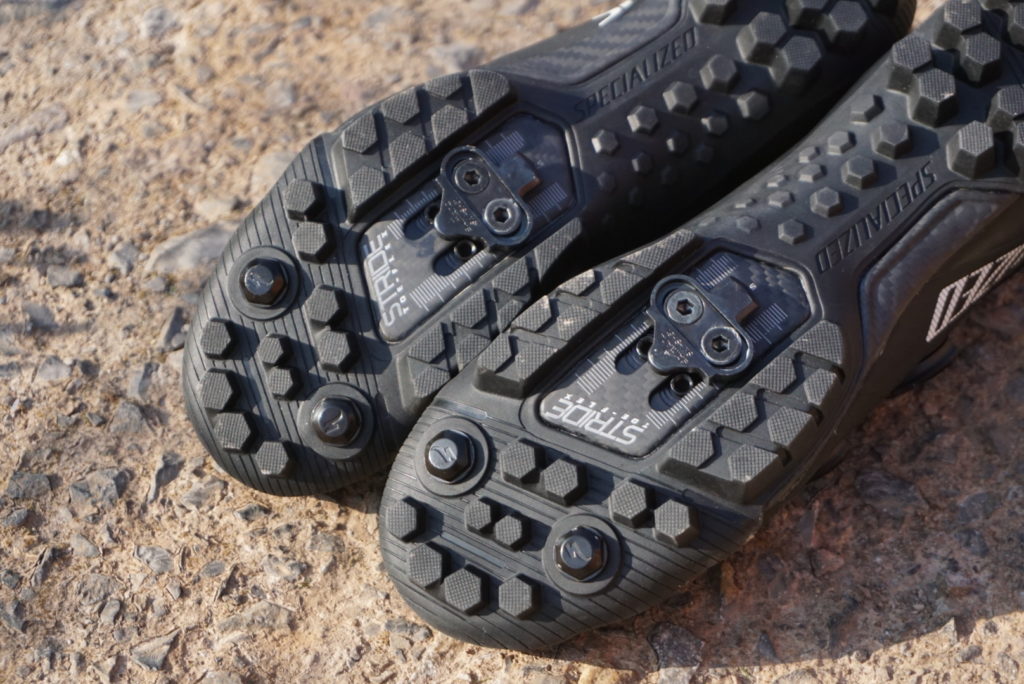 My verdict
To summarise; I'm impressed. Ticking off comfort, grip and sturdiness, the Recon 3.0 has all the trademark characteristics of an off-road shoe I'd be looking for. With a few other models in the range at different price points, I'd be curious to see how these compare.
I've struggled a little to find the negatives; the price would be my main grumble. At £210 they're right at the top of what I'd pay for a pair of off-road shoes. And at this price I'd hope they'd last at least a couple of years of hard use. I'd be interested to try the Recon 2.0 for comparison, with a single BOA dial rather than two, but saving £52 on the price tag.
The only other aspect that's not wholly to my taste would be the not-so-subtle branding. But that's really the last of my concerns and really doesn't affect the ride quality of the shoes at all!
Last modified: 6th May 2020