Indoor Training
Faced with the prospect of riding through the grimmest nights of winter my focus has naturally shifted to indoor training.
The indoor trainer – simply a tool to help you compare esoteric performance data as you race a bunch of strangers around Watopia or something a little more valuable to the adventure cyclist?
I know that the concept of 'turbo training' and fun are not natural bedfellows. I am going to break with convention however. While it was once an exercise in mental and physical fortitude, the development of the 'smart' indoor trainer has made turbo training a lot more fun. I even look forward to it sometimes!
So, what has changed, and what is the benefit for the adventure cyclist?
In a word – gamification
Gamification is the process of integrating gaming mechanics to something, to motivate participation, engagement and loyalty.
It is not the humble turbo trainer that has changed. It is the integration of software and the internet that has made all the difference.
By making the whole process more enjoyable, smart trainers encourage us to train where we used to slob out. It is still pretty much a solitary occupation but one that is far more enjoyable than it used to be. Service providers win because more of us use their service (and pay for it) more often and for longer. We win because we train longer, harder and more frequently.
This has to be the most rewarding, symbiotic relationship in cycling!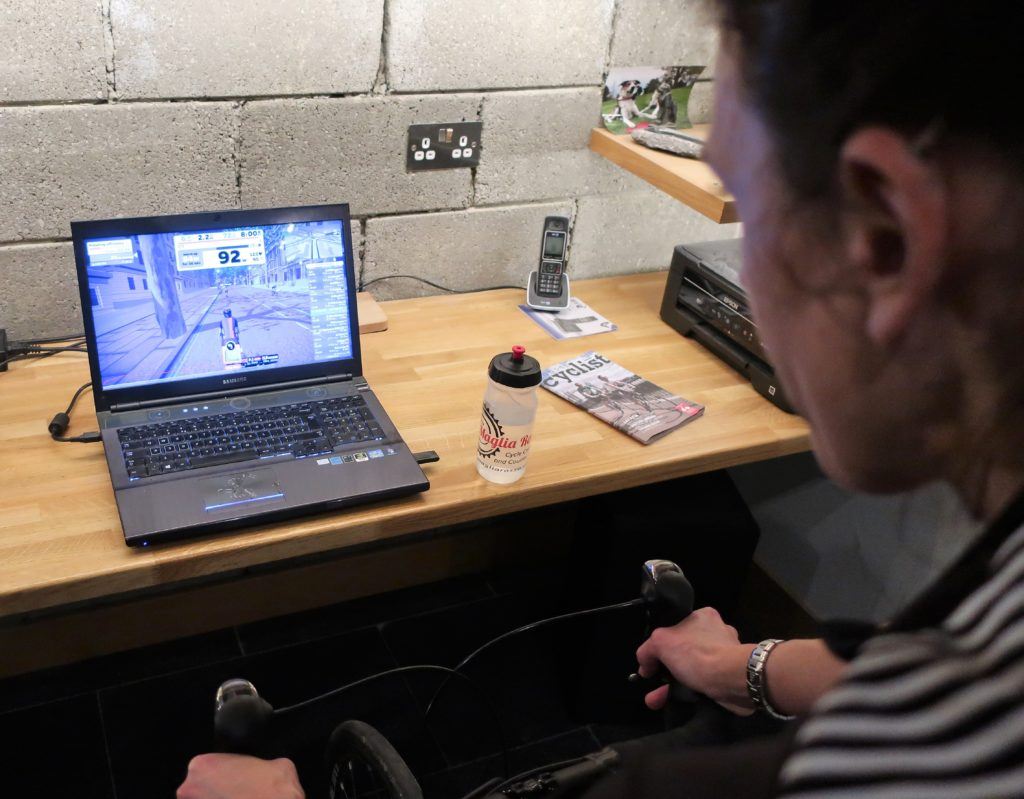 "It's not what you do, it's the way that you do it!"
Quite how you interact with your trainer and platform of choice is up to you. Many people use the smart trainer as a tool by which they can compare esoteric performance data with other riders, or their own, historic, records. This is probably a useful metric to monitor development, particularly if you race. To this end, users will naturally gravitate towards race oriented platforms and experiences.
Whether this has much relevance for the adventure cyclist is moot. For me, the primary objective of indoor training is to develop stamina and strength, not top end speed which is why I use it differently to say a road racer.
The point is, that instead of racing flat out, you can adapt the way you use the trainer to suit your own requirements. While I could spend a lot of time in the red zone, I prefer to ride for between an hour and an hour and a half, at a target heart rate. My basic stamina work is firmly grounded in 'real life riding' but my virtual miles make me stronger, for longer.
Neither option is wrong, but if you think that indoor training is for the hard core race crew, it might be time to think again.
Gravel Benefits
'Virtual miles don't count', or so many people tell me. After many years using smart trainers, I can confirm that virtual miles are not the same as real miles. If you are an absolute race animal on Zwift, it doesn't mean that come race season, you'll be a dominant presence in the peloton. Equally, if you adopt a similar approach to me, you won't be equipped to knock off the Tour Divide, or even Dirty Reiver. Virtual miles are different.
Accumulating virtual miles will make you stronger. I have found that they also help no end for climbing.
Among our little riding group, we can always tell who has been working on the turbo. They are the ones who power away up long drags, who storm through soft sand or who leave the rest of the group on the hard sections that seem to appear on every ride. They don't necessarily go that much faster than anyone else, they just don't slow down.
Simply owning a smart trainer won't make you fit. You have to devote time and effort to make an appreciable difference but, even within the adventure riding sphere, there is an appreciable benefit. Take the time, make the effort to build indoor sessions into your routine. You will reap the rewards in the end.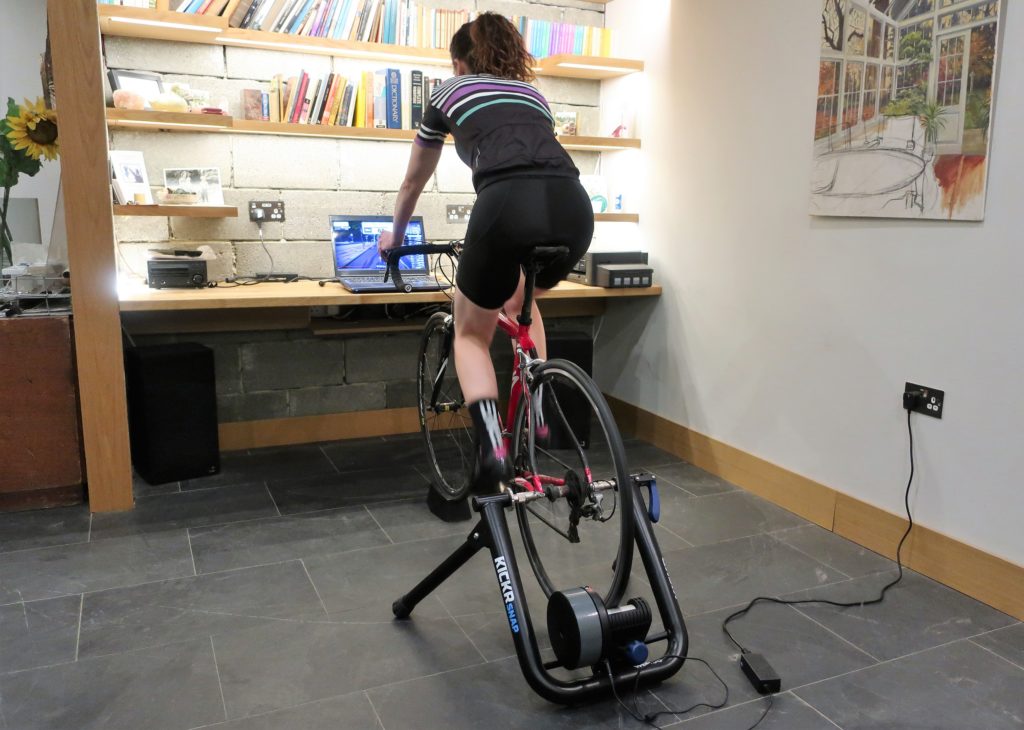 Hardware
Even using entry level equipment, equipping yourself with a smart trainer will not be cheap.
A base model trainer will put you back £500.00 for starters. Do not be put off by the entry level tag. For £500.00 you will get a robust and well sorted base unit. It won't be a direct drive trainer but you will get a really solid bit of kit.
This is just the beginning though. Most of these trainers will come with a standard 9mm QR fitting. Unless you have an appropriately equipped bike somewhere you'll be looking for a thru axle adaptor. Depending on the base unit you buy, this can cost anywhere between £50.00 and £100.00.
You can't really use just any old tyre either. You can immediately forget any ideas of using anything with knobs on it. In the trainer world, slick tyres are where it is all at. If you plan to use the trainer indoors (as opposed to the garage etc) then forget about using an old road tyre. The compound will be too soft and you will end up spraying soft, black rubber globules everywhere. They don't clean up easily either. Expect them to end up as greasy smears on the carpet. Believe me, you will not be popular! On another point, I have had more than one road tyre explode on me as heat builds up over long sessions.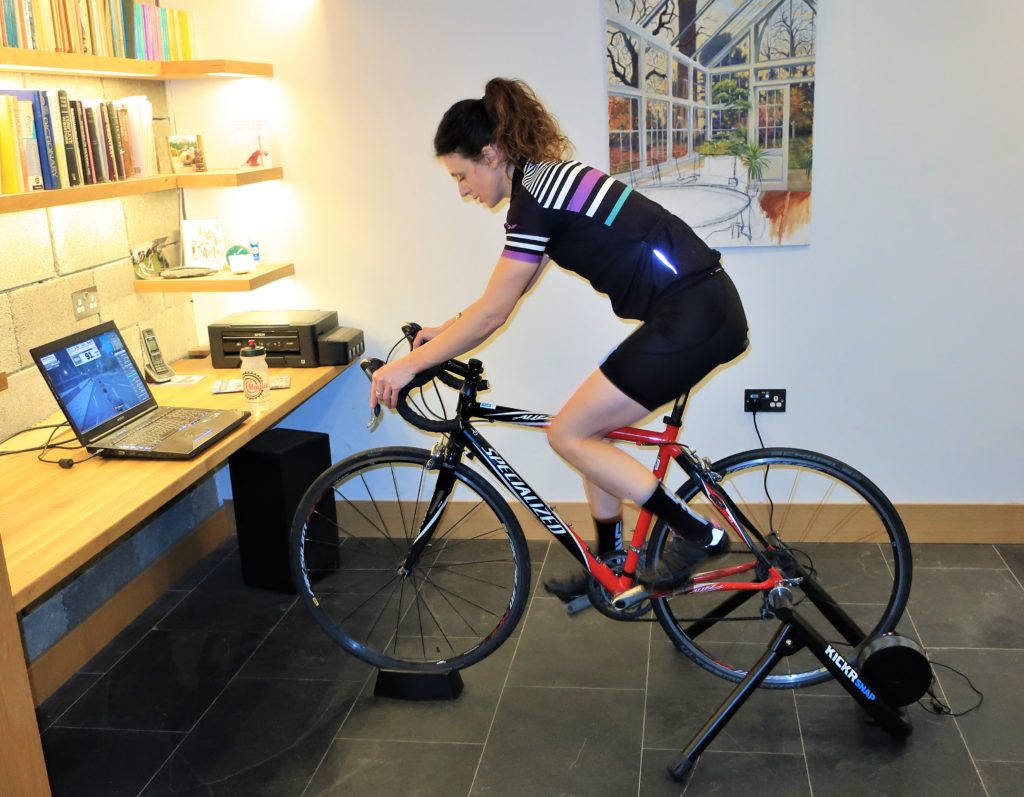 Trainer tyres are made from a very hard compound so they do not disintegrate. Expect to pay between £35 to £40 for a 700x23c tyre, depending on any special offers of course.
I have found it extremely useful to use a specific wheel and cassette for indoor training. It means you don't have to faff about swapping tyres all the time. Believe me, sometimes when you are a bit ambivalent about training or not, you will grab the smallest excuse to cancel a session. This makes it that little bit easier to just get on and ride!
A fan is almost as important as anything else. Train without one and you will be drenched in no time, even in the winter. And while we talk about sweating, some form of mat under the bike is a good idea.
Finally, it goes without saying, but you need some form of device, smart phone, tablet, laptop or desktop and a good internet connection. You also have to pay a monthly subscription for the service, whether it is Zwift, Training Peaks, Bkool or whatever.
So, there is a lot involved in this indoor training lark and it takes financial as well as physical commitment.
The good news is that, for all this financial commitment, you will get a decent experience.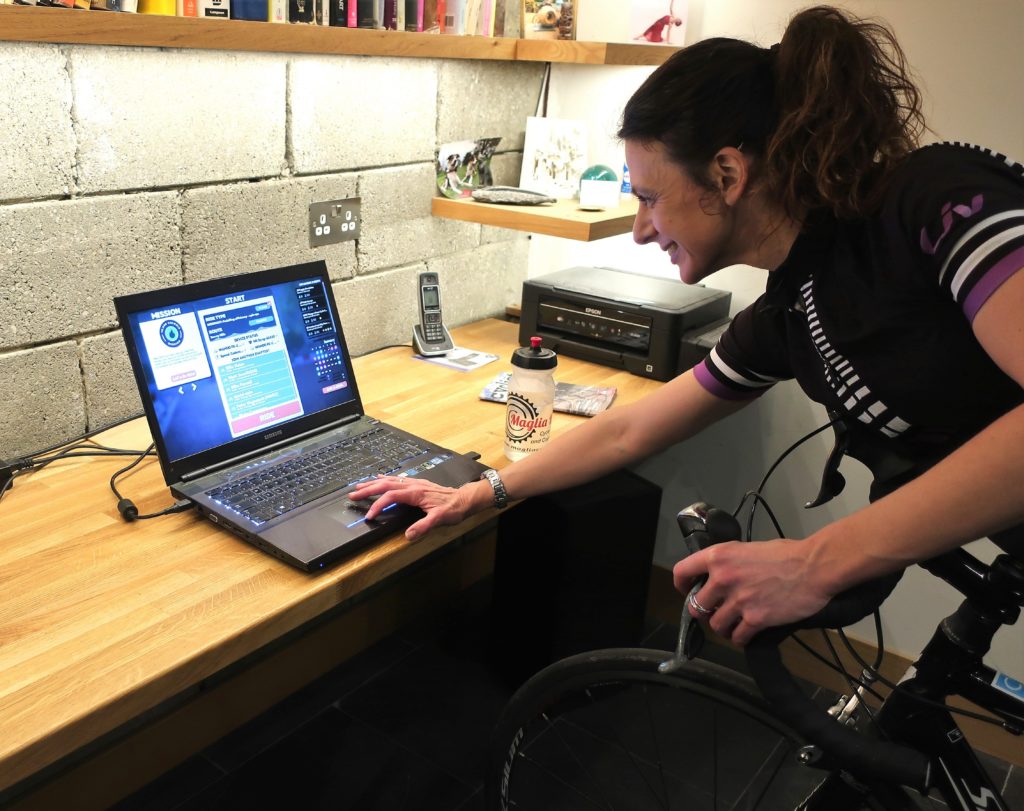 Wahoo KICKR Snap
We were offered a Wahoo KICKR Snap for this article. As a long term, smart trainer enthusiast, I was keen to see how it compared to others I have used, so I jumped at the opportunity.
In common with our editorial policy, I will not simply regurgitate technical data from the manufacturer's website. This can all be found here.
The KICKR Snap is a "wheel on" trainer, which looks very similar to the 'dumb' trainers of old. This isn't a bad thing, it just shows that no one has been able to improve on the original (basic) design.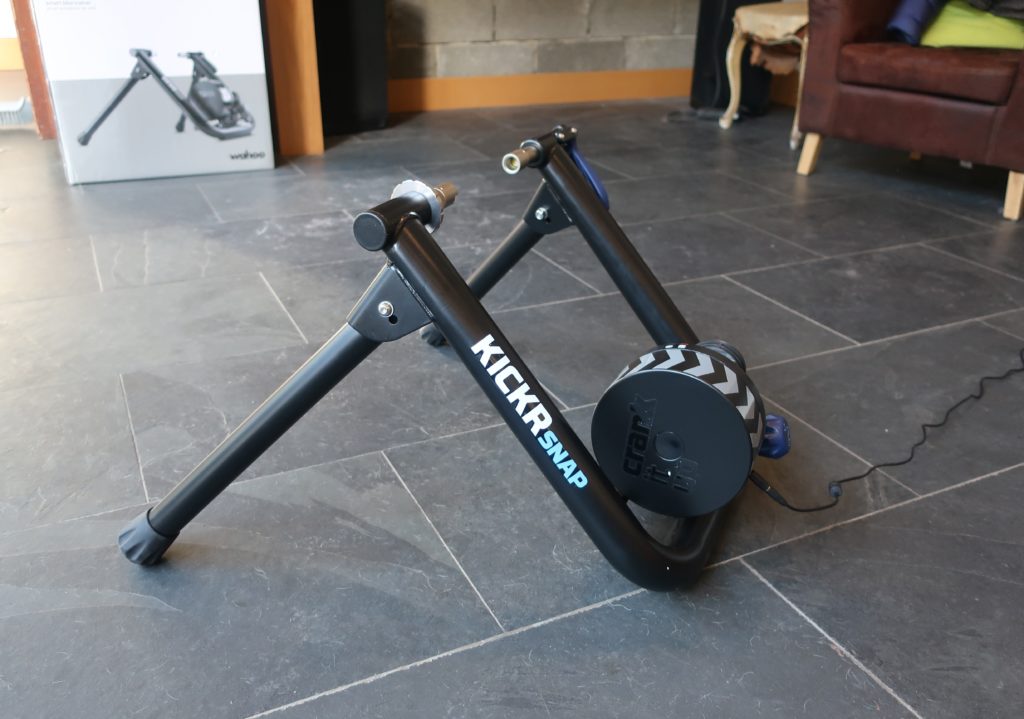 Setup
In the box, you get the trainer, a power unit, front wheel block, skewer and a very thin instruction booklet. In principle, the basic setup is pretty intuitive. If you need any help, there is plenty of guidance on Youtube.
Ideally, the next step is a "plug and play" exercise. It should be as simple as possible, taking the minimum amount of time. Once again, experience show this not to be the case, at least not for all trainers. First time around, set an evening aside to work through setup, firmware updates and so forth. You may not get any riding done.
The KICKR Snap was a perfect case in point. I followed the meagre instructions and failed to get the unit working. After a lot of trying, we established that the Wahoo KICKR Snap does not like Windows 7, we also struggled with a MacBook Pro. In the end, the only way we could connect with Bluetooth was via a Windows 10 laptop.
Once the computer and base unit started to talk to each other, we had more issues. While turning the pedals over gently at about 40rpm, the data readout said we were in fact achieving speeds of 55mph and more. In the end we resorted to an ANT+USB adaptor. The data output was more believable but our woes were not over yet.
To say the experience was frustrating is an understatement. It reminded me of my early days of computer gaming. You buy a new game only to find that you need a new audio or graphics card, and then a new motherboard to support said upgrade. Remember those days? Well this is how it felt.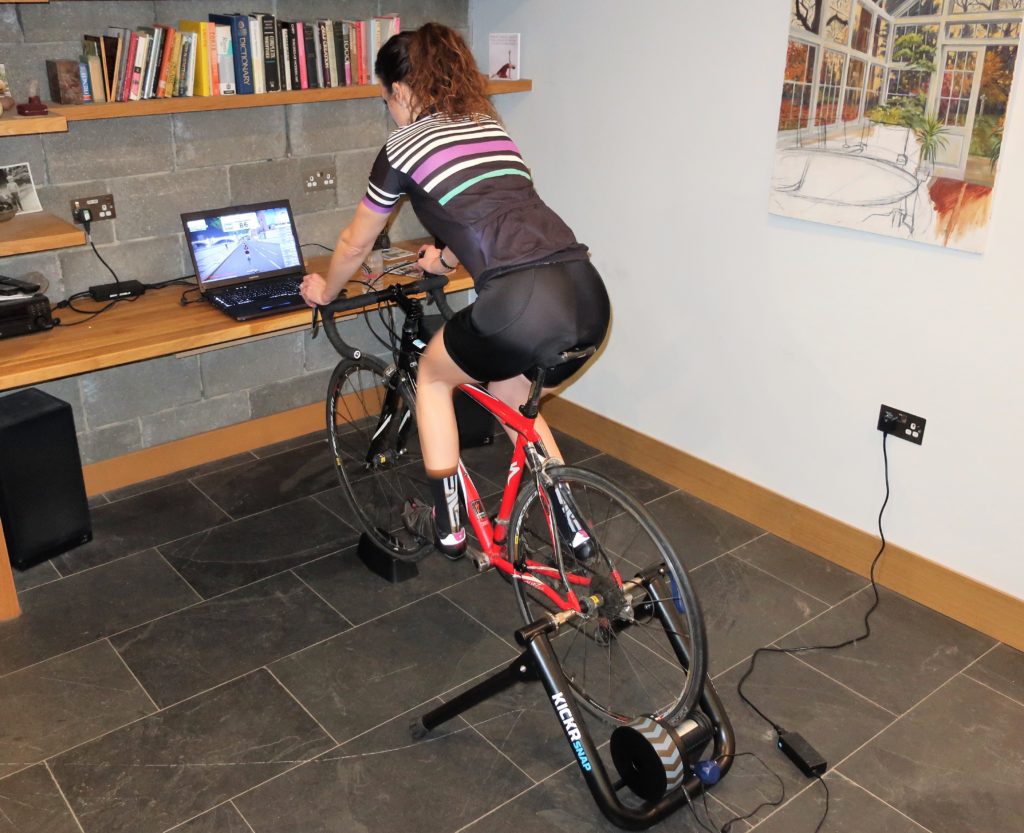 Spindown
Wahoo recommend the unit is recalibrated every time you use it. To do this, you have to download an app to your phone and let it connect to the base unit. Once they are talking to each other, following the instructions – spin up to 30kph and then stop pedalling. That's it. It doesn't take long but it is a bit of a pain. While I have never had to do this on any other trainer I have used I understand it is also required on current generation Tacx trainers.

Anyway, we found it best to do this before hopping onto your chosen software platform.
When all is said and done, once we got our heads around the idiosyncrasies of the Snap, it has proved to be pretty reliable and easy to use.
The Snap
Ignoring the software and communications issues, Wahoo's KICKR Snap is actually a pretty good piece of kit. It is well made and certainly robust enough. I really liked the lever that you use to lock the bike to the trainer. It is only a small thing to pick out, but it is significantly better than anything else I have used, many of which have felt far too flimsy.
The unit proved to be a stable training platform which didn't budge an inch, even during out of the saddle sprints. It's large steel legs fold out to spread the load and, with no noticeable rocking of the unit, clearly work well. The Wahoo also folds up into a decently compact size, so you can easily fold it away when not in use.
The flywheel is as quiet as any other trainer and I think the Wahoo KICKR Snap is as decent a trainer as you will get for the money (and that is a compliment!)
Last modified: 8th November 2019