Halo are the in house (hub and wheel) brand of Ison Distribution. Established way back in the mid nineties, they have built a reputation for value and performance and are a hugely popular choice in the UK BMX and MTB scene.
Instead of relying on high profile promotional activities, Halo have built their reputation the hard way – from the ground up. Arguably, this type of organic development is the right way to do it.  You find out what works, what riders really want and then deliver it. Not only that, but deliver it at a truly competitive price. If there is a strategy more likely to get the thumbs up from committed riders, I have yet to see it.
Long Term Testing
After almost six months on these wheels it is time to wrap up my review of the Halo Vapour GXC. Part one can be found here – First Look: Halo Vapour GXC post.
The GXC 700c uses the same 21mm internal (26mm external) diameter rims as the standard Vapour. Together with a proprietary 120 point engagement GXC Supadrive rear hub and GXC front, you end up with the lightest wheels in the Halo range. A note on that freehub – the Supadrive is far from silent. If you like your ride to be stealthy like a ninja, the loud buzz will not appeal. Freewheel behind a group of walkers on the trail though, and you won't need a bell to let them know you're there!
Features include J-bend spokes, centre lock, sealed bearings, to shrug off the worst of the UK weather, and wide spaced flanges for increased stiffness.
Our GXC's weigh in at  1,805g sans discs and cassette. A decent weight for a set of hand-built wheels that retail at a smidgen over £400.
What's in the box?
In the box was a variety of end caps. This has proved invaluable for testing purposes. We have been able to use the Halo GXC wheels on various test bikes whether 9mm QR or Thru Axle. And as the Halo are tubeless ready (just add a valve, sealant and a suitable tubeless tyre), they have replaced many a non tubeless ready wheel that most test bikes arrive with.
If we are off on a big ride and want something that is totally reliable, we generally reach for the Halo wheels as our first choice.
Delicate Flowers or hard as nails?
I have been thrashing these wheels since May 2018. They have been ridden in all weathers, and they haven't seen a lot of TLC. Despite this neglect they still look great. They roll just as well as the first day they arrived, and best of all, I've never had to open up the hubs. Quite simply, they have been bombproof and resilient. Other than a few tiny scratches on the rims, they still look fresh.
I had no issues with noises, creaks, or poor hub engagement. The hubs have been smooth a butter and in a word, they are "flawless".
The whole wheel package was designed for gravel and MTB XC, so rest assured they will stand up to most of the riding you will do on a drop bar bike.
So…The Halo Vapour GXC wheels are a strong and dependable wheelset, shrugging off all the abuse we could give them. They are very competitively priced and they look good. They are as stiff as you like and we think they will be hard to beat.
Your first upgrade
Wheels are always going to be your first upgrade.
The Halo GXC Vapours deserve to be high on your short list compared to more mainstream options from the likes of Hope and Hunt. And if you have a penchant for 650b, Halo also do the GXC in the smaller wheel size, so everyone is happy.
The Halos are great looking, but tough enough to be totally dependable, all-weather wheels too, and not just 'weekend specials'.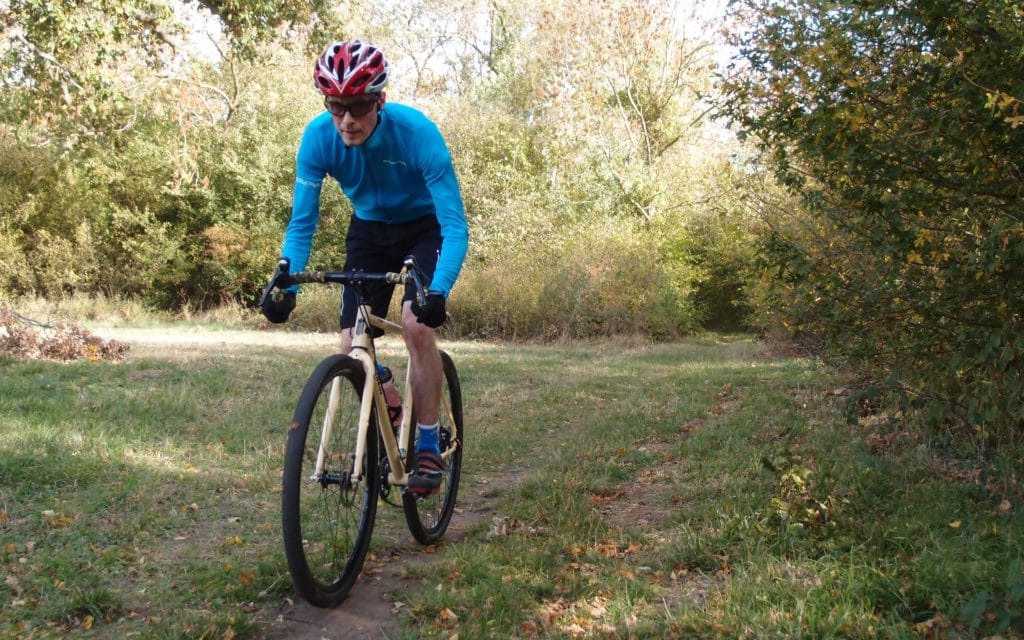 Last modified: 26th January 2019