News arrived this morning that the first ever Grinduro Switzerland has been postponed until 2021 due to Coronavirus. The event was scheduled for 26-28th June this year at Lenzerheide, home of the XC World Cup.
As yet, there is no official word on new dates for next year. All we know is that it'll be Summer 2021. Existing entrants will have their entries carried over to the 2021 event.
Round two of the global series is due to arrive in Wales on the 25th July. Right now we're all on tenterhooks awaiting more disappointing news.
The official press release from the Grinduro organisers follows below.
Grinduro Switzerland 2020 postponed until 2021
Grinduro, the seminal mixed-terrain event where having a good time at the party is just as important as going fast in the race, would have celebrated its Swiss premiere in Lenzerheide from 26 to 28 June 2020. The first edition of the event, which combines the best elements from the two cycling disciplines gravel riding and enduro mountain bike racing, is now being postponed until summer 2021 due to the coronavirus pandemic.
It would have been much more than just a race. Grinduro is also a festival, camping party, family event and joint ride with excellent food, live music and other entertainment. Around 300 gravel fans from various countries would have been expected at Grinduro in Lenzerheide, Switzerland, end of June. Now this event is also falling victim to the coronavirus.
Current ban on events in Switzerland
The ban on events in Switzerland, which is valid until at least 7th June, forces organisers to decide early on whether to hold events scheduled after this date. The Federal Council has not yet declared whether at least smaller events should be allowed to take place again after this date or whether the general ban should continue well into summer. Due to this unclear situation, the Organizing Committee of Grinduro Switzerland has already been forced to decide not to hold the premiere of the cycling festival this year. "Both, we as organisers and the participants, must be able to plan and prepare for the event at some point", explains OC President Andy Wirth. "This is simply impossible right now. We would not know more until mid-May at the earliest – that is of too short notice for everyone."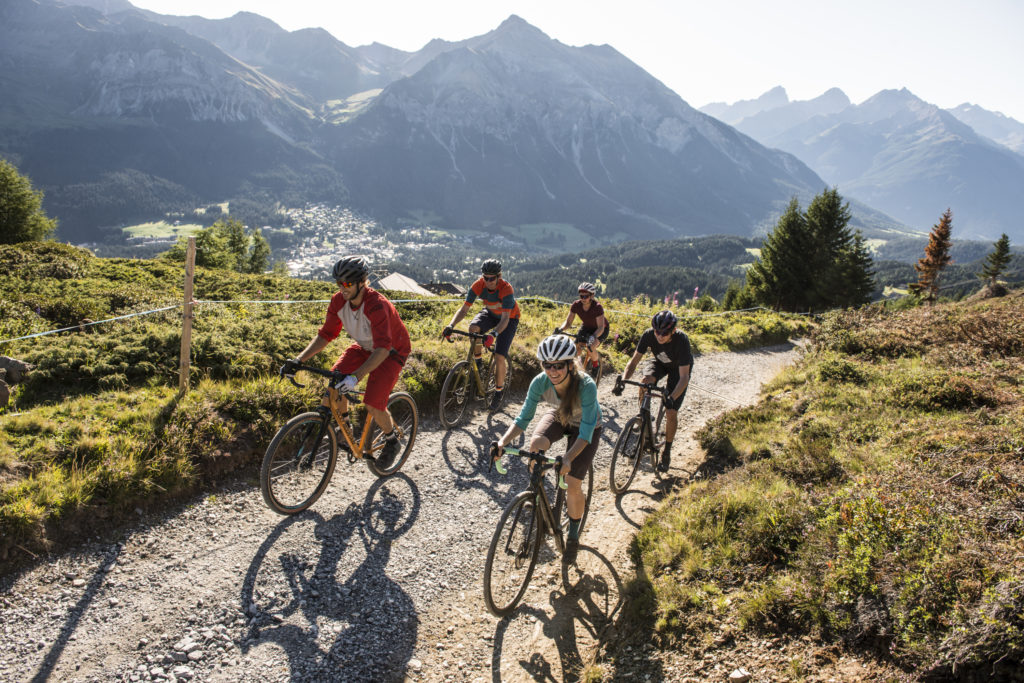 No Grinduro spirit with protective measures
The chance that events could be held again by the end of June is small either way. But even if it was possible, Grinduro Switzerland would stick to its decision. "The safety and health of all participants is the top priority. If we were allowed to hold the event, it would probably only be possible with extensive protective measures. Such as respecting social distance, strict hygiene rules or even mouth protection masks", explains Andy Wirth.
"But at Grinduro, it is precisely this interaction that is very central. It is a festival. It's not just about cycling, but also about good company, eating, drinking and celebrating together, experiencing something collectively, getting to know and caring for the community, enjoying a concert in a group and so on. It would just be impossible to transport this special Grinduro spirit under these circumstances. And this would be especially important at a premiere." Since Grinduro is a worldwide series with six events on four continents, the field of participants would have been very international. "Many foreign riders would probably not have been able to enter at all until then, due to the very restrictive travel conditions everywhere", Andy Wirth continues to regret. "All this has led us to postpone the premiere of Grinduro Switzerland by one year with a heavy heart."
Entry tickets transferred to 2021
The premiere of Grinduro Switzerland in Lenzerheide will therefore take place in summer 2021. The exact date still depends on the race calendar of other events, but will be announced in summer 2020. Entry tickets already purchased remain valid and can be transferred to next year. Refunds will be available for any existing competitors who cannot participate in the new date in summer 2021. Refunds will only be processed once the announcement of the new date has been made.
"We are trying to see this crisis as an opportunity. And will use the additional preparation time to create some additional highlights", says Andy Wirth. "In any case, we are still extremely looking forward to the first edition of Grinduro Switzerland – even if it will only be in a year's time. In the name of the whole team we wish you all the best, good health and thank you for your understanding. We are looking forward to welcoming you and your friends in Lenzerheide in summer 2021."
Last modified: 27th April 2020