Merit Windmill Wheels
These, five spoke, carbon wheels from Merit Bikes are certainly distinctive and have generated more spontaneous conversations than any other piece of kit I have reviewed. If you fancy a pair of these wheels, you had better get used to talking about them!

Most of the comments or questions I get fall into a few distinct categories. I have tried to cover them all but if you have any other questions, please use the comments section.
Merit Bikes
Merit are a small outfit based in Prague. They have a very limited range of own brand products at present, of which the Windmill Wheels are one.
Distribution of their products is either direct or via a few retailers scattered around Europe. There is a UK dealer in Ipswich if you want to see them in the flesh. Details are on the website.
Why five spokes?
Owner Jiri Nykl's original idea was to create a lightweight, full carbon, wheel. It had to be lively yet strong enough for XC and gravel bikes. The problem was that no one was making one. His solution was to track down the best manufacturer of carbon wheels that he could find, and collaborate on the design of his five spoke wheel.
The original template was the Merit MTB wheel which had six spokes but was just too heavy for gravel. If he could reduce weight by cutting down the spoke count, yet keep the character lively, Jiri reckoned he was onto a winner.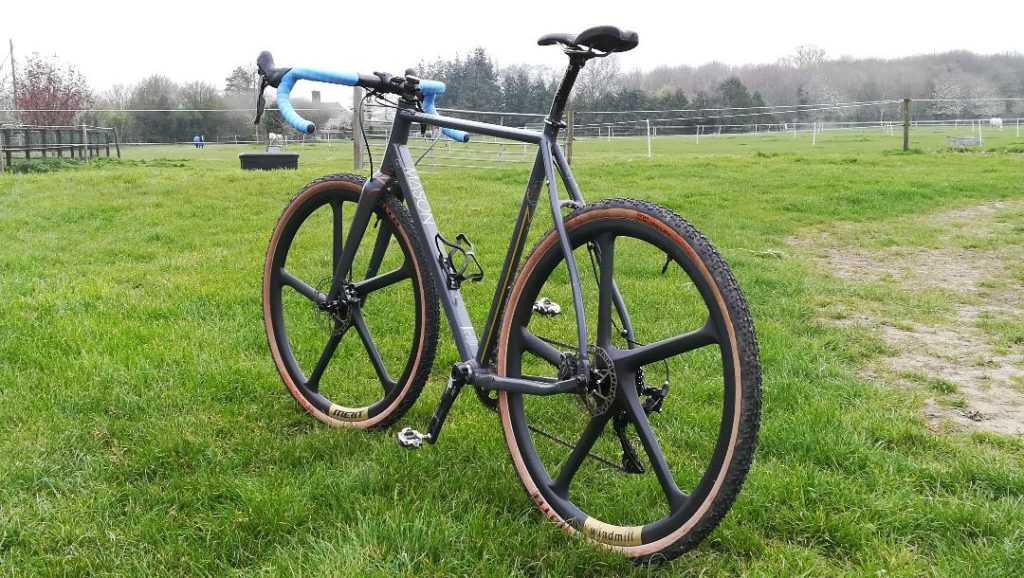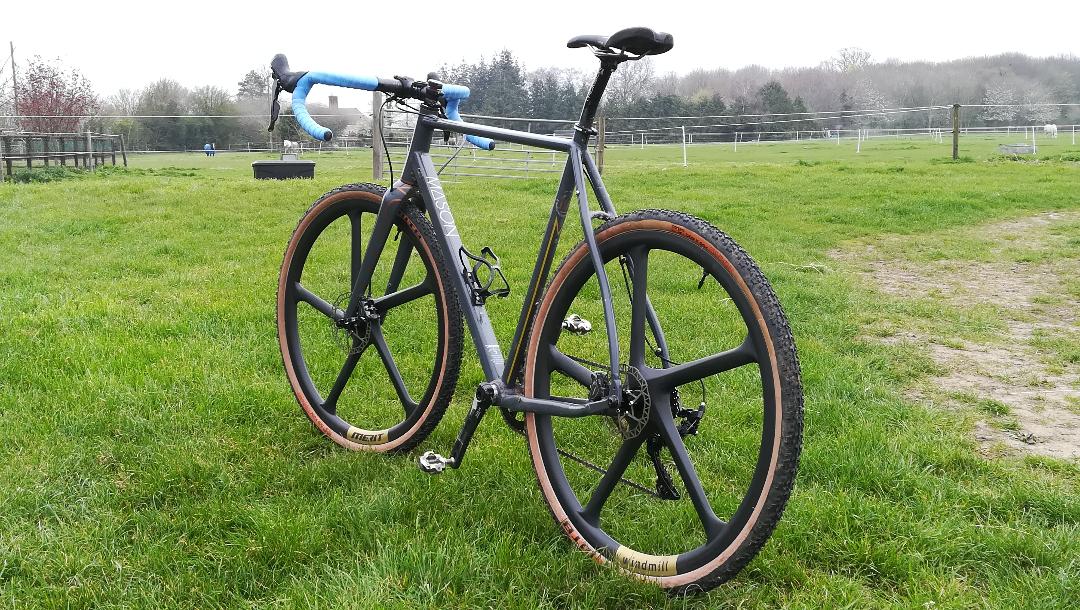 The Merit Windmill Wheels are certainly light, very fast, and an absolute blast to ride so the primary objective was achieved. The wheel is also EN ISO approved so they are not going to fall apart on you. Job done!
I have ridden the Windmills flat out down (baby head) rock gardens and over hidden drainage bars in excess of 30mph and they have emerged unscathed. It took me a while to trust them completely but they just soak up and shrug off abuse.
The Technical Section
A summary of the main points follows but the technical information is here.
The Merit Windmill is a carbon, monococque construction with five spokes. The 27mm (external) and 21mm (internal) rims are hookless and there is a deep central channel to make tubeless setup a cinch. Recommended tyre size is 700cx35 to 50mm.
The rear hub is DT350 and the front is from Novatec. These are both well tested and reliable hubs so should cause you no issues. Spare bearings are readily available so, if you need to replace them, it should be easy enough. The test wheels were supplied with 12mm thru axles but I understand other options (including QR) are possible. You can choose between freehubs from Shimano and SRAM XD.
The hubs are 6 bolt. To be honest, I would have preferred a splined option but it isn't a major issue.
Claimed weight is 1490g the pair. This seems to be pretty accurate as far as I can tell.
There is a rider weight limit of 110kg.
The wheels come in gloss or matte, so however you like your carbon dished up, there is a finish for you!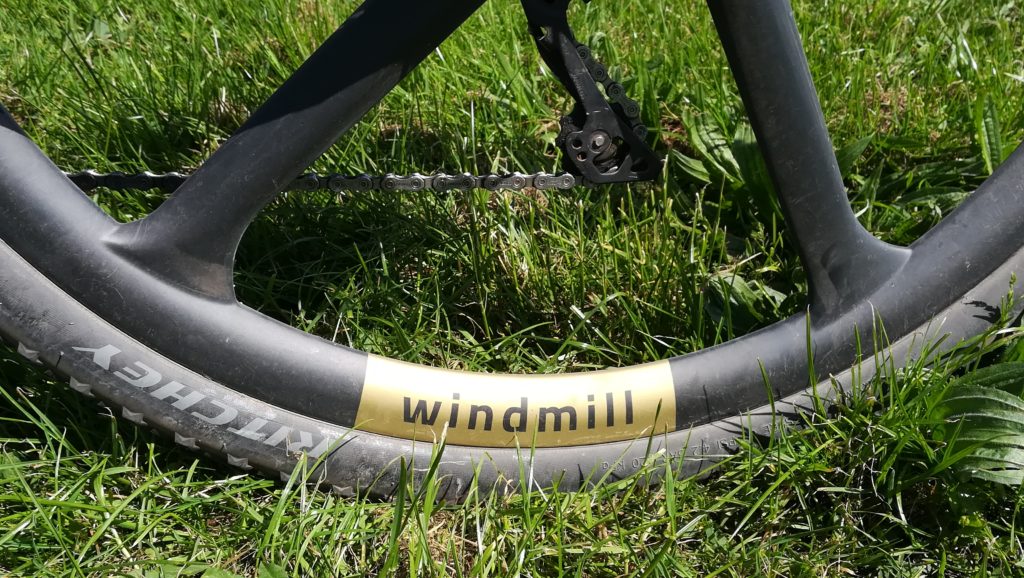 Setup
The deep central channel makes fitting tyres so much easier than struggling with rims featuring shallower internals. It didn't matter which tyre I used on these wheels, fitting was always nice and easy, requiring thumb pressure only.
Every tyre has also inflated first time – with a track pump only. If every wheel was as easy to set up as the Windmills, I would be extremely happy!
The wheels came with valves fitted. As there are no spokes, and there is no need for rim tape, they are good to go straight out of the box.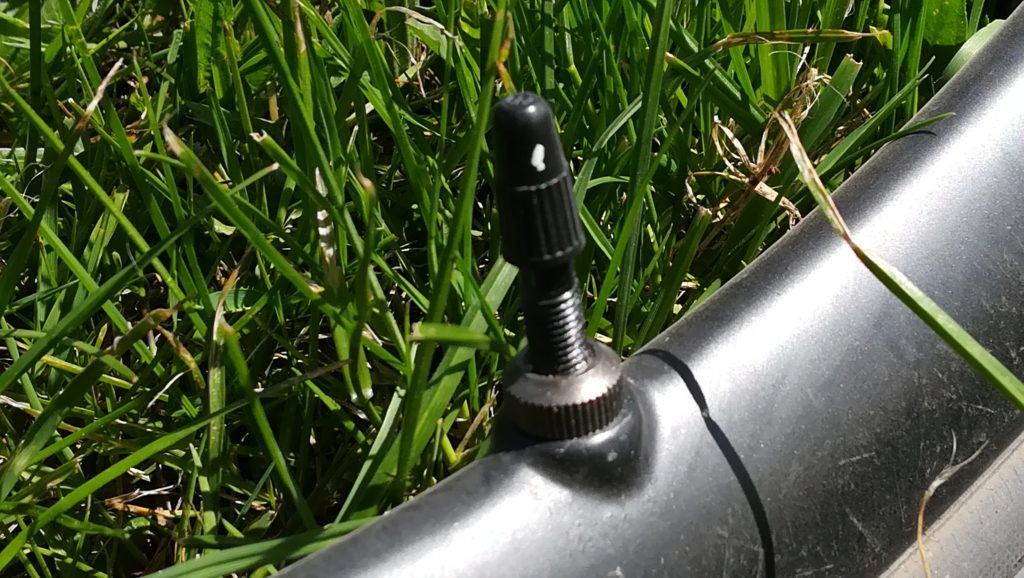 Test Basics
The wheels were fitted to the Mason Bokeh, our benchmark against and upon which, practically everything is tested. They were subjected to my normal test routes which include back roads, forest access and gravel roads, singletrack and bridleways. Thanks to our erratic Spring weather, I have also had the opportunity to test them in stiff crosswinds (Force 4 to 5 gusting a lot more).
I rode the Windmills as hard (and maybe harder) as any other wheel I have tested, over exactly the same range of surfaces as usual. Jiri had assured me they were strong enough to cope with anything I could throw at them (within reason), so I just had to try!
I did not know quite what to expect from a 'solid' wheel. Would it be too stiff to be useful, too flexy or what?

Testing…
My response to these wheels depended on whether I was riding 'gravel' or MTB Lite.
By 'gravel' I mean forest access or gravel roads and smoother bridleways. The light weight means that on this kind of surface, you can merrily spin along at high speed. Sprints are rewarded with instant acceleration and climbing feels…just as hard as it always does (I am not a climber!)
My first impression is that they feel just like a (very) decent set of road wheels.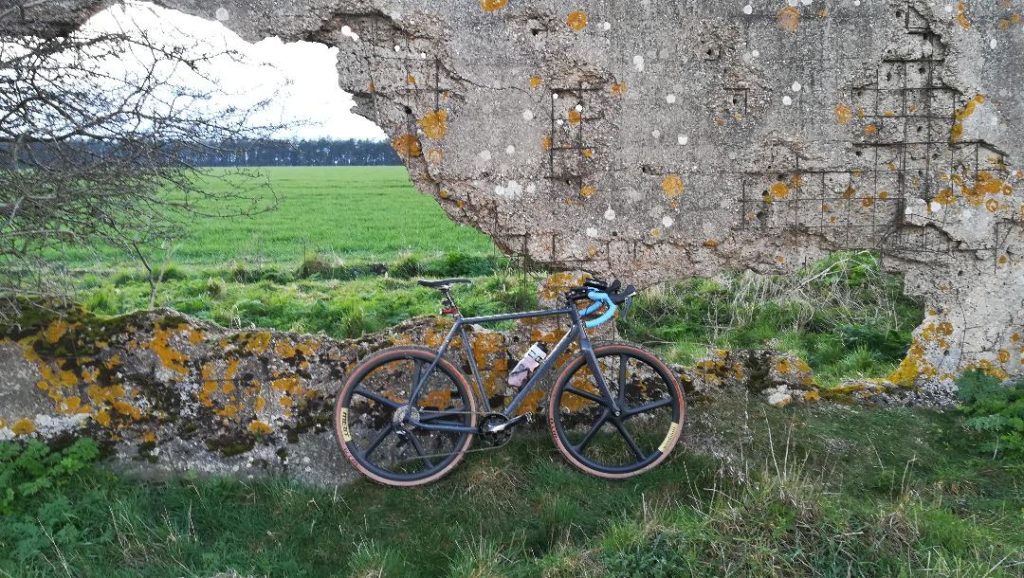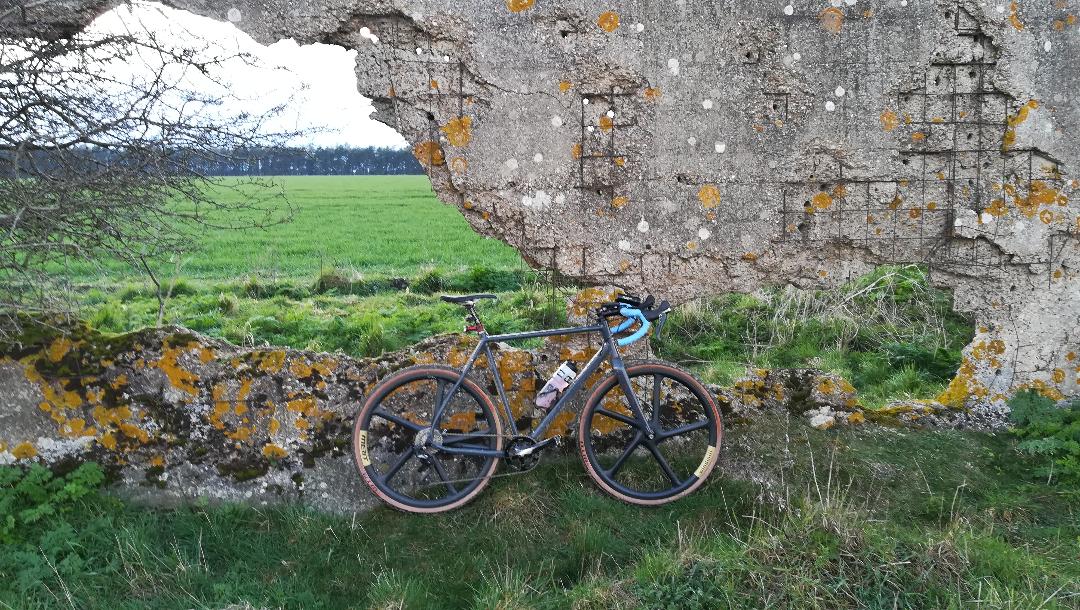 MTB Lite is another matter altogether. They felt different to normal wheels and I think it comes down to the carbon layup.
It is easy to make a super stiff wheel but the trick is to keep the ride lively. I think Merit have got the balance about right.
There is a Strava segment locally that we all love to hate. To be competitive, you need an MTB, a gravel bike is just not going to be up to it. The surface changes constantly, one minute it is smooth, then it is so broken up, you are forced to ride at walking speed. Then it turns to sand and back to smooth again. Quite simply, you have to keep absorbing shocks, slowing down and accelerating. It really takes its toll on your back and legs. I rode the 0.9 mile segment with the Merit Windmill the other day and knocked 20 seconds off my best ever time, reclaiming the KOM I lost a couple of years ago. This has to be testament to the quality of the wheels.
In tight singletrack and up technical climbs, the wheels are a delight. If they were 'dead' or just too heavy, singletrack would be a chore. All I can say is that it is a real hoot. The wheels feel so lively that you keep going back for more.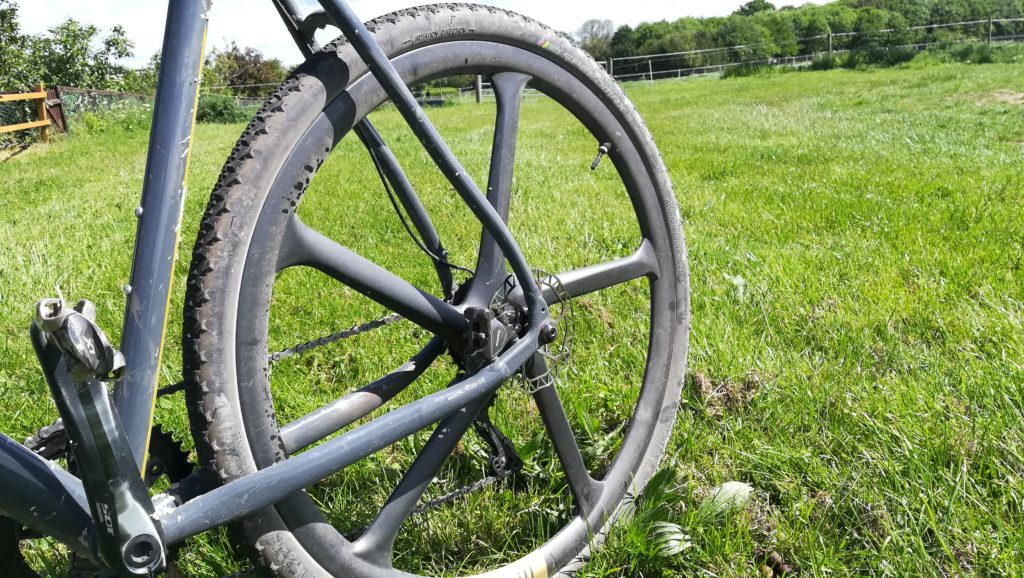 It is all about character
So, unsurprisingly, the Windmill Wheels are stiff but they are not so stiff as to be uncomfortable.
Power transfer is excellent. Put the hammer down and expect an instant response, because that is what you get. These wheels are fast so speed junkies will love them.
The harder you push these wheels, the better they become.
Riding wheels with a large surface area in strong cross winds can be challenging. I can remember having all sorts of problems with deep section wheels in my (long gone) time trial days, so I decided to try the Windmills out when it was blowing a real hoolie! Just to see what would happen… fully expecting them to be a real handful.
I would be lying if I said there was no deflection when gusts came through, but I have had more control issues with 'normal' wheels (30mm rims) than I did with the Merit Windmill. A bit of a nudge and it was all over. This was a revelation and a pleasant surprise particularly as East Anglia has more wide open space than is entirely comfortable in a strong wind!
Have these wheels been designed with aerodynamics in mind? Do gravel bikes even go fast enough for that? I am not really sure and to be honest, I do not think this is particularly relevant.
Warranty
Merit offer a 2 year warranty on frames and wheels. There is also a 3 year crash replacement programme.
Conclusion
I am really quite taken with these wheels and look forward to the chance to ride them at Yorkshire true Grit later in the summer.
The feel is quite different to a normal, spoked, wheel but you will probably grow to love it.
The Windmill Wheels are not totally "out there" as there are other monococque wheels on the market. I do not think they will ever take over from the traditional wheel, but they are certainly a valid option, particularly for racers.
The negative points, one (very) minor and one more important.
Practically everyone has commented that the Black and Gold colour scheme makes the wheels look really dated.
At about £1300 a pair, the Merit Windmill wheels are expensive.
I talked to Jiri about the price and he explained that each production run is quite small, so costs are comparatively high. Developing the theme, I pointed out that with the like of Hunt making (traditional) carbon wheels at maybe £300 less, he might struggle to break into the market.
"Are they expensive? It depends what you are comparing them to", he explained. "As far as quality is concerned, I think my main competition are the Ahead Biturbo or the XeNTiS Kappa2 4-6 spoke wheels. Compared to them, the Windmills represent good value for money."
If you get a chance to take a pair of these for a spin, given them a go. Push them to your limits and you could be hooked. I know I am.
Last modified: 30th May 2019