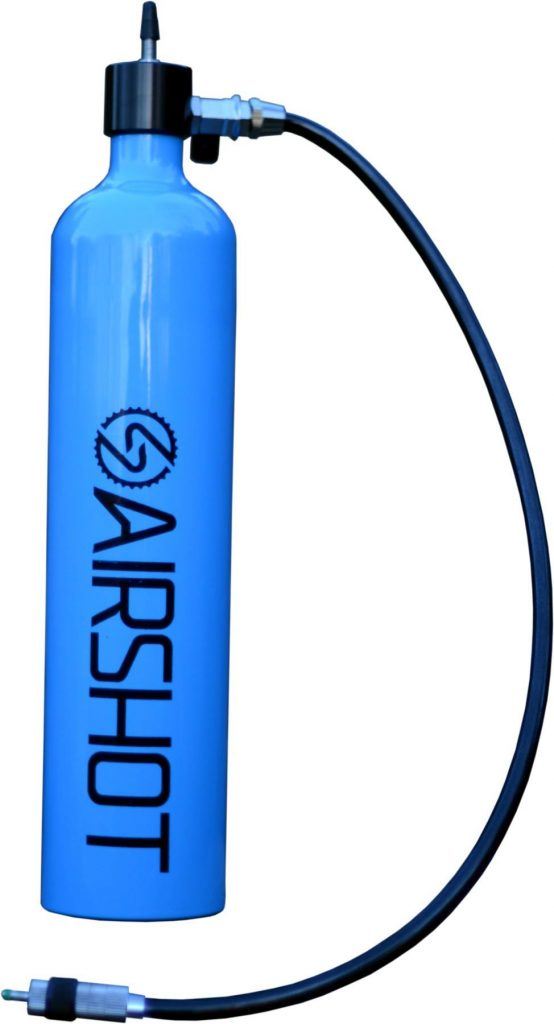 The Airshot tyre inflator. Why are the best ideas so often the simplest?
Can't get your tubeless tyres to seat with a track pump? You will probably need a compressor. Or maybe not, particularly when a "low tech" alternative can provide the ideal solution.
Enter the Airshot, a modified, compressed air cylinder which you inflate with a track pump.
Simply close the release valve, attach your pump to the Presta valve and away you go. As pressures increase, you have to put in more effort but that is to be expected. It's physics after all! The pressure limit is 160psi, which gives you a lot of oompf!
Different valve configurations regulate the air flow for larger or more difficult tyres. It is rare that I have had to resort to more than one fill before I hear the reassuring crack and ping of beads seating in the rim.
Smaller tyres such as 700x42c are a breeze, and I have not really had any issues with 29×2.4 either. The latter usually need a bit of extra help to get them to riding pressure though.
The only issue I have is that the bottle lacks any sort of stand. When you inflate it, it rolls about all over the floor. A basic stand would be useful, though the bottle is so light, I am not sure whether it would make a lot of difference.
For myself, I am prepared to put up with the minor inconvenience of a mobile bottle. The price is good and the product has been utterly reliable. If a compressor is not for you, then this has got to be one of the better alternatives out there.
Highly recommended.
Last modified: 4th June 2018