SL8 – the basics
The WTB SL8 (pronounced 'slate') Team Saddle is a titanium railed, lightweight saddle. It comes in four sizes, Narrow through to Extra Wide. It was designed for 'Road/XC and CX racing'. There will probably be some crossover for gravel as there is plenty of off road DNA in the design. For example, the nose is short and slightly dropped, which helps you transition on and off the saddle. Having said that, it would not look out of place on a top of the range road bike.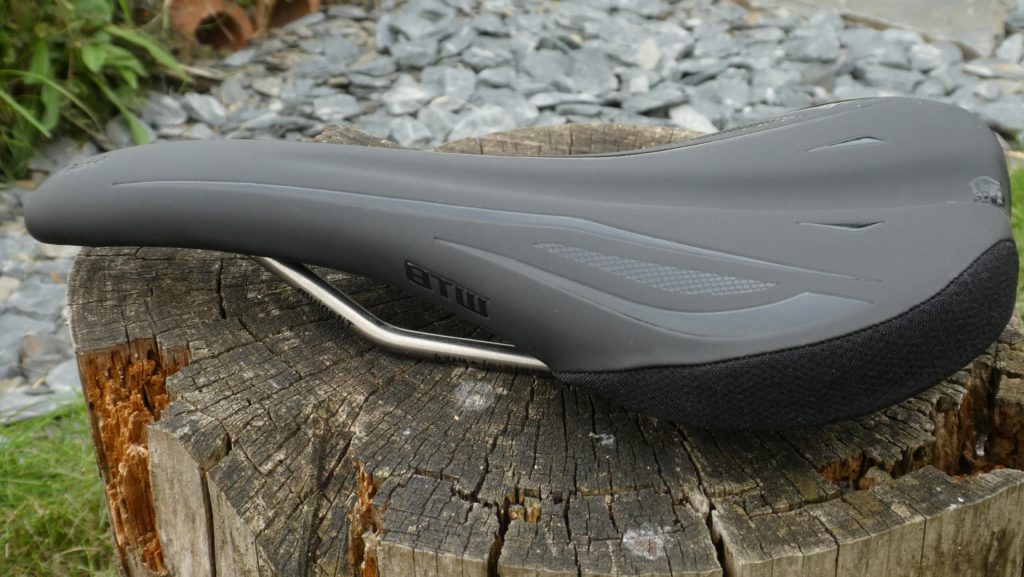 At 188g (narrow version) it is the lightest saddle I have had in my hands for ages. I gave up using saddles with Ti rails many years ago as I routinely broke them (and this was on my time trial bike). It will be interesting to see if modern iterations are more robust.
The SL8 is 260mm long. Compared with the now familiar 290mm on my Fabric saddles, it certainly is short. Together with the very narrow shoulders (127mm) the lack of substance must contribute to its feathery weight.
The most obvious feature I have spotted is the central cutout to relieve pressure on your delicate parts. The padding is what WTB call their DNA padding. Lightweight and designed to last, or so the supporting literature says. We'll see!
Construction seems to be good with everything underneath being carefully tidied away and finished off. The finish is a matte, faux leather with black glossy detailing. It all looks very smart. The only concern I have at this stage is the fabric shoulders. Experience has shown that these are exactly the parts that need reinforcement. Whether you are leaning your bike against a wall or if you drop it, these are the parts that scuff up first. Time will tell whether the fabric is up to the job.
Fitting
It is a saddle, so it wasn't that hard. WTB have clearly defined optimal mounting points on the rails so there are no excuses for getting it wrong.
The crucial question
WTB kindly sent us this saddle to review on the premise that it was very popular (in this size) among the gravel racing community in the States. Looking at this svelte and very trim looking piece of saddle confection, we found it hard to believe. Eyebrows were raised and applying a sort of perverse logic, it was decided that I would review it. At a whisker under 6 foot 4 and a sniff under 14 stone, I can't really think of a less appropriate tester. Still, if I don't destroy it and find it comfortable, there's a good chance other, smaller, folk might too.
The question uppermost in our minds is this point is…is the SL8 just a little too small to be practical or comfortable?
Whether the saddle works for me or not, there is always one variable that a test such as this cannot answer. The fit of any saddle is intensely personal and what works for one may not work for another.
Bearing this in mind, I am approaching this test with an open mind.
First Impressions
This is very much a first impression. It is not based on hundreds of miles on and off road, that will come later. Look out for an update when SL8 and I have become much better acquainted.
I am also conscious that there is the trap of trying new stuff and deciding it is better than your old kit…simply because it is different. I have taken this into account.
The First Outing
As usual, I was on the drag for my evening ride and left in a hurry. Jumping on the bike, it wasn't until I was about five miles in that I remembered I was on a new saddle. Maybe the best thing I can say about it is that it was 'invisible'. The only times I remembered it was there, was when I consciously made myself assess its' comfort, or otherwise. Once or twice I was aware of a certain firmness in the padding, but I put that down to the saddle being new (not broken in) and the fact I was unconsciously comparing it with my old one.
Admittedly, my time on this saddle has been comparatively short, and I have yet to use it for an extended ride, it would therefore be disingenuous to make any unsubstantiated claims about it. I have yet to assess how effective the padding is after extensive use. I do not know how the fabric will stand up to the hard time I give all my kit. And so it goes on.
All I will say is, don't put put off by the narrowness of the thing. If it works for someone my size, there's a good chance it could work for you too. If your LBS does a try before you buy, get yourself down there for a trial run.
The scores on the doors….
In the light of the caveats above, I will give the WTB SL8 a provisional 8 out of 10. This will be reviewed in a few months time.
Otherwise, this is a damn fine saddle….unless I kill it!
Last modified: 17th September 2018