When it comes to gravel tyres, WTB have been at the forefront of the scene since the early days. With gravel riders pushing drop bar bikes further into what we once termed 'mountain biking', WTB keep rolling out more aggressive designs. The Raddler is their latest development. A knobblier evolution of the Riddler for those who love to rail the trails.
WTB describe it as a "more aggressive sibling to the Riddler", the family genes are easily recognisable. Just bigger! Raddler should satisfy those who feel WTB neglected 700c aggro-gravel fans with it's deep tread pattern and chunky side lugs. The centre tread consists of small, tightly packed knobs for speed . The outer side lugs are positioned to bite into the surface when cornering and promote confidence inspiring grip.
The WTB Raddler comes in TCS Light tubeless ready, 60tpi single-ply casing, black or tan wall, in 700c 40 and 44 width options. The rubber compound is WTB's DNA and actually feels pretty supple. Manufacturer weight claims are 505g for the tan 40mm, 512g for the black 40, 526g the 44mm black and 514g for the 44mm in tan. Our own scales weighed in the tan 40 at 469g and a black 44 at 529g.
Setting up
Setting up both sizes of the WTB Raddler proved to be a doddle. The tyres slipped on the test rims with nothing more than a pair of strong thumbs and inflated with just a track pump. WTB often get a bad rep for super tight fitting rubber, but these were a breeze. Weldtite Tubeless Tyre Seal was enrolled for flat fighting duties and although some sealant could be seen seeping through the sidewalls, they sealed up without trouble.
It's worth noting that WTB tyres do not feature a puncture protection belt under the tread. They may be less resistant to sharp objects than some other brands, but they're much more supple, giving a more compliant ride. Although there were no flats during the test period, I would be cautious to use the Raddler in rockier conditions where it could be more susceptible to sidewall damage.
Ride performance
Heading out to my top secret gravel test track involves a 7 mile tarmac slog before I can get to the good stuff. First surprise is that they roll far better than looks would suggest. Far quicker than the Riddler and also more efficient than the Venture, which always felt draggy on pavement.
The Raddler may not be the 'uber rad' trail tyre the press release may have had you believe, but it is a very capable all-rounder. The centreline tread has a depth that sits somewhere between a Riddler and a Resolute. It's a fast tyre on hardpacked surfaces and maintains speed well, almost as efficiently as a file tread pattern. The side knobs are angled perfectly for hooking up when leaning into corners rather than giving you that uncomfortable sliding feeling. There is an intermediate gap in the grip as the tyre rolls over, giving a brief feeling of impending disaster before it finds bite again.
Rad in the mud?
It's been hard to avoid riding in muddy conditions this winter, but it does mean I have become accustomed to how the Raddler performs in the mucky stuff. No prizes for guessing that the densely packed tread doesn't lend itself well to when the trails get wet and gloopy. Run pressures low enough and the side knobs can lend a hand in finding traction where you'd otherwise be spinning.
Size Matters
What size is best is down to your own preference and what your frame can clear. The design is the same whichever size you go for, the larger option proving a little more draggy, but it does provide a teeny bit more grip in the corners than its smaller sibling. Invariably if you are seeking out as much rider comfort as possible, go big.
I personally found the 700×40 the more enjoyable tyre for my riding style, which is a mix of road and forest fireroads. It's nimble enough to not feel too sketchy on loose corners and keeps the speed up on tarmac sections to not become monotonous.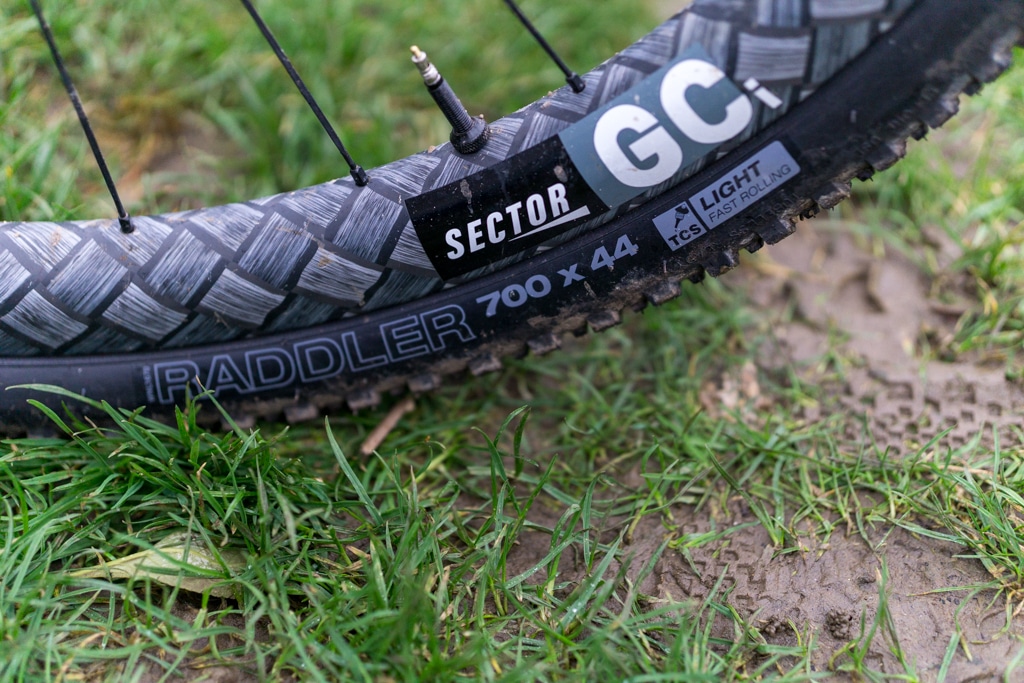 Another intermediate
Whereas WTB nailed it with a full suite of tyres for any condition with their 650b Road Plus range, 700c appears stuck in a steady evolution of the intermediate tyre. It all started with the Nano which created a storm as the one true 'fit and forget' gravel tyre. Out came the Resolute, snatching the Nano's crown as it wheelied down the trail. Raddler pushes both those old contenders aside, standing proud as the new all-rounder.
The gravel tyre arms race is not over yet. WTB just need to release their Sendero in a 700×40 to secure themselves as the gravel superpower.
Last modified: 21st October 2020