A bit roomier than a tool roll, more compact than a saddle bag and cuter than anything you've seen before, the Teeny Houdini is Wizard Works' latest creation for carrying all your essentials.
The need for bigger spare tubes and plug kits, boots, tools, spares etc. to be self sufficient when taking trails away from civilisation means that standard tool rolls or saddle bags are often a bit too much of a squeeze when it comes to adventure riding. Enter stage left, the Teeny Houdini. And yes, boring product names aren't South London based Wizard Works' thing either, already producing a range of bikepacking bags including the Lil' Presto! barrel bag, Shazam! saddle bag and Alkazam basket bag.
The sewing and bike touring duo behind the brand, Harry and Veronica, are admired for their choice of bright and fun colourways, including the splatter fabric which they showcased on their Fairlight Faran 2 collaboration.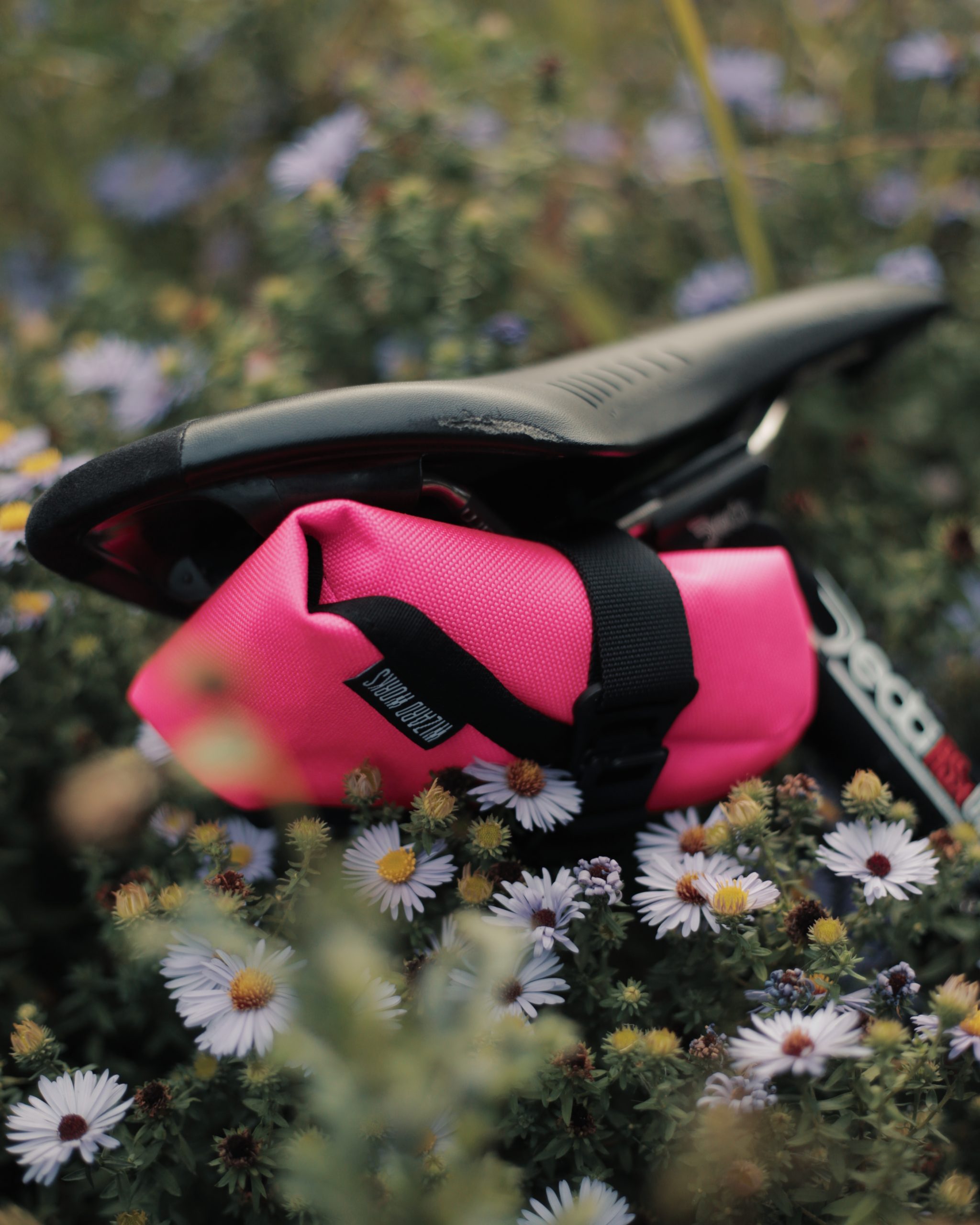 Inside the Teeny Houdini
Both the small and medium sized Teeny Houdini options are designed to hold a tube, tyre lever, multi tool, CO2 and most importantly an emergency snack! Although according to Wizard Works, they "do not object to, in fact, we actively encourage, using your Teeny exclusively for snacks".
The saddlebag is secured with a high quality Fidlock magnetic buckle (and a reassuring click) and flap closure, making access easy and also allowing a small amount of expansion.
" It took us a long time to get the bag to the point where we were happy with the shape, there was a lot of putting things in and then taking them out again, unbuckling and then re-buckling, on the bike and off the bike tests. The bag commuted with us to the studio and back for a few weeks and then we all sat around the cutting table and discussed SERIOUSLY THOUGH, IS IT CUTE?" –Veronica Lowe, Wizard Works Co-Owner
Choose your options
Choose from two sizes, designed to accommodate road tubes (small) or gravel/MTB (medium).
Small / Road
Medium / Gravel
RRP
£40 approx €44 $52
£42 approx €46 $54
Weight
65 g
75 g
Volume
0.3-0.4 L
0.4-0.5 L
Dimensions
14x7x6 cm
14x9x7 cm
Colours
Black Camo, Splatter, Olive, Rust and Fluro Pink
Check out more and order yours at Wizard Works here.
Last modified: 9th October 2020