We're big fans of Victory Chimp, so when news that our chimpy chums were crowdfunding an exciting new range of cycle clothing, we just had to find out more.
I last caught up with Ryan O'Reilly, Chief of the Chimps, at the Dirty Reiver where he was showcasing a selection of his designs and artwork along with the drop-dead gorgeous Donard x Victory Chimp Gairbhéal Bike. Ryan's unique art style and colours stand out from a sea of corporate magnolia and when he dropped hint that some unique cycle clothing was in the pipeline, I knew it would stand out from the crowd.
Press release follows…
---
Victory Chimp – The First Kit Collection
Victory Chimp creates cycling art, apparel and accessories to make you smile. Based at the foot of the Sperrin Mountains, Northern Ireland, their designs are dreamed up on these wild, beautiful roads and worked out back in the studio.
The brand will expand their popular performance sock range with two new kit collections, Ogham and Stampen, just launched on Kickstarter. Comprising jersey, bib shorts, gilet, arm warmers, base layer, cap, buff and socks, the kits are available in Kickstarter exclusive bundles or as individual items, saving 20% on final RRP.
View the Kickstarter Campaign here.
The Ogham Collection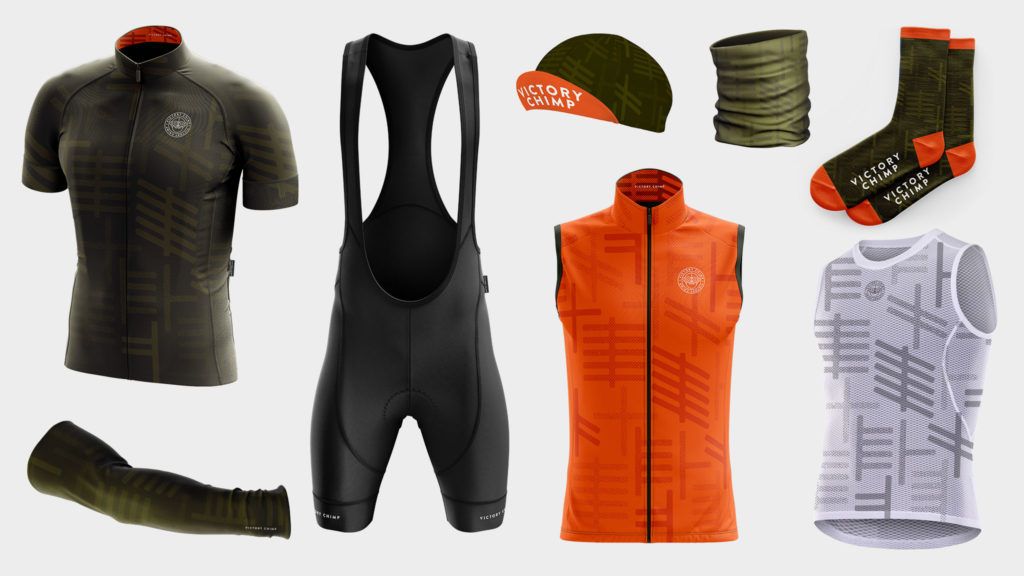 Inspired by on and off-road adventures in the wild beauty of the Sperrin Mountains and the many remnants of ancient Ireland within them. Ogham, pronounced [ˈoːm], is an early Irish alphabet found inscribed on standing stones. Each letter represents a native tree, with our pattern made up of Oak, Ash, Elder, Birch, Willow amongst others. The perfect kit for your next gravel grinder or bikepacking adventure. The Ogham kit is available in either Olive Green & Orange or Stone Grey & Chartreuse colourways.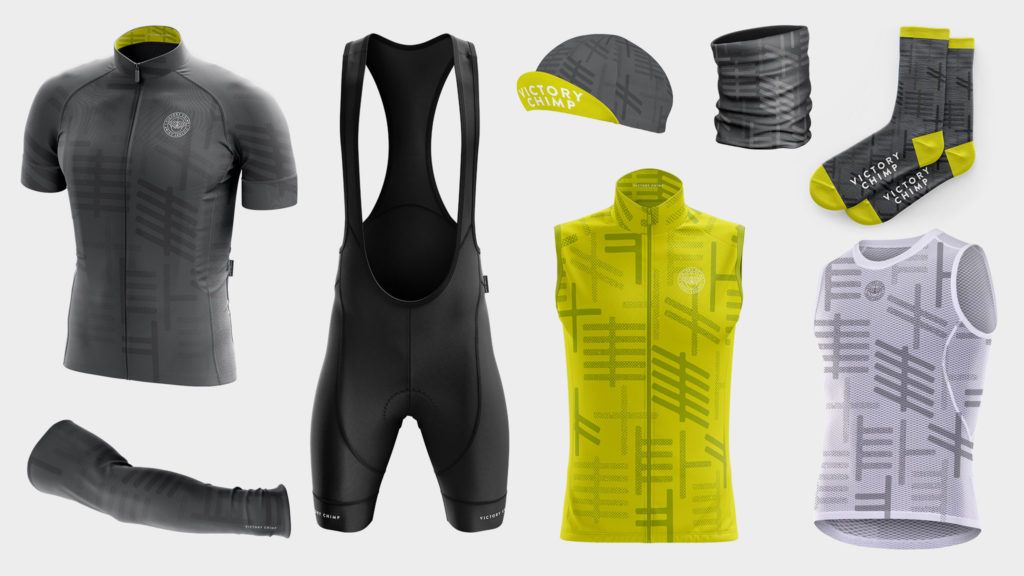 View the Kickstarter Campaign here.
The Stampen Collection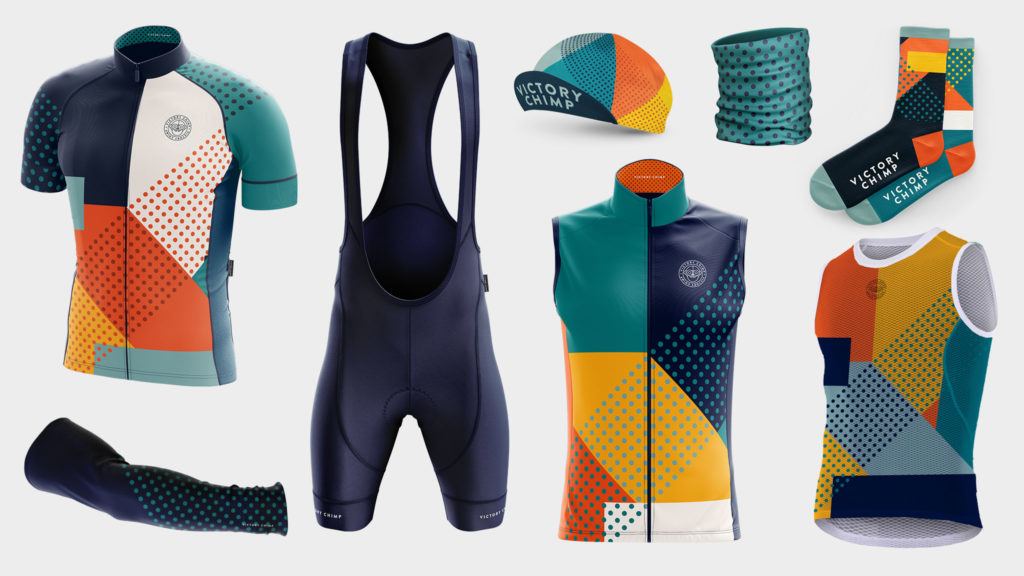 Victory Chimp's team kit for 2018/19. Inspired by Belgian cycling passion and our two favourite aspects of the sport, the cobbled classics and cyclocross. Heard on both the road and mud-filled course, "Stampen!" (we're reliably informed by our Flemish collaborator) loosely translates as "Pedal like f—k!". The Stampen kit is available in either Team Issue or Plum & Teal colourways.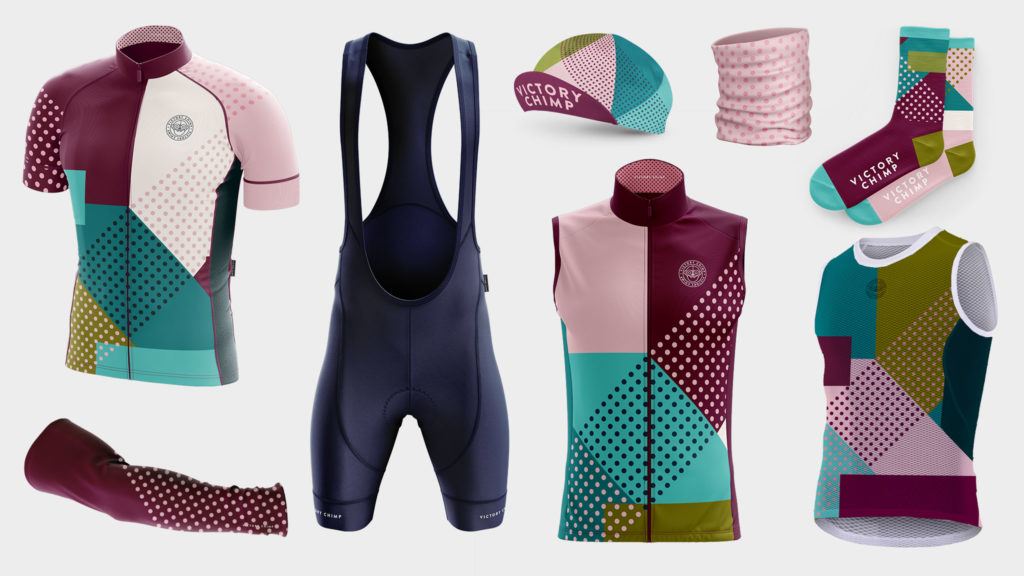 View the Kickstarter Campaign here.
Designed in Northern Ireland, Made in Italy
The new Victory Chimp kit collections are made in Italy, marrying the latest fabrics with our unique graphic style and humour to create highly technical, stylish and durable performance apparel for you to love. We work in partnership with fellow family-run small businesses across Europe to produce the highest quality combination of style and performance. This reputation has earned us a valued global community of friends and Chimpeurs.
Banana Positioning Technology™
Integrated into all garment rear pockets, our patented Banana Positioning Technology™ insures optimally stationed wonder fruit on all rides. Embrace your inner chimp, ride safe and go ape.


Kits for Everyone
Victory Chimp strives to make our garments available to all who ride a bike. From launch, our casual and performance clothing lines have been available in either unisex or women's specific cuts and across a broad range of sizes. We're taking this even further with our first kit collection, developing each piece independently to create two garments designed exclusively for their respective gender to provide the best fit, feel, look and performance. All Men's and Women's cuts will be available in sizes XS-XXXL. We're not going to limit colourways to specific lines either. You can have either kit's options in any cut or size.
Why Kickstarter?
"Over the last year we've designed and developed all of the garment prototypes and samples with our factories. We've selected the best fabrics and fine-tuned the designs and colourways. We've worn them on the road through the winter and tested them on 200km gravel rides. For now, we've taken it as far as we can.

Now we just need your support to help us to launch, so we can bring you beautiful kit to make you smile.

By pledging on Kickstarter, you are helping us to fund the first production run. The crowdfunding model allows us to gauge demand across the range, reducing risk and optimising our stock. In exchange for this invaluable help, we get to pass our savings on to you. Throughout the campaign, all of our new garments are available at 20% off RRP. We love this gear. Join us on this exciting new journey, support the first Victory Chimp kit collection on Kickstarter and together we can make it a reality."
– Ryan O'Reilly, Victory Chimp
So there you have it. If the new Victory Chimp collections have caught your eye and you want to pledge your support on Kickstarter, just click here to visit the campaign page. Various options are available and whatever you choose, you'll definitely stand out from the crowd and be the envy of all your cycling buddies!
Visit www.victorychimp.cc for more chimpy goodness.
Last modified: 8th June 2018