You may not have heard of Velocio, but their popularity has steadily grown since launching in 2014, producing women's cycling kit. They sponsored the Women's WorldTour team Velocio–SRAM Pro Cycling in 2015, home to some big names including Barbara Guarischi and Karol-Ann Canuel.
Velocio has expanded to now make cycling apparel for both men and women. Each product line available for both, albeit with different cuts and sometimes different colourways. You'll also find the lines available in a really generous size range, typically from XXS to XXL. It's a refreshing approach that doesn't go unnoticed.
Introducing the TRAIL Collection
Rather than opt for separate clothing ranges for MTB and gravel disciplines, Velocio have simply created the TRAIL collection. Featuring a range of apparel to suit different tastes, from fitted aerodynamic jerseys to looser-fit tees. In my mind this makes perfect sense, as there's so much crossover between the two. Simple is good.
I've been using the TRAIL Collection for the last few months for gravel riding, mountain biking and bikepacking. Putting each item through rigorous testing in not always good conditions! Obviously the items on test are the women's cuts, but all these items are available for men too.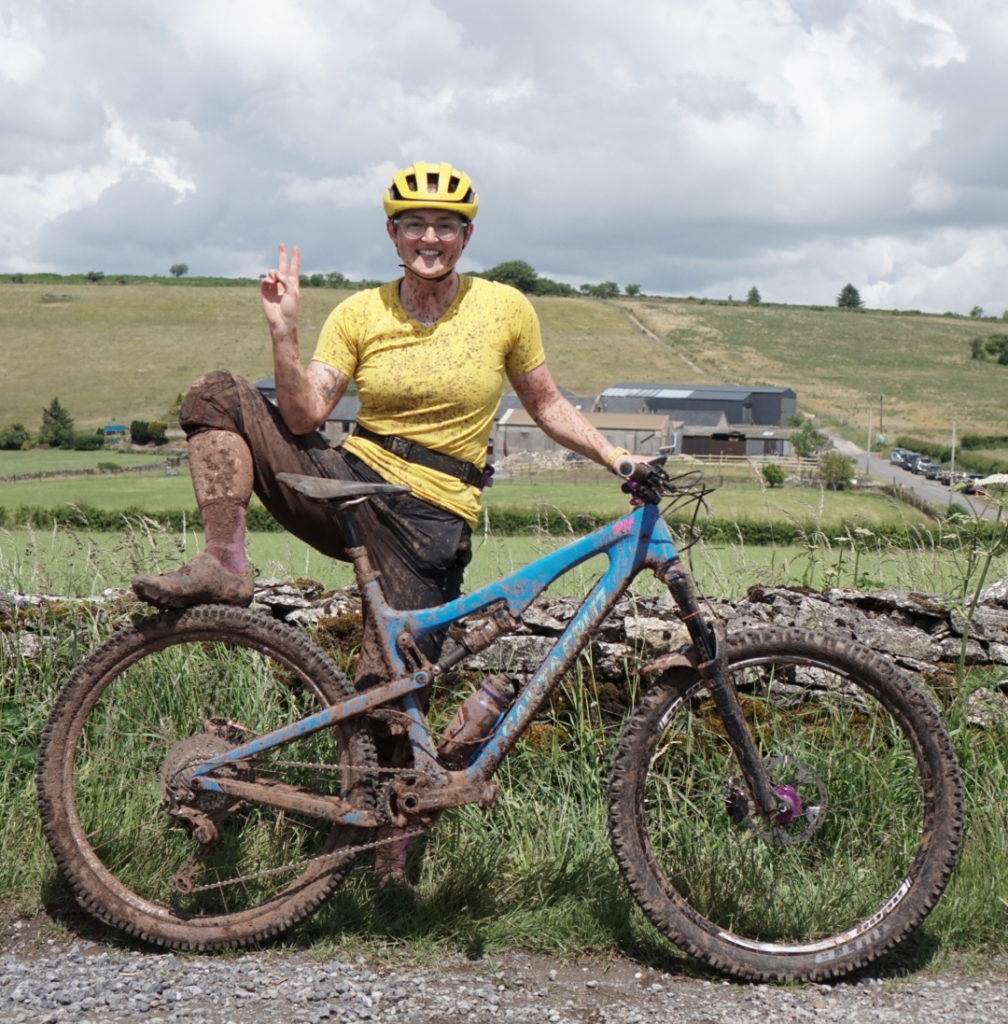 Women's Micromodal Trail Tee
£77, €84, $89 USD, XXS-XXL // velocio.cc
A loose, yet tailored women's fit t-shirt that's delightfully soft. The Trail Tee sits at the more casual end of the range. The Micromodal fabric is thin, stretchy and highly perforated making it an ace choice for hot summer days, with or without a baselayer underneath. Although it's very thin and lightweight at 115g for a size medium, the fabric is rated at SPF 30.
The tops in the women's collection feature a V-neck (typically a crew-neck in the men's), and the bottom of the tee is slightly longer at the back to accommodate the riding position. While fitted around the arms and shoulders, I found the fit baggier around the stomach, leaving you to choose whether to tuck into TRAIL shorts or leave out. Velocio have embraced a vibrant colour palette with their TRAIL range, and you can get this tee in Lava Red (pictured) or Dark Olive.
The length of the tee was a bit excessive in my opinion, but that should make the fit better for those lucky to be taller than 165cm! This is my favourite of the three Velocio TRAIL tops on test; simple, gorgeously comfortable and reasonably priced. I'd love it in a crew-neck in the women's fit, but that's just personal preference.
Verdict: Simple, soft and beautifully fitted; this'll be a staple of the summer wardrobe. 9/10
Women's Micromodal Jersey
£109, €119, $139 USD, XXS-XXL // velocio.cc
Somewhere halfway between a traditional road cycling jersey and the casual Micromodal Tee. The Micromodal Jersey is a zipless performance-cut top with three rear pockets. With the same wonderfully soft and wicking fabric as the Micromodal Tee, the jersey has a few different features.
There's a raised collar to the sides of the neckline, apparently inspired by football jerseys. The cut is closer-fitting than the tee, and you'll find three evenly sized pockets on the rear, reinforced internally. Around the bottom hem, an elasticated silicone gripper acts to keep this jersey in position while pedalling with loaded pockets. There are also some reflective strips on this jersey which you won't find on the simpler TRAIL tee; on either shoulder and the right hip. You can have it in bright 'lava red' and 'dark olive', as well as navy with grey shoulders.
For pairing with Velocio's TRAIL Shorts or other baggies, I found the hem gripper problematic. My height, or rather lack of, meant the jersey overlapped onto the shorts. However paired with some bib shorts, either for road riding or gravel, this wasn't an issue.
Pockets on t-shirts is an interesting one, and despite the reinforcement from the internal panel, I'm still not convinced. Riding on the road is smooth enough; but as soon as you head onto more rough terrain, whatever is in your pockets starts jiggling about. It's not catastrophic; it's just not what I'd choose. Storage on the bike is so easy now with loads of handlebar, frame and saddlebags on offer that I personally think back pockets are pretty redundant off-road.
Verdict: Best suited to all-road riding with a few more features added to the Micromodal Tee 7/10
Women's Radiator TRAIL Tee
£60, €65, $69 USD, XXS-XXL // velocio.cc
With to a similar fit to the Micromodal TRAIL Tee, this is a loose, yet tailored women's cut in Velocio's Radiator fabric. Why 'radiator'? Well, it's designed for the hotter months, to help you lose heat more effectively and keep your cool using their Polartec® Delta fabric originally used in their Radiator Mesh Jersey. It's a blend of polyester and Tencel, a natural fibre made from wood pulp, plus elastane to give the stretch, which combined helps to wick sweat away from the skin and helps cool you as it evaporates. The texture is something like a Parmesan cheese grater, with tiny little holes to help breathability while still retaining your modesty.
Does the tee work as they claim? Put to test in some of our early summer heatwaves, I can say it certainly does! Not only is it wonderfully breathable, it also dries faster than bamboo or merino tees that I'd usually plump for, which is a major bonus for long days out or multi-day rides.
The sleeves are a little longer on this tee, and it weighs an astonishingly light 99g. You'll also find the same dropped hem at the back like on the Micromodal TRAIL tee. I love the vibrant colours here, with either this bright golden yellow or a deep 'ultramarine' blue.
For those with a keen eye, you'll probably notice the splatter stains on my beloved yellow tee; we had a very sloppy day of mountain biking in the spring in a place with heavy clay mud. I haven't been able to wash out these stains! I guess that's one of the dangers of lighter coloured clothing!
Velocio also makes a sleeveless tank tee and a long sleeve from the same Radiator material, in a few other colours too. The darker royal blue long sleeve is definitely going in my basket!
Verdict: Wonderfully lightweight and cool, simple vibrant style at a reasonable price. 9/10
Women's TRAIL Base Layer
£60, €64, $69 USD XXS-XXL // velocio.cc
A thin mesh base layer is usually something I'd reserve for summer road riding. So I was curious to see this item included in the TRAIL collection. Compared to their more road-orientated Radiator SL base layer, this garment is made from a 100% recycled lightweight mesh fabric. It unusually also features three rear pockets.
Pockets are popping up everywhere these days (as you'll also see in a minute with the bib liner shorts). I am totally for the freedom of loose-fit tees over traditional cycling jerseys, but also when it comes to riding off-road and potential incidents, I always think carefully about what kind of objects are safe to pack in pockets close to your vital organs. I'm sure energy bars would be fine here, as long as you don't mind them potentially getting a bit warm or sweaty on your lower back. But I'd hesitate to put much else here, opting for a hip pack, backpack or on-bike storage instead.
Combined with either of the TRAIL tees, the high crew neck offered a bit of extra modesty, visible behind the v-neck cuts of the women's Radiator or Micromodal tees.
Unlike a few others I've tried, the Velocio TRAIL base layer stays bright white even after a lot of washing (even with mucky kit), which was unexpected. Besides the colour, the fit seems just as good after several months as it did when fresh out of the packaging too.
Verdict: Beautifully fitting quality summer vest, 100% recycled fabric but pockets feel a little unnecessary. 9/10
Women's Mesh TRAIL Bib Liner
£119, €119, $129 USD, XS-XXL // velocio.cc
Two words perfectly sum up the mesh TRAIL bibs; game changers. Recently faced with the quandary of what to wear under baggies (more on this coming soon), I was recommended these as a breathable option instead of conventional bib shorts. It's easy to see why that's the most popular sub-baggy underwear choice; the comfort of a chamois for pedalling teamed with the fact that most of us already own bibs, or even have old pairs that really shouldn't see the light of day anymore (for your fellow riders' sakes), but are still perfectly fine worn under another layer.
Even if everything else fails, just hauling these on is an absolute laugh. Like a fishnet onesie, they have to be without a doubt the kinkiest thing I've ever worn. Not to be worn without overshorts. Ever. That makes them a pretty specific item of kit. But if you wear baggies often, and seek the combination of a great pad for hours in the saddle without sacrificing breathability, these could be for you.
The women's version features Velocio's 'FlyFree' back mechanism for ease of 'accessibility', as one friend put it recently. In plain English, with very stretchy criss-cross straps across the back, you can have a pee trailside without having to take all the layers on your upper half off. Take a look at the rad animation here to check it out. And does it work? Tried and tested many a time (no public toilets in post-lockdown Britain), it certainly does! I'm looking forward to testing the equivalent non-mesh bib shorts with FlyFree for non-baggy riding for this mega (and all too often overlooked) feature alone.
One other feature is a set of mesh cargo pockets, at either side of the thighs. Like I said before, pockets are everywhere! Again I'm a bit mystified here. Even under more loose-fit baggies, they're a bit tricky to get to. Do you shove your hand down your shorts from the top, or wiggle up from the leg? And I'm not really sure what you'd want to store there that you couldn't find a place for anywhere else. When teamed with Velocio's own baggies, which are very stretchy, they're a bit more accessible. It's hardly a disadvantage only weighing a few grams of light mesh, but feels unnecessary for me. However, it's worth noting that they're available with or without these pockets. If I were to choose, I'd probably opt against them next time.
At £119, they're not cheap, but perhaps less than what I'd expect for a normal pair of bib shorts of the same quality. If, like me, you're much happier in baggy shorts rather than lycra for riding off-road, they're a great option. They're also a great choice for a multi-day bikepacking trip, where I found they dry out much quicker than conventional bib shorts. Avoiding that awful morning feeling of pulling on slightly wet shorts from washing in the river or under the tap the night before…
Verdict: A true game changer for combining baggies with big summer days out. A rare

10/10
Women's TRAIL Short
£138, €149, $159 USD XXS-XXL // velocio.cc
On the scale of baggy shorts, Velocio's TRAIL Shorts are definitely towards the slim-fit end. I sized up from a medium to a large, to give space to accommodate padded shorts and a bit of extra room for knee pads for mountain biking. The fit may be closely tailored, but the lightweight stretchy material certainly doesn't limit movement.
Rather than zipped pockets at the hips, these are on the back panels of the thigh. This takes a bit of getting used to, but is actually pretty neat as it doesn't interfere with pedalling. You can fit a surprising amount in these pockets, thanks to the stretch, from a phone to a whole bottle of Rubicon (my guilty pleasure)!
Waist adjustment is external – sort of – with a webbing belt secured and adjusted at the front of the waistband, yet tucked away into a sleeve. This webbing end can tend to pop out of place every now and then, but that's no inconvenience compared to scratchy velcro or poppers on your skin. At the top of the quality YKK fly, a slide-locking popper means there's no unfortunate trailside incidents. Even under quite some pressure it stays perfectly in place, only releasing when you slide the fastening horizontally to release.
The TRAIL Short and Mesh Bib Liner combo really came into their own on a recent bikepacking trip. Besides the benefits of zipped pockets and some more modesty, these were ace for multi-day rides thanks to their lightweight construction and quick drying. I literally wore these overshorts into the shower, washed them, wrung them out using a towel (traveller's top tip) and they were dry enough to put straight back on to cook dinner.
On that same trip, I was really able to put the DWR coating to the test, with both drizzle and downpour! The 'Durable Water Repellent' treatment really does the trick for rides like these to keep the worst of the weather off. But for trips in more inclement weather, proper waterproofs are definitely a better choice.
What I love about these 'baggies' is that they're equally at home on MTB trails worn with knee pads as they are on a week-long bikepacking trip. And equally on a post-work blast around the local gravel roads. They're both subtly designed yet technical; comfortable, stretchy and quite obviously the work of someone who's done a fair bit of this kind of riding themselves.
The shorts are available in this khaki shade, a dark grey or navy blue. The one real sticking point here is the price. At £138, that's about double the cost of most on the market.
Verdict: Cleverly thought through but spendy all-rounder baggies, size up for a looser fit 8/10
TRAIL Glove
£69, €74, $79 USD XS-XL // velocio.cc
The long-finger TRAIL gloves from Velocio are just the type that I like to ride off-road in. They're similar to my old favourite pair of Specialized Grail gloves. Personally I prefer really thin gloves to give some protection from falls and scratching brambles, but also feels like they're barely there and doesn't restrict movement.
The light construction paired with the very shallow cuff around the wrist are a comfortable fit. There's a small amount of thick padding on the upper and side of the palm where you'd typically get calluses) under the synthetic suede material, which also extends between the thumb and fingers, and over the tips of two fingers in the areas that tend to wear the most. The remainder of the glove, over the back of the hands and connecting the two sides, are a thinner mesh. I had real doubts at how durable this would be, especially on the fingertips. Yet after months of heavy use they haven't snagged once. This mesh helps to keep the gloves really light and breathable, perfect for hot and sweaty summer riding.
Colour choice is either black or a dark navy for these gloves and they're available in five different unisex sizes from XS-XL. The size guide on the website gives thorough instructions for measuring hand length and width to help you choose your right size. Even using the tool, I did find that they come up quite generous. If you're undecided between two options, I'd recommend sizing down.
There's also a short-finger TRAIL mitt, which retails at a lower £41/€44/$49 USD. At £69 these long-finger versions are pretty pricey – certainly not ones that you'd ever want to lose one of! Technically I can't fault them, but I can't help but think that there are similar options on the market for half the price.
Verdict: Lightweight, breathable and tough, but heavy on the wallet. 8/10
Signature Sock
£17, €18, $19 USD XS, S/M, L/XL (35-46 EU) // velocio.cc
Available in a range of bright block colours including red, yellow, cobalt blue, and mint, as well as navy, dark grey, black and white, the Signature socks are a staple across all disciplines. Choose from three different size options, which range from EU 35-46 (UK 3-13).
The red, mint and pink logo of Velocio is tagged at the back at the cuff very subtly, with no word logos visible while riding, only on the sole. If you're looking for socks with a bit more going on, check out others in Velocio's range, from Breton stripes to polka dots and bright tricolour designs.
I found that the socks fitted really well, with enough elasticity to stay up and withstand the laundry cycle. They're pretty thin, so I'd probably reserve these for summer season use only. I love the vibrant colours, as well as the availability of the staple black and white too, so there's a colour for everyone.
At £17, they're at the higher end of my sock budget (I'd only go over £20 for something like waterproof socks). But personally I'd rather pay a bit more and get socks that last for years, not just a few months. So far, so good.
Bright and fun, a comfortable and quality summer choice. Verdict: 9/10
My verdict
The Velocio TRAIL collection features subtle branding and an emphasis on a good, equal range of colourful options for both men and women. Popular favourites of khaki, black and navy tones are contrasted with fun, popping yellows, red and striking blues that'll make you stand out on the trail, without resembling a 90's MTB throwback.
I love how the collection is for every kind of off-road riding. Designed for duality of purpose, and the kind of kit that you wouldn't look too out of place in while enjoying a refreshing drink post ride either.
The wide range of sizes available makes this collection really inclusive, and the sizing guides on the Velocio website are far superior to others I've used. On the whole I found the collection to be true to size, although I did size up on the baggy shorts for a looser fit.
Besides making great quality kit, Velocio also seems to have a conscience. They're part of 1% For The Planet, where they donate 1% of their total revenue to environmental causes. They're also working on making more of their clothing from recycled materials. Oh, and it all comes in biodegradable packaging too.
Simply put, Velocio make some gorgeous kit – if you have the wallet to accommodate. They're pricey without being stuck-up either, which seems to be a rare combination in cycling. But with their focus in terms of their environmental responsibility, perhaps it is worth it?
Photo credits @wimtilkey
Velocio TRAIL Collection
£ Various
Truly multipurpose kit for all your off-road adventures, with some revolutionary design features, Velocio's TRAIL collection is a great - but pricey - option for day-long comfort and style.
8.0/10
Pros
Great range of sizing and online fitting information
Vibrant colourways
Minimal, subtle branding
Cons
You have to pay for quality!
Still unconvinced by off-road jersey pockets
Last modified: 24th July 2020