LUXE by name, luxurious by nature? Velocio were keen for us to try some of their LUXE bib shorts, claiming them as 'the most luxurious long-ride bib short made'. I put these khaki shorts to the test, choosing them for road rides, gravel rides and multi-day bikepacking trips, to see if I could either prove or disprove Velocio's bold claim. At £211 ($259 €228), they're certainly already at the luxury end of the cycling market.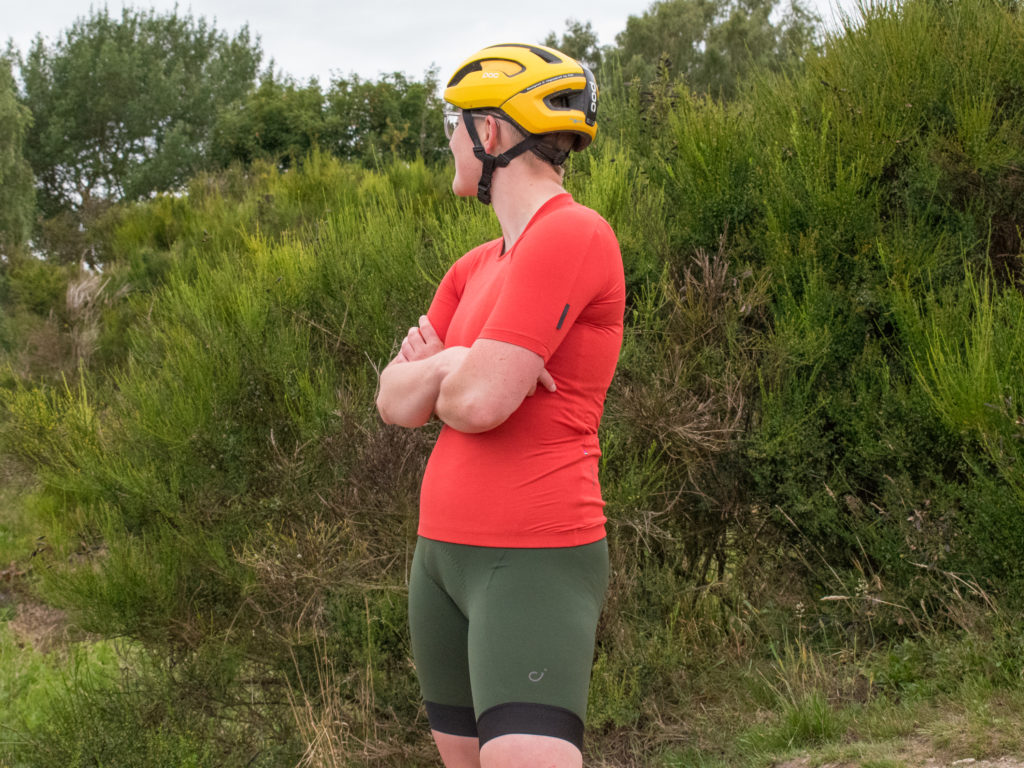 Fit and construction
The LUXE bibs, an 80/20 blend of Polyamide and Elastane, is the most compressive of the Velocio shorts. You certainly feel this as you pull them on; the fit is snug without being restrictive. The material is also wonderfully soft, both externally and against the skin.
To secure the shorts on the thighs, Velocio has opted for a combination of a wide 4.5cm elastic gripper, backed with very light silicone dots. Working together, this means the shorts stay exactly in place for the duration without constraining your thighs or giving you the dreaded 'sausage-leg'. The leg length is slightly on the longer side, rather than some very short women's cycling kit.
For the women's shorts, there's an elasticated mesh panel from the stomach almost to the neckline, between the two bib straps. Besides stopping flies getting lost down my sports bra, this is a pretty neat feature for enhanced modesty. You can easily unzip a jersey or unbutton a shirt without it being too revealing, sort of like a half baselayer.
Another noticeable feature of the fit is how high the LUXE material extends up the lower back. When teaming with baggy tees or waist-tied casual shirts this means you're well covered, without feeling too hot.
FLYfree
This is the name that Velocio gives to its women's-specific bib short design that enables you to make super easy nature breaks. This is best illustrated by a fun animation here, but in essence, a combination of cross-strap elastic bibs on the back and a wide, elasticated region means that you can simply stretch and pull down the shorts to pee without having to remove the over-shoulder straps, as well whatever jersey and helmet you have on on top of those.
This challenge has plagued female cyclists for decades, and numerous potential solutions have been offered from zip-around seats to halterneck clips. Besides simply wearing waist shorts rather than bibs, I haven't found any other shorts that have addressed this as well as the FLYfree design. It really is a breeze, and going back to testing conventional designs is somewhat disappointing after riding these.
Women's specific chamois
The LUXE bib short comes fitted with Velocio's Signature chamois, developed with and produced by industry leader Cytech (Elastic Interface).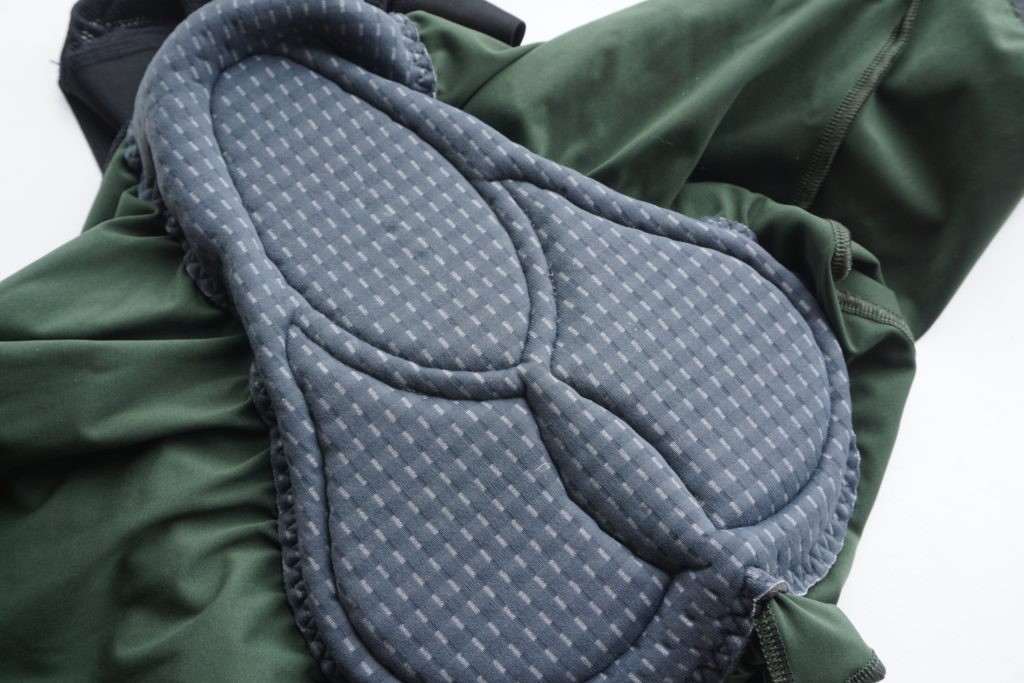 Aesthetics
There's no denying that the Velocio LUXE bibs look sleek. You can choose from classic black, plus navy, khaki, deep cherry and dark grey. All of these colours are dark enough to hide grubby dirt marks but subtly stylish.
Branding, like on a lot of Velocio kit, is understated. On the left thigh and hip you'll see the small logo, plus the Velocio word logo and tricolour tab on the right thigh. These logos are printed in a reflective material.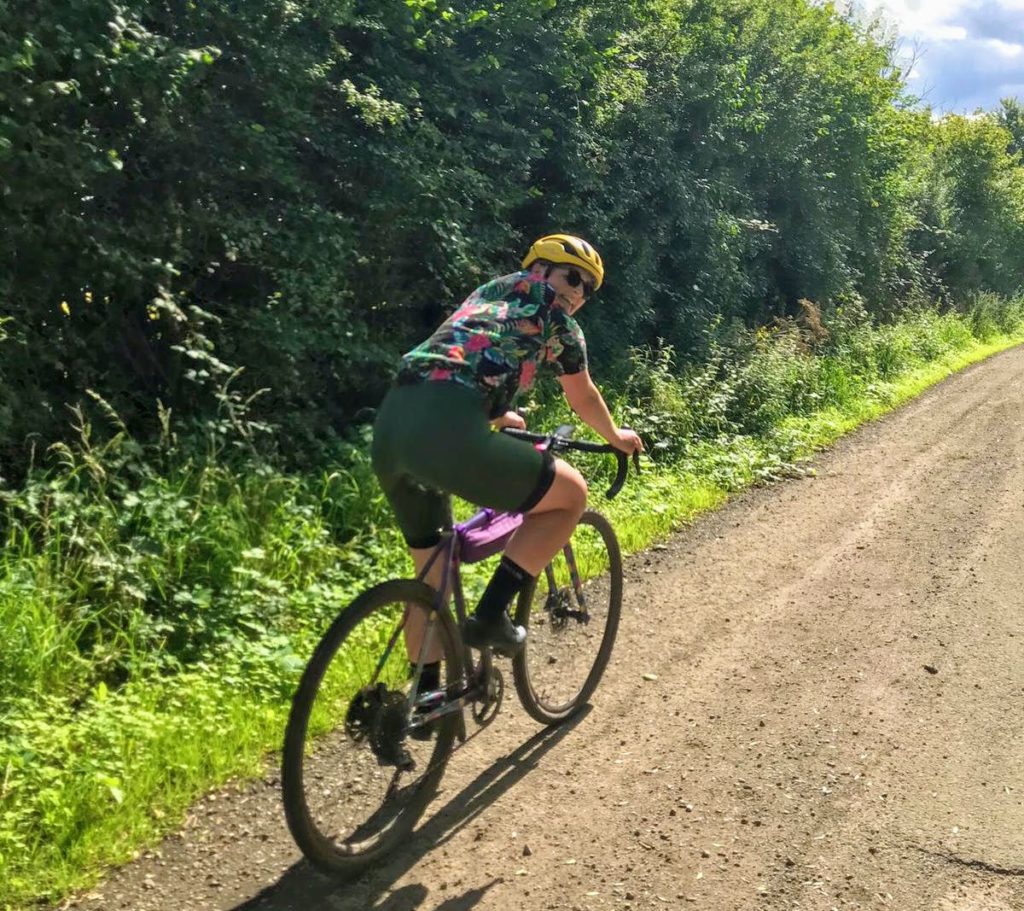 The verdict
I can't disagree with Velocio's statement about the LUXE bibs being supremely comfy, but the best long-distance bibs ever? The chamois comfort rivals my long beloved ASSOS T.LAALALAISHORTS_S7 bib shorts, yet the closure and FLYfree system is much better. Other superb bib shorts that I've tried include Castelli's KISS Air2 chamois and the latest GORE women's C7 bibs, but neither of these feature pee-break friendly designs either.
Of course, as many long-distance fanatics will know, this sort of quality comes at a price. At just over £200, it's quite an investment for the well-being of your backside. Even with the introductory 15% off on the website for new customers, that comes out at £179.35. The price is the only real downside that I've found to these brilliant bibs, though Velocio does offer other bib shorts at a more affordable price still with FLYfree, starting at £109 for the Foundation Bib. Check out Velocio's bib short guide here for the full range.
Photo Credits: Tim Wilkey
Velocio LUXE bib shorts
£211 $259 €228
Disagreeing with Velocio's claim of 'the most luxurious long-ride bib short made' was tough; these really are a spectacular pair of bib shorts, alas with a spectacular price tag to match
9.0/10
Pros
Thick, women's-specific chamois is wonderful even for multiple days
LUXE material is super soft and well, luxurious
FlyFree design is a game-changer for women's wild wees
Last modified: 31st July 2020