Scott, our European correspondent has been riding a Travers Bat Fastard around his local, snow covered trails, in the Chamonix valley to see if a Ti frame really can handle being fat.
Getting a titanium fatbike just right is a work of art. Not only do you have to pay attention to the basic design, but you can't ignore the quality and idiosyncratic ride characteristics of the titanium tubing.  Factoring in the demands the massive wheels place on a frame is one thing. Keeping the subtle spring and dampened effect of titanium without the bike feeling like a piece of damp spaghetti is something else entirely.  You don't need to be a frame builder to make one of these things, more of a magician!
Fatbikes? Why bother?
It is quite simple. Fatbikes are fun. Fatbikes are simple, they don't need suspension or much else really. Any trail damping is going to come from your tyres, and their measly 6psi.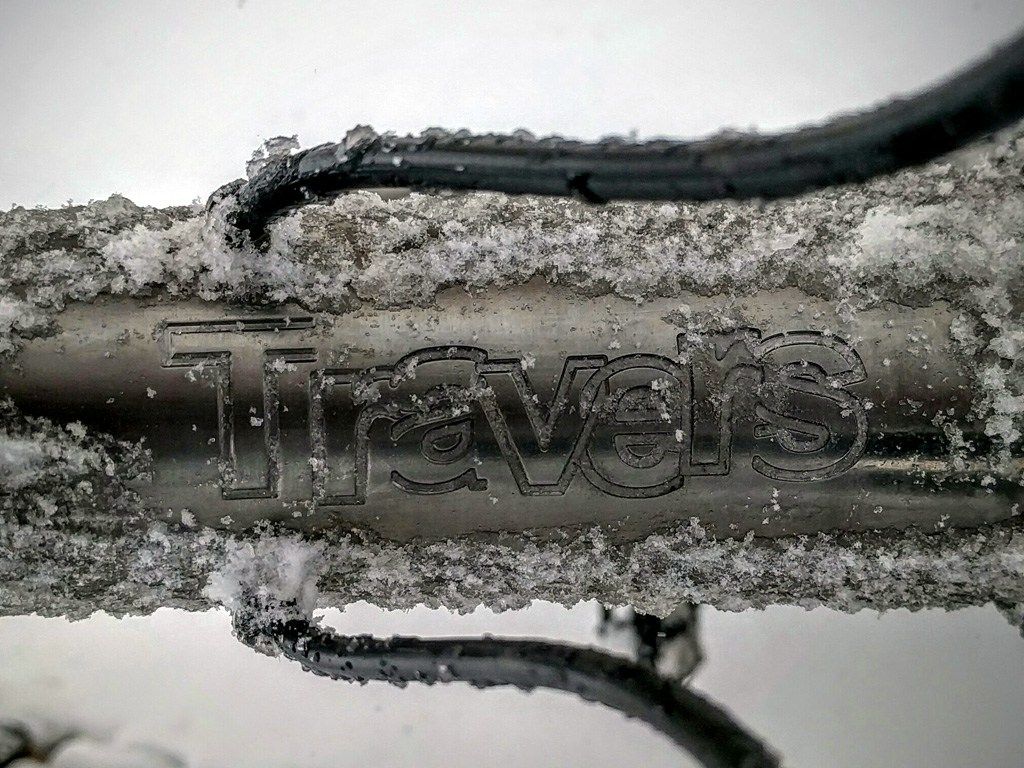 Simple bikes means there's less to go wrong. In turn, this means you don't spend as much time with pre ride faffing and probably get to ride longer!
Fatbikes were originally designed for snow. Living in the Chamonix valley, if you want to keep riding when the snow comes to town, you have to get a fatbike.
Simple really!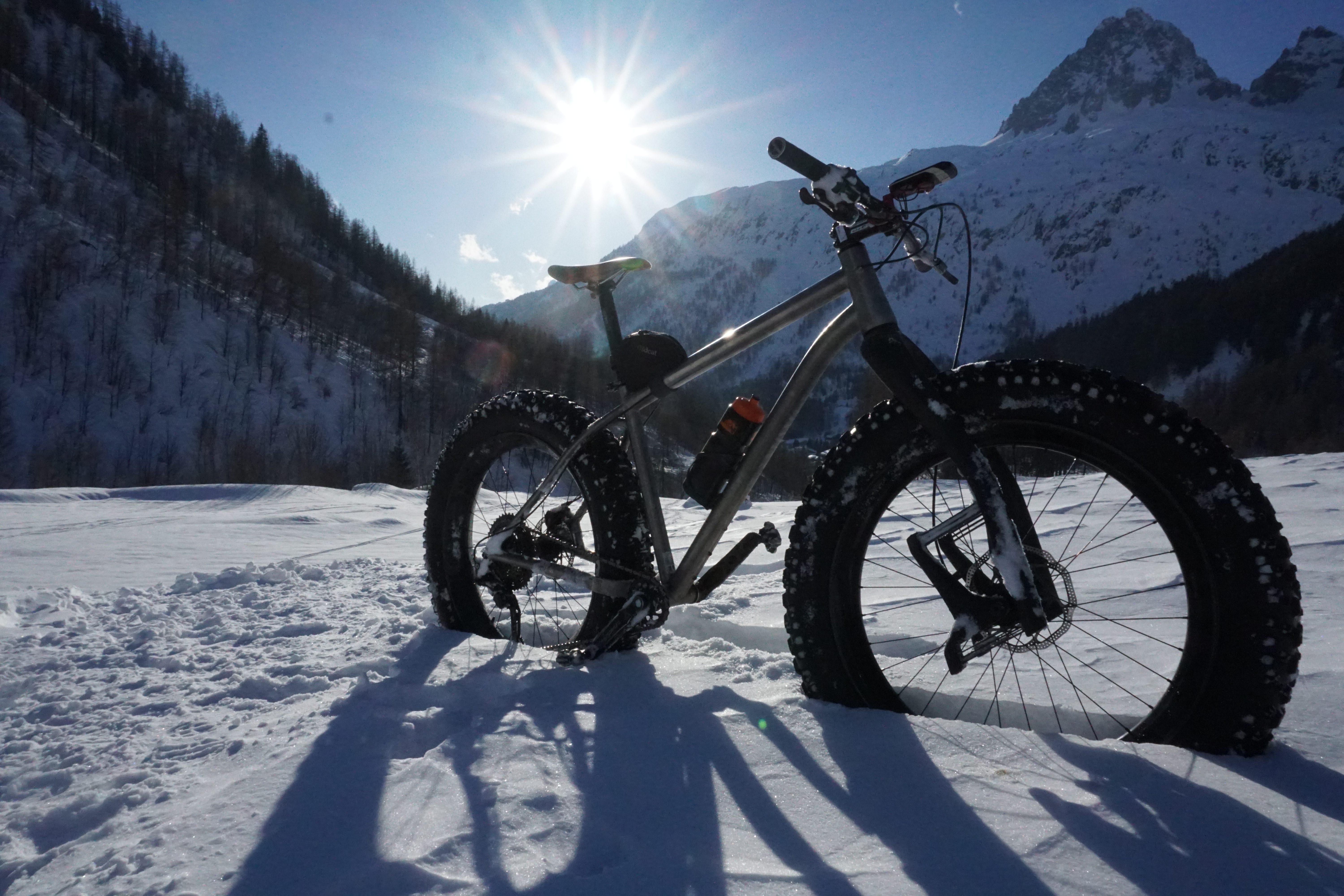 Titanium with race pedigree
Travers needs no introduction. A distinct and well respected UK based brand, their bikes are used by the likes of Steve Day who rode his Russ Ti to World Champion single speed 24hour solo status as well as numerous national top podium spots. Travers frames are a no fuss design with added bespoke features. Such is the confidence in his products, Michael Travers stands by his designs with a lifetime warranty (to the original owner) for all Ti frames. Something that is rarely seen these days.
Travers Bat Fastard Specifications
Wheel size:
26″
Tyre size:
Up to 5″
Chain Stay Length:
465mm
Head Tube:
Tapered
Headset size:
ZS44 ZS56
Fork Axle to Crown length:
494mm
Hub Spacing:
12x197mm
Engraving:
Head tube badge and chainstays
Internal Cables:
Inside the top tube exiting from the head tube
Anything Cage Mounts:
(2x) Top and bottom of down tube
31.6 seat post (internal measurement)
34.9 seat clamp (external measurement)
Bottom Bracket:
100mm BSA
Frame Material:
Ti-3Al-2.5V alloy
Finish:
Brushed with bead blast Travers logo
Bat Fastard Frame Stack and Reach
Stack: S: 605, M: 633, L: 651, XL: 661mm
Reach: S: 395, M: 411, L: 426, XL: 438mm
Each frame is made to order. The (tested) frame can get really fat. Travers designed it to take a full 5" tyre. This will cover you for every snow condition (a necessity out here!) and will keep you riding all winter.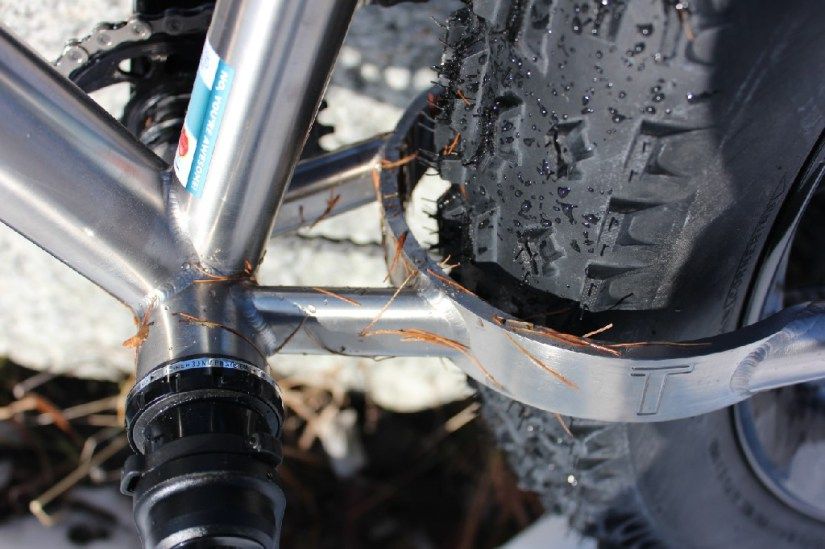 The Bat Fastard's distinguishing feature is the horseshoe BB brace which is as elegant as it is functional. It allows huge tyre clearance and stiffens up that 100mm width BB area. This helps with pedalling efficiency, and also stops the frame wallowing under torque.
Lauf Carbonara fork
Up front, the test bike came with the rather distinctive Lauf Carbonara fork. 60mm of travel in an 1100g maintenance free package. You might ask 'why bother with suspension on a fatbike?'  That's what I thought until I tried it in a range of different conditions.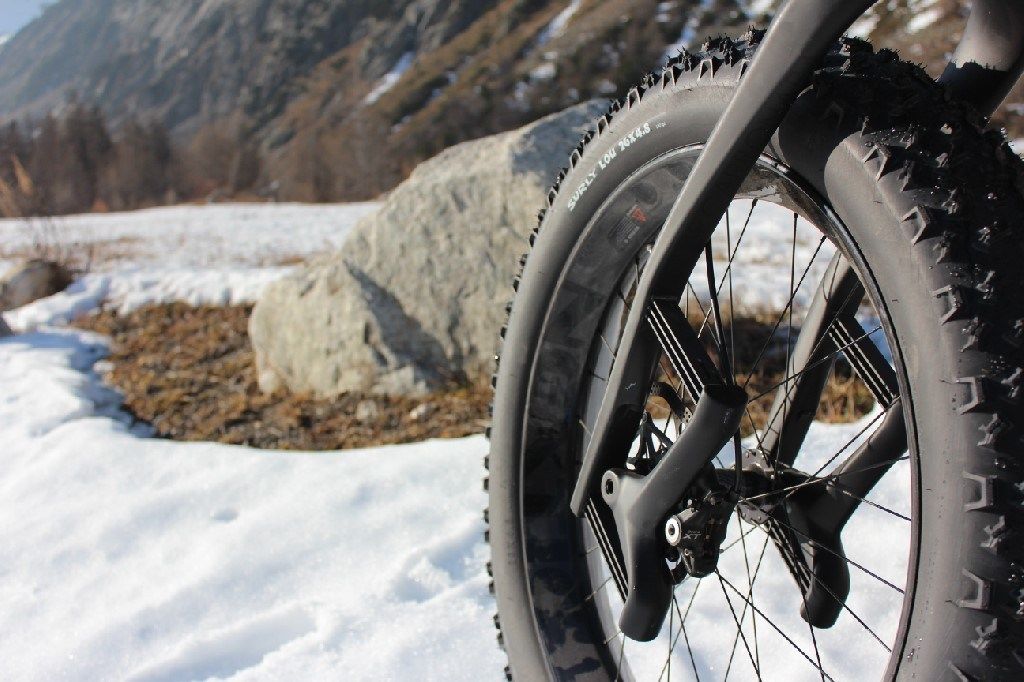 In soft, fresh snow, you don't really need front suspension. Once the trails get packed down and lumpy from other users though, and persistent sub zero temperatures freeze the snow to a hardened layer, the Lauf forks come into their own, just like any suspension fork. The 60mm is enough to smooth out most of the hits and it reduces front end chatter on fast descents. With no sealed parts to maintain, they can be the perfect upgrade to a fatbike for winter riding.
The Ride
The last Ti frame I rode was a gravel frame and it suffered badly from an over flexy BB area. This was in the back of my mind as  I slung a leg over the Travers. I needn't have worried, after the first few pedal strokes the bike was surging forward despite the mahoosive 5" tyres.
Riding in the snow
Riding on snow is an art in itself. Don't be taken in by the reports of huge amounts of grip from oversized tyres. When you are riding in the snow everything is different. If and when you can find it, grip is at a real premium. It is little to do with your tyres, rather it is more to do with the snow itself. Wet snow for example, has virtually no grip at all!
"It's braking Jim, but not as we know it"
Braking on snow is more about directional modification than actually stopping. To all intents and purposes, the front brake is almost redundant. Feathering your rear brake will help you drift the back end through bends, in a kind of controlled, out of control, manner. Once you have a handle on how to ride snow though, you can push the bike just like you would do on dirt… Mostly.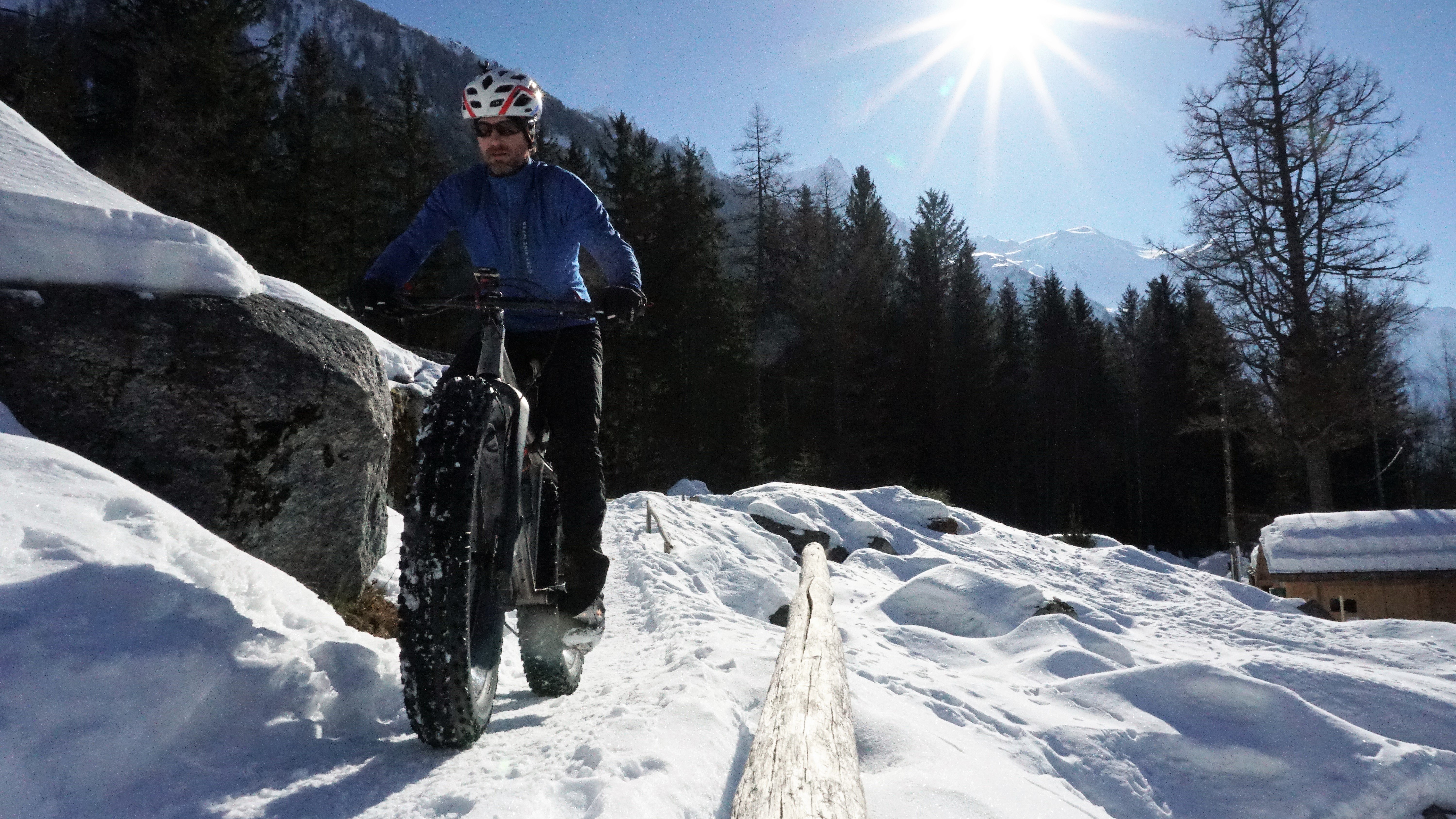 The terrain in the Chamonix is a real mix of flat, albeit brief, open sections (usually groomed), to wooded singletrack and rolling trails, some of it lung bustingly steep. The steeper singletrack descents are committed affairs, with no option of being able to stop on the snow. Grabbing the front brake will bring you down quickly, and grabbing the rear just results in rear wheel drift, perfect though for switchbacks!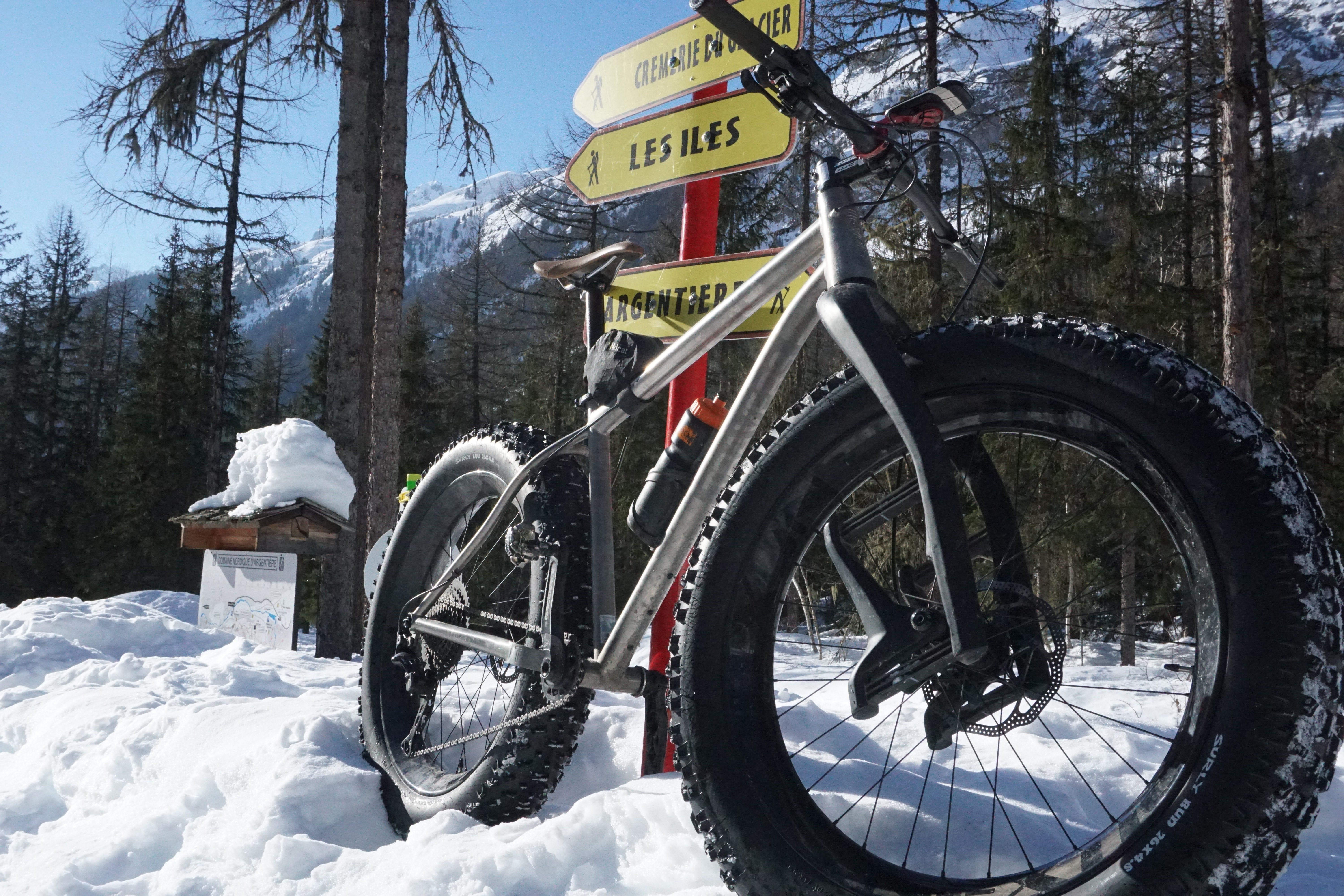 Conclusion
The build of the Bat Fastard is spot on. It retains that slight spring of Ti while being stiff enough to inspire confidence in the ride.  Drift through one switchback turn and there's no over-correction making it hard to prepare the front wheel for the next bend. Push hard on the pedals up steep sections and there's no wasted power input from the BB, only a sense of the Ti working with you. Sublime.
I would happily ride this bike all day or for multi day adventures. The frame is perfectly tuned. Stiff enough to cope with the unique set of (fatbike) forces while retaining the underlying magic of a Ti frame.
The other advantage of a metal frame, of which I am constantly reminded, is that when falling off is a more regular occurrence, metal is probably going to stand up to knocks better than carbon.
I have, reluctantly, given the Travers back to its owner!
Photo credit: Scott Cornish
Last modified: 28th March 2018