Many of us dream of touring in Scotland: the mountains, rugged beauty and remoteness of the land and coastline. For some riders, like Marcus Nicolson, this is their back yard. Enjoy Marcus' account of his last minute trip to ascend the mighty Belach na Bà on his fixed gear.
After recovering from my Badlands 2020 ride I had started to get some energy together again and was looking for some adventures. closer to home in Scotland to tackle before the real winter hit. After some riding plans for that particular weekend had fallen through, I messaged my pal Lewis who I knew was planning to ride fixed gear from Inverness to visit his mother who runs a B&B in Applecross. I'd never done the Bealach na Bà climb and was drawn towards the absurdity of trying to give it a bash on my fixed gear bike, fully-loaded with touring gear.
The Night Before
A day or so later I caught up with Lewis on a chilly autumn night outside Inverness station. After stocking up on a few supplies for the evening we made it over the bridge to North Kessock where we bivvied under a couple of scenically positioned picnic benches by the shore overlooking the lights of the city. As the light drizzle turned to rain I came to the realisation that I'd left my waterproof bivvy at home and had brought just my sleeping bag with me for the adventure. Thankfully Lewis had a spare tarp which I could use, and we both got a pretty decent sleep that night.
Inverness to Applecross
We set off early on our way west towards Applecross, knowing that it would be a fairly flat ride over towards Lochcarron before things got steep, quick! The road leading from Muir of Ord past Gorstan and Achanalt was perfect for fixed-gear riding, and we kept up a good pace before refuelling at the Midge Bite Café in Achnasheen. I think this was actually the last day of the year that the café was open so we were lucky to catch it! A highly recommended refreshment stop for anyone that makes it this far north.
From Achnasheen, the road continued downhill to Lochcarron where Lewis found the watermelon he was craving. I think I opted for an Irn Bru and macaroni pie or some other carb-heavy delight to prepare me for the climbing ahead.
A fairly sharp, steep climb that would set the scene for what was to come. Climbing on a fixed gear bike involves standing up pushing your weight forward as you try to maintain cadence. It's a real workout at the best of times, with a touring set-up it was a challenge.
There is something strangely mechanical about the relationship between bike and rider when riding fixed gear that is hard to describe if you have not experienced it yourself. You can never stop pedalling and the constant motion of pedals turning keeps you concentrated and alive to the spaces around you. Always looking ahead and planning your next move to avoid the pothole in the road or swerve around the car in front keeps you on your toes. I find it a great way to develop a good cadence, and I think it's helped me to build endurance for long gravel events too.
We reached the foot of the Bealach in the late afternoon, ready to begin our assault. Lewis had a bigger cog on the other side of his wheel so quickly flipped it over when we passed the well-stickered sign announcing the base of the climb. The gradient starts off quite moderate and the views were quite spectacular looking back at the sea below. The procession of hire cars and campervans slowly making their way up and down the climb had to be navigated through passing places which offered the chance for a breather now and then. Thankfully nobody is in a big hurry and any traffic was fairly understanding of our endeavours.
I run a 44/17 gear ratio which serves me well for everyday city riding but as things got steeper it was a real grind to get much momentum and keep the cranks turning. I found myself weaving around the road as I got nearer to the top and the hairpin bends that lead to the summit. The temperature at the top was significantly colder and we cooled down fast after the big effort on the way up. The views from the summit were incredible and were appreciated even more after the energy expended on the way up.
A quick muesli bar and onwards to the descent to Applecross: this was going to be a lot of fun. Some fixed gear riders like to unclip from the pedals and position their feet on the down bar when descending. I've never got in to this habit and feel a lot more in control with my clipped in and spinning like crazy. It was great fun bombing down in to the village, skidding on the road along the way. We had a quick self-congratulatory beer at the Applecross Inn before heading further up the road to the B&B, rounding the day off after about 130 kilometres.
The hospitality at the Applecross B&B was fantastic, and a few drams were had in the good company of Lewis' mum Marion, her partner and some other guests.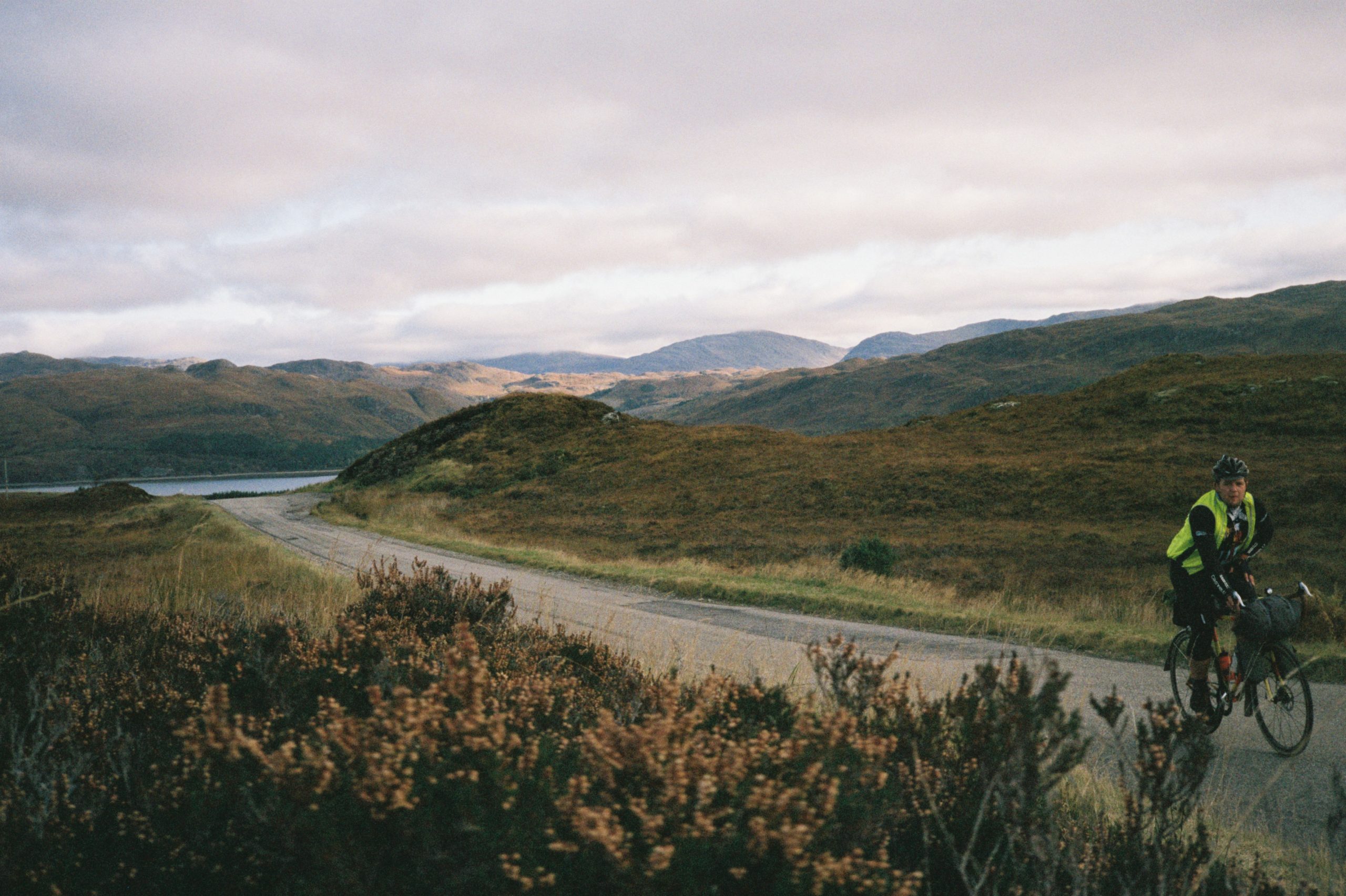 Applecross to Fort William
The next morning, after a full cooked veggie breakfast, I was back on the road. Lewis had a few extra days off work and was going to spend some time relaxing. I was feeling surprisingly good after the previous day's ride, and decided to head for Fort William via the Isle of Skye. This would mean a long day ahead, including a tight schedule for a ferry to catch.
I made my way back up the Bealach. Approaching from Applecross, the climb is more gradual but approaching the top it was time to get off and push. I spent less time admiring the view on the way back, passed Lochcarron and made a right turn to head south east towards Skye. 
These roads were quiet, but lots of small, sharp climbs were really zapping the energy from my legs. I passed the small village of Plockton on the coast before crossing the bridge to Skye from Kyle of Lochalsh. There was a mighty headwind on Skye as I made my way to the ferry at Armadale, but I kept my head down and reached the terminal with almost an hour to spare. When I got on the ferry I found myself dozing off in the chilly passenger area. It's no surprise I was tired, when I looked back on my GPS recording from the day I noticed that I rode that first 100 km without stopping once.
Arriving in Mallaig, the daylight was slowly starting to fade and I knew I'd have to cover around 80 km to make it to Fort William that night. Heavy rain and storms had been forecast for the coming days, and I knew it was going to get wet later that night. If I pushed on fast there would be less of the wet stuff to deal with later on. There were a few handy bits of cycle path mixed in with road sections as I passed through Arisaig and Lochailort. Of course, there was plenty of wind and climbing to be had along the way too. By the time I reached Glenfinnan it was dark and with torrential rain. I was reluctant to stop in case I cooled down too much, so kept ploughing on. The last two hours of the ride were really tough but I knew I would get to Fort William in due course, and the prospect of warm food and possibly a warm room for the night kept me going. 
When I eventually arrived in Fort William I knew I wasn't going to bivvy. I had a dry set of clothes, but I didn't think I'd be able to keep warm enough to get the rest I needed, so instead I opted for the first Premier Inn I saw. To make a reservation at such an establishment you have to use your phone. This may sound straight forward, but when you are soaking wet from head to toe it becomes difficult to navigate a touch screen, never mind navigate a hotel booking site! Thankfully the night manager was patient with my repeated attempts to work all this out and didn't seemed phased by the dripping mess I was making of the reception. She also recommended I take my bike in to the room in the lift. Perfect. When I got in the shower that night it felt like my feet were burning after the sudden temperature change, a strange sensation that I haven't had too often! All in all, I'd covered 320 kilometres and around 3,670 metres of elevation in my two day ride.
A few readers might be asking what this write-up from a road ride is doing on a gravel/adventure website? I would consider myself to be foremost an off-road cyclist, however I think there is plenty to be learned from riding, touring and adventuring across all disciplines. I'd love to read more about other styles of riding or training methods which ADVNTR riders dabble in. On to planning the next challenge…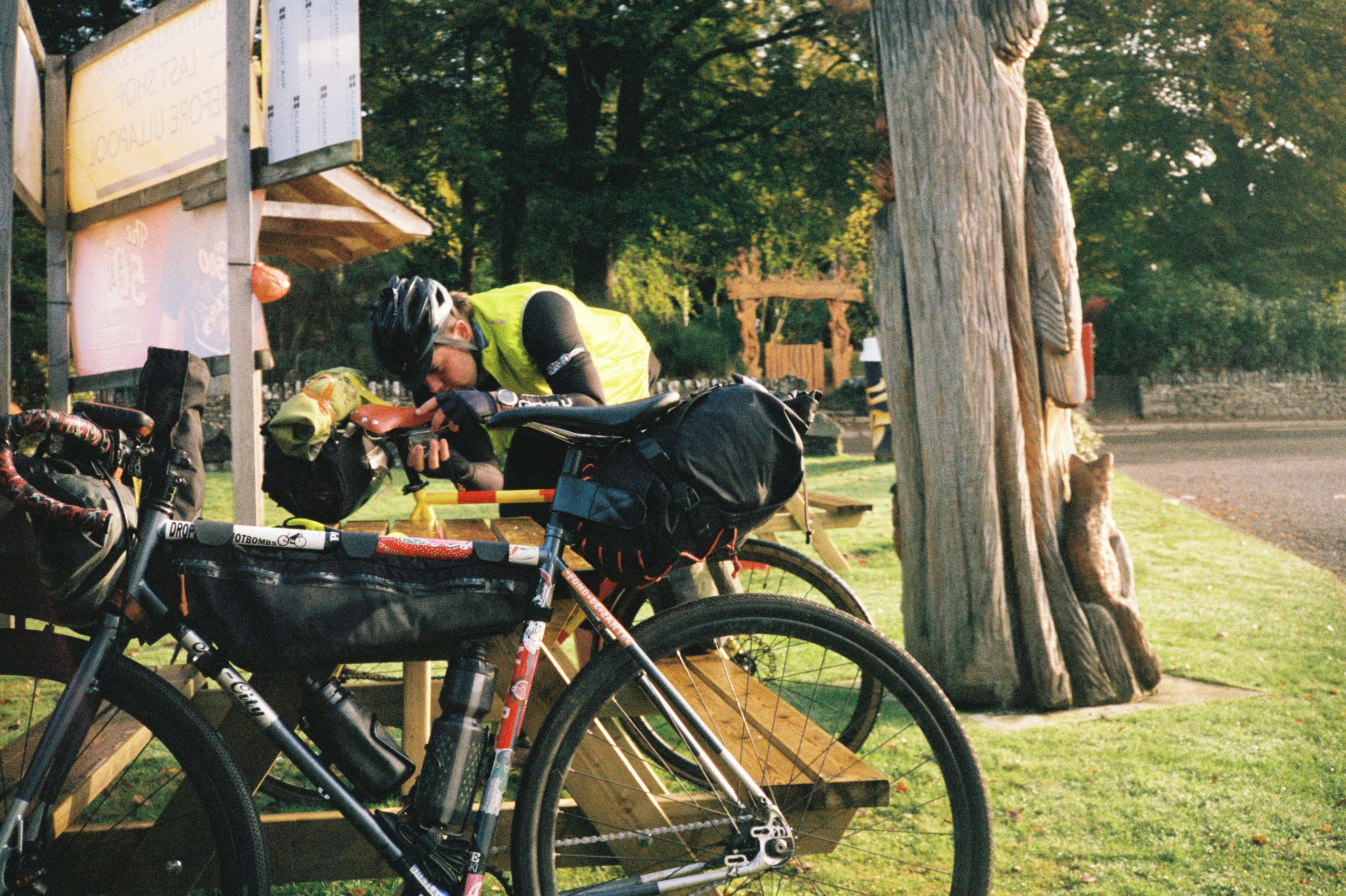 Last modified: 4th February 2021