With bikepacking currently in vogue, the utilitarian luggage bags have become fashion accessories overnight. With options ranging from pricey to "wow, how much?!?" you sometimes have to check you've not wandered into the designer handbag section by mistake.
If you can live without the latest Dyneema wonder materials or a hand-stitched diorama depicting bikepacking nirvana, then affordable options can be found. Here we take a look at the Topeak Bikepacking series which promises a range of reliable kit at sensible prices.
All the Topeak Bikepacking product in this feature is in the green colourway option. It's a sort of dusty olive, very much this season's gravel colour du jour. Black is also an option if feel the green will clash with your bike or don't fancy following gravel trends.
On test are the Backloader, Midloader and Toploader, which cover the main bases of saddle, frame and top tube respectively. Topeak also offer a handlebar system, the Frontloader, for those heading on the long haul.
We opted to load up with enough kit to cover a simple summer overnighter; food, tools, spare clothes, sleeping bag and bivy. All of which fitted perfectly into the 'top, mid, back' setup.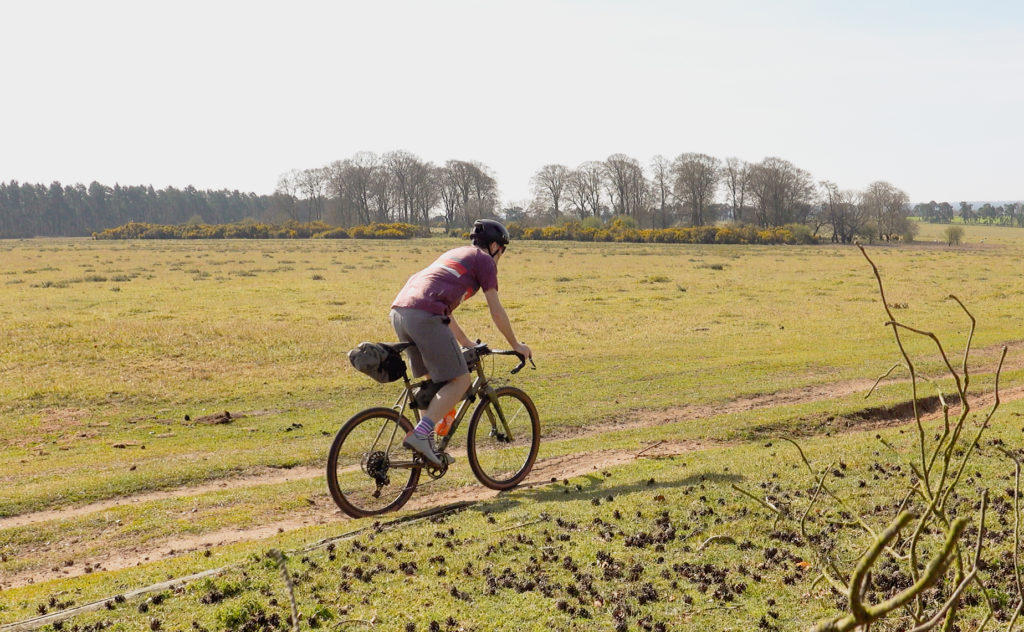 Topeak Toploader
With a 0.75 litre capacity, the Toploader is roomy enough to cram in those essentials you need close to hand. The padded storage compartment will easily swallows a compact camera, phone and a couple of energy bars and still have room to spare. The bright yellow lining is a neat touch, meaning you won't be digging around in a dark void.There's also a velcro divider should you need to keep the contents separated for some reason.
The edges are piped with rigid plastic to keep the bag in shape rather than going saggy. The front panel section of is constructed from a hardwearing plastic material. This area gets a lot of abuse from the steerer constantly rubbing the bag. So top marks, Topeak for reinforcing this part of the design.
The durable nylon outer is rain repellent, but there's a further trick up the Toploader's sleeve. Tucked away on the left side is a small pocket which houses what can only be described as a shower cap. Should you need to protect your valuables in a heavy rain storm, this elasticated cover can be called upon to fully protect the bag. It restricts easy access to the zipper, but is definitely a handy feature for bad weather.
There's no bolt-through mounts to secure to the bike, just three straps of heavy duty Velcro to hold the bag in place. Usually with skinny steel tubes I find straps never cinch down tight enough to secure a bag, not so with the Toploader. There's plenty of adjustment to make to take out the wobble no matter how skinny or wide your tubes.
There's little else to say about the Toploader other than the zip. It's got a great big burly toggle, so you can even grab it with thick, gloved hands. The action is nice and runs clean and like the rest of the bag, is water resistant.
For £27.99, you get a tough, hardwearing bag, loaded with features and nothing to grumble about.
Topeak Midloader
The Midloader fills that empty space in the centre of your frame. Available in 3 sizes, from small 3l, 4l medium and a 6l large, there's an option for everyone from diminutive to gargantuan. As the design is intended to cover a whole range of bikes from road to MTB and gravel in-between, fit is a little generic. Our 4 litre test sample looked a little lost attached to a size 56 frame.
Constructed from the same water resistant nylon material as the Toploader, it's certainly hardwearing. The fabric is a lot 'looser' than other frame bags we've tested, and more susceptible to flapping in the wind if you are only carrying a few light items. One really neat feature is the dual zips, either side of the bag and super handy for accessing stuff on the fly. The same large toggles as on the top tube bag make it an absolute doddle to grab hold of even in gloved hands.
The Midloader attaches to the top tube via three generous straps of Velcro. They're long enough to deal with everything from skinny to chunky carbon tubes and are soft backed to reduce paint abrasion. Strong nylon straps with heavy duty buckles enable you to cinch down the bag to both the seat and downtubes to keep waggle to a minimum.
Thanks to the dual zips, you can stuff a considerable amount into the Midloader. There are no dividers or pockets inside, just a single void of storage potential. Literally the only thing stopping you is your legs brushing the sides if the 'bag bulge' becomes too intrusive to your pedal stroke!
Retailing at £46.99, the flyweight Midloader doesn't feel like you get a lot for your money. But it is nearly half the price of more designer options like the Miss Grape Internode.  It would have been nice if Topeak carried the same yellow lining over from the Toploader into this bag. If only to give it a more quality feel.
Topeak Backloader
Just like the Midloader, Topeak's saddle mounted bag is available in three sizes; 6, 10, as tested here, and 15 litres. The design follows the tried and tested method of a wide velcro strap to wrap around the seatpost along with two heavy duty buckles through the saddle rails. Generously long compression straps give plenty of leverage to cinch down the load and keep bag waggle to a minimum.
Again, there are plenty of neat touches that show Topeak have given this some proper consideration rather than just throwing together a 'paint by numbers' bag design. Multiple light mounting points adorn the length of the bag, so you can still fit a rear light whether the bag is fully loaded or running on empty. Up top, an elasticated luggage net provides extra stowage for jackets or other soft items. The elastic is also reflective, helping you be seen by motorists on dark lanes.
Another nice point to note is that Topeak include a waterproof inner bag to keep your contents dry. More than just a flimsy token gesture, it has a 10,000mm waterproof rating and features an air release valve so you can really compress your kit when packing.
Stashing everything in the waterproof bag, compressing it and then squeezing into the Backloader was a doddle. The heavy duty straps feel strong enough you could hang off them, but mean you can really pull it tight and make the load stable.
The 10 litre Backloader is again, very reasonably priced at £64.99 considering the build quality and features on offer. Despite it's diminutive size, it felt like you can pack an endless amount of things if you just keep cramming. And the elastic luggage net proves useful for those things you just can't fit anywhere else. Or forgot to pack…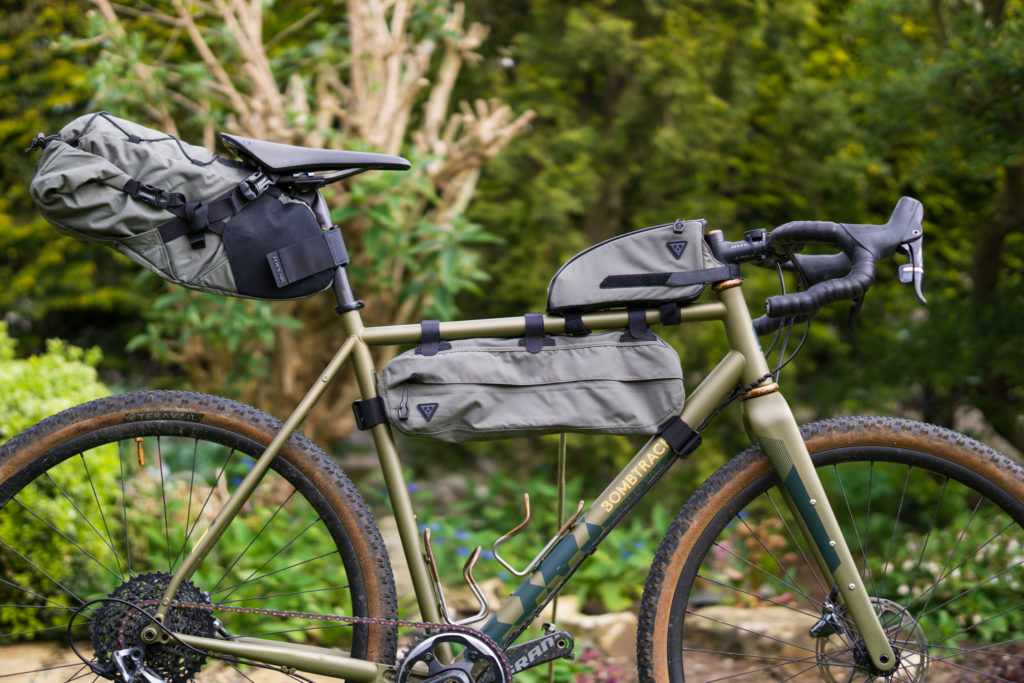 Verdict
Overall, I was really impressed by the Topeak Bikepacking Series. All the equipment is simple to use, well made and durable enough for commuting and light touring. For long, multi-day tours or proper wild excursions; the drag your bike through bramble stuff (like Emma's Grenzsteintrophy Epic), I'd look at something harder wearing. But for the casual bikepacker, Topeak has produced a competitively priced range of kit that functions very well indeed!
Last modified: 19th June 2020