Saddles are fiendishly difficult beasts to review. The problem is that they are so personal, what works for one person can be excruciatingly uncomfortable for someone else. It took me years to find the saddle that suited me best so I generally need a pretty hefty shove to get a new one.
The Tioga Undercover Stratum, looks as if it has been designed for off-road use. Experience suggests that off road saddles do not always work that well within a "road" context. Would the Tioga be too 'off-road specific' or does it have an application as a more generalist saddle?
Tioga Undercover Stratum
I tested the 240g entry level, CroMo railed model.
Contrary to popular belief, CroMo rails are not necessarily a downgrade. I actively seek out saddles with CroMo rails  because I find them to be more robust, and no less comfortable, than their more expensive siblings.
What makes this saddle any different to anything else on the market? To find this out, you only have to look underneath where you will find a latticework structure as opposed to the normal solid base, like on the WTB SL8 Team Saddle. The first time I looked at it I thought it was a gimmick with little practical application. Obviously it was designed to flex but who are they kidding? It will be of little or no benefit and with my weight (200lbs) it is just going to break.
Will it work for me?
The Bio X Pad ReActiv has just the right amount of padding, in just the right place and, even better, the cut out is ideally placed. In purely practical terms, the combination of the two means that I have not suffered from any numbness. You know that feeling where all feeling disappears from your groin? Well that simply has not happened since using this saddle.
The overall shape is generally on the flatter side, facilitating movement around the saddle. I also found the transition area between the nose and the main body of the structure to be well designed, not too thin and not too wide.
So, on the whole then, pretty much what you would expect from a decent saddle. But that would be forgetting its USP, the latticework. There is definitely a noticeable amount of give in the main body. You can flex it with your hand. When riding however, I simply did not give it a second thought, even when careering over stutter bumps and rocky trails. There was none of the undamped bounce I was expecting and, even after riding on the most demanding of surfaces (almost to exhaustion), I emerged unscathed.  Long story short…the Undercover Stratum is simply an exceptionally comfortable saddle.
As far as my worries about the durability of the structure are concerned, there are no signs of damage or cracking. If I have been unable to damage it, the chances are that most people will be fine.
The fabric
The saddle fabric is a sort of faux suede leather. It is soft to the touch but seems quite durable. In use it achieves the rather clever trick of keeping you in place without clinging to your shorts. If you have a dynamic riding style, this can be quite important.
So far, the fabric has proved resilient enough and has not torn, split or abraded. Having said that, I have yet to subject it to a winter of wet and grit!
Negatives
There is only one negative that I can think of. If you use this saddle in the wet, guess what is going to be exposed to water being thrown up from the back wheel! You might have to bodge a fix for the winter with some gaffer tape or get a wet bum!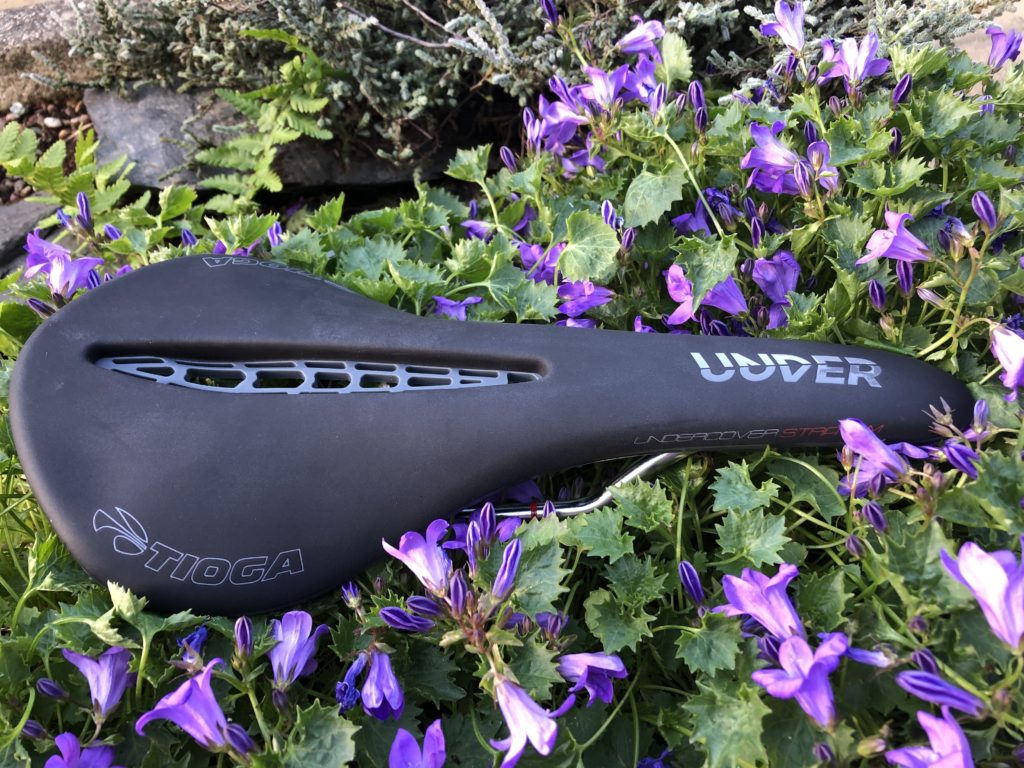 Conclusion
I really like this saddle. At £79.99 it costs a little more than I would normally spend on an 'entry level' saddle. If the design and proportions work for you however, then I suspect you will not find a more comfortable perch for the price.
The Ti version retails at £120.00 and the carbon at £170.00.
Last modified: 25th July 2019