The Low Key Lakes Weekender is all about great company, paper maps and no strict route or terrain.
There are riders out there who love riding their bikes, but don't feel comfortable entering a sportive. There are riders out there who love riding their bikes but don't like the constraints of a rigid set route. There are riders out there who love riding their bike, but distance isn't the primary objective. There are many many riders out there who don't necessarily feel at home in what has become the standard bike event; turn up to a place, ride a route with between 50-2000 others, and then go home.
How many times have you seen a new gravel event promising you the most savage, leg destroying day since Joe Reverdes squatted 25,000 times in 24hrs in 2020? "It's hell out there" they promise, whilst offering a salve of two feed zones to get you through cycling's equivalent of going the full 12 rounds with Mike Tyson. 
For many, these challenges are a worthy adversary, a focus for the year, and something to reminisce about for years after. For others though, the prospect of lining up to follow the wheel of a thousand, mostly male strangers for mile after endless mile isn't what they're after.
How then do we cater for these riders? How do we make an event that provides a challenge to every rider, without alienating anybody? That's what I wanted to try and work out with this test event.
The riders were armed with relatively little information before that mild weekend in September. They were simply told to bring a map of the northern Lake District, a film camera, any bike of their choosing, camping gear and breakfast. They came from as close as a few miles away, or as far away as the south coast. As each rider trickled in on the Saturday they were given a menu of checkpoints and guided towards a master map littered with pins, the colour of which corresponded to a separate category of checkpoint. One compulsory in red, then water spots for swimming, high peaks, good food, historical points of interest, beautiful road climbs, trig points and then some miscellaneous spots such as a very picturesque bridge for a game of Pooh Sticks. Beautiful sections of remote gravel were also highlighted, along with the best roads to guide the riders in their route planning. 
There was to be no set route, no set distance, no stipulations whatsoever with the exception being that all riders must hit the compulsory checkpoint and at no point must they use digital navigation methods. Paper maps only for the weekend.
The afternoon meandered on and a few latecomers arrived to find clusters of people on the lawn gathered around one or two maps and armed with highlighters and biros, brows furrowed. Navigation skills were shared. Questions were asked openly without fear of judgement.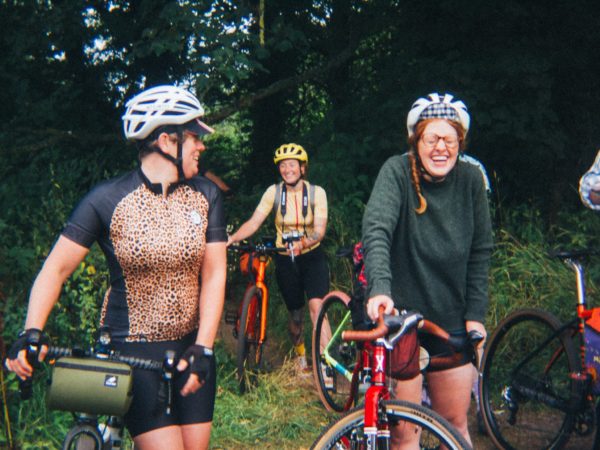 At this point I had to go and cook pasta for 30 people, which was stressful enough to render the next couple of hours a blur as I fed everyone and hoped there would be enough left for me. There was, and then enough for another 5 days. Better to be over prepared I guess.
Fed and watered, and darkness long since descended, the riders were slowly eroded away from the fire pits by the call of a cosy tent, or in the case of a few brave souls, an inviting tarpaulin. 
While everyone is asleep, I'll let you in on a few of my thoughts…
Not everyone has access to multiple bikes, or one capable of smashing along boulder strewn pathways, but they should still have the opportunity to have an adventure.
Why no set route?
What defines 'challenging' varies wildly from person to person. To some a 200km day out would barely register, while for others a quarter of that would be cause for elation. If each participant gets to choose their own route, they get to challenge themselves in a meaningful way, on their own terms.
Why only one set checkpoint?
A common goal gives everyone something to work around, and even if people aren't riding together there's a chance they'll bump into each other while out and about. With the remaining optional checkpoints riders could tailor their day to whatever is going to be most fun, be that incredible gravel riding, ice cream stops, a plunge in a tarn, or a roast dinner.
Why paper maps?
After touring around the highlands on our tandem using only paper maps I adored how it made me take in my surroundings and pay attention to the landscape. A head unit always has a place, but it's very easy to stare at the breadcrumb trail and only really see what's right in front of you. The aim was to encourage everyone to slow down and appreciate their surroundings, but also create an environment where people have to collaborate and help each other pick the best options. Also I am a huge fan of the Rough Stuff Fellowship.
Why film cameras?
As with the paper maps, they make you stop and consider much more than their digital counterparts. Framing a shot and worrying about your finite number of frames conspire to keep your eyes wide open and your brain anchored in the present. Also delayed gratification is another thing there is a shortage of in the modern world. That and it just looks damn cool.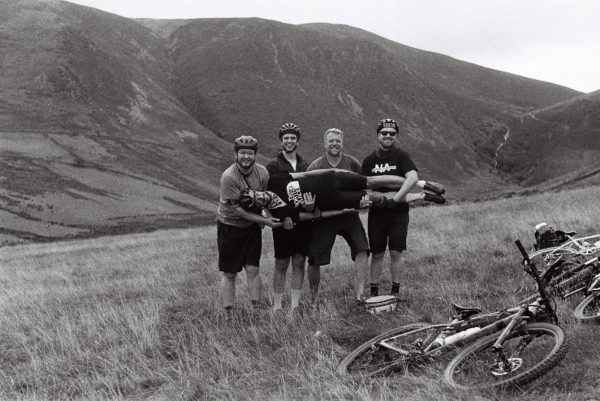 Any bike, though?
Approximately half the checkpoints, including the compulsory one, were all accessible by road. Not everyone has access to multiple bikes, or one capable of smashing along boulder strewn pathways, but they should still have the opportunity to have an adventure.
Equal gender split?
Of course, though rigid gender categories are exclusionary in their nature to those who do not identify as either male or female. Riders were free to identify however they pleased, including as non-binary. As the event was not competitive there were no issues around prize categories to navigate, which helped greatly in seeing the group as a collection of individuals with a shared passion for riding bikes.
But there were prizes?
There were some prize categories, yes. They were designed to encourage the riders to stop and appreciate their surroundings, challenge themselves and prioritise enjoyment over stat-based goals. Prizes were given for daftest bicycle, best lunch/brew up, best analogue photography, route planning, best nature moment, and best dressed.
The call of the Lakes
Sunday morning broke gently, the cows in the field next door vocalising their delight at the beautiful sunrise (I assume). Breakfast varied from a couple of cereal bars to a full bacon and eggs combo on a trangia, washed down with lashings of tea and coffee across the board. 
Riders coalesced into a handful of small groups, with the biggest contingents being from Northern Roll and Ambleside Social Bike Club, while I tagged along with the MTB contingent from Bristol. Northern Roll rolled out around 10 mins after the scheduled departure, while the rest of us decided to drive for 20 mins to get closer to the rough stuff so as to spend more time off road.
Approximately half the field scattered out of the car park in Caldbeck, and after one or two junctions our MTB gang of 6 found ourselves alone. Despite having ridden our chosen route as a scouting ride the week before I managed to get us lost almost immediately, and relinquished navigation duties to more qualified persons until I was in more familiar territory.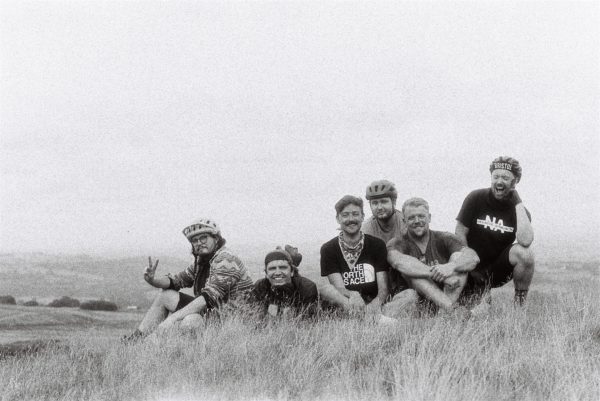 Our route was a predominantly off road lap of the Skiddaw Massif, the northernmost lump within the Lake District, and full of peaks that rival the more famous and well trodden ones further south. Heading southwest we swiftly left the tarmac behind and began to ascend gradually upwards on some relatively kind gravel, the only real obstacles being the freshly hydrated sheep poo and a full speed river crossing just to make sure our feet started out wet. Our first descent was cut slightly short by three 4×4's struggling to open a gate, but a good warm up for bigger things ahead. Test the brakes, test the tyres, wonder if a 30yr old mtb can hang with the big boys…
Despite occasionally having to take things tentatively we all made it to the compulsory checkpoint in one piece for a well earned brew up of delicious artisanal coffee
A few more miles of peaceful, if a little steep tarmac later the truculent lump that is Skiddaw hove into view. It's not as spectacular as Helvellyn, nor as famous as Scafell Pike, nor as Pretty as Cat Bells. It is imposing however; from the west you see one unbroken slope extending from the roadside upwards into, on this day, a mid grey shroud masking the peak. We take in the view, and some snacks and consider what lies ahead. Sam eats two large scotch eggs in either a display of massive confidence or massive ignorance given I've just pointed out that we're about to begin a long hard climb.
The gravel track that leads up to Whitewater Dash waterfall is perhaps the most spectacular I've ever ridden. It gently hugs the contours at the base of Skiddaw, threading its way between Dead Craggs, a 500ft tall jagged face of broken slate, and the gentle slopes of Great Calva and Little Calva. The middle section features a lovely walk, as the track diverges from the contours and heads for more lofty elevations at gradients incompatible with forward momentum. Once beyond the savage hairpins things mellow out into a rocky track that continues to climb slowly before descending down to the youth hostel at Skiddaw House. We had planned on indulging in cheese sandwiches here, but the midges had other ideas. Instead we wolfed down fig rolls and malt loaf and pointed our front wheels northeast along the Cumbria Way.
The descent down to the abandoned mine in Grainsgill Beck was classic British mountain biking; Regular boulders, no real flow, muddy, and narrow enough for regular pedal strikes. Chris had a surprise lie down three times before lowering the pressure in his 3" tyres from 95psi to something a little more forgiving. Despite occasionally having to take things tentatively we all made it to the compulsory checkpoint in one piece for a well earned brew up of delicious artisanal coffee (pro tip: always say yes to riding with people who work in the coffee industry) and some more food.
The final segment of our anticlockwise loop began with a juvenile descent out to Mosedale. Bunny hopping over the myriad potholes, skids, riding with no hands like children again. There really are few pleasures in life like cruising down a big hill with your friends. The road turned northwards and offered a few stabby climbs ahead and a spectacular view behind, before turning left onto the final off road section of the day around Carrock Fell.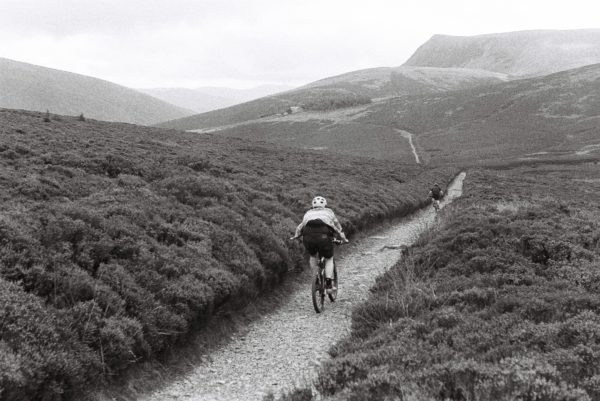 While we were focussed mainly on the riding, so as to treat those from the south before they head home, other groups had different priorities. A couple rode to Bassenthwaite with the sole aim of having a giant roast dinner, which they came to regret at the first climb afterwards. Two seperate groups opted for some dramatic wild swimming, one in a remote tarn and the other in a crisp beck. Both extremely cold options, but invogorating. One group spent some time exploring the ancient stone circles just outside Keswick. No performance aims, just something lovely facilitated by travelling by bicycle. All equally valid ways to use the format.
We began our final climb with tired legs. It was similar in elevation gain to that up to Whitewater Dash, and although the gradient was kinder the frequency of large rocks and the fatigue meant we all opted to walk for most of it. Upon cresting the summit we were treated to spectacular views over the Solway Firth and beyond to Scotland. By this point my headset had come worryingly loose and required tightening with a carabiner every 20 minutes or so. Some modern tech is definitely an improvement.
To polish off a fantastic day out we flew down a grass gulley, wheels skidding over the damp surface and a few disc rotors hissing at the bottom, before a slow cruise to Hesket Newmarket for a pint and some salty carbohydrates.
As a test event it was, in my eyes at least, hugely succesful. Everyone had a great time and the atmosphere was as I had hoped for. There are definitely things to improve on, particularly in ensuring access to the event for those groups that are so often underrepresented in the cycling world. There will also be challenges when it comes to scaling the event up without losing the community feel I tried so hard to foster throught the weekend, but nothing worth doing ever came easily.
Should it happen again I do hope to see you all there, and if it doesnt I'm sorry that you missed out on such a wonderful weekend. Keep your eyes peeled for more stories as they trickle in.
Be sure to follow Will Jones over @zetlandcycles where you can stay upto date with his journey into frame building along with a healthy amount border collie based content too.
Last modified: 23rd December 2021