Are these Overland Selector shorts from Morvelo the holy grail of slim-cut baggies? It seems like they have cracked it, with a great fit, ultimate stretch and zipped pockets.
Intro
Unrivalled stretch, understated design and the all-important zipped pockets. Brighton-based cycling and casual wear designers Morvélo are already established in road cycling and mountain biking. So when they launched their 'Overland' range aimed at the less serious in-between, our interest was immediately piqued.
James tested a selection of the Overland's summer range last year, including their dual baselayer-jersey, short sleeve shirt and the Selector shorts. Here I've got hold of a second pair of the Selector short to put James' 'verdict: finally, a pair of shorts where the fit is absolutely dialled. 5/5' to the test. Are they as deserving of such praise, and can you really make a unisex baggy short?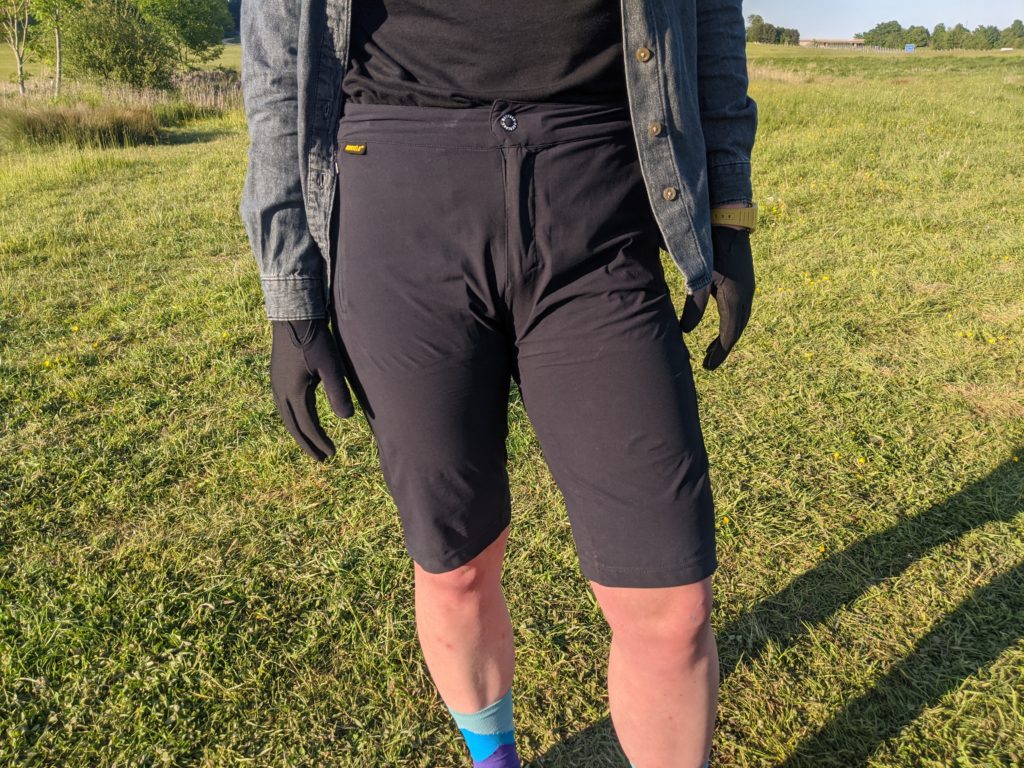 Fit
Stretch is the first thing that you'll notice when you take the Overland Selector shorts out of the packet. They feel thin and exceedingly elastic, and roll down a little smaller than an Alpkit Cloudbase mat. Weighing in at just 170g for this small pair, they feel really light too. Good news for the lightweight gear junkies out there.
This stretchiness is achieved with a nylon and spandex mix, and really comes into its own when you're on the bike. I think that the best sign of comfort for cycling kit is when you simply don't notice it at all. And that's something that I can attest to for these shorts. With ultimate stretch, they move with you as you pedal. Yielding where they need, rather than bunch up or restricting your movement.
For the most part, I teamed these shorts with a set of ASSOS waist shorts (my old faithfuls) for the use of a chamois on longer rides. Rather than be worried whether they'd fit over another pair of shorts, the Overland Selector shorts went on effortlessly over the top. Off the bike, they have a slightly baggy appearance, and a more close fit when in the riding position. Length-wise, they were long enough to cover the entirety of the undershort, even when riding, which is a major bonus.
The construction of the panels of the shorts is simple yet well thought through. The seams on the front are minimal, and a dart down each side the leg helps give shape. You'll find more, smaller panels across the lower back to aid fit around the waist and accommodate the rear pocket just below the waistband. This pocket is large enough for a set of keys and a snack, although I never used it. Morvélo have employed a wide strip of fabric up the inner thigh of each leg and across the crotch. Saving you from a crossroads of seams just where you don't want them…
Pocket this…
You'll find two pockets at the front, one either side, secured by discreet metal zips. These zips are bonded to the outer of the short rather than sewn, so you'll need to take care not to tumble dry them (as I did accidentally with a different pair of shorts once). Although this makes the design really sleek, I'd like to see a top-stitch to make them totally fool-proof and more robust for idiots like me.
There's more than these pockets than what they are, but more what they enable you to do. You can take things like your phone or snacks out of jersey pockets and into these or bags. Leaving you to ride in something less serious, like a technical t-shirt. That's one of the major reasons why I now choose baggy shorts over plain lycra, besides a bit more modestry.
Band aid
The waistband is of an average size (4 cm) and doesn't feature belt loops. After all, who actually wears a belt on a bike anyway? Instead, to keep you in place you'll find a row of silicone gripper dots across the inside of the lower back.
An internal mechanism on the inside helps adjust the fit and keeps the shorts looking simple on the outside. And from my experience, doesn't cause any irritation either. Morvelo have opted to use a set of three poppers to either side, attached to a more rigid piece of black tape that passes through the waistband, so you can tighten or release the fit according to your body shape.
The shorts are opened with two chunky poppers, with one internal and one branded externally, and a chunky plastic SBS zip. These are really secure, so there's no mystery pinging open when you're winging it down the trail or doing some track-side yoga stretches!
Durability
Durable Water Repellent (DWR), is a treatment almost universally used in baggy shorts for mountain biking and other technical clothing. So it's no surprise to find it used in the Selector shorts. Rather than making the fabric waterproof (usually at the cost of breathability), this textile treatment helps light applications of water bead and run off the fabric. Saving you getting wet from puddle splashes and the like, but it won't stop you getting soaked in a downpour. If it's waterproof shorts you're looking for, why not check out the Overland Adapt waterproof shorts.
I confess that this is not a long term test, so I haven't yet been able to test the ultimate durability of the shorts. But I've used them extensively over the last few months, both on and off the bike. I'm surprised happy to say that there's not even a slightly worn patch in the saddle area, nor any other obvious signs of wear. They've even resisted getting stained with tubeless sealant. Not something I'd recommend, by the way…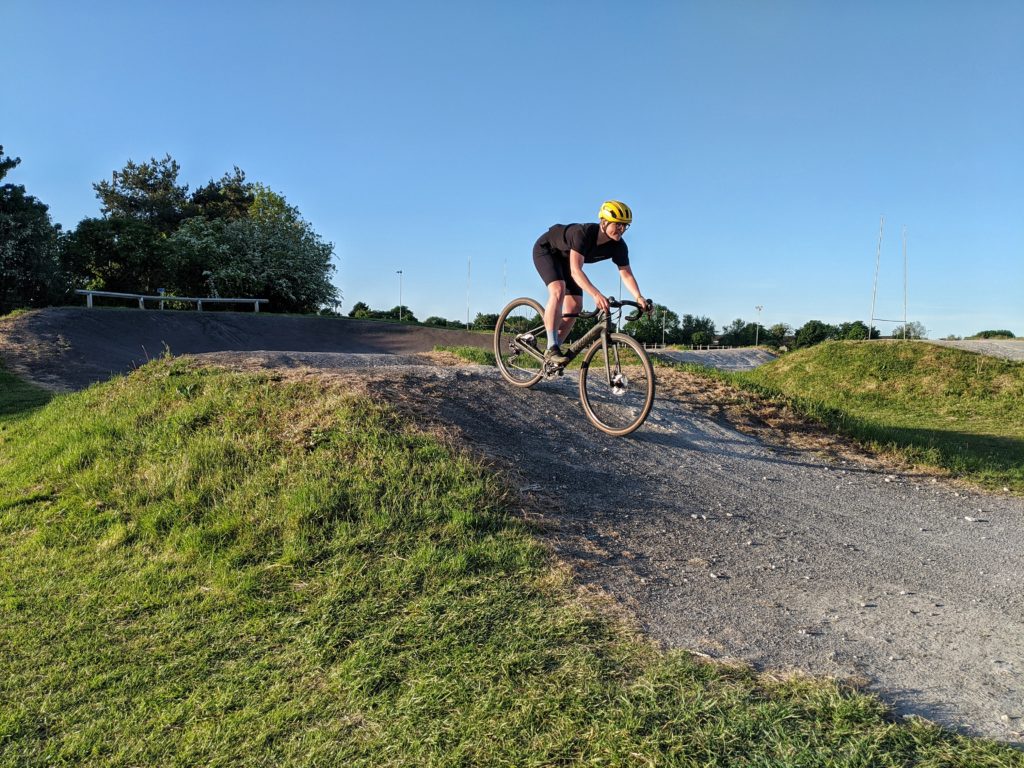 Aesthetics
There's minimal branding on the Overland Selector shorts, with the Morvélo Overland logo on the rear pocket in a dark colour. It's barely noticeable, yet cleverly reflective for those hours you're riding in the dark or low light. The external popper is branded too, along with a yellow Morvélo tag sewn into the waistband at the front right.
The Selectors are not black, more a very dark grey. Regardless of the specific pantone, they're dark and will go with your other kit really well, whether you're more conservative or bold with your colourways.
Commitment to sustainable kit
Morvélo's commitment to sustainability is a major plus. From the moment you receive your order you can see the biodegradable bags (they're also working on a home compostable alternative) and general lack of plastic that you all too often receive.
Morvélo use a BlueSign-accredited fabric for the Selector shorts. It shows the brand have chosen to source textiles produced using sustainable and responsible manufacturing processes.
Thirdly, the business donates 1% for the Planet for every pair of Selector shorts, which aids environmental charities. Lastly, they also plant a tree for every order with One Tree Planted to help offset shipping impacts. Neat!
Verdict
I'd heard from a few friends that the new shorts from Morvélo Overland were the business. I'm always pretty sceptical until I try something for myself, but it turns out I really shouldn't have been. At least in this case. It's no wonder why they were an award finalist at Eurobike in 2019.
For me, it's quite rare to find a piece of cycle clothing that I feel truly at home in off the bike as well as on it. When a bit of kit serves more than one specific purpose, it adds value, and that's just what the Selector does. Cycling overshort, casual wear, hiking gear, you name it. The Overland Selector is technical, but subtly styled, so you don't feel like the latest sportswear fashion victim.
In this size, they made for a great slim-fit baggy, dare say it the best I've ever tried. If you are looking for a baggier option, I'd recommend that you size up. Coming back to the unisex argument, due to the stretch of the material combined with the adjustable waistband poppers, these could fit a range of body sizes. Regardless of gender. They're certainly going to be a staple in my summer wardrobe, that's for sure.
N.B. Katherine is 5ft 5, usually wears a UK women's size 10/12. She is wearing the Overland Selector short in a unisex size small.
The Overland Selector Shorts
£90
Last modified: 22nd May 2020