While we are all stuck at home with only limited access to the countryside from our doorsteps, the Great British bothy stands empty. Throughout the hillsides, they wait silently for travellers to return. Relight the fires and bring back warmth, memories and laughter to these small but significant shelters. Katherine Moore believes there's no better time than right now to plan your post lockdown bothy adventure. 
Sanctuary
The sliver of a grey slate roof in the distance, camouflaged perfectly into the moorland, tucked behind a windbreak of tall pines or nestled down on the riverbank; approaching the sanctuary bothy after a tough day, or rather any day, on the bike is one of the best feelings going.
By sanctuary, I'm not talking luxury egyptian cotton sheets and scented candles, but rather a (mostly watertight) roof and some relief from the wind. At best, you might find a composting loo and stove to warm your numb toes, at worst a square stone box. Have I sold it to you yet?
While there's something innately magical about these cottages littered in some of the furthest reaches of wilderness, once tasked with providing all-important shelter for roaming shepherds, homes for gardeners, mountain refuges for weather-beaten ghillies, stalkers and fishermen, you have to remember that they're pretty basic. Who else then, could they appeal more to then, than the humble bikepacker?
By their nature, you'll find these bothies in some of the most inaccessible parts of Britain. Mostly scattered across Scotland, you'll also find a few in Wales, the Lake District, Pennines and borderlands.
You'll find most of these crumbling stone cottages restored to watertight, windproof huts that offer much needed shelter from the all-too-often inclement weather that we're party to here. Adored and cherished by riders and hikers alike, flick through the pages of a bothy visitor's book and you're likely to find entertaining stories from adventurers near and far that date back decades.
The bothy code
Free to use and open to anyone, there are few rules to bothy living in the form of the bothy code, which aid to keep them this way.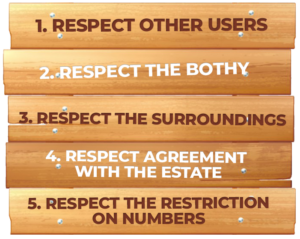 Essentially, it's a matter of respect. Respect for the bothy, the estates and owners that selflessly provide and maintain them, respecting the environment in which they are located. On a practical level, this means following any estate-specific rules, such as access during stalking or lambing seasons, how you bring or obtain your firewood, making sure you take all your rubbish away with you and learning how to use the toilet (or lack of one) in the proper way. Bothies aren't for commercial use, nor for groups of more than six. Do make sure you read the full bothy code here, as well as any site-specific restrictions before you set off.
Planning your trip
Although bothy trips are a great way to ease in new bikepacking friends gently, you should always be prepared for the worst when setting out. Visiting Grwyne Fawr in the Welsh Black Mountains? With only space for three people, you might find yourself sleeping outside if you're not the first people there. Even some of the bigger bothies can get popular in the summer months and on weekends, so make sure you've packed appropriate camping kit with you, just in case.
Only a couple of bothies are maintained with a supply of firewood, so you'll typically need to bring your own, especially if it's wet. The disappointment of a stubborn fire when you've reached the end of the day in sopping kit is a mistake you only make once. Fire lighters are your friends!
In the komoot collection below you'll find a few to whet your appetite, with some corking routes to take you there by gravel or mountain bike. For more bothies all over the UK, check out the listings on the Mountain Bothies Association.
Check out the collection on komoot
Further Reading
Katherine Moore is a keen gravel and adventure cyclist. When she's not riding, you'll find her talking about riding on the UNPAVED Podcast.
Header Photo by: SummonedByFells – Beautiful Over Phawhope Bothy
Last modified: 6th May 2020