The guys at ADVNTR have been waging a low key war of attrition for some time now. At the slightest pretext, they have been urging me, coaxing me and even daring me to have a go on a gravel bike. Up until now, I have resisted their siren charms, remaining a fully paid up member of the sceptic club. So what has changed?
I blame it on an email, the gist of which was:
Hey Mike, I've a 54cm Vulture roosting in ADVNTR HQ at the moment. Fancy trying it out?
I may be a sceptic, but I'm not daft. If I get the chance to ride a new bike, of course I am going to say yes! And so it was that I found myself with the Fearless Vulture for a spell.
"A Swiss Army knife of a bike that's good to go wherever you choose to ride it."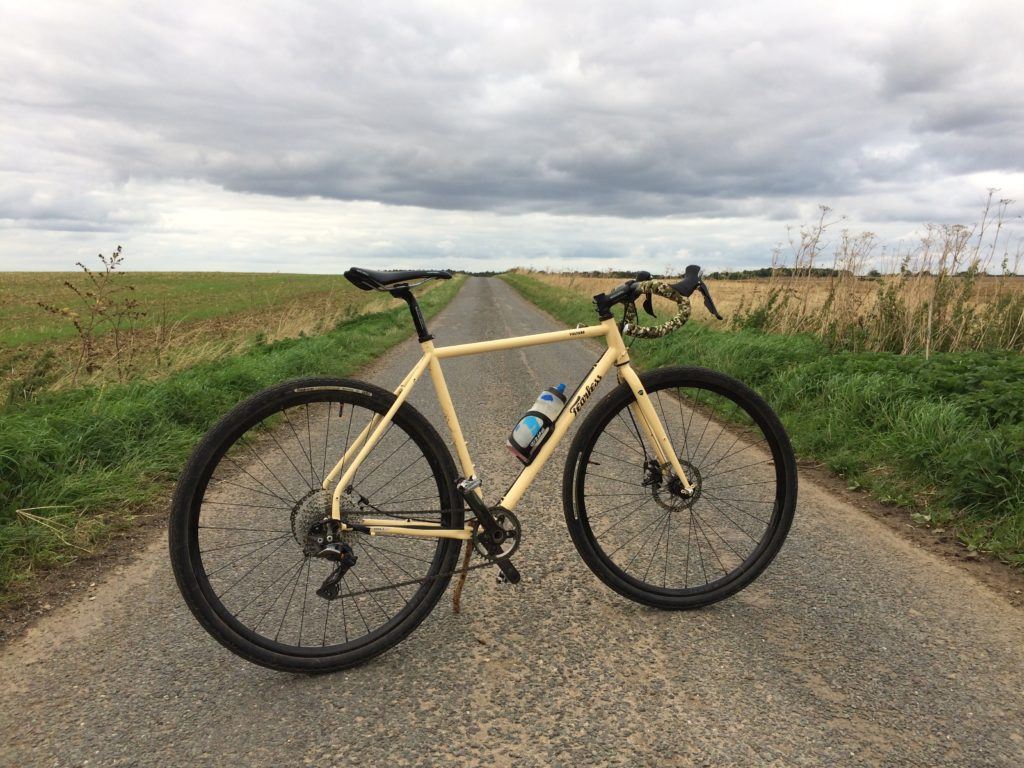 There is something about CX and gravel bikes that looks so cool. Maybe it is the juxtaposition of skinny tubes and chunky tyres, but they just look so 'capable'. Past experience however, has suggested this may just be an illusion. Having owned a CX bike, all I can remember is the teeth rattling and spine jarring ride as soon as the going got a bit rough. Suffice to say, we didn't have a very long or happy relationship!
Along with my annual subscription to the sceptic club, I am also a confirmed mountain biker. Front suspension and large tyres are the only (off road) combination I have been prepared to entertain for ages now. Quite how a rigid, drop bar bike with 'small' tyres would ride is not something I have even remotely contemplated.
From what I can tell, my riding habits are pretty similar to the ADVNTR boys. A combination of  byways, bridleways and a few "ahem" footpaths, all stitched together by sections of tarmac. While convinced about the overall superiority of the mountain bike for this sort of ride, I have to admit dreading the tarmac sections. They are such a chore and take so long…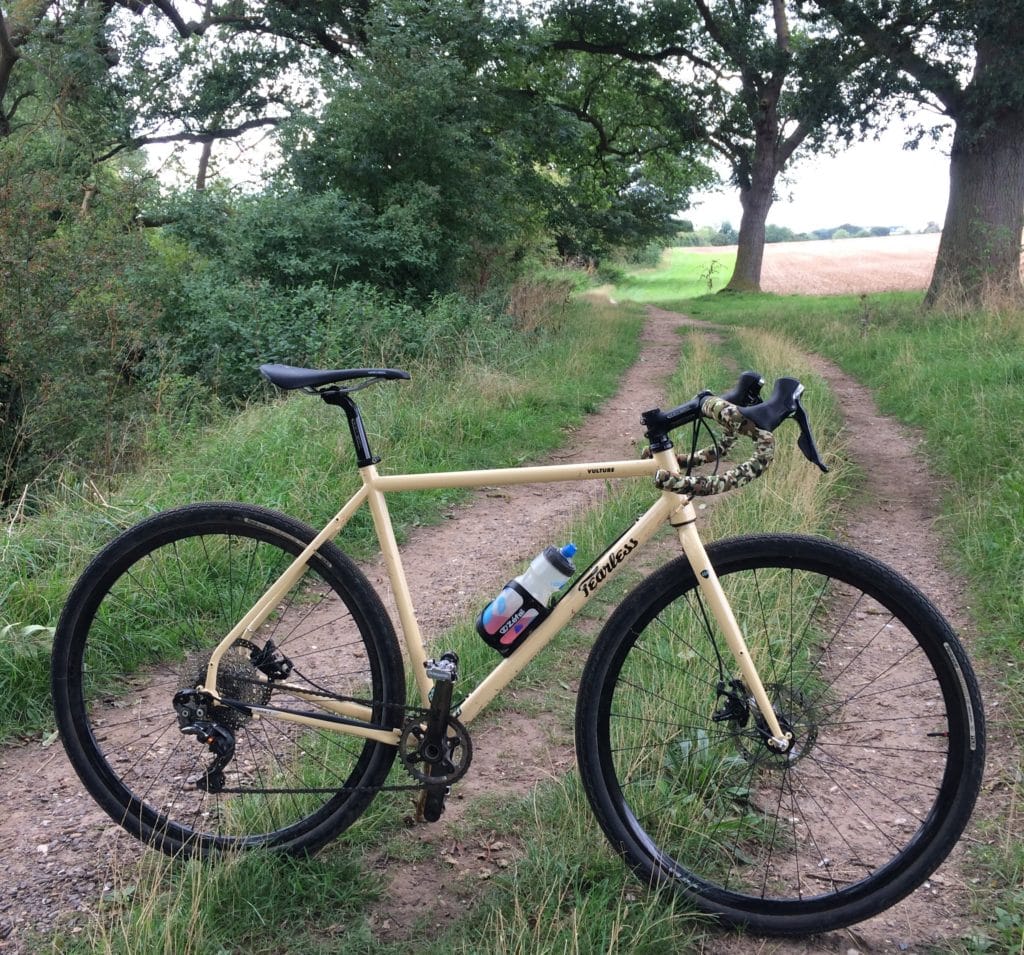 Beaten not stirred
Going into this experiment, I expected to emerge beaten up and sore. My scepticism vindicated, I was also prepared to report that the gravel genre had nothing to offer and I wouldn't be going back.
How wrong can you be? This experiment proved to be my own little road to Damascus. I was really pleasantly surprised at how smoothly the bike handled off road. I was equally shocked to discover that I wasn't beaten up at the end of the ride either. Worse still, I have to admit I really enjoyed it! Even the road bits….well particularly the road bits. Instead of rumbling along at a relatively pedestrian pace, I really flew on the Vulture!
Living in East Anglia, trails tend to be flat and unless you are really blessed, they tend to be a little dull too. Is this going to make me a heretic? Riding a hard tail makes them even more dull. Mountain bikes are so competent nowadays, you need really challenging trails if you want to squeeze any excitement out of them. Flat and dull just doesn't cut it.
Rewind the clock to the days when suspension wasn't really a thing and tyres weren't that fat. Line choice was everything. Well so it is with a gravel bike. Get it right and you will be rewarded with a turn of speed that will have you grinning from ear to ear. Get it wrong and…oh dear!  Put succinctly, you are much more engaged on a gravel bike than on a mountain bike. Not only is it a heap of fun but I am convinced it has improved my off road riding skills too!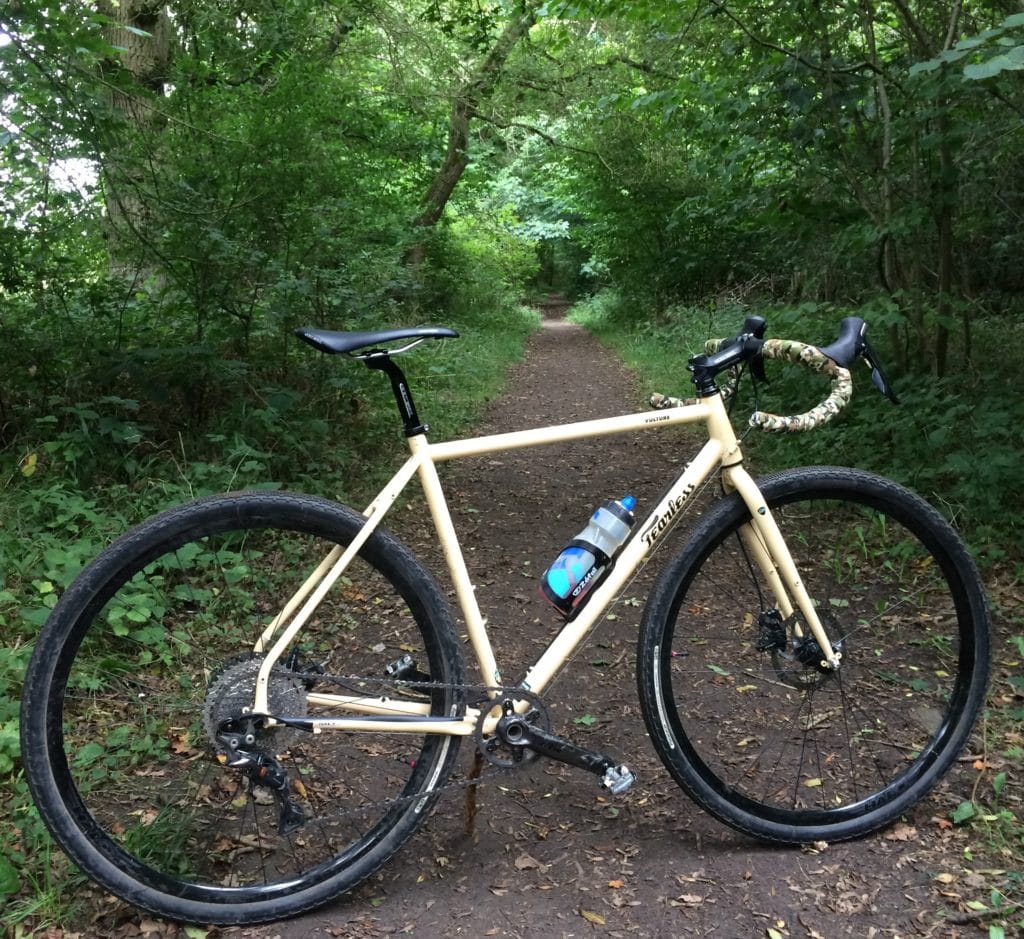 So, would I buy a gravel bike?
Do you know what, I would! Despite initial reservations I've had a great time riding the Vulture, and will be rather sorry to give it back. Gravel bikes are definitely not another niche, and I'd even go as far as saying that it might make people question the validity of some of their other bikes.
Rather than discovering a way to sell more bikes, I wonder if the cycling industry has inadvertently created the ultimate quiver killer, a Swiss Army knife of a bike that's good to go wherever you choose to ride it.
Story and photos: Michael Healey
Last modified: 17th September 2018