Having once before featured the Giant Revolt Advanced Pro 0 in May 2020, Mark Downie took it upon himself to try it again, but this time in the north of the country where the gravel is a little bit, lets say; different to the south.


"Plus, I couldn't turn down the opportunity to jump on Giant's best gravel bike, that would just be rude."
Overview
To give a quick overview of this bike the Giant Advanced Pro 0 (£4,999) is the highest spec bike in the Revolt range that starts with the Revolt 2 at an accessible £1,199. Giant actually label their bikes in reverse order, so 2 is the entry point and 0 is used for the range leader. Defined as a 'Gravel Crusher' and used by pro athletes in events like UNBOUND Gravel, the Giant Advanced Pro 0 has a tight design brief – high speed, smooth control.
In our opinion, it nails both.
If you aren't a pro but are willing to invest £4,999 in a gravel bike, what do you get for your £'s? Is it suitable for the average gravel fan? Simply put, you get a lot of bike and yes, it's suitable. It's a bike that is both highly capable and comfortable but also highly equipped and ready to take on a range of riding types.
First Impressions
Right, let's get down to some thoughts about the bike. Initially when I lifted it from the box for the first time, i'll be honest and say I was a little underwhelmed.. With my daily ride being a Fairlight Secan in Orange I guess I have just become used to having a brighter bike to look at.
This version of Revolt is finished in a colour named Cosmos Navy, a dark blue with a contrasting soft bluey-green logo area – very functional, and a little stealth. I expected something to really pop and stand out but having owned Giants in the past my recollection of them being more conservative came to mind. However, the lack of whelm soon evaporated right as the sun came out (does actually happen up here you know) catching the top tube and revealing a subtle, sophisticated micro glitter effect that impressed me with the sheer quality of finish. Even at the end of testing I was enjoying how the bike never looked the same way twice but at all times, looked purposeful.

It's worth noting too that the quality of finish was reflected in the actual mechanical properties of the paint – on more than one occasion I ended rough sections of trail hearing stones and gravel hitting the frame but when inspected, not a single mark on it. However, when I used some bags, prolonged use did result in some dulling of the finish so I would 100% recommend protection against abrasion which is just good practice anyways whatever the bike. Giant have thoughtfully included a downtube protector that is a nice touch – it's of a meaningful size too, extending up to the bottle cage height effectively. Additionally, there is an integrated chainstay protector to minimise chain slap and dinks on the stays, which no one likes.

"Basically to put it plainly, don't overlook a plain looking bike on a shop floor or on-line. It's well worth digging a little to find gold."
Cable routing is all internal, but on on the Advanced Pro 0 this wasn't a feature of note as it features the sorcery of SRAM's Force eTap AXS, delivering a 12 speed set up with the choice of 30/43 up front and 10×36 out back. Only once did this arrangement let me down but there is a strong chance this was due to external factors, namely Tayside beers and camp whisky's. These factors MAY have contributed to a disagreement with gradients and Perthshire's three dimensionality the next day but if you've ridden up the Birks of Aberfeldy then you'll appreciate that the 30/36 combo was engaged early on and being that the bike is pretty light at sub 9kg then it's no bother pushing it.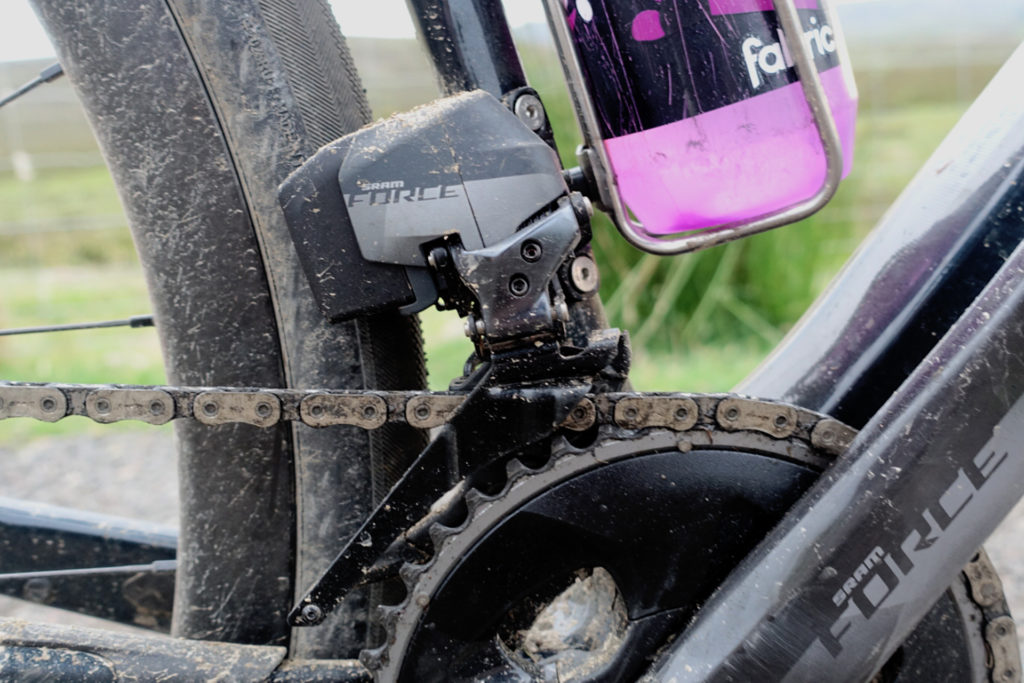 At the other end, hitting nearly 50mph on road is easily achieved when the gradient changes it's mind and shows you favour. It has to be said as an overall package this set up is versatile and a delight to use. If you've not experienced wireless shifting and SRAM's new AXS then we recommend you do – we are sure you'll like it. A handy note from Dave at Giant is to remove the batteries when you are transporting the bike, say on a roof rack or even in the car. The AXS kit contains accelerometers so if the bike moves, the components 'wake up'. They don't actually do anything but you'd not want the battery anxiety of thinking you were gonna run out of power. As the technology has matured, and as reported for the last few years from users, the battery life is exceptional and not something you need to worry about in real life. We are all used to plugging things in every day and the app is really helpful in letting you know what the power levels are but I'd recommend making it a regular check every few weeks.
The '0' Finishing Kit.
On to the bits that make the bike do stuff like bars and saddle now – they are important after all and can make or break a ride. Straight up – I kept the saddle and it's now on my Fairlight. I had no idea Giant made saddles as good as this and it was a shock to find one that actually works really for me. For 100% gory details, I suffer from man vegetable numbness on rides – it's a thing and if you get it too, then you'll sympathise with how weird it feels. This is now not a thing and is excellent news as far as I'm concerned. It's an inexpensive saddle but really well made and with a reasonable width at 145mm, useful length of 270mm and features the amusingly named 'Particle Flow'. I can confirm Particle Flow Technology is a good thing and provides a polite yet helpful flow of air to your perineum but we are all different and you may not enjoy this feature depending on your preferences for air flow in this area.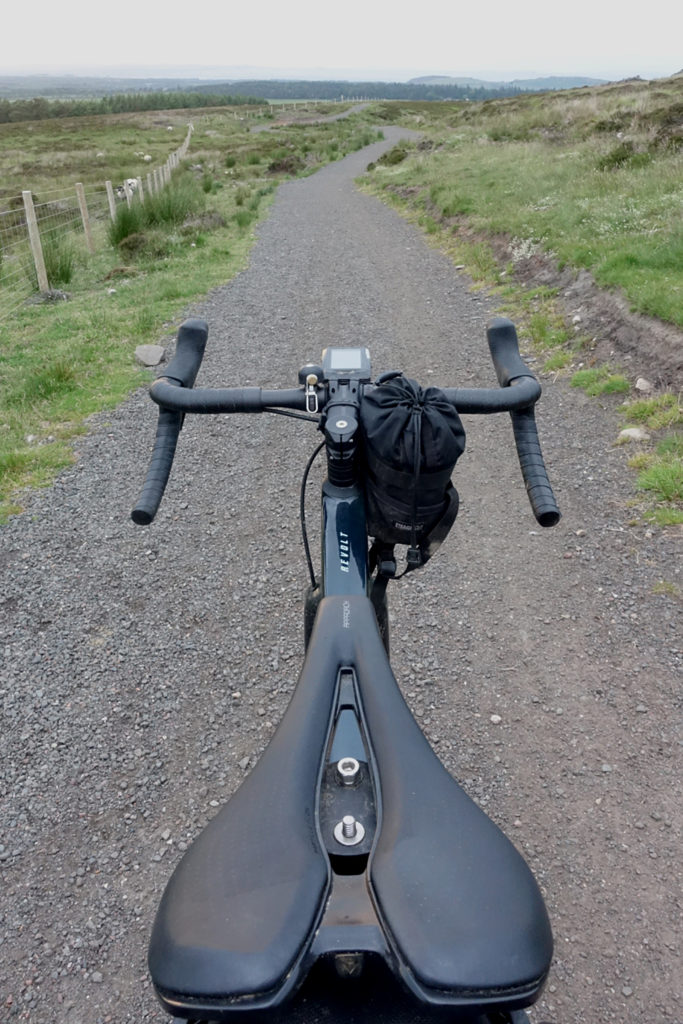 The saddle is mounted to a proprietary seatpost which has a D cross section and uses D-Fuse technology making it more compliant than you might think. Possessing a rigidity but 'ride all day' comfort it's a great seatpost. With a system like this you can't use your own post of choice however, but if that's something you can look past then you'll be just fine. Naturally, no dropper is going to work on this bike but as I'll come to later on, the versatility and confidence this bike possesses means you might be able to look past this feature.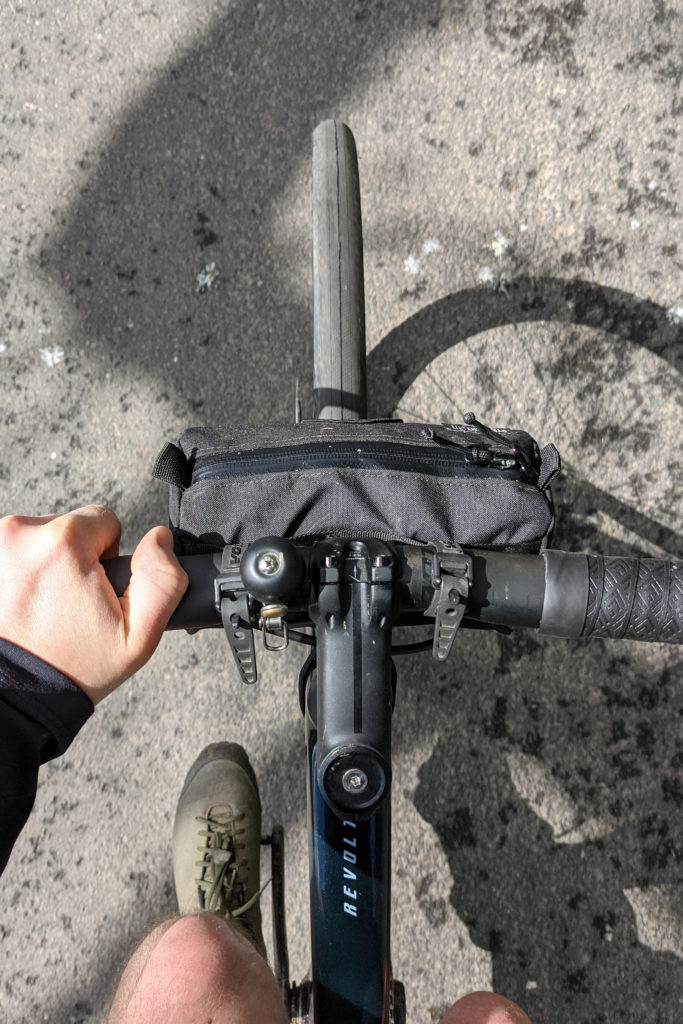 Onto the other weight bearing part of the bike, the bars. Again it's worth pointing out what I normally ride as this has a big bearing on my thoughts on bars. I'm riding the Coefficient Cycling RR bar and have had my riding experience transformed by it. In 2007 I suffered a nasty crash using a Douglas Fir as a brake resulting in my left shoulder being held together by a selection of high performance metals. It means I'm a bit wonky, one arm is shorter than the other (smashed the wrist up also a few years later) and finding comfort on a bar for me is a hard job. The bar specced on the Giant Revolt Advanced Pro 0 is their own Contact SLR XR D-Fuse which for a traditional shaped bar I found to be excellent. It's comfy, has a bit of give but is also stiff – kinda goldilocks in this regard and featured an oval shape to the design which is comfier than a round bar. Slightly wider than I ride normally at 44cm, but by no means new-school WIDE – I adjusted to it from my normal 42cm with minimal fuss and found it to be a well engineered component overall. The person responsible for taping the bars needs a pay rise – it was exceptional and I apologise officially to them for damaging the tape – sorry.
The bar is fitted to a Giant stem which is pretty standard and in turn this is connected to the front-end using Overdrive which is a tapered steerer system. Giant say it's stiff and I'd agree with this – stiff but not without feeling or feedback.
The Round Things
Supplying earth adherence duties are the wheels and tyres which I want to really focus on for a moment. First the tyres and those feelings of underwhelmage when I unboxed the Revolt. (Totally making up words now.)
Giant have specced it with Maxxis Velocita 700x40c tyres (it will take a 45) which you can probably work out from the fancy name are designed for speed. Honestly, these slick all road tyres were whipped off before they were ridden and a pair of Goodyear Connectors were fitted instead as I intended riding more gravel than tarmac. I think there will be people who look at this spec choice in a store and immediately overlook this bike as an all road, high volume tyre endurance road bike. Sat beside something more ostensibly 'gravel' I wouldn't blame someone for being confused by this spec.
The wheels are Giant carbon CXR-2's and I really like them. They feel great to ride, appear to be well made, quiet in use, and handle predictably. My normal wheels are Hope Fortis alloy 27.5 or Scope R4A 700c carbon and I'd have no hesitation recommending these wheels after-market to a non Giant owner. One nice touch is the thru-axle tool provided. The lever to undo the wheels can be removed giving you a useful hex wrench that can be left on the wheel or stashed depending on your preference. Good to see an essential tool being provided this way.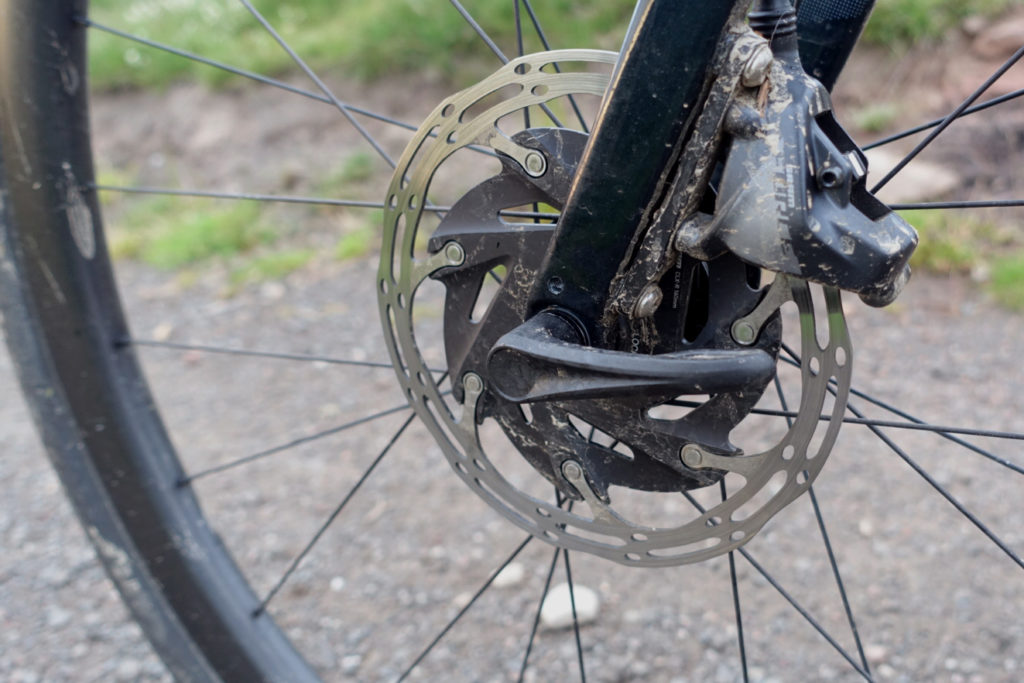 They were ridden as if they were my own and this meant poor line choices were made and I found the threshold of pressure where you could feel rim on rock and at no point did I worry they weren't capable of hard riding. They stayed true and didn't show signs of damage when I thought they might so thumbs up here to the engineers for making a wheelset that rides fast and feels solid. I can't comment on long term bearing performance but they were subjected to rainy rides, mud, hoses – you name it and they rolled and sounded as good at the end of their visit as the start.
Rolling back to tyres for a moment as I want to also make a case for the slick Velocita – it's a great tyre. The previous test at ADVNTR wasn't that favorable so I felt it appropriate to have another go on different terrain. For the final ride I popped them back on and took them on what could be best described as XC rather than gravel. One of the squad that day at morning faff time was suggesting I might have made a bad choice but by lunchtime they were asking more about them. It turned out the Velocitas didn't falter once whether it be on wet grassy swooping turns or loose rocky gravel – I reckon the large contact patch and the compound got me out of some potential danger but there is also something else…

The Revolt Ride
The way the bike rides is so well mannered and balanced you are left wondering sometimes what you are missing about it's ability but it's the attention to detail in all the angles, material use and geometry that I think slowly make you realise there is some magic happening you just haven't realised yet. It's light but feels solid, it's planted but happy collecting low level air miles and overall it puts you in the right position for all day adventures or quick 'kids are in bed I have an hour to smash myself' rides. There is a slight feeling of elasticity to the Advanced pro 0 and the way it rides which is hard to describe,  perhaps used the wrong word there but it gives you comfort but purpose with each pedal stroke – if you felt like a trip via the wattage cottage it will react the right way but if you want to enjoy the world around you on a spring morning it's going to let you do that comfortably too. It's similar to how an Ibis bike would ride if you want a comparison as they feel pretty plain and normal and a happy place to be then if you decide to get fast then it's like they wake up and respond appropriately.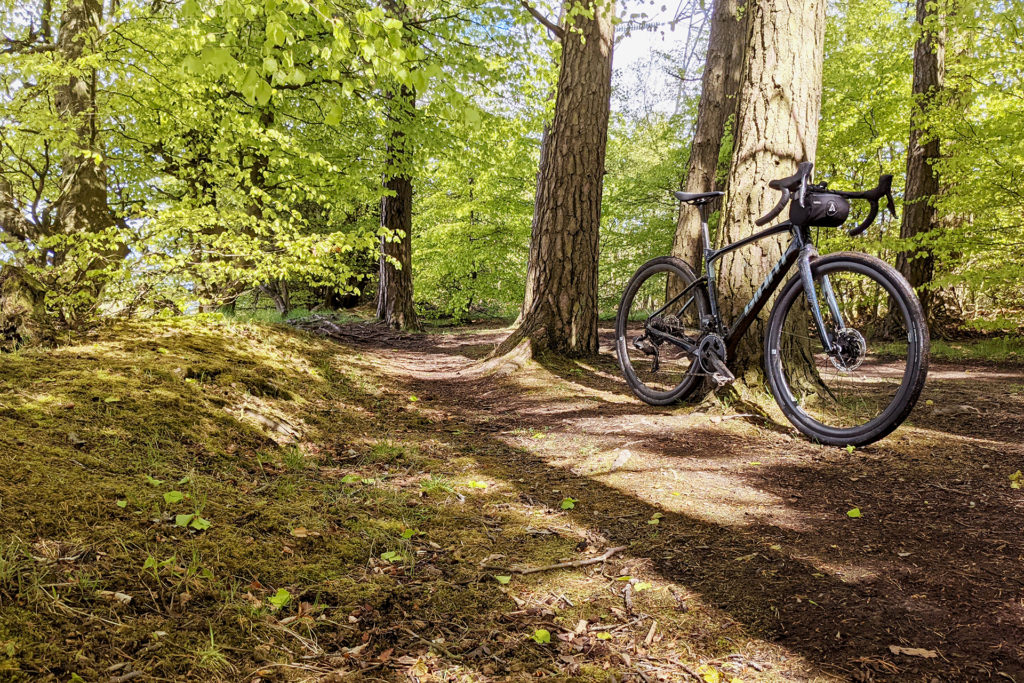 I guess the big question then is who is this bike for? As mentioned, it's labelled pro spec bike but I'd ignore that. Maybe you just fancy having a sleeper bike, one that looks kinda plain, but you know is all performance. Maybe you want something super versatile so you can ride any type of road you like? I think it's for people who might be done with the brand merry go round and just want a 'bike' that will let the ride do the talking and sit in the background being reliable and dependable and that is a good thing in my eyes. If you want to load it up and put some big tyres on for a 3 day trip bothying, great go for it and enjoy it. Want to go fast, do that too with the stock tyres.
It may not be showy or feature quirky new tech but the Giant Revolt Advanced Pro 0 is a great bike to focus on your experiences rather than the kit. I had a great time and it was a dark day when TNT turned up to take it home (saddle-less!)
Last modified: 14th August 2021