It feels like a good time to write this true long term review now – I'm going to keep it brief and won't go into the history of the brand on this occasion. Instead I want to just mention some stuff as to why this bike/frame makes me happy every time I ride it and if you have shortlisted the Secan for a buy, then I hope this helps guide you to a decision.
Back in August 2018 I managed to snag one of the first batch of Fairlight Secan framesets in blue. It was my 1st proper gravel bike and having been on road bikes for the previous few years it was the perfect way to enjoy riding off road more again. I originally started riding off road, but after displaying minimal aptitude for it and possessing a remarkable ability to injure myself then add in a young family… I got into road riding. We are lucky to live in an area with all conceivable types of riding literally on our doorstep – gravel bikes make a heap of sense in Edinburgh, especially one like this. Straddling the two worlds suits me just fine and proper off road riding these days is strictly XC in flavour.
With 4 years of ownership of a Secan (size 54 Regular see site for info on this and the Tall version) and having built it in various ways over the years, I've now settled on a build I'm happy with. It's fair to say that this might be the only bike you need if you rode a little bit of everything. Luckily Fairlight make picking the right size easy too – there are a lot of options so you can get the best possible fit. 
The Secan is available in the following sizes and starts at £1,399 for the frameset:
The fact that it's capable of using such a broad range of kit and allowing different types of gravel/allroad riding means it's been a constant companion and every ride has been a pleasure. There have been numerous reviews of the Secan over the years and this is no different in that it's a 10 out of 10 but I'll try and describe why without getting technical seeing as the 2.5 is the current version and as such a little different to the 2.0. (The key bits to know about the 2.5 is it takes even larger tyres and has different dropouts).
It's been my daily commuter on 47c WTB Byways. Rode Grinduro in Arran 2019 with 50c Donnelly MSO's. Lockdown dashes were done with carbon Scope R4A wheels and 40c Vittoria Terreno Zero or 44c WTB Raddlers. Summer evening Dad rides on 47c Vittoria Terreno Dry… FINALLY I think i've settled on the 2.25 Vittoria Mezcals.
The sheer enjoyment this bike has given me has been immeasurable. It's helped me make the most of limited time when our 2nd kid arrived just 2 months before the frame itself, then segueing shortly after into covid times, it remains the bike I enjoy riding most.

Why it's so much fun to ride comes down to the effort the Fairlight team have gone to in designing every last detail to make it more than the sum of its parts. Not being a subscriber to the cliched trope of 'steel is real', I've learned that materials are just part of the story, geometry is the main bit. This is where artistry comes right up against engineering. Manipulating materials in various ways to create an intuitive ride and feel like an extension of the body takes exceptional skill. They use the strap line Fit.Function.Form and when you dig into each one of these core tenets then it becomes apparent there is an awful lot going on with each of their frames.


The ability to build the Secan in different ways and mix the spec up to suit the rider is perhaps unrivalled. It's a perfect blend of practicality, function and performance for what has turned out, per mile and smile, to be amazing value for money. For clarity and validity of this review I do want to point out I paid full retail price and will do so again when my Holt comes in the new year so this review comes from a realistic perspective. The only thing I'd replace the Secan with is another, in Plum. Because.

Getting into some specifics about the Secan is easy as there's lots to look at and appreciate. Let's start at the front and work our way back with the fork.  Named the Cempa 2.0 it's a Fairlight design, unique to them and made from carbon fibre. To get the ride quality you want when designing a bike you need to consider the whole system and buying in a 3rd party OEM fork doesn't permit this 100%, so making sure the fork is designed as part of the system and not an add-on makes sense. The Secan 2.0 sees a plain lacquer on carbon finish and the Secan 2.5 has painted forks to match the frame. It's a 12mm axle fork with 3 mounting bolts on each leg and internal hose routing for the front brake plus a dynamo light wire. There's plenty of clearance for the Mezcal 2.25 and I could run a large fender if desired like I have in the past. The official limits for tyre clearance are 27.5mm x 61mm, 700 x 51mm and if you do run fenders, 27.5 x 55mm, 700 x 45mm. For those who want to use the mounts to carry adventure kit then you can carry up to 3kg on each leg.

The ride feel of the fork is nicely balanced between stiffness and comfort – it never feels harsh but always feels direct and responsive. It's really nicely finished, the lacquer stands up to wear and tear well. The eyelets, the mounts and axles all fit perfectly. There was a Cempa 1.0 fork (which I had on my 1st bike) and the difference between the 2.0 and 1.0 are subtle but noteworthy. The dropout slot has become better defined, the flat mount for the brake caliper is cleaner and sits slightly higher, the fender eyelet was revised for a smoother finish and overall the legs were reshaped.
The fork sits inside a pretty large looking headtube with a tapered steerer. The tube is made from Reynolds 631, and it's CNC'd to a 46.4mm diameter with increased wall thickness at either end for headset cup support. Internally it measures 43.95mm and therefore you need a headset with ZS44/28.6 top cup and EC44/40 bottom cup. There is a headtube logo rather than a badge which is just fine. 
The head tube meets the top and down tubes which are shaped to suit the demands placed on them – both are made from Reynolds 853. The top tube is oval in cross section throughout its length whilst the down tube has opposing ovals to counter forces from the BB and head tube. There's interesting butting going on with both these sections making them quite complex – you can read all about the tubes on the Fairlight site or by downloading the Design Notes PDF here. They in turn meet a 68mm threaded BB shell which is welcome as life simply isn't long enough for trying to find the right replacement components – I live in a dirty and wet part of the UK so quality sealing and simplicity for spinny bits is essential. 
The seat tube is 27.2mm and is also butted. There are bottle mounts on the seat tube and on both the upper and lower sides of the down tube in addition to the fork legs so you can conceivably carry enough for an hour, a day, a week or a month depending on your desires.
Seatstays are 4130, not tapered and 14mm in diameter to allow for comfort but they are plenty strong enough for heavy loads and riding MTB type terrain. The chainstays are beefed up to 19mm and again made from 4130 but with some heavy sculpting for performance, tyre and chainring clearance. So much so that I bet there were some furrowed brows at Reynolds when presented with the diagrams. Like the fork there is dynamo wire porting on the stays to allow for various configurations plus there are mounts for racks and fenders.

The dropouts are made as a collaboration with Bentley Components and employ laser cut steel plates with stainless inserts and a CNC machine aluminium brake mount (flat mount). It all comes together really well and is easy to work on and modular should standards change down the road.
Being a fan of external cables the 3D modular guides are a pleasure to use – you can get whatever you need for your particular set up – guidance is provided for Di2 users in the Design Notes plus tips for routing in general.
Having gotten over the tech obsession of my 20's and 30's, I prefer to leave the nerdy bits to the experts and use my free time to just ride. It's fair to say that the more I ride this frame, the respect I have for the design work that's gone into it increases every time. The tubing combination Fairlight have arrived at gives all day comfort and with the whole system being so well designed, the result is a frameset that has just the right amount of 'give' in all planes. It feels stiff but elastic, responsive but comfortable, confident and playful. To eke out those last little nuances in ride feel means someone has pushed limits somewhere which is pleasing to know.
It's a really tactile ride and by that I mean you really do feel a connection with the terrain and the bike so much so that you enjoy riding it in a different way to other bikes. I have trouble describing it but it's a really strong feeling of being immersed in the riding experience with each turn of the pedals being something to savour. The way it replies to your input is really interesting. Those days where you just roll out the drive and have little energy? Fine, you can sit and pedal and off you go happy and content enjoying the landscape unfolding around you. Those days where you need to work out some issues, again, it responds accordingly and will move quickly.
When riding chunky stuff like the Yellow Brick Road or Maidens Cleugh (bottom section) in the Pentlands you get the feeling you can treat it like a mountain bike and move around the loose rocks really easily. If you are on the road then you can settle in and get some speed up and it feels natural too. It's perhaps more at the road/allroad end of the gravel spectrum than the offroad end, but when moving between surfaces it remains really well composed and always feels efficient – just like you are always on the right bike whatever you come across.
I'm convinced there is a widening gulf between bikes that are designed to allow brands to shout NEW every 12 months and those where you can sense that the designer has agonised over every last mm and disregards model years. That gulf is a chasm dividing the average from the exceptional and the Secan sits high on the throne of exceptional. Not all bikes can be the same and they aren't, but the price of them might be. When faced with the choice of spending your money (especially these days) you should be able to satisfy yourself that you've bought a list of real benefits and not just features. The Secan will reward your investment and reflect the investment made by its creators in delivering something truly stand out.
I'll wrap it up there otherwise it will turn into waffling and it's way better to ride bikes than read about them. See below for current build plus some images taken over the years.
—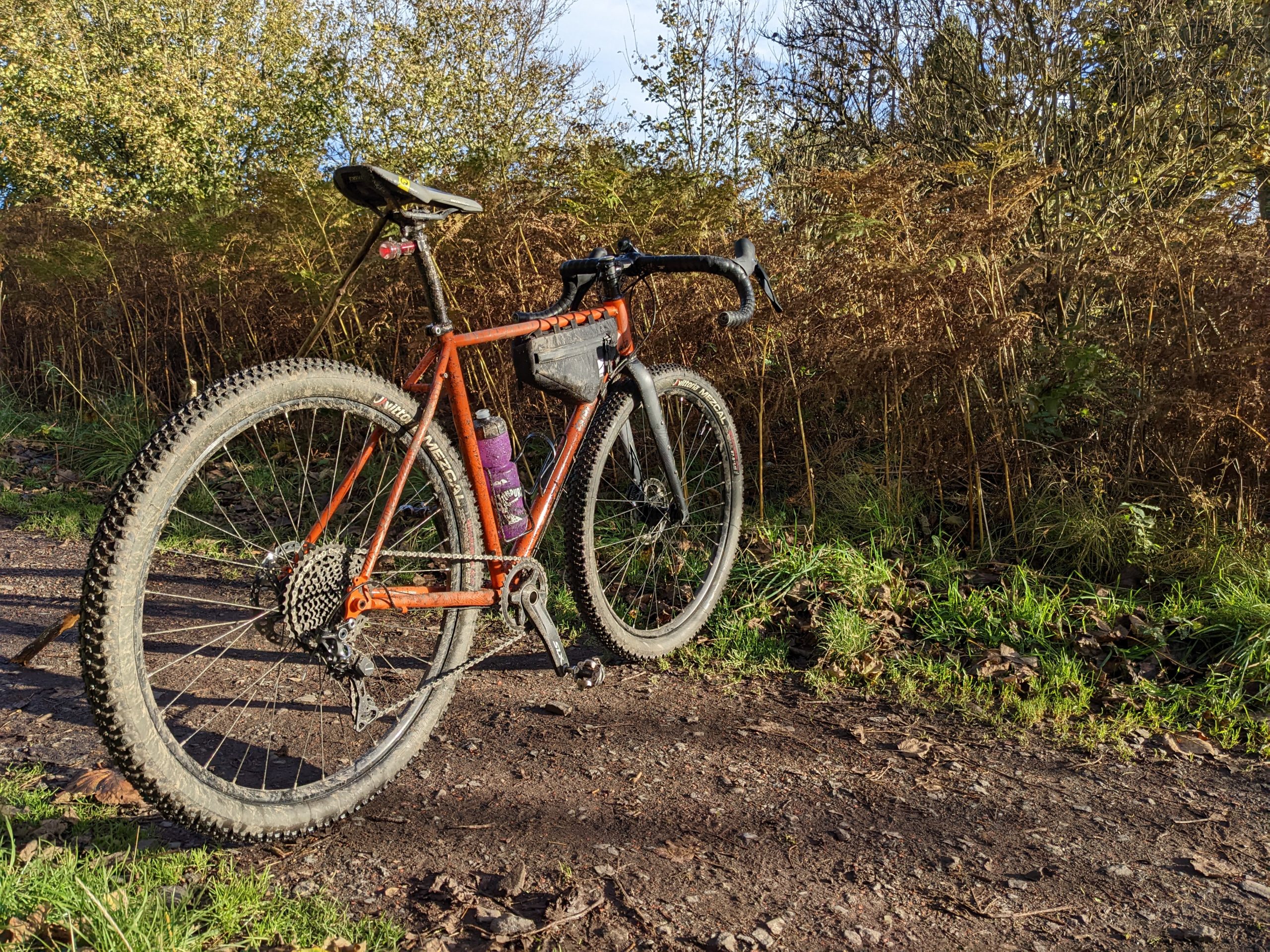 Secan 54R in Orange
Hope Pro4 Hubs, front on a Fortus rim and rear on a Tech XC (broke the front and needed to change it)
SLX Chainset with 34t ring – using an MTB crankset gives the ability to run a wide range of ring sizes BUT does give you a wider Q factor than you might like
11-42 cassette – not sure what brand – likely SRAM
GRX STI's 600 series
GRX Brakes 600 series
GRX Rear Mech
Thomson Stem and Post
Whisky No7 24F bars
Lizard Skin 2.5 DSP bar tape
Vittoria Mezcal 27.6 x 2.25
StraightCut Design Frame Bag – choice of 2
Ergon Saddle
Bar Clutter provided by Exposure and Wahoo
Some more images:
Last modified: 20th November 2022