Tailfin have proven themselves to enable loads to be taken on all manner of terrain with their slick rack systems, now they have created the Suspension Fork Mount.
The Tailfin Suspension Fork mounts are there to do away with the somewhat dodgy hacks that lay in wait on forums across the interwebs.
The hacks i speak of are numerous, and do come with some concerns, while there are some clamps like systems in existence already for adding on bolt holes to downtubes, and fork legs they aren't quite up to the task of carrying loads more than a kilo or so, especially when hitting the rougher tracks that lay in wait to vibrate bodies and bikes to the limit.
Heavier duty options also are out there like, hefty Jubilee clips AKA 'hose clips'; paired with an inner tube and this is what I have used personally in the past, but there is always the fear that these rather more industrial systems may start putting a little to much pressure on the forks.
With any of these systems – there are going to be moments where bags, brackets, or bottles may slip… and bit by bit that slipping load will eventually find itself in the spokes, sending even the most capable rider into a messy gymnastic like somersault over the bars.
SO….. Tailfin have only gone and made what appears at first glance to be a perfect solution to answer all the forum based queries throughout the internet on how best to attach loads to suspension forks.

Essentially what Tailfin have produced is a universal clamp system that is going to make it possible to attach a cargo cage or water bottle cage to the lower legs of a suspension fork. They claim "that the SFM will offer the stiffest, strongest, lowest profile method of attaching gear to your fork" in a way that just wont budge and better yet not destroy that nice paint job!
Another mighty genius feature integrated into the system is that each mount offers the ability to mount up to two cages per side, with a price point of £50 ($70, €60), for the Carbon option and only £30 ($40, €35)  Stainless Steel option its not an alarming amount to part ways with for such a versatile solution to loading up your front end.
"A thing to note is these costs are for a pair of clamps (two would have to be bought for both fork legs to be used with cages)."
Materials
The material options of course mean that the price points offer two different weights, the stainless steel brackets will start out at 128g per side – totalling at 256g for both fork legs before even considering what kind of cages or strap decks to bolt onto them, whereas the slightly pricier carbon option will only weigh 82g, and just 164g to double up. 
Between the two there seems to be no huge variation in their performance, and Tailfin state that "All parts of the SFM are modular and replaceable with everything (barring the carbon fibre main body) made from stainless steel or aluminium." which is good news incase things do shimmy and shake loose. 

Load 
Looking through the long list of specific details provided by Tailfin there are some Obvious and fair caveats around what kind of load is recommended for each mount.
Clearly stated is 3kg for single track and 5kg for gravel, so with that being said if you are looking to double up your carrying capacity on each mount careful consideration on the type of load needs to be addressed.
For example a 750ml bottle is already taking up nearly a third of that advisory weight limit on the gravel side of things and if like me your guilty of taking the gravel bike onto more (lets call it adventurous terrain) the lines blur between whats suitable.
However an offering of 5kg each side while tempting, my preference would be to steer clear of maxing out the offerings as there is no harm on setting off with a little extra space in those their fork bags for snacks and the rest.

Mounting 
In setting up the mounts there are rubber O-rings and machined markings on the barrel nuts aid retention and alignment during mounting; and mounting really can be a nightmare when trying to evenly position strap-decks, or fork cages especially when battling with dynamo routing, brake hoses and mounts, this is something we are sure to look at closely when we get a set in to test for ourselves.
"In real world testing we have experienced zero slippage whilst riding technical trails with up to 3 kilograms of weight attached to each fork leg. "
The profile and stiffness offerings mentioned by Tailfin are one of the more important elements to consider when attaching anything to your fork legs, if things sit too far away from the centre of the wheel, bike handling becomes a real nightmare, reuslting in turning and leaning the bike over becoming a rather precarious affair, this is then exacerbated with slight shifts in the mounts position should things not be gripping correctly.
The promise of a secure and low flex system is a big tick and with the design also being so easily adjustable to fit across a range of forks from all over the industry its almost a no brainer. It is a pretty exciting offering from Tailfin, and while sitting at the slightly more premium end of the spectrum when it comes to mounting options if they really do stand up to the types of trails they are best suited to we cant wait to part ways with our cash, watch this space for some thoroughly rigorous testing.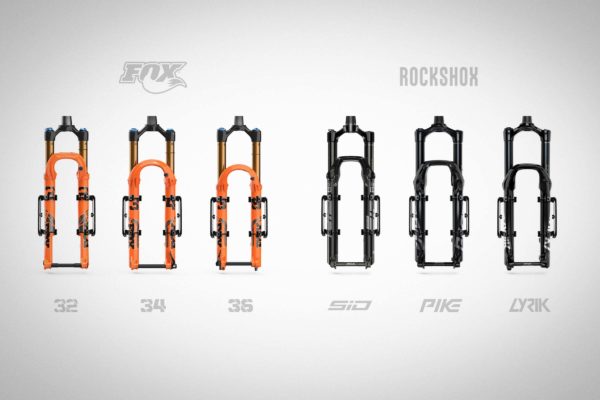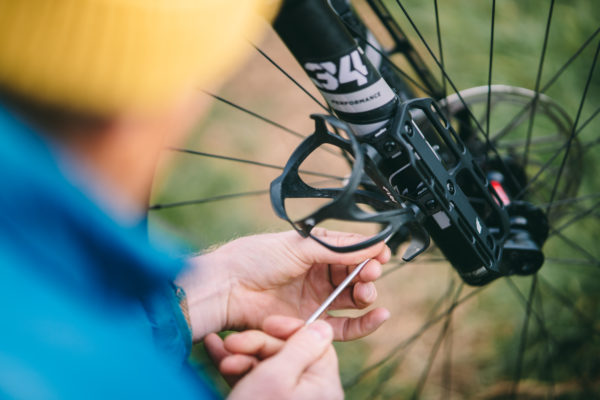 The Hard Facts

Each set comes with two mounts and multiple mounting hardware.

2 models released: UD Carbon fibre and Stainless Steel

Compatible with suspension forks making use of lower leg diameters between 38-45mm (30mm-36mm stanchions)

Weight limit: 3kg singletrack, 5kg gravel.

Each Set will make it possible to mount up to two cargo/bottle cages per side.

Compatible with any brand cargo cage or water bottle cage that use industry standard M5 screw threads.

!!5 year, no quibble warranty!!

Crash replacement warranty

Carbon Weight: 82g per set (2x mount + hardware)

Steel Weight: 128g per set (2x mount + hardware)

Pricing: Carbon – £50 ($70, €60), Stainless Steel – £30 ($40, €35)
Release date and availability will be the 2nd November 2021 for the Carbon mounts and then following this release the steel options are ready to ship from December 1st 2021.
Last modified: 1st November 2021