Sweet Protection may be a relatively new name on the cycling scene. But the Nordic brand have been busying away since 1988 making a name for itself in snow and paddle sports. In which its reputation is well regarded. The company was one of the very first to use MIPS (Multi-directional Impact Protection System) technology in their head protection. So its fair to say, your noggin is in a safe place with Sweet Protection.
This, the Falconer II MIPS is the top of the range road cycling helmet in the Sweet Protection lineup. As you'd expect from a helmet costing a penny off £210, the Falconer II is designed to not only be safe, but aerodynamic, well ventilated and lightweight.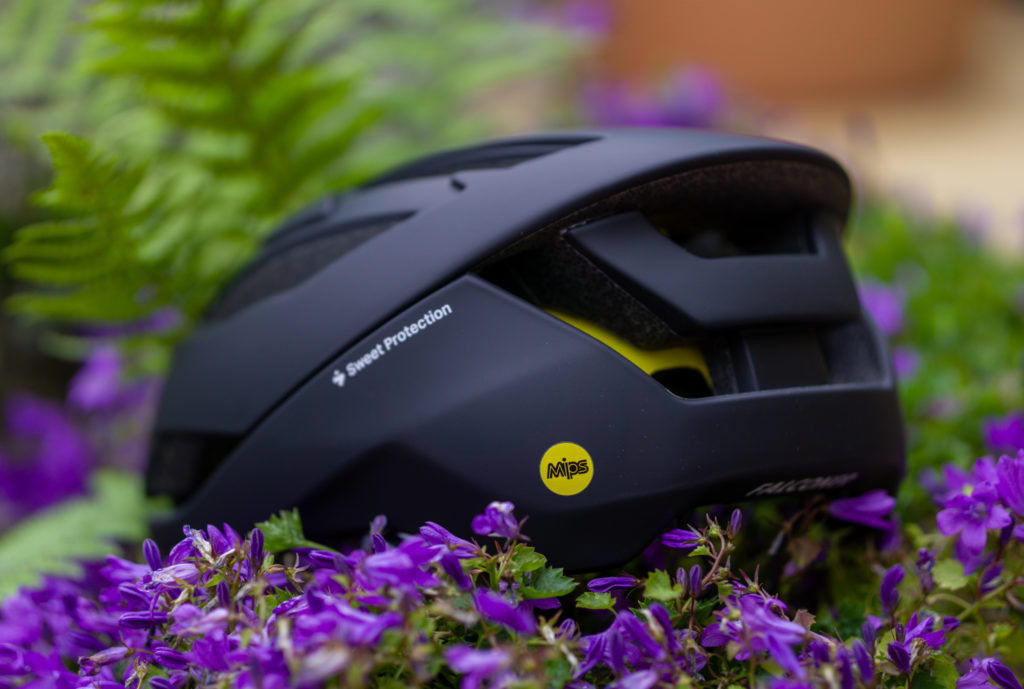 Safety Features
The Falconer II is equipped with MIPS Brain Protection System, a low friction layer inside the helmet designed to reduce rotational forces transferred to the brain in the unfortunate event of an impact. The science bit can be found in detail here. In simple terms, MIPS lessens the violence of large impacts on the brain during a crash.
Adjustment is managed by an 'OCCIGRIP' turn dial on the rear of the helmet. The micro adjustment lets you fine tune the fitment in both reach and height, preventing the helmet from rolling on your head. If you need to further fine tune the fit, bundled in with the helmet is a spare set of foam pads. Don't be fooled into thinking they are just spares, they're a thicker set so you can get the fit just right.
Sweet Protection apply variable outer shell thicknesses and geometrical shapes to optimise the protection of the Falconer II. Compared to a lot of helmets, there is a lot more shape and ridges to the outer shell.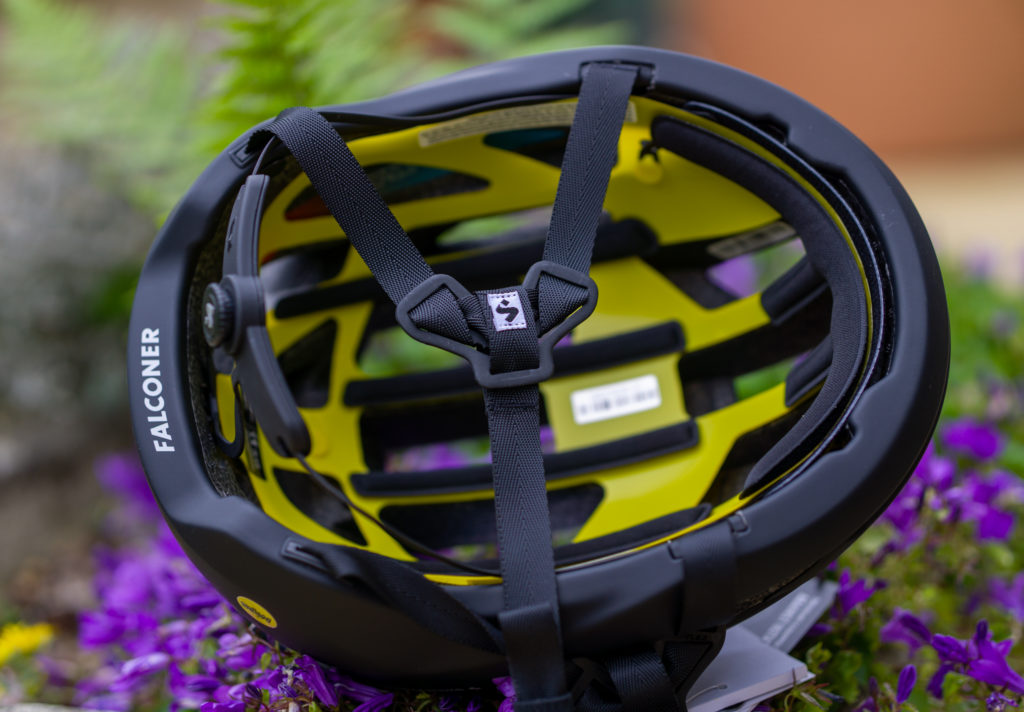 Keep your cool
Sweet Protection have gone to great effort to custom fit the MIPS insert so that it doesn't impede airflow through many channels that slice through the 4-piece constructed EPS (Expanded Polystyrene) core.
Even on hot and humid days, you still get a good flow of air. There's a Specialized S-Works Prevail style full-width channel across the brow. An area where I find a lot of helmets are generally lacking in ventilation and turn out to be real sweat boxes.
STACC (Superficial Temporal Artery Cooling Channels) is an impressive acronym, but it'll keep you cool too. Ever get really hot or stressed and can feel a great big vein in your temple thumping away like a bass drum? That's your superficial artery right there and is one of the major arteries in your head. The theory is that keeping air flowing over this area of your head will inevitably keep your head a lot cooler.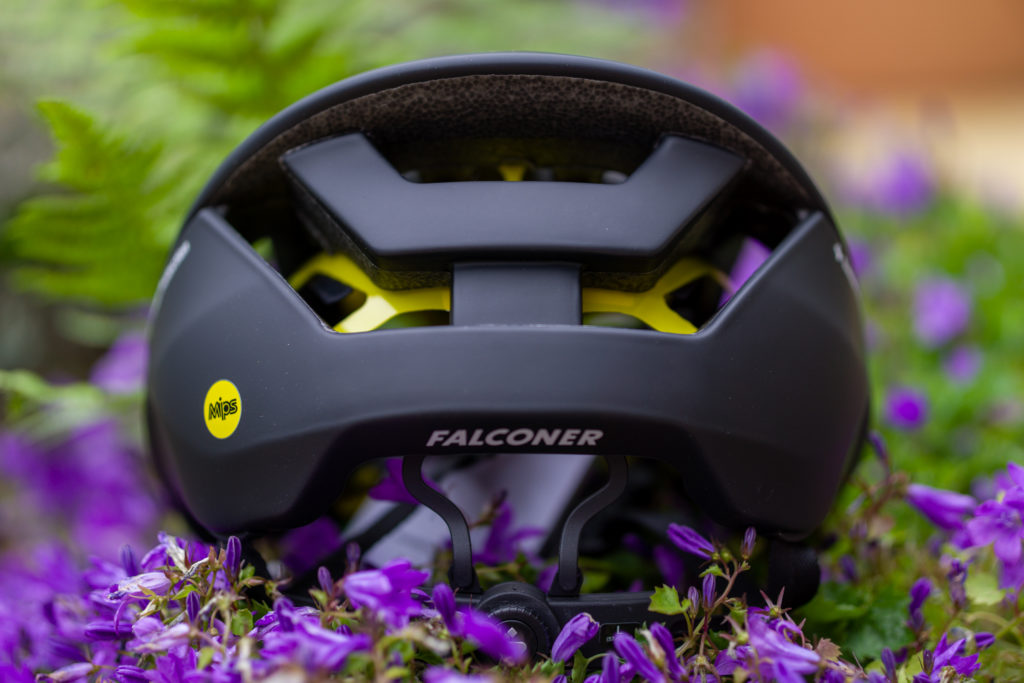 Finish
The overall quality of the helmet is pretty impressive. The matte finish of our large test example wraps completely around the EPS core, leaving no areas of the delicate foam exposed or vulnerable to damage.
The matte finish has withstood scratches and marks well, something these dull finishes are usually quite susceptible to. If murdered out black is not your thing, the Falconer II also comes in white, blue, black n' red gloss and a very classy looking shade of British Racing Green.
Two very stealthy rubber grips sit on the edges of the STACC ports to stash your glasses. I found they were quite a stretch for my shades, requiring me to bend the arms out quite a bit before they'd fit. Though once they're in, they're very unlikely to escape or slide out if you hit a hefty bump while riding.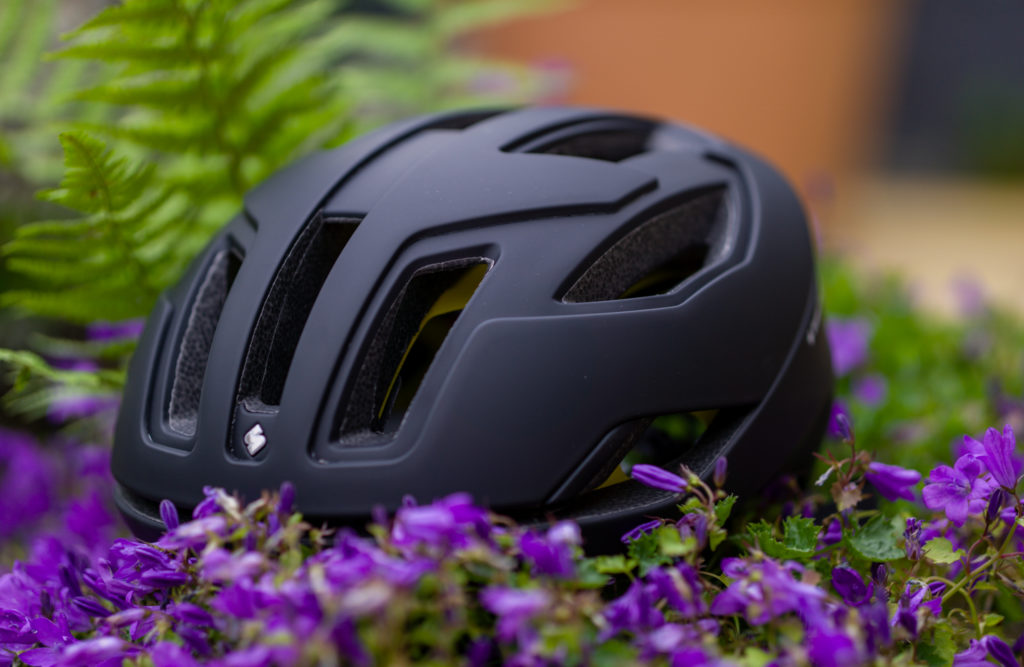 Comfort
Our size large weighed in at 310g. Neither a heavyweight nor as light as POC Sports Ventral Spin at 260g for a large. Weight is soon forgotten about once you are wearing the Falconer II however. You simply don't notice it.
The straps are nicely finished with Y-shaped anchors which sit flat and are irritation free. And after dialling in the OCCIGRIP adjuster, there was absolutely zero rocking. Even when rattling down loose, rocky descents better off tackled on a hardtail rather a gravel bike.
One issue I did have with the Falconer II was with glasses selection. The sides of the cradle do come down quite low above the ears. Using glasses with broad arms led to the cradle pushing them down into my ears. This led to some discomfort during longer rides. Switching to a set of shades with super skinny arms worked a lot better with the Falconer II.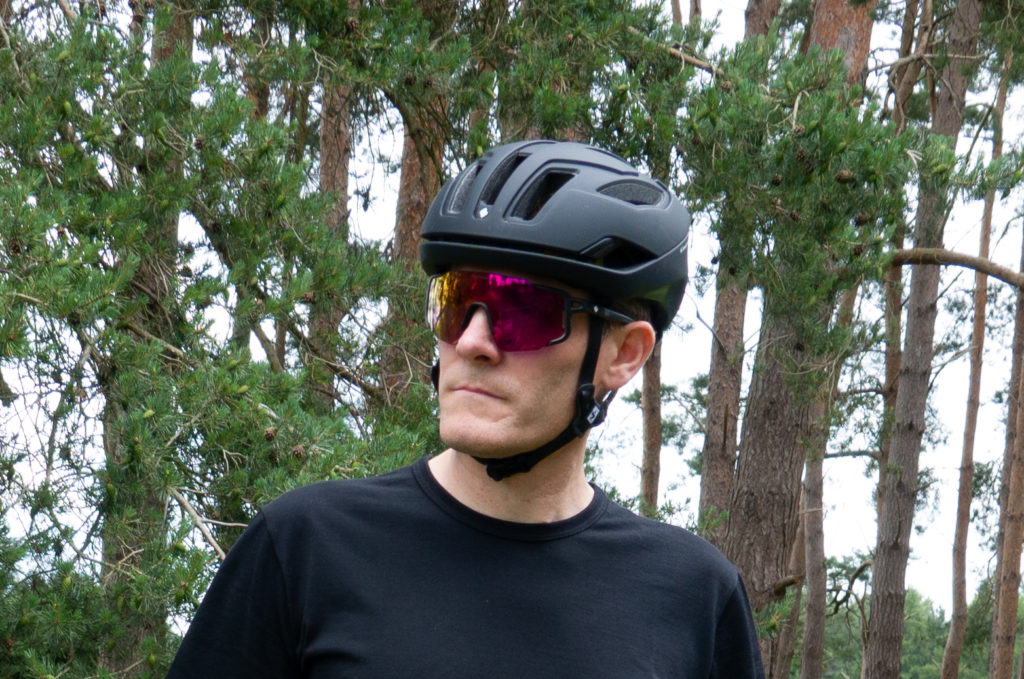 Verdict
The Sweet Protection Falconer II MIPS helmet really feels premium and the fit and comfort it offers is impressive. With great ventilation and a quality finish, the Falconer manages to stand out in the crowded £200 sector of the helmet market.
Perhaps the biggest issue with the Sweet Protection's Falconer II is the limited range of sizes they have on offer. You have the choice of medium or large which covers from 54cm to 60cm. Fall outside of that range and you'll have to look elsewhere.
There are lighter and cheaper options out there. But very few have quite the durability and quality finish offered by the Falconer II. If you're looking for a robust helmet which won't look tatty after a few rides, this is well worth checking out. If it fits.
Last modified: 1st July 2020