If you've read our report on the Cambridge Porkpie 200 you'll have an inkling of how this review is going to go!
When given the option of choosing which bike to tackle the ride with, I jumped at the chance to ride the Surly Midnight Special. I wanted to see what all the fuss with Road Plus tyres was about. Surly, I mean surely big fat slicks are just going to feel heavy and slow.
Anyway, the die was cast and having to ride 200k to a time limit would certainly expose any shortcomings!
Traditional or just hiding its' light under a bushel?
At first glance, the Midnight Special looks trad. There's no sloping top tube or organic hydroforming, just slender skinny pipes. It's only the discs and road plus tyres that distinguish it from the 10 speed racer I had in the 90s!
The robust powdercoat exterior finish is described as 'hot mayonnaise' (gloss pure white, no hint of yellow as I feared). Internally, the frame has been treated with a protective coating. Look after the Surly and it'll be with you for a long time. As with their other bikes Surly apply decals with no clearcoat so you can remove/replace them easily.
Once up close to the Midnight Special though, you start to see the small details indicating that this is a very modern bike. The dropouts evoke memories of classic lugged frames but are designed to accept your old QR wheelset or the latest 12mm thru-axles. Similarly the frameset allows you to use flat-mount callipers or indeed post-mount (with an adaptor).
Easily the most obvious nod to modernity is the 44mm headtube. While we are at the front end of the bike, if the skinny steel fork isn't to your taste you can fit any fork, tapered or straight, that you like.
The Build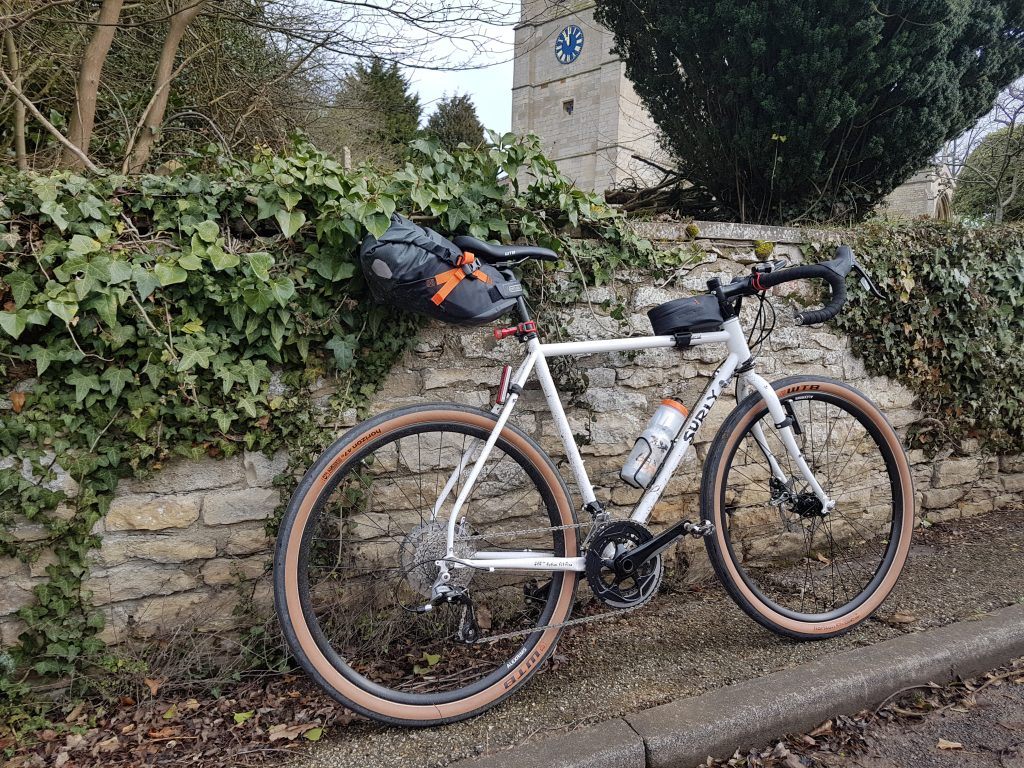 Received wisdom states that "cable brakes are inferior to their hydraulic cousins and are reserved for budget builds." For the record – I disagree!
This was my first time trying TRP Spyres and I was genuinely impressed. They had a sharp bite, good modulation and despite damp and gritty road conditions,  only started making a hint of noise towards the end of the 200k. The return leg served up plenty of steep sections with wet corners that required careful braking. Even with increasingly numb fingers (towards the end of the ride) the Spyres performed admirably.
The stem and seatpin are plain generic items but once set, didn't budge. The saddle is a WTB Volt, perfectly fine for hours in the saddle. My personal preference is for a WTB Pure V, which is a fraction wider but of course saddles are a personal thing.
Contact points are finished off by a nod to the premium with a set of Salsa Cowbell drops wrapped in cork tape.
Roadplus
So, onto those wheels and tyres. What's all this Roadplus business then?
I'll save you the history lesson and get straight to the point. The general idea is this: combining 650b rims and 47c tyres gives you a wheel with an effective overall diameter equivalent to 700 x 30c.
The fatter tyres translate to a smoother ride. On less than perfect roads you won't be knocked off course and slowed down as you would with a narrow, high pressure, tyre.
That's it… nice and simple.
Now theories are great, but the elephant in the room is the 500gm road tyre and what about those rims? The Alex XD-Elite on the Midnight Special are only 50gms lighter than a Stan's Alpha 400. They are in the Alex Trekking/MTB range so the trade off for that weight is durability.
On the road
Once out and riding, it didn't take long for me to warm to the roadplus format. The Porkpie 200 starts with a swift 15k on a wide, well surfaced cycle path which gets you out of Cambridge quickly. Maybe, I didn't notice the fat tyres and extra weight because my legs were fresh. Time would tell.
Once off the cycleway and heading across country we encounter the typical UK back road. Gravel piles on every corner, greasy patches under the trees, frost hiding in the shadows, pot holes and cracks liberally scattered around. This of course is the terrain these tyres are made for, and boy did they did come into their own?
Running only 35 psi/2.4 bar on a road bike might seem ridiculous, but the WTB Horizons felt normal. Certainly not the feeling you'd get riding your MTB on tarmac. I soon adjusted to not having to brace myself for ruts, broken tarmac, or those slippy corners I mentioned and sailed on calmly into the… snow.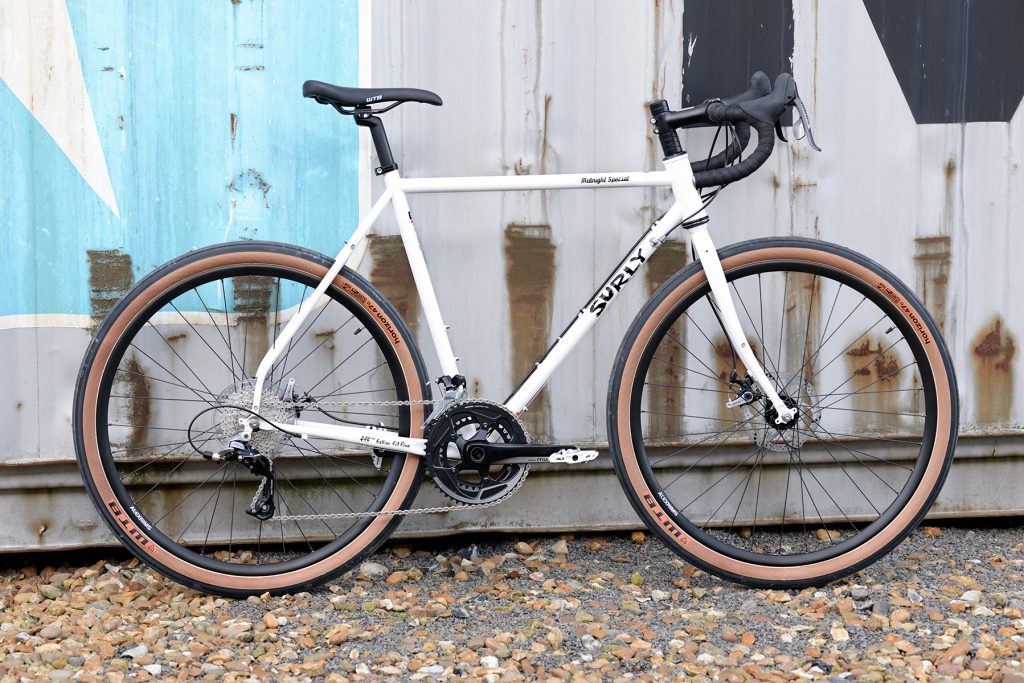 Rutland
Rutland might be the smallest county in England but it's got more than its fair share of sharp climbs, and equally sharp descents. Even when stomping up steep gradients the Midnight Special didn't feel compromised by the big tyres. Meanwhile, the spread of gears helped no end, with a  34-32 on tap if it all got too much! Once over the top and heading back down the Surly was a confident descender able to hold your chosen line without fuss. The Spyre brakes were ready to pull you up sharp if needed.
Versatility
If British roads aren't rough enough for your tastes then the Midnight Special isn't afraid to take you off-road. The frame and fork will take 650b x 2.35″ & 700 x 42c opening up a wide range of options. Heck, if you found yourself on smooth tarmac you could even run some fast, narrow, 700c tyres! Depending on your tyre choice and ride plans, the Midnight Special will also accommodate mudguards. Racks can be fitted at both ends if touring takes your fancy.
When the numb-fingered winter is a distant memory you'll also be able to take three bottles along for the scorching summer that must be heading this way.
Conclusion
The Midnight Special is available as a frameset for £750 or a full-build for £2200, so there's no getting away from the fact this isn't a cheap bike. On paper, a 4130 Chromoly frame with SRAM Rival components doesn't scream value but what matters more is how it all works as a package.
Now I'm sure that if your power output rivals the likes of Sagan, you might find the Midnight Special limiting. For me though, a rider of average fitness, spending my time on roads wrecked by HGVs and ravaged by winter, the Midnight Special is spot on.
To be able to hop on a bike you've never seen before and ride it without complaint for ten and a half hours shows that a bike can indeed, be greater than the sum of its parts.
Last modified: 16th March 2019