Today, I dipped my toes into the arcane world of the 'Audax'. I have known about the existence of this type of event for years and have long associated it with the slightly less idiosyncratic 'Reliability Trial'. The truth is, I had little idea of what to expect.
Event HQ was in Blaxhall, a little village in the east of the county. 'Kick off' was at 9.00am, so James picked me up shortly after 7am and we headed east.
Sign on was a matter of picking up your Brevet Card, signing it, drinking a cup of tea and having something to eat – very civilised.  Looking around at other people's bikes, James and I seemed over biked. We also seemed to have far too little luggage. Most riders had bags of varying sizes strapped to their bikes, many of which were of venerable vintage. Think of "downtube shifters", skinny steel frames and bizarre looking saddles. I am unsure whether this is 'de rigeur' among the Audax community but we felt a little out of place with our Mason Bokehs.
When we signed up for the event, both James and I were confident Nigel had said something about off road sections. He denies this hotly but we dutifully turned up with off road rubber. We were the only people thus equipped!
Anyway, 9am beckoned and we started. It was all a bit random with riders drifting away at around 9 o'clock.  Anxious not to make a faux pas or to transgress some unwritten code of the audaxer, I sat in. The pace was 'steady' and after a mile I began to get twitchy and moved up the pack, James and Nigel following, chiding me for my impatience. Life (almost) at the front of the group was dull, soon to be livened up by a 'racing incident'. The two riders in front decided to collide at a roundabout as one went one way and the other…. We tacitly agreed the safest bet was to leave them behind, and so we did. Earlier leavers soon began to be reeled in and in no time, we were at the pointy end of the event. The briefest of brief stops at Dunwich Cafe (the first control point) and we were off. A few minutes in and we noticed our trio had become a quartet as a non speaking 'extra' latched on.
The second section seems to have been tough for Nigel, maybe because of his recent London/Edinburgh/London ride. Anyway, James and I forged ahead, leaving him and his new friend behind. At Framlingham we waited. Nigel's erstwhile buddy came and went so we visited the second control and found a cafe where we indulged in the ritual coffee and cake.  Onto the third section and we saw the elastic snap… Nigel disappeared off the back.
Meanwhile, the lumpy nature of the course saw me pushing James up the climbs as he was struggling so much. Back in reality, he left me for dead every time and had to wait while I hauled myself up various inclines. In due course, the third control arrived, James and I ate a bit, drank a bit and waited a little bit too. Once Nigel arrived, we agreed to split up and meet at the end.
On the fourth section, James lit the after burners once we hit Woodbridge and sped off into the distance. Legs a little heavy, I rode to the finish to be met by a very welcome mug of tea and piece of ginger cake.
When he joined us, Nigel, full of enthusiasm for this discipline, launched off into a speech peppered with acronyms. I was nonplussed. James at least looked interested.
So, the bottom line is that we had an exceedingly pleasant ride in East Suffolk. We had tea and cake (more than once) and all the route planning was done for us in advance. The distance was more or less what we would expect for a Saturday ride.
It was worth the (very reasonable) entry fee, the route was good and the weather fine. We had a bit of a jolly! While I would certainly do another, if the route looked interesting enough, I don't think I am ready for the full Audax Experience…you can put the initiation ceremony on hold for a little while longer chaps!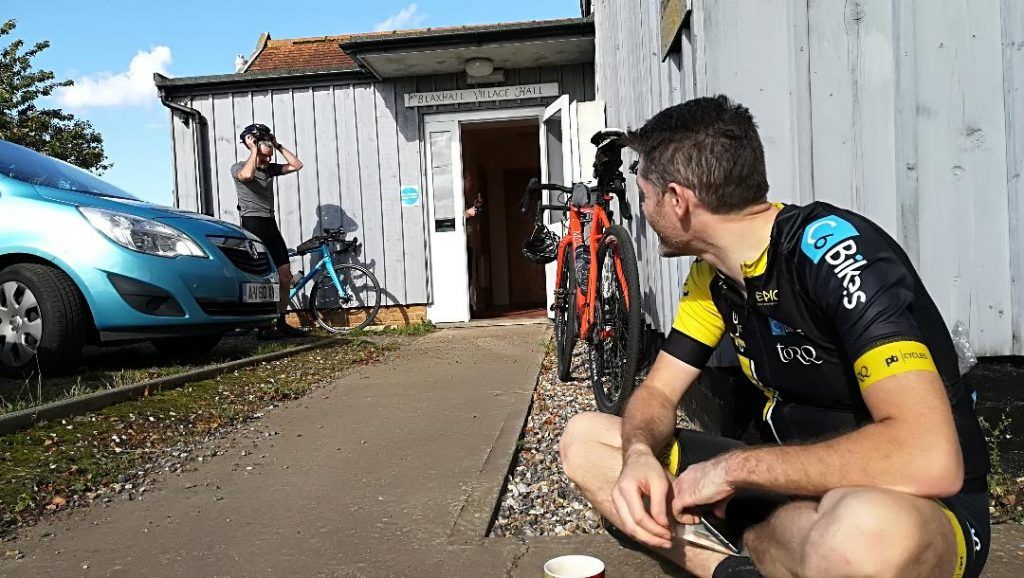 Last modified: 23rd January 2018