When Specialized announced their new Adventure Bike, the Sequoia, on the market back in the Summer of 2016, the cycling media went into a flurry of excitement.
I read all the launch reviews and was impressed with attention to detail that Specialized had poured into the design. It seemed to me that The Big S had studied the offerings from every niche steel frame builder and picked the best features to add to their new Sequoia.
Sucked in by the hype, I plonked down my order for the mid-range Elite model and patiently waited 3 months for the first batch to arrive on UK soil. Reviews all pointed at the Elite as the sensible choice; 2×11 gearing, Shimano 105 hydraulic brakes and hefty £1,000 saving over the Expert.
The day my Sequoia arrived I was first struck by just how heavy it was. Made from an anonymous cromoly, the lack of a big name on the tubes suggests that it's probably some generic blend of steel rather than anything fancy.
Light fantastic?
Curious to find out more, I stripped the bike down and found out that the OEM wheelset with their 25mm wide 700c rims were one of the main culprits for the excessive weight. The generic cup n' cone hubs had a fair bit of play in them and required some adjustment out of the box. The frame was definitely on the portly side and without doing any proper weighing of the components, it was certainly a similar weight to my Surly Krampus 29+ mountain bike frame. The Specialized branded seatpost was also built to last rather than race. More on that later…
The rims were supposedly tubeless ready and just required the addition of tape. I always use Gorilla Tape for tubeless setups and just one loop round the rim was enough in this case as the Specialized Sawtooth tyres hooked up on the rims straight away. A splash of Orange Seal tyre sealant and the Sequoia was ready to roll.
Flying like a Freight Train
Jumping on the Sequoia after having ridden my carbon road bike was quite a contrast! It felt reluctant to pick up speed, almost like the rear tyre was going flat. But once up to speed, it could roll at a good pace. Until you hit a hill anyway – climbing was another thing it just felt reluctant to do but it has a good range of gears and is much happier if you just accept that you will never get a KOM on Strava and just merrily spin away.
Off road and the Sequoia showed a lot more promise. The flex in the frame providing comfort on trails and the chunky wheels with 42c Sawtooth tyres providing more grip than their tread profile would lead you to believe. The Sequoia has a very long wheelbase, so it wasn't exactly nimble between the trees but it was very stable.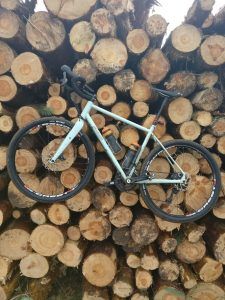 I experimented with 650b wheels and MTB tyres for a short while, using a set of Stan's Crest rims and Specialized Fast Trak 2.1 rubber. The smaller wheels made the bike feel a lot nimbler off road, but much more of a drag on the road. Some folks love 650b's on adventure bikes but for me, it just makes them lean too much towards off road capability and less useable on the road. The magic of adventure/gravel bikes is their true go-anywhere prowess. So why ruin it?
Wobble & Slip
I took it around Thetford Forest's MTB trails and had a great time chasing down riders on full suspension bikes, showing them just how capable a Cross Bike on Steroids can be. The fun ended abruptly however when the front hub started to display a lot of play… The cup and cone bearings had worked loose again. Without any tools to hand, I finger tightened them up and then headed home. Fun time over.
Fixed up and ready for action, I headed out with #ADVNTRer Nigel, for a loop around the byways that surround Cambridge. His Pinnacle Arkose was clearly a better climber and it appeared, more reliable too. The seatpost had slipped several times during my initial ride and even after tightening the clamp up really tight, it still slipped. For the Cambridge ride I fitted a new post and clamp but still the slippage posed a problem. By the end of our 60 mile tour the front hub had also started to loosen itself up again.
Fixed for the Reiver
I used the Sequoia for the Dirty Reiver, a 200km gravel event in Keilder Forest. Before the event I ditched the heavy standard wheels with their wobbly hubs, opting for a pair of WTB i19 29er rims laced up to some reliable Hope Pro2 Evo hubs. I kept the Sawtooth tyres as I really found they rolled well despite their weight.
The seatpost continued to slip even after trying various options, I concluded that maybe the seat tube was to blame. Cutting up an old Coke can to make a sleeve for the post was the solution. Not ideal for a new bike, but it worked.
I'd put some serious miles down on the Sequoia before the Reiver and had become quite accustomed to it. It didn't like to be hurried, but was quite happy to cruise both on and off road. Put any serious effort in and the frame would just suck up your power rather than transferring it to the wheel.
Climbs: There was a lot of these in Keilder Forest and the Sequoia doesn't like going up them fast. Select the easiest gear and just spin for your life as everyone else just calmly passes you.
Descents: There's even more of these and with its long wheel base providing great stability, it excelled. One section of bridleway was very rocky and steep. A lot of folks were having to jump off and walk or fix punctures. The Sequoia felt like a mountain bike on this section and absolutely flew down it.
Over the 200km, there wasn't one problem with the bike. It was comfortable all the way round and proved totally reliable.
Conclusion
The bike was a reliable partner for the Reiver. We were never going to blast off into the distance and set any records, but we would finish the ride. And that is what the Sequoia does best; it just plods on. And on… If you wanted a bike that you could take off on a big tour somewhere with no desire to travel fast, the Sequoia would be ideal. It's comfortable and simple to maintain (slipping seatpost and wobbly wheels aside) should you get stuck out in the wilds somewhere.
For me, the Sequoia didn't excel at anything. It was just too heavy and didn't have any real character. It felt more commuter than adventurer.
Last modified: 12th April 2018