Adaptable for a multitude of gravel sub-genres, with a couple of only-seen-here features. The revamp of the popular Specialized Diverge is certainly a limitation-quashing improvement.
Introducing the all-new Specialized Diverge
First born in 2014 as an 'adventure bike', you could claim that the Diverge was ahead of the curve with what we've come to know as the 21st century gravel bike. Yet this year's release is more than a subtle update and some flashy new paint-jobs. Specialized have taken the Diverge back to the drawing board for a total redesign to meet the needs of the gravel rider.
Here we've received the Comp Carbon model in a size 52 (rider height 5'4") for review. This version sits at the lower end of the carbon models, priced at £3,399 (note: since publishing the review, this model's price has been increased to £4,000).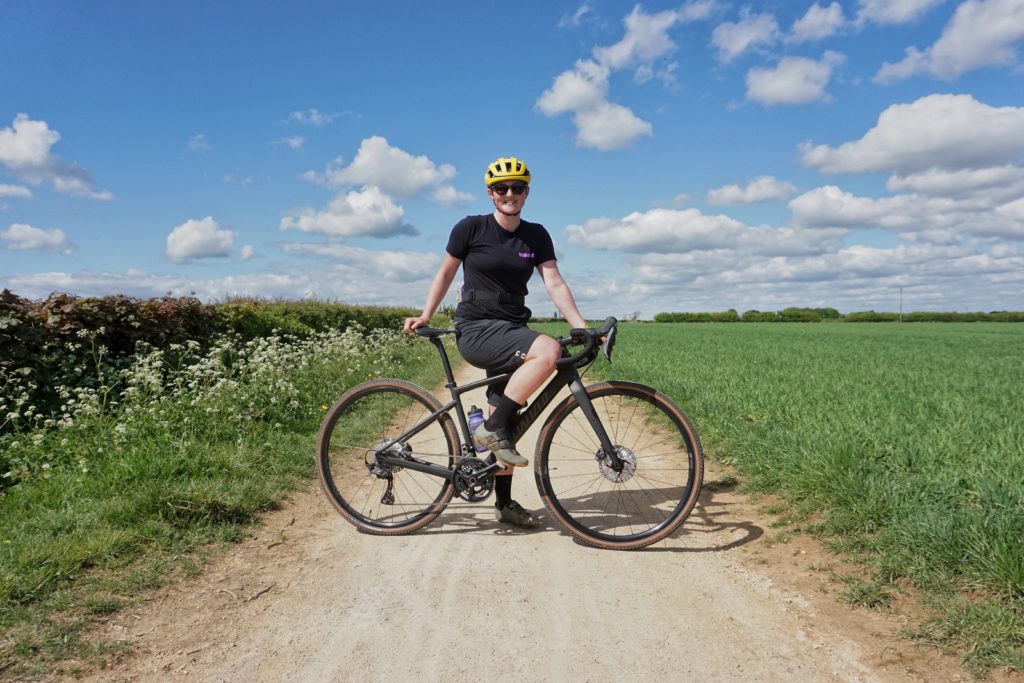 Where does the Comp Carbon fit in the Specialized Diverge range?
Just like other cycling brands with extensive catalogues, Specialized has a hierarchy system to explain their range. Sport is the entry level, rising up to Elite, Comp, Expert and Pro. The S-Works name reserved for the no expense spared, top tier, premium level.
The carbon models of the Diverge range include a base model at £2,199. And then from Comp upwards, from £3,399 to £8,899 for the S-Works eTAP build. The S-Works is also available frame only for £3,499. At the budget end, you'll find three aluminium models from £949 to £1,999. Find more about the new Specialized Diverge range launch here.
Back to the drawing board on geometry
The new Specialized Diverge is result of many 'frankenbikes' from the Morgan Hill research facility. Specialized adapted old Diverge frames to make totally new geometries for real life testing, and the resulting new generation Diverge is really quite different to its predecessor.
One of the main differences is the increased bottom bracket height. Raised 6mm from its original super low position, to reduce pedal strikes over rough ground. Teamed with a slight slackening of the head tube angle (to 70.5° in this case, 71.75° on a size 56). Lengthening the wheelbase (1026mm for a 52 has been increased by 22mm, 1042 mm for size 56 increased by 31mm). And finally, a shorter stem to maintain the same cockpit position.
The result? Certainly not the same as their former 'Open Road Geometry'. This is more of the classic gravel 'let's take it off-road'.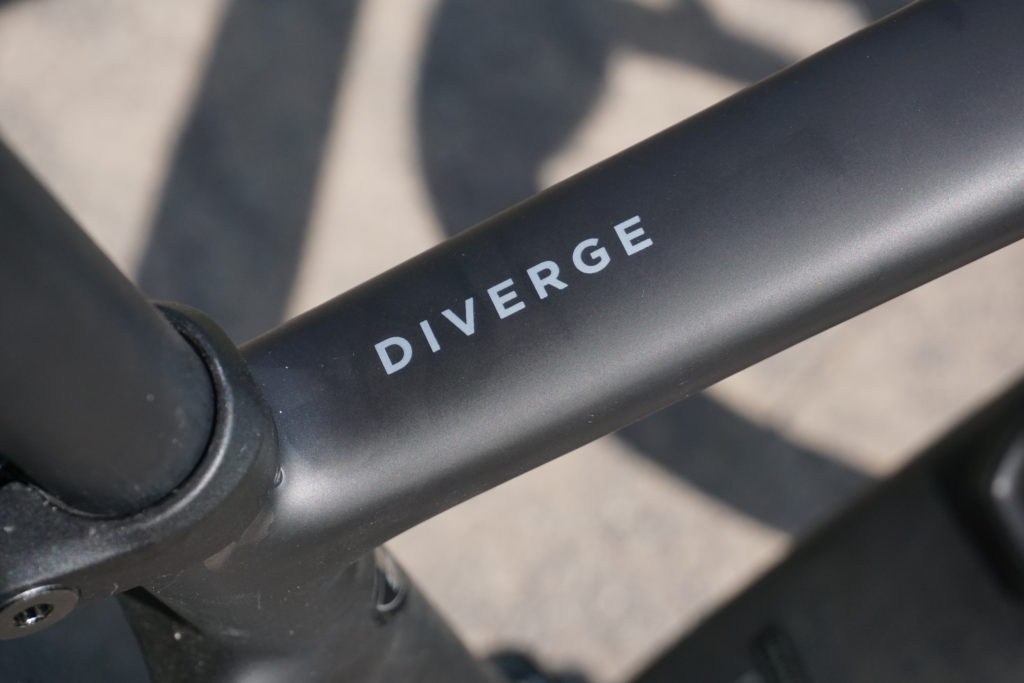 Lightweight carbon focus
While carbon is ubiquitous in performance road cycling at higher levels, gravel is one category where that comes into question. Our niche in the cycling world has far more of an emphasis on high quality steel and titanium frames. This is where Specialized have chosen to stay true to their road cycling roots and mountain biking expertise.
This Comp level model employs FACT 9r Carbon, just like the two higher tiers of Expert and Pro. The premium S-Works features FACT 11r carbon, giving a weight saving of 100g bringing it just under 1kg. This makes the S-Works Diverge one of the lightest gravel frames out there, even with generous tyre clearance and the SWAT storage system.
It's obvious from their marketing that Specialized are targeting weight as a priority, which is curious as it is a figure that seems less of a priority with gravel riders. Especially for the more adventure and bikepacking orientated end of it. Perhaps they're targeting the pointier, racing end? Fully built (minus pedals, mounts and cages), our size 52 Comp Carbon weighs in just under 10kg.
Crucial clearance and grip
Specialized got the memo, the improved tyre clearance on the new Diverge is a major plus. The bike will accommodate 47mm x 700C or 2.1″ with 650B wheels. That puts the Diverge at the top end of the gravel bike market. This is true clearance too – measured at the industry standard of 6mm clearance between frameset and tyre.
Rather than mimicking the 3T Exploro's dropped chain stay or the raised chain stay of the Allied Able, Specialized have gone straight. The engineers have used a single piece of narrow, solid carbon along the chain stay near the bottom bracket to give more space without sacrificing frame integrity.
By gravel bike standards, the 38mm tyres fitted to the Diverge are pretty narrow. The first thing I would do is make full use of that wide frame clearance and go big. The Pathfinder Pro tyres fitted to upper tier Diverge models may be suitable for the road and dusty dry gravel, but they're no match for the slightest bit of dampness. With a flat central ridge flanked by file tread, you'll drift sideways at the first sight of mud. As I was on the first day it rained…
Admittedly these are global models. It would be impossible to settle on one tyre to suit all the terrains and ambitions of Diverge riders across many continents. For the UK we need at least a little tread, even in the summer months. The new Specialized Rhombus 700 x 42 with its aggressive tread pattern would be a better option for British riding.
A full GRX treatment
Shimano's new gravel-specific GRX groupset graces the Diverge Comp Carbon. In this case it's a complete 800 series groupset running a 2x mechanical setup and hydraulic braking.
With front chainrings of 48/31T and an Ultegra 11-34 cassette, the GRX drivetrain won't be limiting when it comes to keeping momentum on flat, paved or downhill sections. The huge chainring differential of 17 teeth is pretty novel for GRX, and admittedly takes some time to adapt to. It does however offer a really wide range of gears right the way through to the 31/34, a much needed gear for getting up some of the steeper climbs and looser terrain you might encounter off-road. Having said that, if I was loading up with bikepacking kit, I'd be looking for even easier gearing.
Normally, a 2x setup wouldn't necessarily be my choice, but I can see how it comes in handy for those riders whose riding is more road biased. The more I tailored my rides to lanes and light gravel, the more I depended on larger chainring. If you're specifically looking for a 1x setup on your Specialized Diverge, you'll have splash more cash: the Diverge Expert features Shimano GRX Di2 with a 40T chainring and an 11-42 cassette.
Anyone who's ridden Shimano GRX will be able to tell you that the braking is one of the best. With tech borrowed from their MTB groups to deliver stronger and more controlled stopping power. Curiously, I actually find that this makes me faster and more daring on technical descents, as I'm confident that I'll be able to brake effectively when I need to.
Future Shock 2.0
Specialized's Future Shock system has divided opinion for years. That's unlikely to change as they employ the latest generation across most of the Diverge range. Future Shock 2.0 now features hydraulic actuation and a twisty top cap that allows you to adjust the level of damping on the fly. You can switch between 20mm of 'suspension' and little movement as you move between different surfaces.
In reality, I found it quite difficult to feel the effect of the Future Shock at work as I rode over rough terrain. It's most noticeable when riding uphill, out of the saddle on smooth tarmac, i.e. when it's not useful. In this circumstance, you could easily switch it to the stiffest setting to avoid the feedback from your weight on the bars, or shift your weight onto the pedals rather than over the front of the bike when climbing. If you think that the 20mm of travel will take out all feedback from the trail to totally cushion your ride, you'd be wrong.
What the Future Shock was actually designed for is regrettably something I'm unable to test under current UK lockdown. With long endurance rides and races like the DK200 in mind, Future Shock is designed to prevent fatigue across the hands, arms and shoulders from the impact of riding over rough surfaces. For someone with as little upper body and core strength as me, that could hold a huge potential for improving the experience of these super tough rides.
Currently unable to indulge in extended hours of ride time sadly means I can't put this claim to the test. Regardless of whether it proves effective over long distances or not, the ability to alter this latest generation on the fly is a big improvement.
SWAT stashing
Layers, snacks, tools and spares, there's no doubt that off-road riding requires more stuff. Going to more remote areas and over greater time periods, the need to carry more off road is clear. Rucksacks, bumbags, cargo bibshorts, seatpost and bar bags have all been employed in the gravel riders' attempt to keep self-sufficient.
SWAT is an internal storage system located in the down tube, first seen on mountain bike models like the Stumpjumper and Enduro. With a simple click-clack the plastic door (and any bottle cage attached to it) swings out from the frame. Exposing the carbon inner, neatly sleeved internal hoses and cables and a large void for stashing, well, anything you like.
The Diverge comes with two different pouches which you can load your things into for easy storage in the frame, so you can avoid things rattling or even losing anything internally. I chose to use this space for a spare tube, tyre lever and multitool; things that are essential for every ride, but are pretty bulky or heavy and that I probably won't want to access often.
It's actually a really great way to get more gear off your back (I typically ride with a bumbag) and more of the weight lower down, improving the centre of gravity toward the bottom bracket to make your ride more stable. When it comes to longer distance or multi-day rides, this redistribution of weight can make a big difference, especially to areas of your body that take more of a beating when it comes to the added impact of riding off-road like your back.
I haven't used the SWAT storage in particularly wet and mucky conditions so can't make any judgements on how water tight it is, but the pouches supplied seem pretty robust too so I'm sure it would be better than anything external in a downpour! The only downside that I can see to the SWAT system is that it does make the down tube really chunky. I certainly have nothing against e-bikes, but looking at the Diverge you could be easily mistaken for thinking that it was one of the new generation of slimmed-down e-bikes.
Finishing kit
Flared bars are certainly catching on in the gravel market, and for good reason too. With a modest flare of 12 degrees, the proprietary Adventure Gear Hover bar gives a wide and stable position for descending in the drops, as well as an extended flat drop for getting aero comfortably on those big, open gravel roads. This also allows a little extra space for bar-mounted bags, without compromising your wrist position on the hoods, as some more extreme flared bars do.
The hover element of the bar raises the position of the bar by 15mm, supposedly to accommodate a wider range of fit. To be totally honest and quite vain, hover bars aren't really my cup of tea simply from an aesthetic perspective, so if you wanted to switch out for a more conventional bar, you can add up to an additional 30mm of spacers with the Future Shock, or opt for a positive rise stem.
The Comp Carbon model is fitted with a Roval Terra carbon seat post with 20mm offset, topped with Specialized's popular Power saddle at the new Sport level, with hollow Cr-Mo rails and at the middle-of-the-road width of 155mm. This is the male or unisex orientated model, but if you'd rather use the women's specific Power saddle with MIMIC, you can change this out at no extra cost thanks to Specialized's gender-neutral program. Great news.
On the topic of women's models, you won't find different gender-specific models of the Diverge. Acknowledging that differences in body shapes and sizes is a more complex challenge, Specialized have changed their thinking on producing men's and women's models of their bikes, and are rather redirecting their efforts into making a range of sizes to fit more people, regardless of gender. Music to my ears.
If you're unsure about which saddle is best for you before ordering , pop along to one of your nearest Specialized Concept Store where they'll be able to measure your sit bones (non-invasively, might I add) for the ideal with and aid you to choose the best model for your build.
It's tricky to comment too much on saddles as it's such a personal subject. From my series of short rides on the Power Sport, I can't complain at all. It's certainly a wider saddle than what I'm used to, but it wasn't noticeably uncomfortable at all over short distances.
Both the seat post, Future stem and bar are all sleek and understated, with minimal or no branding, only some handy and subtle increment marks on the back of the seat post in a dark grey to help you keep your fit accurate.
One slight disappointment here is the attention to detail in the final build. Coming out of the bar, the hoses are very long and interfere with any out-front computer mount, and the finishing of the bar-tape is not very neat. Not the kind of finish you might (quite rightly) expect when you're dropping nearly three and a half grand (now £4k) on a new bike, especially in the cockpit area which is hardly out of view.
Mounts and bags
In the spirit of adventure, Specialized's frame designers have added bottle bosses to almost everywhere possible. You'll find the conventional two sets inside the main triangle (including one on the SWAT door), one set mounted under the rubberised down tube, another on the top tube and a set on either fork leg; a total of six! Of course you probably wouldn't want to carry six water bottles, but cages on the forks offer extra storage space, perhaps a good place for tools under the down tube and an easy access pouch on the bolt-on top-tube bag for snacks and electronics.
Of course you can then also add strap-on bikepacking bags like a seat post bag and handlebar bag, especially with the extra tyre clearance on smaller models thanks to the 15mm rise of the hover bar.
If racks are your preferred storage method, you can fit these with the lower weight bearing style on the front and mounts for a standard rack at the back fitting to the dropouts and a separate seat post collar that comes boxed with every bike. Personally I think this kind of bike; built to be lightweight and sleek, is more suited to the strap-on type of luggage than panniers. The rack mounts are better put to use for mudguards come winter. You can still fit up to 42mm tyres with guards, which should allow for suitably knobbly tyres for some good mucky winter riding!
It's also worth popping a bottle cage on the SWAT door for your first ride too, as the way that these bolts are held into place on the door are not secure for riding without one. Alas, one of the beautifully and minutely branded Specialized bolts is now lost in the deep depths of this frame.
Frame protection
I really rate the thought that's gone into protecting the carbon frame from both chain slap and potentially flying stones. Thick rubber guards are attached to the chain stay and under the down tube to the bottom bracket area. You'll also find an invisiframe-type material running along the full length of the down tube. It's one step closer to Specialized's mountain bike offering, and recognises that some riders might want to get a bit more rowdy on their drop-bar bikes.
You'll also find a small drainage hole at the base of the frame by the bottom bracket; quite a relief to see knowing how mucky some winter rides can get, especially when water crossings are involved!
Wheels
The Comp Carbon is kitted out with DT Swiss G540 disc rims, laced to Specialized sealed bearing hubs with DT Swiss Champion spokes and brass nipples. These gravel-specific alloy rims have a generous internal measurement of 24mm, meaning they're specifically made for high volume gravel tyres (with a minimum of 28mm). They're a high quality wheelset finished off with 160mm Shimano Ice Tech rotors and 12mm thru axles – all fairly standard stuff.
Frameset finish
The murdered out matte black-on-black paint job might be to some people's taste, but certainly not mine. It's not offensive, just not very exciting. Alternatively you could choose the leaf inspired pastel white and 'ice blue' gloss colourway at this level. To someone else, stealth black with popping tan sidewalls is probably just the ticket. Look across the whole range and there's far more exciting paint jobs from two-tone bright yellow to shimmering oil-slick designs.
Matte frames can take a bit more looking after, with specific cleaning products to protect their textured surface. Historically I've found them harder to keep clean than an easily wipeable gloss finish, but at the end of the day it's personal preference.
Verdict
On first look, I thought I had a clear picture of what or who the new Specialized Diverge is designed for. Relatively narrow tyres with minimal tread, a lightweight, aerodynamic frame design, and a wide gear range. It led me to believe that this was aimed at the roadie turned gravel racer type, or maybe for people who seek to go fast on easy gravel paths.
After closer inspection, the build out of the box may be geared up that way, but the Specialized Diverge has so much more potential for engaging in other gravel sub-genres. The massive tyre clearance is a huge bonus; imagine rolling on 2.1" knobblies on a 650B wheelset, loaded up with your fork-mounted bikepacking kit. That rugged down tube guard protecting your undercarriage while you rumble over techy, rocky singletrack in the mountains.
With plenty of exposed seat post thanks to the sloping down tube, riders of all heights can fit a modest 50 mm dropper and benefit from added manoeuvrability on techy, steep and testing trails that some of us enjoy.
As far as USPs, the Diverge boasts a few. I'd love the post-lockdown chance to properly put the Future Shock system through its paces, with a proper long all-dayer to really see whether it has an impact on reducing upper body fatigue. The SWAT box, although giving a pretty bulbous down tube not too dissimilar to an e-bike, is actually pretty nifty for carrying those essential bits of kit that you need on every ride but would rather forget about carrying on your back.
Personally, there are a few things I'd do if this was my bike straight out of the box. Setting up the wheels tubeless for off-road would be a priority. I'd also replace the Pathfinder Pros for a knobblier tyre that can handle the odd slippery patch. Oh and I'd probably re-tape the bars, 'cos I'm a bit pedantic like that. I wouldn't opt personally for a matte paint job, nor a pale pastel colourway (even though it is quite pretty, I don't like cleaning bikes that much), so would probably look at upgrading to the Expert level. Di2 is very nice, anyhow!
Although the Specialized Diverge features the geometry characteristics you'd expect from a gravel bike including a lengthened wheelbase and slackened head tube, the ride feel on the road isn't all too dissimilar to a road bike. With the option for chunkier tyres and mudguards as well as the Future Shock, I reckon it would actually make a really tidy winter road bike for tackling those dirty back lanes and pothole ridden roads that we seem to boast in the UK.
I quite often hear of road riders looking for a bike they can ride predominantly as a winter road bike and then enjoy some off-road riding in the summer. If you can forget the price for a moment, then I think the Comp Carbon is a good option. More confidence inspiring on the loose and rough without feeling sluggish on the road is something that Specialized have achieved pretty nicely on this one.
Although I struggle a little with the price, the new Specialized Diverge Comp Carbon is a well specced mid-level gravel bike. Ideal straight out of the box for light, dry gravel trails and back lanes, but without limitations of taking things further. You can easily upgrade to a more aggressive tread, even up to 2.1" with a 650B wheelset. You can fit a dropper, mudguards, fork mounted bags, you name it. The options under British conditions may feel a bit limited, but with a few simple changes, out of your own pocket of course, it can be made into a really versatile machine.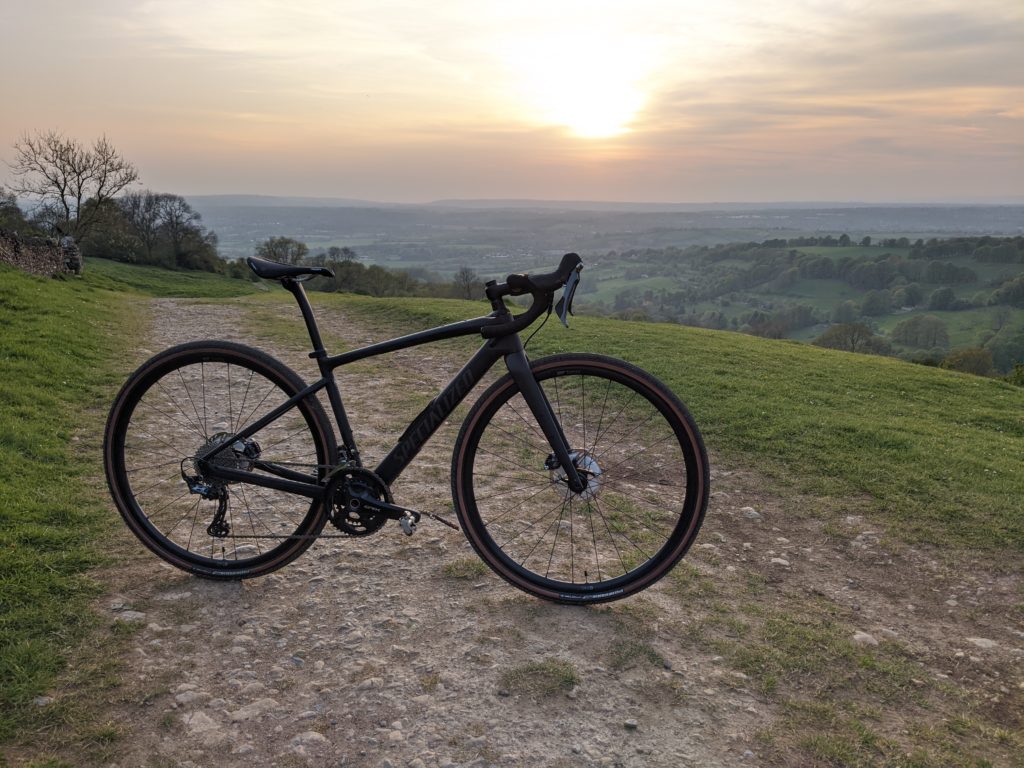 Specialized Diverge Comp Carbon
£3,399 (now £4,000)
Out of the box, it's a light gravel and lane machine, but ripe for conversion to more rowdy gravel riding and bikepacking uses
7.0/10
Pros
Very generous tyre clearance
Sloping top tube yields ample seatpost for comfort
SWAT Storage is super handy
Cons
Pricey
Tyres not suited to UK riding
Attention to detail on the build 
Last modified: 15th April 2021