The Cambridge Pork Pie Run is a 200km Audax taking riders from Girton, (just outside Cambridge) to Melton Mowbray and back again. 
What could be sillier than picking up an unfamiliar bike and riding it 200 km with minimal time to set it up properly? How about riding it in bitterly cold weather punctuated by occasional blizzards? The first part of this ridiculous idea was planned, the latter was not.
Did someone mention the weather?
A week before the Pork Pie, the forecast had been set fair for Saturday. Maybe 12 hours later and it had changed. Back to typical Scandi Noir conditions, aka the 'Mini Best From The East'! As the week progressed, the forecast got steadily worse. Yellow and Amber weather warnings for wind, snow and ice proliferated and suddenly our daft idea was looking ridiculous.
Testing conditions
The purpose of this stupid venture was to try out the Midnight Special, a cool new 650b road bike from Surly. This machine has had everyone in the States (and us) in an excitable frenzy. It looks as if it was purpose built for our pothole ridden roads. Butt cosseting steel tubing, 'Road Plus' tyres and disc brakes make for a comfortable four-season cruiser.
Keeping the Surly company was an All-City Macho Man. 700c x35, Schwalbe G-One rubber, 1×11 gearing, cyclocross geometry. This was either going to work or it was going to hurt.
Nigel and I drew straws and I picked the shortest. In the blink of an eye, Nigel was skipping merrily over to the Surly and was strapping his Ortlieb bike bags to the frame.
I looked at the Macho Man and then looked out the window. It was pouring with rain. I looked back at the Macho Man. Tomorrow was going to be a long day…
Take me to the pies!
It is 8:00am and we are following a reduced field of riders around the outskirts of Cambridge along the Guided Busway. Many entrants wisely opted to sit this one out and stay in the warm rather than ride in the exposed fens against -6 degrees windchill.
The Busway is long, flat, straight and gives you a false sense of security "Hey, this isn't going to be as bad as I expected" I shouted to Nigel, over the howling wind. All he can muster in acknowledgement is a grimace. I should have known better.
Mainly flat as we ride north out of Cambridgeshire once we approach Rutland things start to ramp up considerably. This is where we get our first impressions of how our new ride friends respond to climbing.
Up, up and away…
The Surly clearly isn't phased by elevation and Nigel, along with his fully laden Ortlieb Seat Pack, disappear up the first of many hills with what appears to be minimum effort.
The All-City is really designed for thrashing around a cyclocross course rather than knocking out huge road miles, but the SRAM Rival 1x gearing with that huge 42t dinner plate at the back, proved useful for winching the bike to the top of the hills near Welland Viaduct.
Frequent snow flurries and strong winds batter us for most of the ride up towards our checkpoint in Melton Mowbray. We are expected to purchase a pork pie from the Old Pork Pie Shoppe before turning back for Cambridge. Suffering from the cold, we opted to stop for coffee at Oakham before pressing on once more towards the Pie Collection Point.
Stopping was probably a stupid idea as it made 'outside' feel even colder. Oh, and the snow was even heavier than before. Did someone mention the wind? That had got stronger too. Something that definitely hadn't got stronger was my determination to turn round and ride another 100 km back to Cambridge.
Oasis
We reached Melton Mowbray and the first thing I spotted was the railway station. It shone out in the gloom like an oasis in the desert! Nigel had his blinkers on and his eyes on the prize – a brevet badge or something special apparently…
I feigned Audax Ignorance and wished him luck. The train would take Macho Man and I back to Cambridge where a short ride back to the starting point promised tea and a mountain of cake. I promised to save Nigel a slice.
Sat in the warmth of the carriage, I had time to reflect on the ride and the Macho Man. It wasn't what you'd choose for this kind of ride, but it was a comfy place to be for 100km. It's true what they say about steel. On the flat it was eager as anything and cornering was cerebral – you need only think about turning and it pretty much did it for you. I grew to like the All-City and maybe with a few pounds shed from it with choice components, it would climb with a little more eagerness.
On the day a little over a third of entrants (40 riders) embarked on the Pork Pie challenge. There were 11 complete abandons, with most riders wisely opting to catch the train back from either Oakham, or Melton Mowbray. Most abandons were due to "lack of legs" or just plain cold and fed up. Like me.
Nigel rolled back into Cambridge at 9:30 PM cold, tired and sick of the taste of pork pie. One thing he wasn't sick of was the Surly Midnight Special.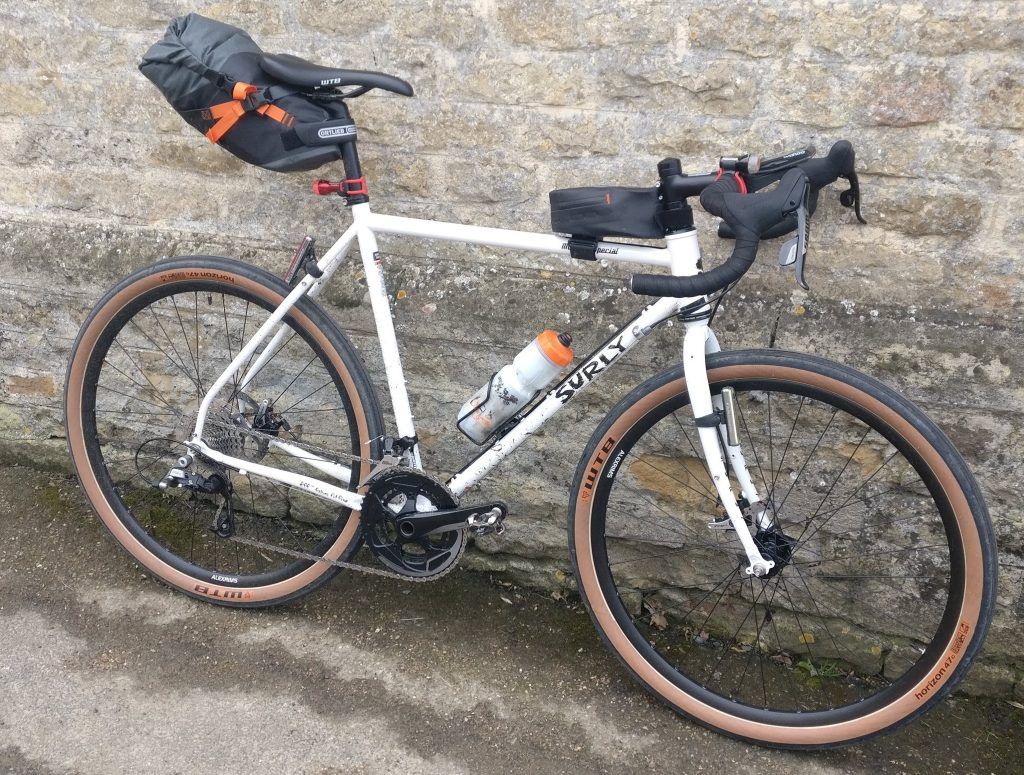 The Route on Komoot
Find out more about the ride and other Audax events starting out from Cambridge by visiting the organisers website, Cambridge Audax.
Last modified: 22nd March 2018