Shona from Keep Pedalling needs little introduction. Along with partner Rich and assistance from shop dog Olive, she's probably responsible for rolling more adventure bikes out of the door than any other bike shop in the country.
"Road racing bikes have a place, but it's not at Keep Pedalling" points out Shona. The shop floor exhibits a range you'd rarely see outside of the USA; All City, Bombtrack, Niner, Salsa, and Surly all jostle for position in this small corner of Manchester's Northern Quarter.
They don't just sell adventure, they ride it too. Shona has been travelling the world since her late teens and has extensive experience of Asia, Africa and all over Europe. More recently she's toured the Atlas Mountains in Morocco, traversed Iceland's interior and explored the less travelled parts of the Scottish Highlands.
A bike for the hills (and subways) of home
So the big question then. What bike does a world explorer choose for just hacking around their local trails?
"Rich and I were lucky enough to be guests of QBP's Frost Bike show in February 2019. They're the brains behind All City, Salsa and Surly. So we were super excited to get an invite to their in-house trade show in Minneapolis. We were invited to a 'secret' unveiling with a handful of dealers to see some of the projects in the pipeline. Amongst those was the new, limited edition All City Nature Boy in the team green fade splatter."
Gotta have it
"As soon as I saw the single speed green fade bike I knew I really really wanted one!" Adds Shona. "I was especially lucky that between Nate at All City and Duncan at Ison, they managed to 'save' me one of the few tiny sized frames made."
The Nature Boy has been a feature of the All City lineup for years. The 2020 overhaul revitalised the frame with All City's proprietary A.C.E. steel tubing, making it both lighter and stiffer. And as Shona already pointed out, one of the most eye catching paint jobs we've seen!
All City designed the Nature Boy from the get go as a single speed cyclocross race weapon. It's sibling the Macho King is touted as the geared option in the lineup. But if your knees cry for a rest from single speeding, you can retrofit a derailleur hanger and add gears. Just remember that the clean lines of the frame doesn't include cable guides.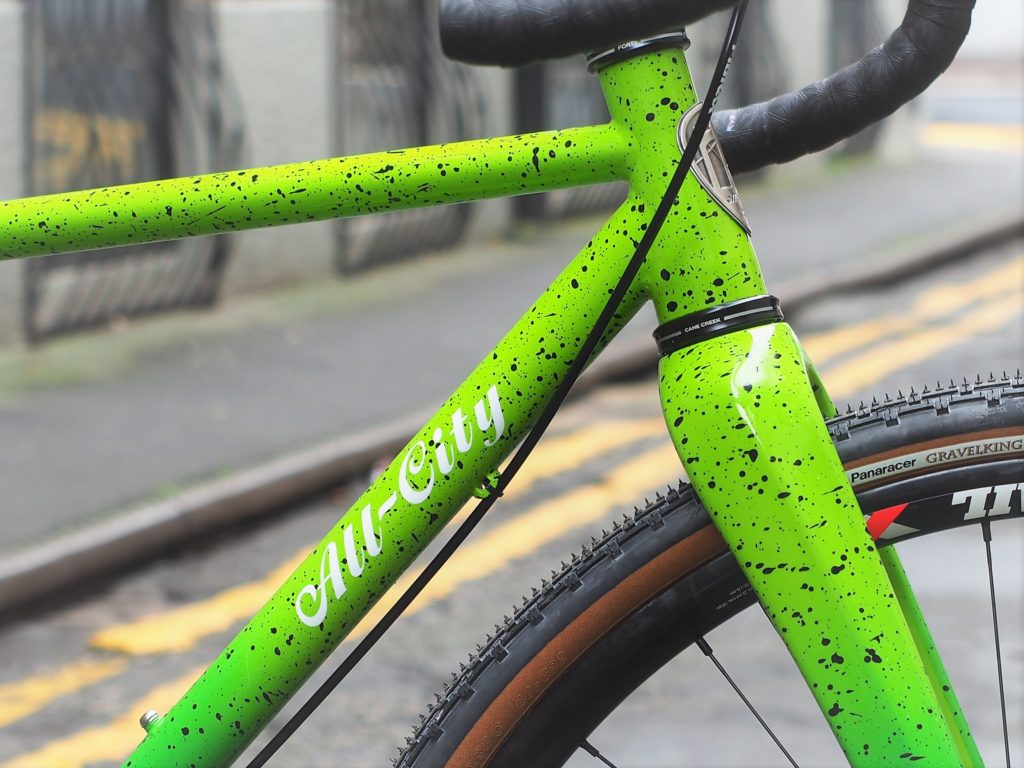 One Cog doesn't have to  mean All Pain
But isn't a one-cog bike intended for 60 punishing minutes of cyclocross pain a little uncomfortable for gravel? "I can't stress enough what an amazingly great bike this is to ride" says Shona. "All City's own design ACE tubing is lightweight and ever so comfy. The geometry sits nicely between race-your-socks-off or ride all day comfort."
Just like all great singlespeed builds, Shona's Nature Boy consists of donor parts and hand-me-downs. Bits that have come off a previous SSer and a few choice components that were bought to make it 'just right.'
The shakedown ride for this build was a visit to familiar ground. ADVNTR joined Keep Pedalling back one grey November day in 2018 for the Rapha Prestige: Manchester. At the time we all felt the route would probably have been more satisfying in reverse. Shona and Rich decided to put that theory to the test. In the dark! And yes, we were right it rode better backwards- the few tech climbs made great descents.
Shona's All City Nature Boy
All City Nature Boy 'Team Edition' frame in green fade splatter
Cane Creek headset
Stan's Grail Wheelset with Panaracer Gravelking SK tyres, 700 x 43
SRAM Force 1 cranks
Surly Stainless Cog to the rear (can't beat a Surly cog, they just last and last)
TRP brakes and TRP levers
Hope disc rotors
Easton AX EC70 carbon handlebars
Easton EC70SL stem and seatpost.
Suapcaz Suave bartape
WTB Diva saddle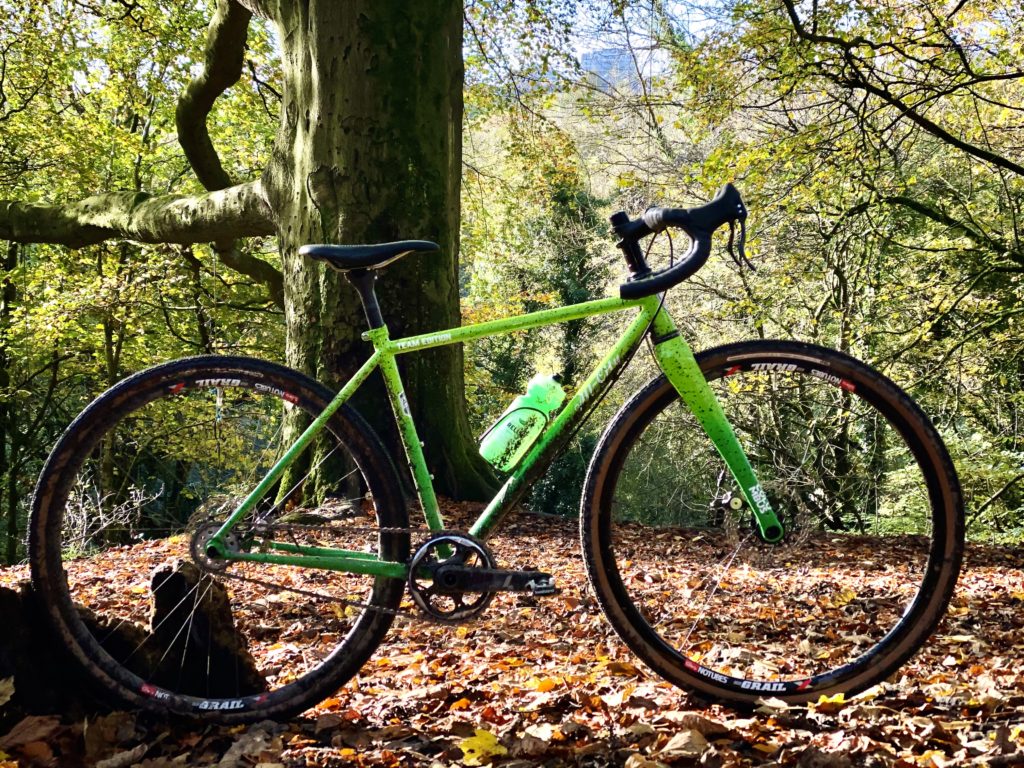 3Peaks, One Speed, Full Suffering
It sounds almost masochistic, but Shona has always held a desire to do the 3Peaks singlespeed. This All City Nature Boy is exactly the bike she has in mind to try that on. Perhaps next year…
Want one?
If you have a desire to own an All City Nature Boy, you're too late. We asked Duncan at UK distributor Ison, and his inventory showed up a big fat zero on this limited edition frameset. But stock of its geared sibling the Macho King, is in ready supply and the black/yellow splatter fade is almost as cool!
Follow Shona, Rich and Olive too, over on Instagram. Pay them a visit in Manchester (when safe to do so #stayathomesavelives) at Keep Pedalling – www.keeppedalling.co.uk
Last modified: 11th May 2020