Shimano GRX, the 'gravel specific' groupset was only announced a few months ago. It has not taken long for bike brands to update their gravel specific models with the new hardware.
At the Euro Bike Media Days press camp this week, Shimano were obviously very keen to get excited journalists and industry insiders out on the gravel test loop to share their thoughts. ADVNTR have seen a few bikes sporting the mechanical version of the new groupset, but this is the first time we've experienced the top-tier electronic 'Di2' version.
With its gravel specific ergonomics, optimised gearing options, rugged reliability, and quiet and stable drivetrain, Shimano GRX sets itself apart from the rest of the component world. It is not simply a reworked set of road components.
The RX815 series shifter design features a raised hood to prevent hands slipping. The improved grip will give you greater confidence on rough surfaces and descents. The engineers claim that the repositioned levers offer greater braking efficiency. Apparently they also reduce fatigue on long rides.
Another view of the GRX shifters, this time showing the inside perspective which gives a better view of the non-slip rubber texture on the hoods. The levers also feature a special coating to make them less slippery than the road series shifters.
Shimano GRX front derailleur for Di2 has a short cage to allow better clearance for wider tyres. The chainline is optimised +2.5mm compared to a conventional road front mech, offering wider range front gearing.
The Shimano GRX RD-RX817 Shadow RD+ for Di2 is such a streamlined design that at first glance, you might easily mistake it for its mechanical counterpart.
Shimano boast that this rear mech has a 'gravel-tuned' clutch tension… We suspect that it is a slightly softer setting than they use on their mountain bike mechs. It all helps to offer up smooth shifting and a silent, uninterrupted shifting experience even on the roughest of gravel trails.
Max sprocket size is 42t and the smallest is 11t, so no changes there compared to the mechanical equivalent.
The Shimano GRX FC-RX810 crankset is available in both 1x and 2x versions. There's obviously nothing different here whether you go mechanical or electronic.
It's a purposeful looking design, not quite as attractive as some of Shimano's road cranksets. The 2x setup seen here uses a 48-31t gear combination.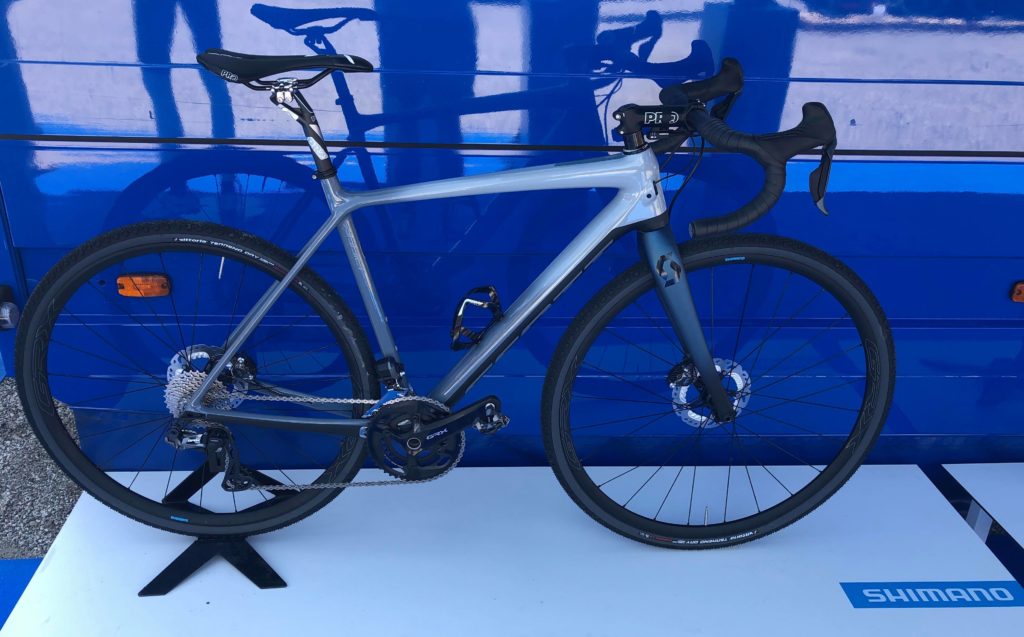 Is it as good as you imagined? You bet. The crisp, effortless action that electronic shifting is universally admired for has translated over perfectly to the gravel groupset.
If you have a dream build in mind, obviously Shimano Di2 must feature heavily on your list of requirements. But for everyone else, there is still nothing wrong with the good old gear cable.
Find out more about the full Shimano GRX Di2 range by clicking here.
Last modified: 4th July 2019