Sector Wheels have been around for a number of years, but until now, have silently cruised under the radar appearing only on Kinesis UK bikes as OEM. That is all about to change with the recent introduction of a range of new wheelsets including these, the GCi gravel offering. Using TeXtreme Innegra fibres, Sector have developed a carbon layup for the rim which, Sector claims, has a 75% higher impact resistance and 50% more vertical compliance than standard carbon rims of the same profile.
If you run lower pressures on your gravel bike, you'll run a greater risk of dinging a rim. Hitting a water bar square on for instance, is a sure fire way to damage a wheel. It is impacts like these that Sector are aiming to ensure doesn't result in ending your ride early. But aside from offering improved impact protection, the Sector GCi also look very different to what we expect a bicycle rim to look like!
What is the tech?
The Sector GCi use a combination of carbon fibre and TeXtreme. What is TeXtreme when it's home? It's a Spread Tow fabric made of Innegra and T700 carbon fibres. Innegra is a fibre which is derived from polypropylene. The material exhibits a high strength-to-weight ratio, high damage resistance and excellent vibration damping.
We won't dwell on the tech, but there's plenty here on the Kinesis website if you want to nerd out. It's these fancy properties that enable the TeXtreme made GCi wheels to offer these fancy claims of 50% more vertical compliance of more traditional wheels.
The other thing about this TeXtreme stuff is this interesting finish on the rims where the material is clearly visible. The loud design won't appeal to everyone and if the pattern wasn't enough, they are logo heavy too. But in world of black rims, the Sector GCi stand out. If you want to make a statement gravel bike build, the Sector GCi will have eyeballs popping out on stalks!
Sector GCi wheelset – specifications
The £1,100 Sector GCi 700c wheelset features a 38mm deep rim, 34mm external width and 24mm internal. The wheelset weighs in at 1690g which despite the claims from Kiniesis that they're lightweight, are more middleweight. Sector use own their brand hubs with a 6 pawl, 72 tooth engagement (5 degree pickup) freehub. The freewheeling sound of the freehub is just as loud and brash as the rim finish. The Sector GCi are definitely not a wheelset for shrinking violets!
The rims are laced with 24 straight-pull Pillar spokes front and rear. That's quite a low spoke count for anyone planning on using the wheels for bikepacking or general 'out there' wilderness rides, but on the plus side, Sector have kept the build simple rather than using exotic spoke/hub designs.
Tubeless aficionados will be delighted that Sector go the extra mile, not only fitting tubeless rim tape, but also shipping with a pair of tubeless valves and a bottle of Effetto Mariposa Caffelatex sealant. Straight from the box, all you'll need is some tubeless ready tyres and you're ready to hit the trails. Also included are front axle adaptors to switch between 12mm and 15mm.
Tubeless Setup
For this test, we paired the Sector GCi wheelset with Challenge Gravel Grinder 700×42 tubeless ready tyres. They fitted quite tightly and required only a track pump to seat on the rims. Caffelatex sealant always performs well in my experience and in this instance, sealed the tyres up in no time at all. The wheel and tyre combo where still rock solid 'the morning after' the initial setup.
The wide internal width of the GCi rims really beefs up the profile of your tyres. Which is great for volume and ride comfort. Just be aware that you may find you'll have a lot less frame clearance if you are already sailing close to the max tyre widths of your frame. The Challenge Gravel Grinder 42's seen in these photos are renowned for being on the larger side for a 42. With the GCi, this gave them a plumpness akin to someone who had a very good Christmas…
Performance
So with these claims of 75% higher impact resistance and 50% more vertical compliance, what did I notice? Without riding them full speed into a kerb with just 20psi, gauging how they withstand an impact is difficult. It's reassuring to know they are likely to shrug off the type of unfortunate big hits you'll ever encounter on a gravel ride though.
My experience is that they'll thump and bounce over rocks and roots with as much aplomb as a decent quality alloy wheelset. Many carbon rims tend to be overly stiff, which is great for someone racing cyclocross, but less so for riding 100+ miles of mixed terrain bikepacking.
Knowing that the Sector GCi are tougher than your average carbon rim, does instil you with the confidence to drop tyre pressures lower than you might usually. Doing so reduces the fatigue brought on by trail chatter, but is more the pneumatic suspension of the tyre than any magic from the rim material itself.
Throwing the bike into twisty singletrack and leaning it hard displayed no sign of flex from the wheels. Considering the low spoke count, it's pretty clear that some of Sector's claims can be witnessed first hand in the real world. The wide rims also give great grip in the corners and minimises tyre squirm. If you are upgrading from a skinny rim, you'll really notice the improvement.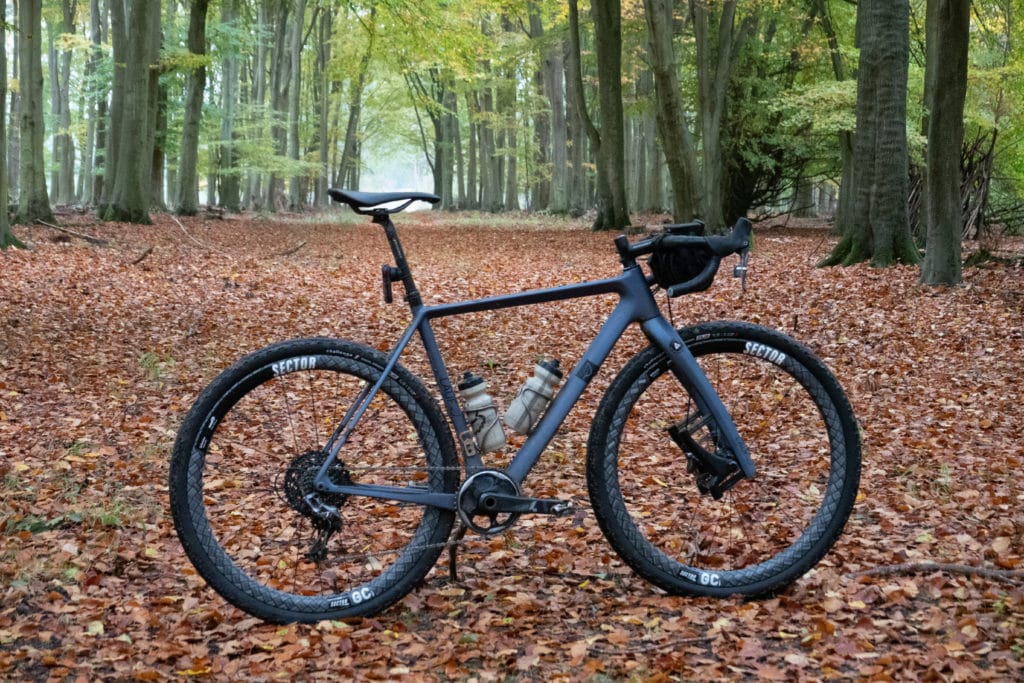 Overall Impressions
Truth is they really are good at just being good wheels. Tough, durable and reliable. The freehub has great pickup and they roll very well too. We've had some horribly wet riding conditions of late and my cleaning regime leaves a lot to be desired. Even so, the Sector GCi's still spin smoothly and effortlessly.
The tool free design of the hubs lends themselves to easy maintenance when required. I've popped the freehub body apart for no other need than curiosity and found clean, water free internals. The seals obviously doing a great job and the Revo Cream bearings still buttery smooth. The wheels have stayed true throughout the test and even though they have taken a beating, the rims still clean up like new.
With so many wheels in this price range, what sets the Sector GCi apart? The Innegra/TeXtreme stuff feels more like trying to be different for different sake to me. But beneath the loud exterior is a genuinely good, well built and solid wheelset, backed by a lifetime warranty that'll give you peace of mind when you next clang down a rocky descent.
Last modified: 20th January 2020