As one of the instigators of the whole adventure/gravel cycling thing, it comes as no surprise to see that Salsa Cycles have quite an extensive lineup in the genre. Their main tool for gravel is the venerable Warbird, which has evolved through the years as gravel biking has matured. Originally little more than an alloy road bike with generous tyre clearances, the Warbird is now a long distance gravel racer. Ostensibly the bike of choice for USA gravel epics like Dirty Kanza and Land Run.
With the Warbird gradually morphing into a relaxed, gravel focused tool, this has left a large road shaped hole in the Salsa lineup. And the Warroad slots neatly into the void. Make no mistake, this is primarily an endurance road bike. But it has one hell of a party trick up its sleeve.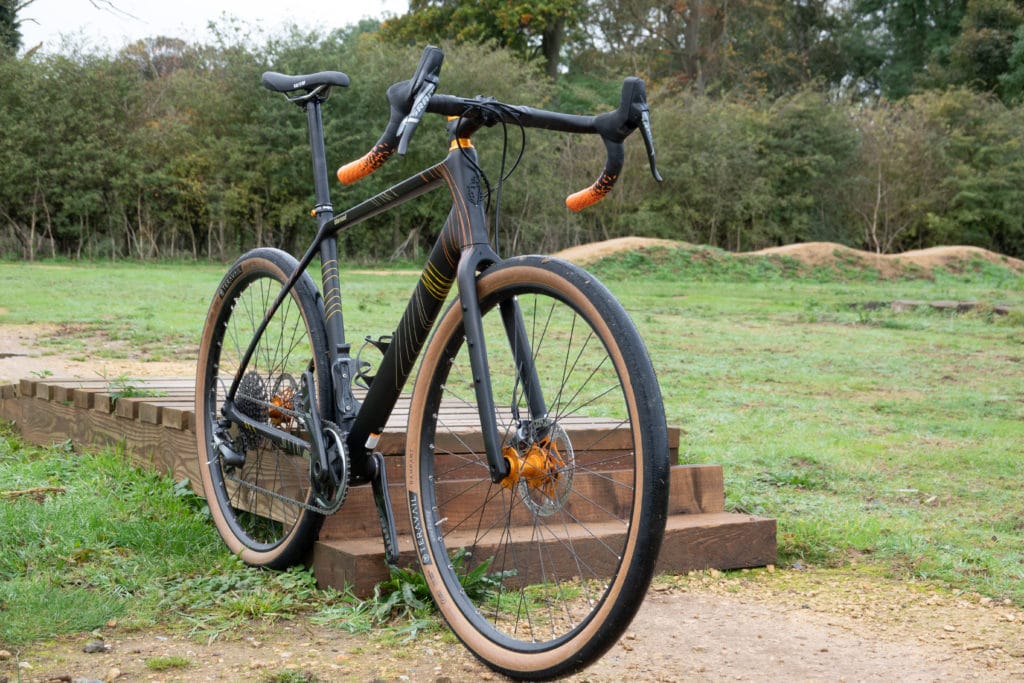 Warroad Carbon Force 1 650
As the title suggests, what we've got on test is the top tier model in the Salsa Warroad range. This particular example was built up by Salsa UK distributors, Lyon Cycle, with some additional Hope bling. The anodised bronze seat clamp and steerer spacers pair up nicely with the matching Pro 4 hubs laced to Hope Hoops 650b wheels. Oh, and the funky Arundel 'Art Gecko' bar tape. Beady eyes will spot it compliments the unusual pinstripe effect on the matte finish carbon frame. Someone at Lyon clearly has a flair for design!
Other than these complimentary parts, it's all standard build. The excellent 11 speed SRAM Force 1x groupset running 42t chainring and 10-42 cassette gives plenty of range both on and off the road. Salsa's alloy 'Cowbell Deluxe' bars are part of the OEM build and I can see why so many riders praise these subtle flared bars. The placement of your hands when riding on the drop is pretty much perfect for fast road/gravel riding. The remainder of the build kit is standard alloy OEM stuff, nothing to get excited about.
Frame Features
Salsa's experience in the gravel genre stands out in the details of the Warroad. The most visual feature is the Class 5 VRS damping system used in the seatstays. This exaggerated bow design is more than just cosmetic, it promotes vertical compliance by allowing the stays to flex outwards.
The slender rear stays and slim toptube are contrasted by a seriously stout downtube and bulbous bottom bracket junction where a pressfit BB86 lurks. We'd love to see a threaded BB for longevity but, it never presented us with any issues during the test. Full internal routing for cables and hoses plus 12mm through-axles front and rear, complete a contemporary frame design.
Overall the appearance of the Warroad is one of function rather than graceful beauty. Mount points litter the frame – 3 cages can be fitted inside the front triangle. Another below. There's fittings for an integrated top tube bag and full mud guards.
The slim bladed fork is covered with mounts for bottle cages or anything-cages and features internal dynamo cable routing. There's even mounts for Salsa's 'Down Under' front rack – a low-rider style rack for carrying panniers.
The frame even has rack mounts at the rear for more cargo carrying capacity. And should you wish to get super gnarly, the Salsa Warroad also features internal routing for a dropper post. There are not many endurance road bikes that boast this kind of versatility!
The wider (g)road
As a bike predominately designed for the road, Salsa Warroad has certain limitations, tyre width in particular. In 700c guise, the max width is 35mm – but don't switch off just yet, gravel fans… Drop in a set of 650b wheels and the width increases to a gravel friendly 47mm. As a road bike first and foremost, Warroad still boasts capability on the gravel that many conventional endurance road bikes could never match. Let alone survive.
We pushed the gravel capabilities of the Salsa Warroad to their very limits on a bikepacking trip in Wales. WTB's rowdiest 650×47 tyre, the Sendero, just cleared the chainstays with enough wiggle room if things got muddy. Loaded to the hilt, the Salsa looked anything but a road bike.
What surprised more than anything was how it performed over the mix of terrain we covered. On gravel it was as competent as any gravel bike, even hacking down quasi-MTB trails wasn't the hair raising experience you'd expect of a road bike. By roadie standards, the 71° head angle is pretty slack, and paired to a long offset fork, improves stability over rough terrain by creating a high mechanical trail. The Warroad certainly feels solid and composed on fast and loose descents – just pick a line a line and rail it.
Rear damping is plusher than many carbon bikes, thanks to those wide, bowed seatstays. Salsa's VRS system takes the sting out of the tail, but it doesn't make the bike respond like a damp noodle when you put the power down either.
Composed and responsive
Riding tarmac and tamer gravel roads, the Warroad feels so composed that it's unnoticeable. You just become a part of it and get on with the ride. It is everything you would want in a bike for long distance rides and the comfort provided by the voluminous 650b tyres makes a luxurious cruiser.
As the Salsa Warroad is dual wheel size compatible, we also tested it on a 700c wheelset running slick 30mm tyres. For me, this took away the aspect that makes the bike so satisfying. No longer was I filled with the same excitement I'd experienced, the feeling of immediacy and nimbleness seemed too diluted. It feels more 'at one' when on smaller wheels. The VRS seatstay damping and the fork feel more tuned and in harmony with the ride. Simply put, on 700c, it felt just like any other road bike.
That isn't mean to sound like a downer. In fact its another string to the Warroad's bow, effectively giving you two bikes in one. The nimble, playful, 'go anywhere' 650b sporty SUV. And then the steady, relaxed and composed 700c grand tourer.
Cost
One aspect not mentioned so far about the Salsa Warroad is cost. The range starts at £3,750 for Shimano 105 2x. Our SRAM Force 1x without the fancy extras from Hope and Arundel is £4,800. A 700c version with Shimano Ultegra 2x also retails at £4,800. If you want to build up your own way, a frameset will set you back £2,100.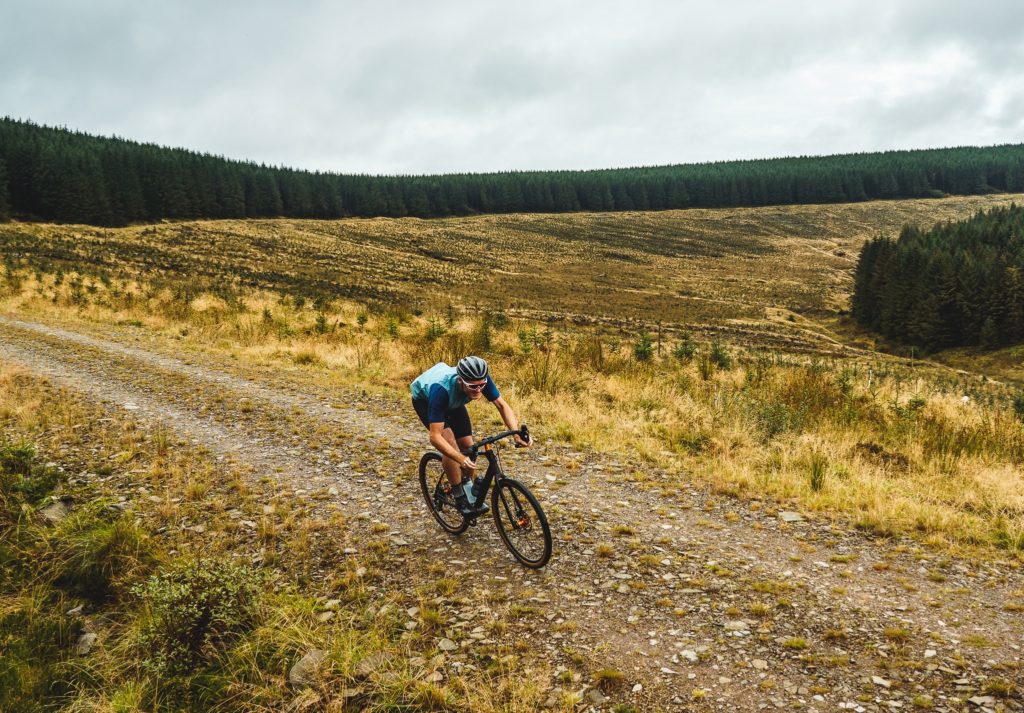 Conclusion
You'd never put Salsa on your list if a bargain bike is what you are looking for and there are many similarly specced bikes for a lot less money. But it isn't competing against any other bike because the value of the Warroad is far greater than the sum of its parts.
I've tested a lot of fantastic gravel bikes this year. But the Salsa Warroad is one that really shines and will stick in my memory. It is an efficient long distance cruiser on the road, but also playful off the road. As many gravel bikes evolve ever further into drop bar mountain bikes, the Warroad's big appeal to me is that has just the right level of 'wild' about it. It doesn't dilute the fun of the trail.
"If you could only have one bike, what would it be?"
It's a question I get posed often and struggle to answer. If I could have one bike and two wheelsets, things get a little easier to answer and the Salsa Warroad would be a serious contender. A capable road bike that can also hold its own on the gravel. It would not look out of place on an audax classic like London-Edinburgh-London. Neither would you bat an eyelid if one overtook you on the Dirty Reiver.
Salsa Warroad Carbon
As tested £4,800
Last modified: 23rd March 2021