ADVNTR Contributor, Cheshire Cat, shares his exquisite Salsa Cutthroat that he's built up in preparation for the Dirty Reiver. Here, he reports on an icy shakedown ride in a very wintry Kielder Forest.
Brand Identity – 'Adventure by Bike'
By design, Salsa has become synonymous with getting out on your bike to explore the back and beyond. This becomes patently obvious just by looking at their catalogue. No aero road bikes or feathery 'climbing bikes' listed here. As a brand, they rapidly identified a gap in the market. Riders were looking for a bike that wasn't a mountain bike, would accept 29er tyres yet be stable enough for long bike packing trips. That bike was the Fargo, a dropped bar 29er. First introduced in 2008, it is still available today having quickly developed a cult following. More importantly, it was a rude awakening for the rather staid cycling industry.
Progression
While the Fargo arguably introduced the dropped-bar 29er concept, as opposed to just putting a pair of drop-bars on a mountain bike, it had its flaws. Being polite, it was a tad portly. Over time it has shed weight, the geometry has been refined and it has continued to be the bike of choice for those wanting to explore further afield. While the Fargo undoubtedly deserves all its accolades, it wasn't enough for those wanting a fast adventure 'race' bike. In response, Salsa introduced the carbon framed Cutthroat in June 2015. Designed to be the fastest, long distance adventure race bike… specifically aimed at the 2745 mile Tour Divide, an unsupported point-to-point race from Banf, British Columbia to Antelope Wells, New Mexico.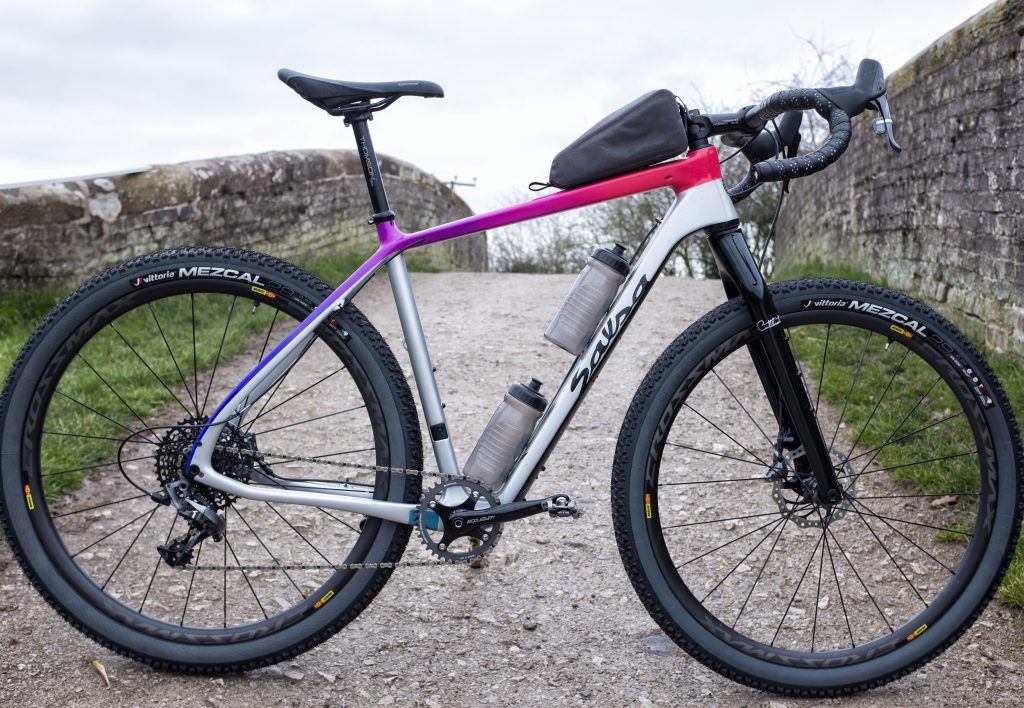 A new razor
The Cutthroat is a natural progression to the Fargo, a full carbon frame and fork with subtle geometry changes. Officially, the Cutthroat never made it to UK distributors. Its' portrayal as a Tour Divide machine deemed it to be a bike the British buying public just wouldn't want. The only bikes that made it to the UK were privately imported.
Currently the one-stop shop for anything Salsa is the excellent Keep Pedalling in Manchester, specialists in adventure bikes and with a respectful working relationship with Quality Bike Products (QBP), the Salsa parent company.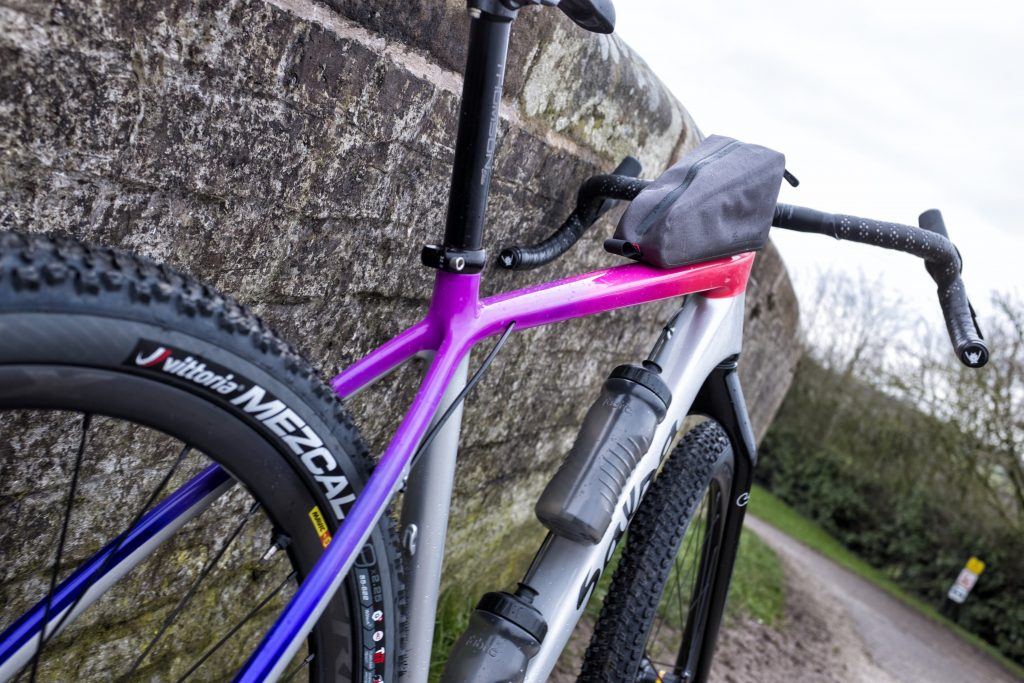 Razor sharp
This particular bike is a 2018 model, purchased as a frame and fork from Keep Pedalling. The transition from frame and forks to complete bike was a simple process. There is no guess work to putting a Cutthroat together. A spec sheet is supplied giving the important details such as headset, bottom-bracket dimensions, and dropout sizes. To connect the suspension corrected forks to the frame a Hope mix and match headset was fitted, the bottom-bracket is a Rotor affair.
A Middleburn crank and 36 tooth thick-thin chain-ring provide power delivery. XTR pedals provide the contact point. Steering is a combination of 100mm Thompson stem and 46cm Salsa Cowchipper 2 bars, 49cm's wide when on the drops. Shifting and braking is courtesy of SRAM Force 1 x 11, with a 10-42 cassette. All this rolls on Mavic Crossmax Carbon wheels, with 100 x15 mm (front) and 142 x 12mm (rear) through axles. Tyres are 2.3 inch tubeless Vittoria Mezcal's. With the exception of the rear mech cable passing through the top-tube, all cabling/hoses are exposed. A front mech hanger is provided should you want the double ring option.
The best laid plans of men and mice
The build was completed a week before a pre-planned recce of the Dirty Reiver route. Friday night accommodation had been booked weeks before at the excellent Greenhead Hotel and Hostel in Greenland, just off the A69. What wasn't booked was the cold snap that arrived at the same time. Now the well informed will say 'well it was forecast'. Very true…but it is a well-known fact that all weather forecasters are pathological liars, and being ever the optimist, it would all be fine in the morning. Which of course it wasn't. The 80 mile planned route had to be cut short to 65 miles as my equally daft mate Paul and myself headed out in howling winds and blizzards to justify the big breakfast we had consumed at the hotel.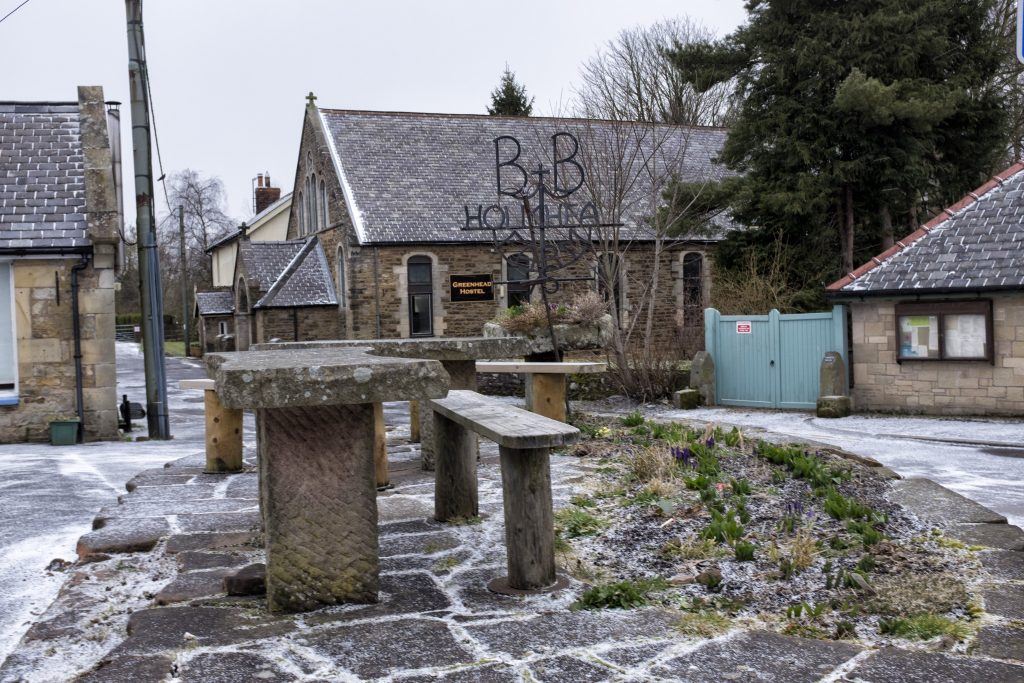 My, that's a big one
Having never ridden a 29er, drop-barred or otherwise, the first thing that strikes you is how big the bike feels. This is soon replaced by the feeling of sitting 'in' the frame rather than perched on top of it. The 58cm top-tube of the "Large" frame, combined with the inline Thompson seat-post and 100mm stem provided the ideal reach for my six foot frame.
The ride began with 9 miles of cycle path and ice covered farm roads/tracks. Combined with the relentless wind it took an hour to reach the start of the forest. You would be right to say you can't tell much from a nine mile ride, but one thing was apparent…the steering was direct. No wandering or feeling skittish, just confident, go where you point it steering, even when leaning into a blustery crosswind.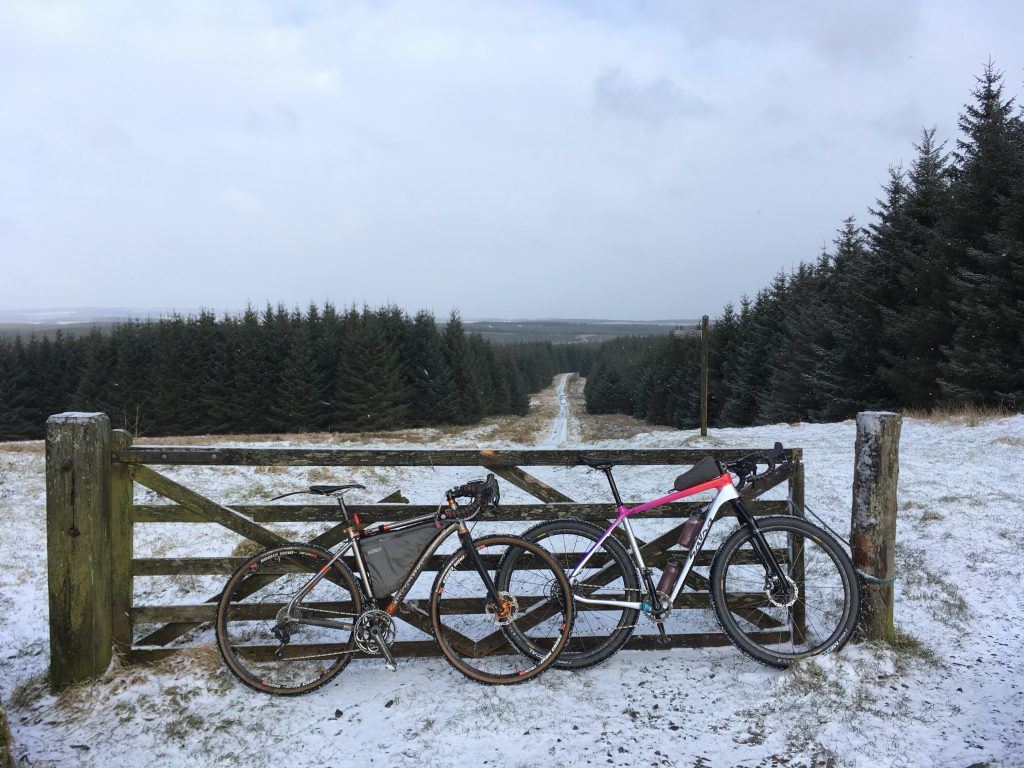 Snow and Ice? Bring it on!
I would like to say that we tore around the forest and lake side path at high speed and completed the 40 miles to the Castle Café in two hours, barely aware of the rutted tracks and fist sized gravel we had just ridden over. But we didn't. We arrived there with both bikes and riders covered in ice and snow. We were however, grinning like loons at the absurdity of it all.
Not the ideal conditions to be doing your first ride on a new bike – but in hindsight it probably was. In those conditions the one thing that would jump out at you would be the negatives, and there weren't any. It's a confidence inspiring bike, comfortably holding its line around the sweeping corners of the snow covered forest roads. Combine that with its comfort and you begin to appreciate why it is such a popular bike across the pond, and the ride of choice for many Tour Divide racers.
After soup and cake it was time to head back. The return route to Greenhead was more direct, a case of head down and spin out the miles. There are many more miles ahead of us, I want to see how it copes with singletrack and steep, technical climbs, and of course, how I fare around a dry and dusty Dirty Reiver in April. See you there.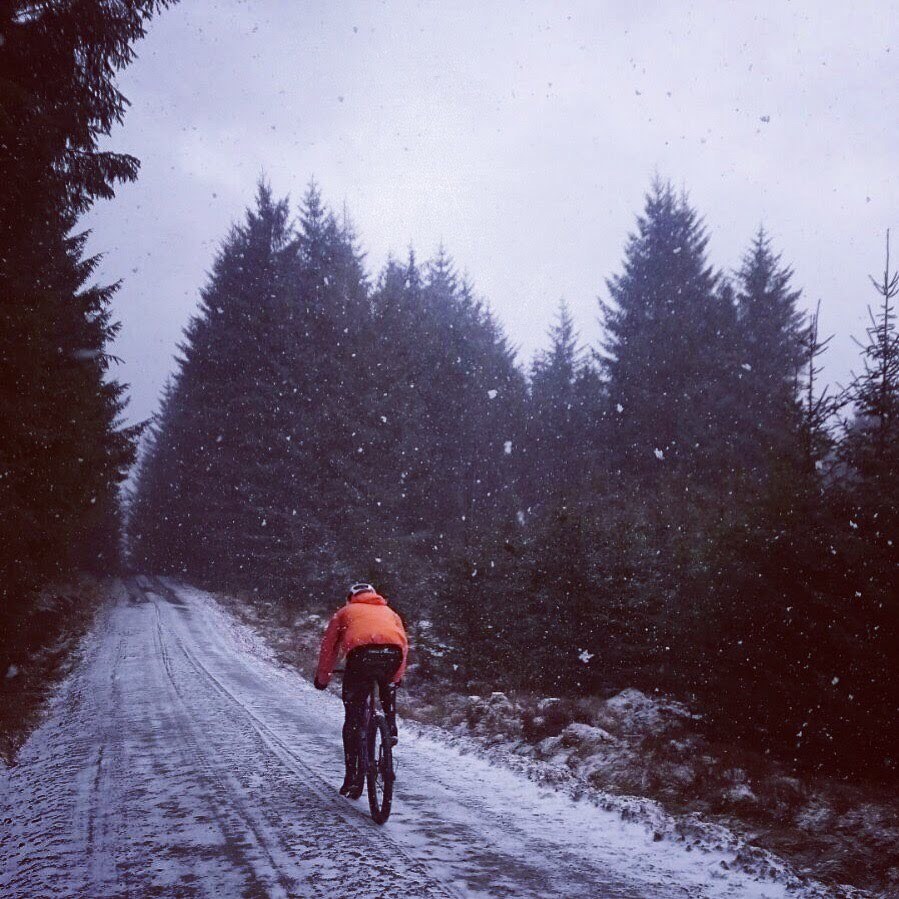 Last modified: 5th November 2018