Typically a destination for road cycling, Mallorca has a lot to offer those who venture off the asphalt, as Bengt Feil reveals in this route that travels through the Tramuntana Mountain Range.
Route Information
Location: Mallorca
Style: Tour with overnight stop
Bike: MTB
Distance: 143km Elevation: 3000M

Mallorca is well known as one best spots to ride in Europe… if you are a roadie. Few people however stray into the Tramuntana Mountain range to the west of the island. If you like mountain biking of any kind – from double track to rough enduro style downhills, then this is the place for you.
Recently, I planned a short overnight round trip through the northern part of the range. I would over night in the mountain refuge of Son Amer, – close to the famous Lluc Monastery. The 140 km route (with 3000m of climbing) took me through the foothills, up the longest dirt climb on the island and through the Orient valley. The day finished with a ride up the old pilgrim's trail to the Lluc Monastery. The second day started with a hike-a-bike climb followed by the long descent to Pollenca and finally through the Campanet Valley.

Views, views and more views!
Even though I have been to Tramuntana before, I am always blown away by the beauty and variety of the landscape. You can wander through terraced olive groves and almond farms, into gloomy holm oak forests, and on to open rough rocky mountainsides.
Riding a bike here can be tough not least because of the rocky terrain and steep climbs. While I would call myself an "average" MTB rider, I can get by just fine. Take a hard tail or even a full sus and be prepared for the occasional hike-a-bike sections.
Route finding can be tricky as a lot of the land is privately owned. Take care as some gates and fences lead onto private land and there might be a big dog just waiting for you! If in doubt, play safe and just stick to the public trails.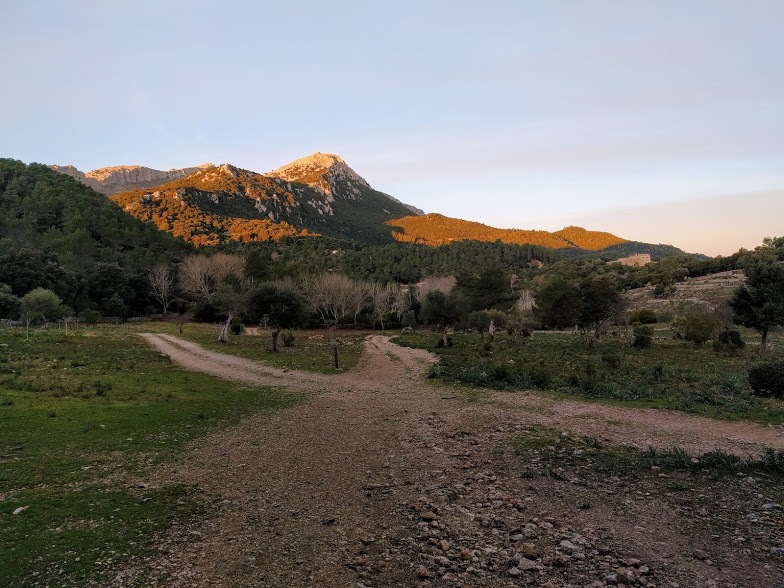 Accommodation
Accommodation can be found in the towns of course but I strongly recommend the publicly run refugios. These simple but well kept mountain huts provide inexpensive and warm places to eat and sleep. They are scattered throughout the island, particularly in the mountains.
Camping is strictly forbidden and there are very few official campsites on the island.
When to go
Mallorca gets 300 days of sun a year however, from January to April, rain and sometimes snow, is possible. The nights tend to get cold especially in the mountains.

Contributor Kudos
Our thanks to Bengt Feil, (Swedish name, German born and living in Spain) has been riding bikes since his late 20s and started touring a few years later. Whether its road, gravel, mountain, just one day or weeks on end, with friends or alone – the idea always is to get out there and make memories.
Last modified: 3rd March 2018