Think adventure cycling and handlebars, and Ritchey is a name that'll likely be the first name that comes to mind. Glance around any gravel gathering and you'll spot at least one VentureMax clamped to a gravel rig with pride.
The broad flare of the VentureMax isn't for everyone and for those that want something more conventional, there's the Butano. Available in both affordable Comp and WCS versions, as tested here. WCS is Ritchey's top tier component range, utilising lighter materials and fancier machining methods to keep weight to a minimum.
The satin black finish of this 7075 grade alloy bar has the look of a matte carbon fibre handlebar. Convincing enough to fool a few curious onlookers. The finish isn't just smart, it is also hardwearing. Shrugging off the rigours of gravel cycling better than many bars which can look shabby after a few rides.
Our 44cm Ritchey WCS Butano bars weighed in on the ADVNTR Scales of Justice at 289 grams. Neither super light nor a heavyweight.
Setting up the Butano is straightforward. The clamping areas have a rough finish to ensure good, firm contact with the stem and hoods. Some deeper grooves to better disguise the cable and hose runs wouldn't have gone amiss however. Even with the most meticulous cable routing during setup, you'll still notice the cables even with a thick wrap of bar tape.
Ritchey designed the Butano to suit the faster, competitive side of gravel cycling. Compared to the VentureMax, it feels a lot more like a conventional road bar, but with a 12-degree flare. The shape puts the rider in a confident position with a shallow 118mm drop and a comfortable 73mm reach. It's a great bar for carving up the trails but without being quite so gawky feeling that you'd find it awkward on the road.
The WCS Butano features some wonderful curves, as nice as they are to look at, they do serve a purpose. Ergonomic comfort was high on the design agenda, with a 4 degree sweep on the top and some slick shaping that make it a dream to ride on the tops. The shape is very organic, more akin to the style of a carbon bar than alloy.
When it comes to bars, I am admittedly a material snob. I prefer the trail damping qualities of carbon, usually finding their alloy counterparts too harsh. Riding the WCS Butano, I've had to eat a big slice of humble pie. It's neither harsh or overly stiff. There isn't the flex that you'd find in a carbon bar, but it still rides with relative comfort over rough roads and gravel.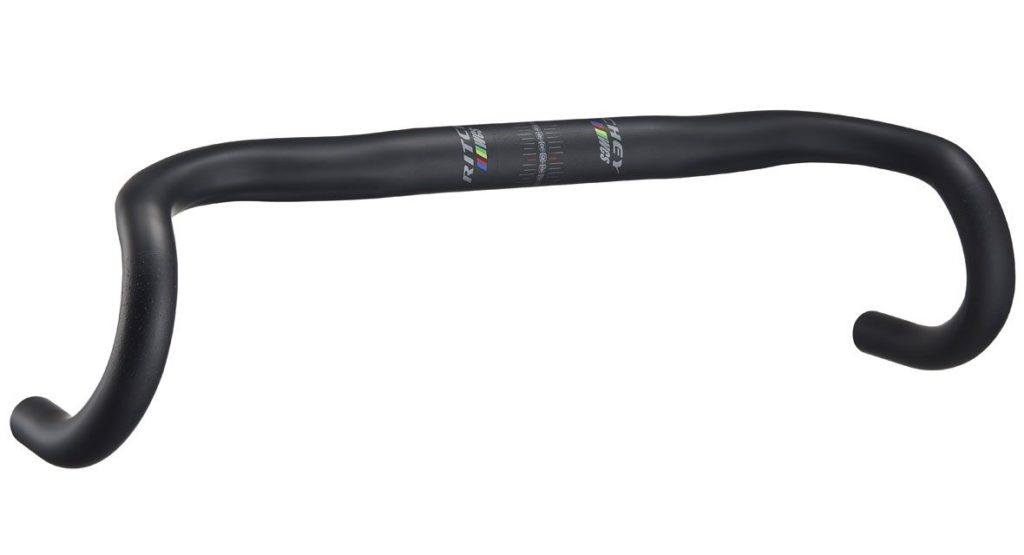 Conclusion
With an RRP of £87.95 the Ritchey WCS Butano is never going to be heralded as a bargain in the world of alloy handlebars. But it's premium quality looks would fool many into thinking it cost significantly more. The Butano also performs as good as it looks, making this a great addition to any gravel bike.
Last modified: 1st September 2020