Simon is a good friend of us here at ADVNTR and it was through a couple of chance meetings that our paths crossed. First, while balancing a camera on a gatepost somewhere in desolate Mid-Wales, he arrived over the horizon and offered to take the picture. Our next unscheduled meeting was over breakfast at a hotel in Finland as we prepared for our respective Rovaniemi Fat Bike Race debuts! Wrap up warm, this is going to be a cold one…
Please take the time to introduce yourself with a short bio, name, location, etc.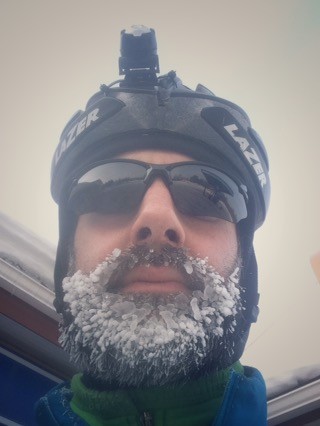 I'm Simon Bryant, 33 and based in Cheshire. I've cycled all my life and for me, it's now a life-style choice. I  work 'in the trade' and commute on my bike every day. I'll ride anything from single-speed, fat, mountain, road and touring bikes.
What made you seek adventure by bicycle?
Unrest and I guess, boredom! I can't sit still, so in my spare time, I'll be looking at maps and exploring places that I've never been to. I tried my own 'doorstep adventures' when my daughter was born 4 years ago. Knowing I would have less bike time, I vowed never to drive somewhere to cycle, so I would explore all the bridleways and byways in my local area by bike, I'm quite impressed with some of the paths I've found by using the humble OS map. It sounds cheesy but it's just about getting out there and finding new places to ride.
Way back in 2013 I read an article in Singletrack magazine by an adventurer/racer called Shaggy. It was about a race in Northern Finland, the Rovaniemi 150. It was an Arctic Winter race for skiers, runners and fat bikers. Temperatures could drop to -30C and for parts of the race, the cyclists would have to push their bikes as the snow was too deep to ride. I was hooked! That year I bought my first fat bike and equipment to suit and I have since been out there twice to compete, once for the 150KM (2015) and once for the 300KM (2017).
What was your experience of cycling before?
Plenty of experience of riding bikes and some experience of bivying/bike-packing before, but never riding in deep snow or on frozen rivers. I had winter mountaineering experience though, so providing temperatures didn't drop too much, I was within my comfort zone. I finished the 150KM route in 2015 where temperatures dropped to -10C or so.
I was one of the slowest riders that weekend but I loved the peace, the route was pretty special too. Hard enough to make it a challenge but not so hard that I never wanted to go back! I returned back in 2017 to compete in the 300KM edition and to (hopefully) become the first Brit on a fat bike to finish the race. Sadly as temperatures dropped to -27C (that's not a typo), I was way out of my comfort zone and decided it was best to DNF whilst I still had all my fingers and toes, plus my food had frozen too. Oops!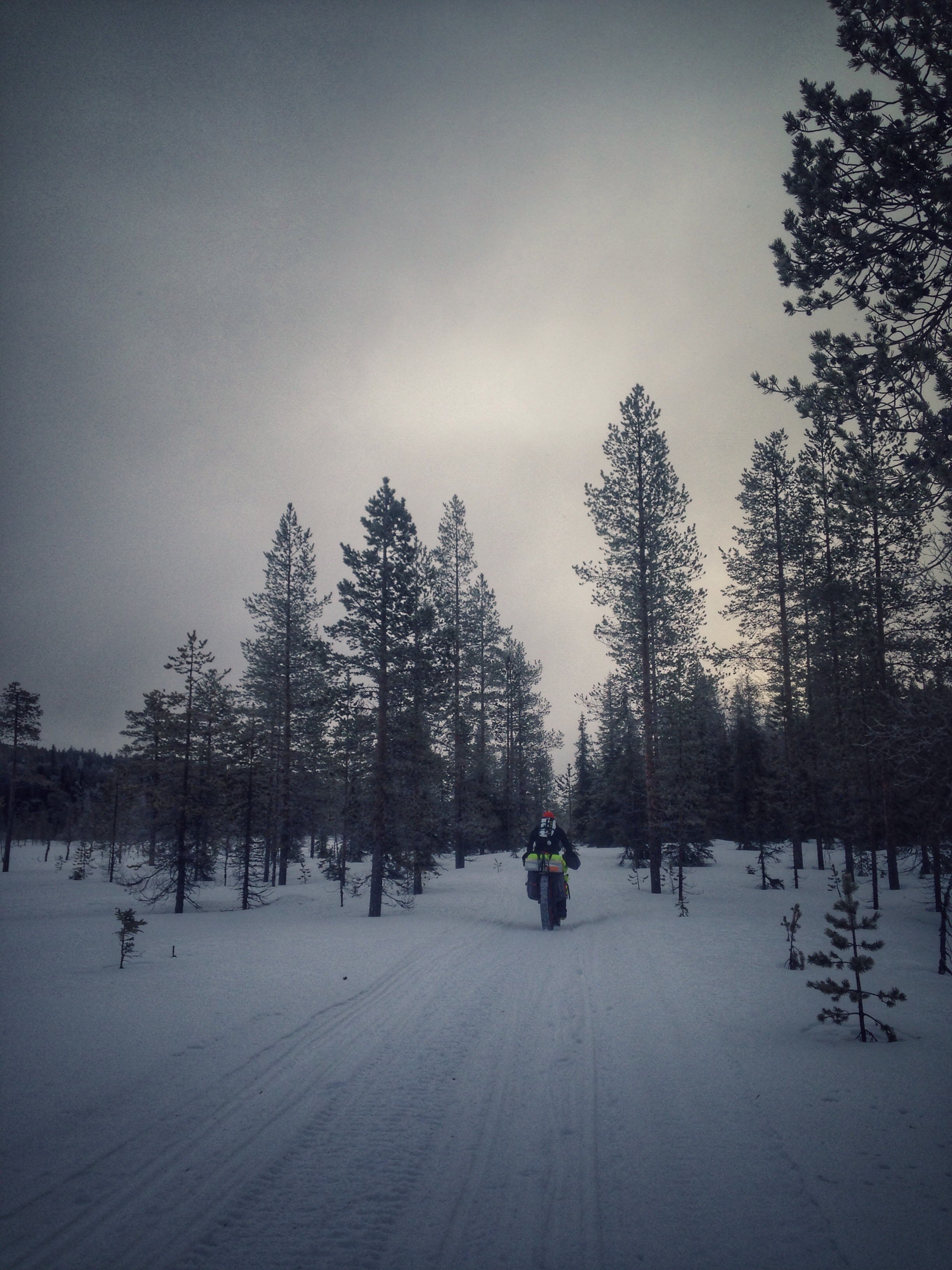 Do you "train to ride" or "ride to train"? Or neither?!
I've never trained in my life! I have always just ridden my bikes for fun, using races as an excuse to ride my bike more. I used to get up at 5 am to ride  before work for several hours when building up to a race but I never called it training. Perhaps that's where I've gone wrong.
Tell us about your bike, why you chose it, how you have modified to suit, etc.
Salsa Mukluk 2013 Aluminium framed bike designed around a 4 inch tyre. Wide (80mm) rims to give a good footprint in soft snow. It runs on a 2×10 system as I found I need the gears to be really low on the bike when its loaded and in soft conditions. I opted for mechanical disc brakes as there was some confusion whether low temperatures would be suitable for the seals (the 2017 race temperature dropped to -27C!). Pogies fitted to keep my hand warm, and the forks were drilled to carry extra luggage, as well as using the pannier rack and a handlebar harness. It weighs 38lbs without food/equipment on the bike and more than likely weighs 70lbs+ when fully loaded.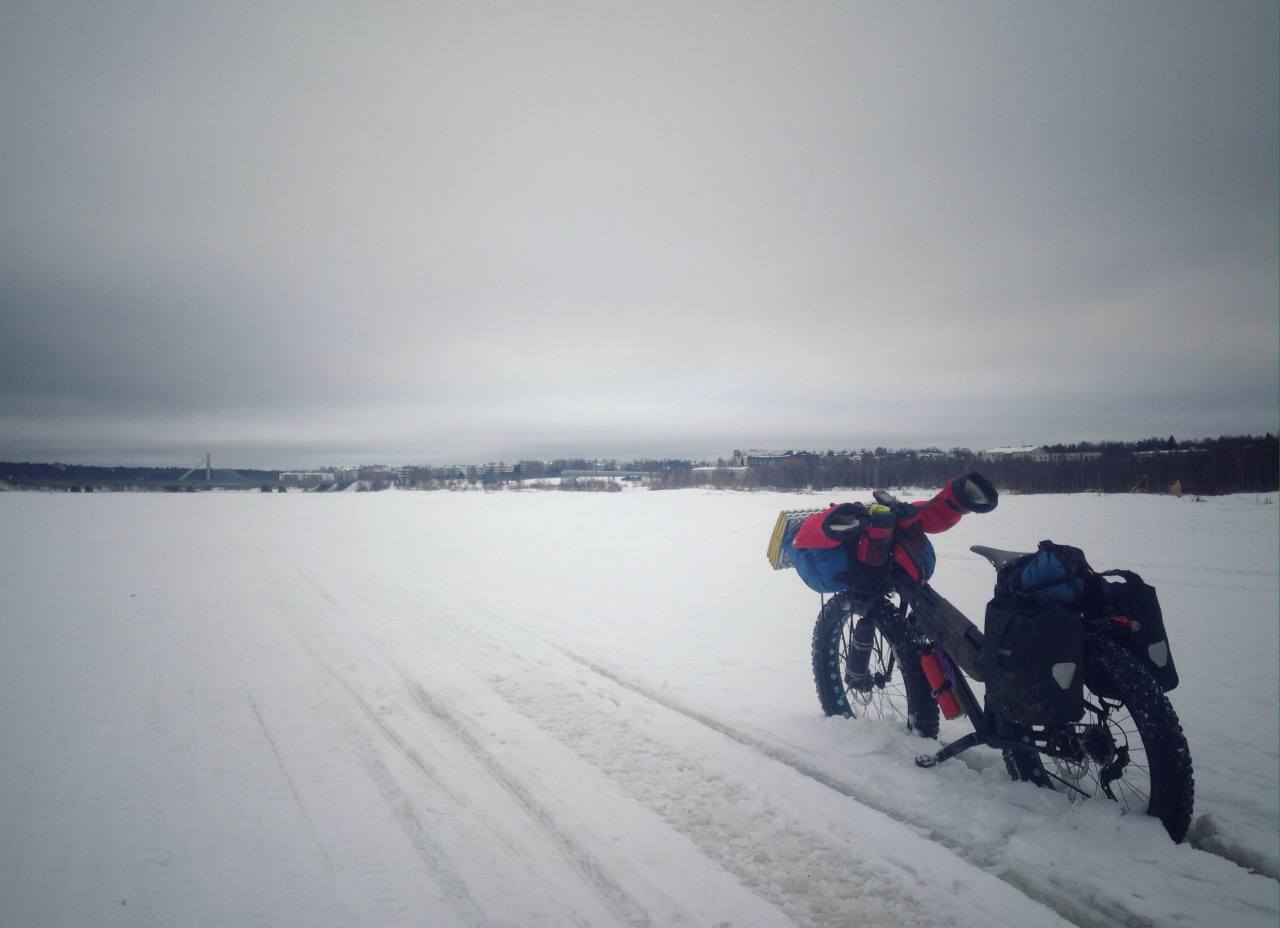 What is your favourite gadget or item that you can't do without on a big ride?
I'm not a gadget man, in 2015 entered the race with a basic paper map and relied on the checkpoints/route markers. I had no idea of speed or distance, nor temperature! In 2017, I returned with a Garmin walking GPS unit with detailed maps of the area and the route plotted, a SPOT Tracker (a device that allows people to track your ride/signal for help) and an array of lights for those long, dark winter night. Racers need to carry an Everest graded sleeping bag, so I used a RAB bag that is rated to -30C. My favourite gadget now though is my phone. I can take pictures from it, edit the photos and publish them all from one device. It also allows me to look at maps during the ride, so it really is a minimal but extremely useful gadget to carry.
What route would you suggest as a "must do"?
Explore your local area, buy an OS map and hunt out those bridleways/by-ways etc. It can be some of the best riding you'll find, and it makes those short-of-time rides much more enjoyable. As a must do ride though, I am keen on North Wales. Two places that stand out for me are riding through the Ogwen Valley as it's stunning even on a wet and windy day. The second place is Anglesey by fat-bike. The coast line and the beaches are really made for exploring, you'll soon find your own utopia.
Where next for you?
A world exclusive for ADVNTR here; I'm hoping to head back to Finland next year and compete in the Rovaniemi 66 race. Not by bike but on foot, so we'll see how that goes! I'll be running with the wifey too, so that will be an amazing experience.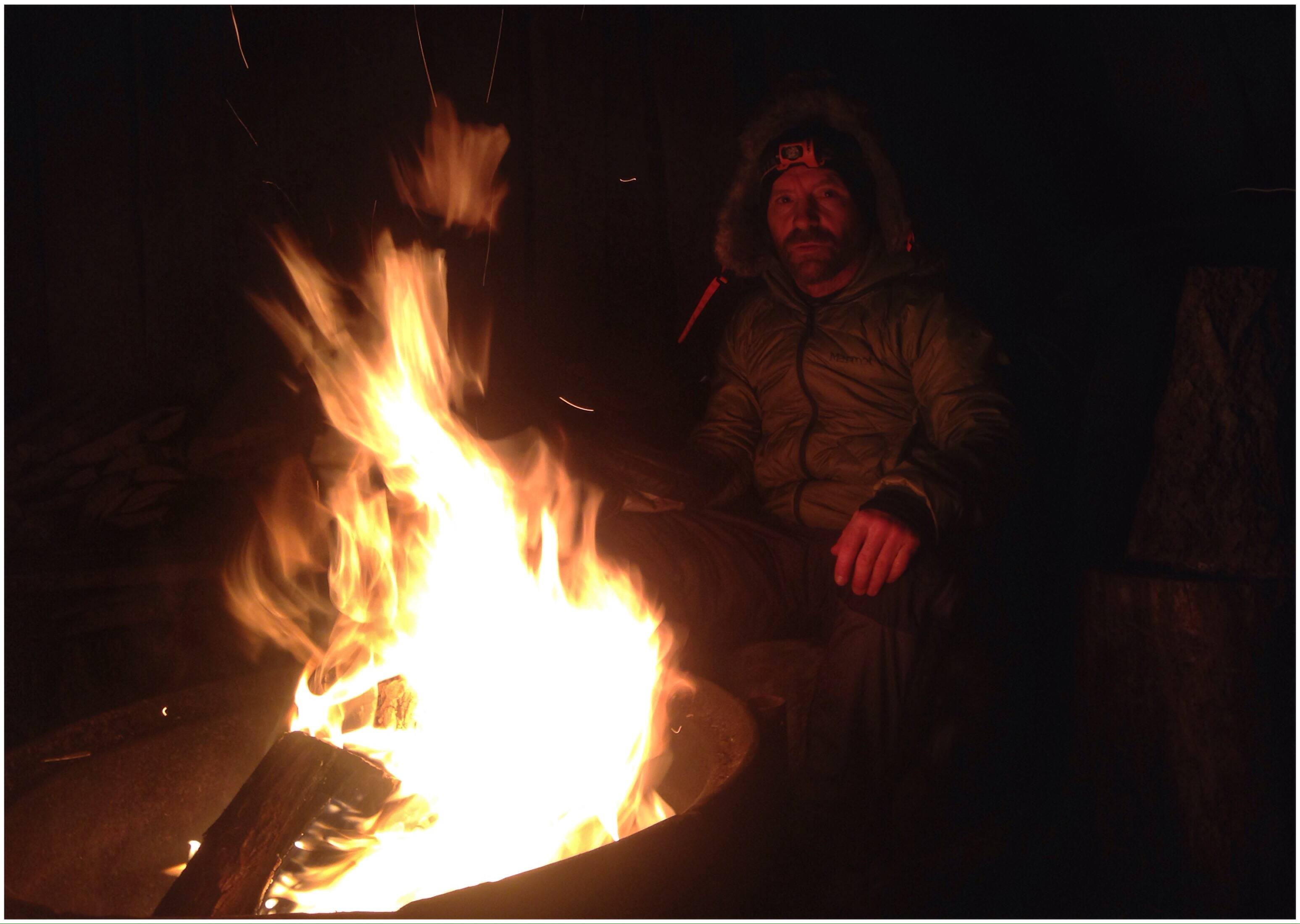 Any tips, advice, do's or don'ts for the budding bikepacker?
Don't over-think it. Don't fret about the smaller details on your first few rides but enjoy the experience and learn from them. Don't overpack and don't over-stretch yourself in your route either.
---
You can find Simon, and photographs of his adventures on his Instagram account singlespeedsimon
All photo credits: Simon Bryant.
Last modified: 22nd February 2018