Rapha have been major players in road cycling kit and the community for nearly two decades, building a global network of distribution as well as clubhouses, events and their RCC club. Annual challenges like the Festive 500 and the Women's 100 have become part of the furniture of road cycling, and you can barely go on a ride without seeing at least a few Rapha jerseys or bibs.
Their endurance-focussed Brevet range proved to be very popular, and the latest major collection, Explore, looks at the more adventurous side of the sport that's rapidly growing in popularity. With kit including down jackets, riding tees, SPD shoes and cargo bib shorts, the range aims to provide 'technical adventure apparel and highly durable essentials designed for off-road riding.'
On test
Splitting the range between a couple of reviewers, Edinburgh based bikepacker Andrew Cullen took a look at the all-new Explore Glasses, and ADVNTR.cc Editor Katherine Moore tested the women's Tech T-Shirt, Technical Hoodie and Explore Shoes. Here's how we got on with each item from the range.
£55, €65, $75 USD, XXS – XL, reviewed by Katherine Moore
This is my second Rapha Technical tee, after the first purple one I bought back in 2018 when they were first released. There's been a few updates since, and the designs seem to be getting a bit more adventurous, as apparent from this new sort of digi-camo print.
Rapha's tech tee is a breezy alternative to a standard cycling jersey, with a loose fit that's great for both relaxed road rides and off-road riding. It's a simple cut with no frills, which is a delight to see as – at least in my opinion – pockets don't work in loose cut tops.
The main body of the tee is a light and thin polyester, with an elastane mix panel across the back of the shoulders giving a little extra stretch and a double layer for more UV protection. The fabric is highly perforated to make it super light and breathable, but is still modest enough to wear without any additional layers on top.
This blocky, angular forest green print is pretty nice if you like to blend in with the trees or hedges, a single pale pink Rapha logo on the left side of the chest. Of course there's a little quirk too, being Rapha, with a stitched in label on the bottom hem reading 'it's cooler when you're moving'.
In terms of a summer day ride casual tee, I really rate this top from Rapha. My only issue with it is that it gets pretty stinky after a few hours, which makes it a less attractive choice for multi-day rides, unlike more natural materials like merino or bamboo. At £55 it's not extortionate either, plus if you like it there's a whole raft of other colours and designs to choose from, especially in the men's cut.
£115, €140, $155 USD, XXS – XL, reviewed by Katherine Moore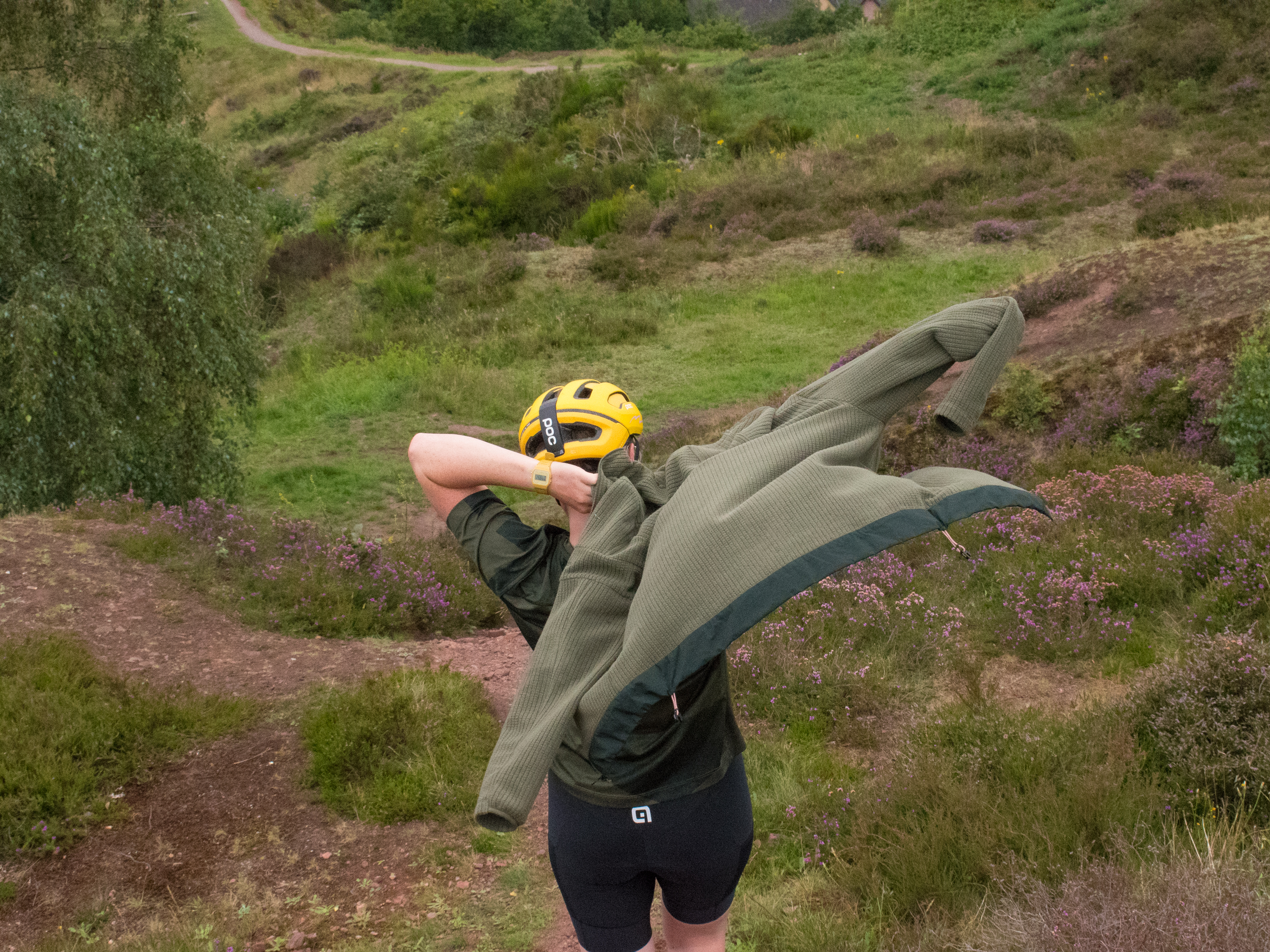 Okay, so this was an interesting one. Fleece hoodies haven't exactly taken off in cycling, like ever, so I was curious to see Rapha go down that avenue as part of their Explore range. I'd tried one on when they were first released and damn it was cosy, but for cycling and bikepacking? Well now I was about to find out.
The fleece comes in a couple of different versions; hooded or collared, zip-down or pullover. For maximum ease I opted for the full zip, plus the hood for cosy overnighters in the hammock and maybe saving taking a wooly hat. There's both men's and women's cuts too, although many more colourways for men, so I opted for the men's olive-coloured fleece.
So what's the 'Technical' part of the fleece? Sure, when you put it on at home (which I have done a *lot*), it's really snug, but what makes it better on the bike or for other active sports?
The whole fleece material is semi-perforated in a sort of grid mesh pattern, presumably to make it more breathable. You'll find pockets on either side, great for chilly hands or stashing a phone, wallet etc., as well as a popper closure small chest pocket, all lined with a thin mesh. Around the bottom there's a wide elastic drawstring band for getting a closer fit. Then there's some hilarious extras…
Slashed a sidewall and need an emergency boot? Cut out the Bramble illustrated label as an emergency tyre fix. Need to remove or tighten your valve core? You'll find a tool on each toggle of the hem elastic. Yes, really.
So the hoody seems to be jam-packed full of features, but does it actually work? Unfortunately, it's a no from me. It's either too hot to wear while pedalling, or when it is cold enough the wind whistles through the mesh fleece. I had high hopes for bikepacking, but unfortunately a down jacket is just too good to beat. The hoody barely packs down at all, so it'll take up half your seat-pack.
Although this sounds like a pretty terrible verdict for the Technical Fleece, I must say that I wear it a lot at home, for errands or local walks. A great addition to the causal range for sure, but you won't be seeing fleeces as the next breakthrough in cycling kit.
£130, €155, $180 USD, reviewed by Andrew Cullen
For me, glasses are a key part of my kit for every ride, from day rides on the mountain bike to longer bike packing trips. Having used other items from the Explore range, I was keen to see what Rapha had to bring to the table with their new eyewear range.
Unboxing the glasses it was good to see that they come with two lenses; one purple-green lens which has been developed by Rapha in house, and one clear, great for riding in the not so sunny North. They also come with a handy neck strap. The glasses also have a more casual look about them, which I really like.
On the trail, I found they had a few stand-out features that really set them apart from any of the other glasses I've used. First off was the holes along the top of the lens. On slower and more technical off-road climbs these holes stopped the glasses steaming up and kept a small amount of air flow, and also stopped any fogging up when stationary.
The second feature of the neck strap also came in super handy for those moments when you don't need or want to be wearing glasses you can simply run them around your neck, knowing you won't drop or lose them. This is also a great feature if you use a helmet that doesn't have anywhere to secure your glasses.
The overall construction and quality of the glasses like the majority of the Rapha range I have used, was on point. The lens itself works well in variable conditions from sun to rain. I really think that Rapha has hit the nail on the head here with glasses that will work for a multitude of off-road adventures. For me, having somewhere to dangle my glasses is probably one of my favourite features — although you can pick up neck straps from outdoor shops for your current glasses or any other brand of glasses.
£220, €260, $295 USD, EU sizes 36-47, reviewed by Katherine Moore
After partnering with Giro to launch their first shoes back in 2012, Rapha have now moved their design in-house. The resulting off-road shoe is traditional in appearance with a synthetic leather lace-up style, but with 21st Century levels of grip to meet the adventurous demands of modern off-road riding; i.e. hike-a-bike!
Although the Explore shoes come with insoles with three different arch support options (a great touch), it was the heel fit that I found to be an issue. In principle, a higher heel cup stops slippage during hike-a-bike, but in reality I found this to be pretty uncomfortable to the point of blistering. The rigid microfibre synthetic upper takes quite some wearing in too, so I'd suggest trying these on before you buy to see if they fit your heel shape.
Leaving fit aside, the natural rubber tread offers great grip for off-the-bike maneuvers. While the sole isn't as flexy as some other SPD shoes like the Specialized Recon, the stunted carbon sole plate means that there is a minimal amount of give at the front of the foot for walking.
Closure-wise, the laces thread through holes in the doubled-back upper, and tuck away safely in an elasticated loop. While I tend to prefer BOA dials or ratchet systems for more adjustability on the fly, I can appreciate that laces are perhaps a more fool-proof option for long distance or remote rides. These shoes also come with a second set of pink weave laces, to complement the subtle pink flecks in the sole.
If traditional style shoes and laces are your bag, these are worth a gander, but be prepared to spend big; these certainly aren't cheap at £220, and an expensive mistake if the heel fit doesn't work for you. For the full low-down on the Explore shoes, check out the review here.
Our verdict
Overall, we're pretty excited that Rapha is branching out into the off-road sphere, with more MTB orientated kit rumoured to be dropping later in the year. After some proper field testing, it's evident that certain items in the Explore range outperform others in terms of their technical features. For example, there's a reason why technical fleeces aren't already a thing in adventure cycling, but just like Canyon's double-decker handlebar, you've gotta take your hat off to them for trying something new!
Another thing to note is that you don't need to restrict yourself to the Explore range when it comes to looking at adventure-friendly kit from Rapha. Both myself, Andrew, and Mark have used the Randonee shorts (available in both men's and women's fits in a multitude of colourways) for the last few years. These are great both as casual wear, but also double up as good overshorts, with zipped pockets and long legs that you can easily fold up to get to your preferred length.
We're certainly looking forward to what's coming next from Rapha in their off-road line.
Rapha Explore range
Some quality new options for off-road riding from Rapha, although we feel some items work out in the field better than others
8.0/10
Pros
Great glasses ventilation and handy neck strap
Grippy rubber-soled shoes are ace for hike-a-bike
Tech tee is a breeze; super simple design that works
Cons
High heel fit on the shoes won't be for everyone
Fleece suits casual use much better than on the bike
Last modified: 1st September 2020