Mason: Challenging preconceptions since 2014
Once in a while, a bike comes along that defies description, challenges our ideas of what is and is not "right" and encourages us to reconsider long held beliefs about bike design. Mason Cycles "InSearchOf" (ISO) is one such bike…
We have been lucky to have followed the development of the InSearchOf from the initial paper sketches through to the first production sample over the winter before meeting up with Dom at Mason HQ to view one of the one the first production ready examples to arrive from Italy.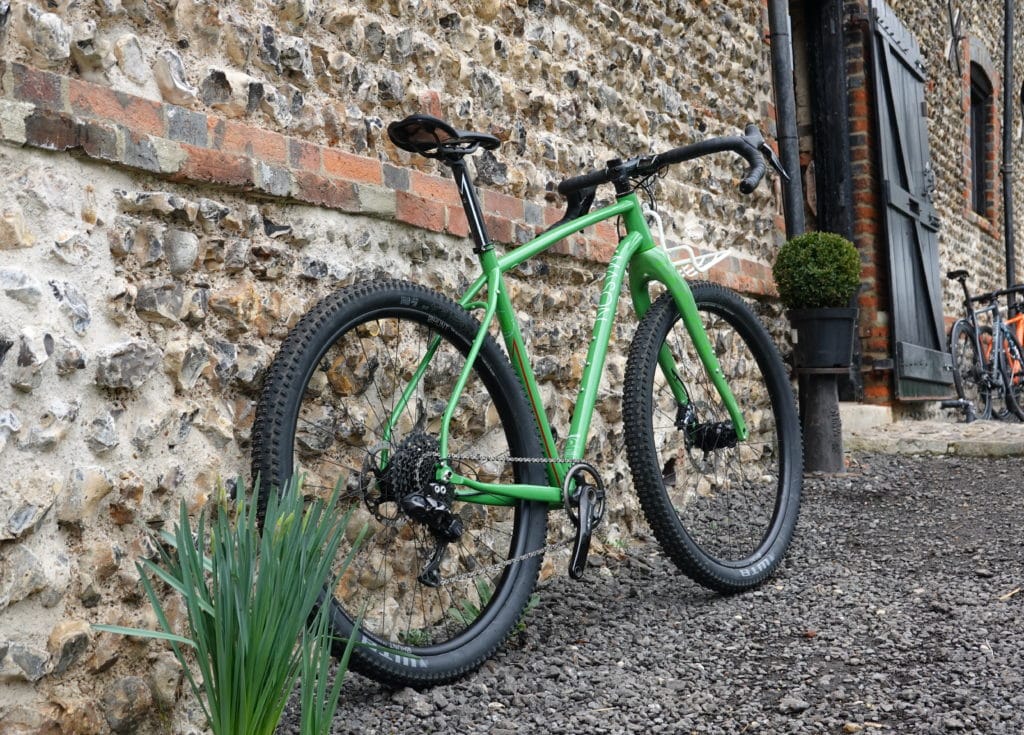 What is the InSearchOf?
It may be easier to tell you what it isn't. It is not a gravel bike. Which isn't actually a surprise. Dom Mason hates the term 'gravel' with a passion. Besides, if you have to use the G-word, the Mason Bokeh manages to tick every box going in that category. Instead of sticking bikes in categories, consider every one of Mason's models as a "bike for adventures" and the ISO makes perfect sense for what you might ride when the terrain gets too gnarly for 700x40c.
"Josh had found the limits of the Bokeh in a desert in Mexico, he needed wider tyres to traverse the sand. At the same time, I was riding my Bokeh on blue downhill MTB trails in the French Alps. It was fun, but a few over the bar moments suggested I'd found the limits. This is when InSearchOf was born"
Dom Mason
If I was pushed for a bike to compare it to, it would be the Salsa Cutthroat. Unlike the Salsa however, ISO geometry is derived from endurance road bike geo rather than the perceived MTB angles you'd expect.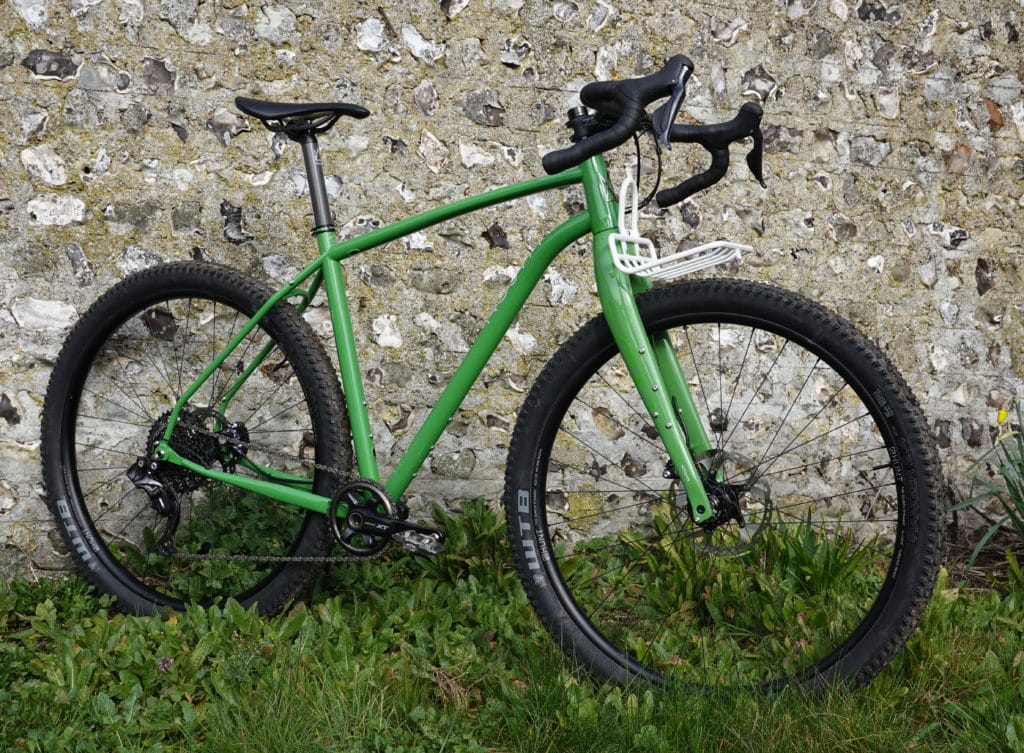 If you have a gravel bike and like taking it to places it really has no right to be, maybe this is the bike you have secretly been looking for.
As usual, when we review a bike, we spend a lot of time thinking who it would suit and what it is 'for'. And to be honest, we really struggled.
On the good side though, while trying to find a pigeon hole for the ISO, we never lost sight of the fact that it was loads of fun to ride. So once again, we found ourselves trying to define what it is, by firstly deciding what it was not.
The Bikepacker's Superbike
It is not a gravel racer. I would not take it to Dirty Reiver and expect to post a record time.  You could certainly take it to ride 200km of Northumberland's finest forest access roads, but it would like using a sledgehammer to crack a nut.
Would it be better for whizzing along tarmac roads, rocketing down farm tracks and forestry trails? No, the Bokeh, is still, unequivocally the King in this sort of environment.
Alternatively, if these trails were a prelude, a gateway to the rocky, rutted tracks you find in Scotland or North Wales, then the ISO is the bike for you. Where 40c meets its limit and has you walking, ISO is just getting into its stride.
If you get the occasional urge to hop on the Caledonian Sleeper to tackle the Highland 550, then this is the bike for you.
With all these thoughts rattling around our heads, after a process of elimination, we got to the point of this bike, we identified its niche. You heard it here first, the Mason ISO is the bikepacker's superbike!
Just to muddy the waters a little. If you take a little diversion on your way to bikepacking Nirvana, and wander into MTB singletrack territory, you'll be right at home. You can really hustle this bike and maybe worry mountain bikers on their home turf! And don't worry about grip, the tyres give you more grip than you need.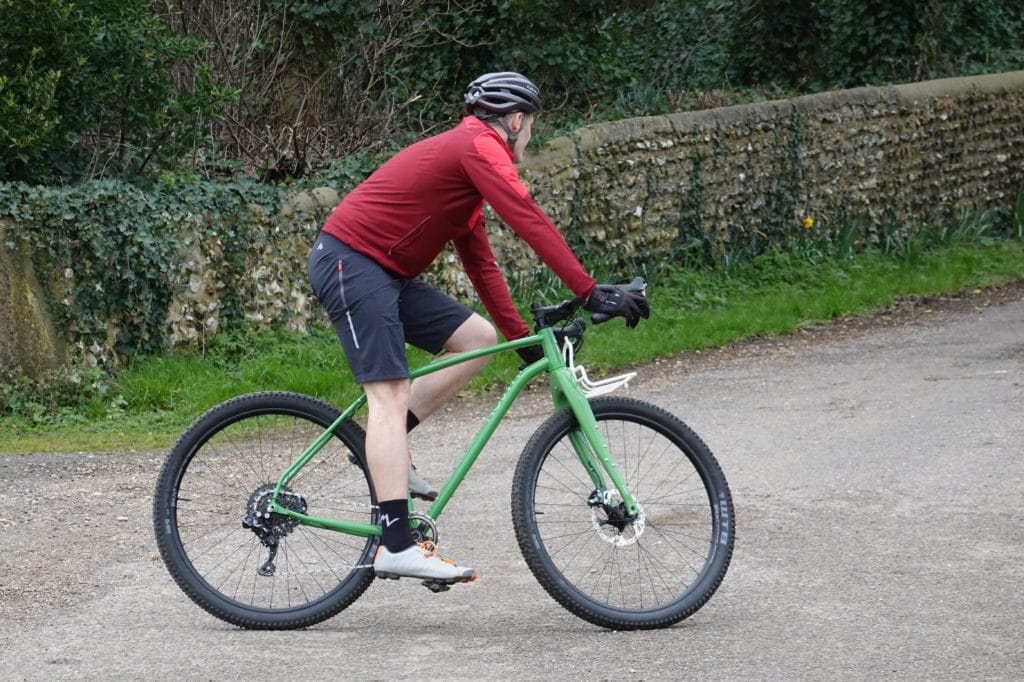 A little bit of detail
By adopting the Boost148 axle from the world of mountain bikes, Mason have taken advantage of the latest standards to redefine what can be done on a drop bar bicycle. Progressive design indeed!
It might seem minor but with just 3mm extra on either side, Boost148 allows designers to factor in much bigger tyre clearances than the older 142mm standard.
The ISO will comfortably take 29×2.4″ tyres, so you can dial in low pressures in for maximum comfort over the rocky stuff. If smaller wheels are more your thing, then 650bx2.8″ will cause no concern for the chainstays. In tests, Mason found 3.0″ would slot in, but treat that as a 'dry trails only' application.
With these 'plus size' tyres, you'll have to get your weight well over the front wheel to stop it washing out but, on the flip-side, your wrists won't explode and die! Speaking of comfort, the ISO is suspension corrected for 100mm, so you can dial in even more comfort or rock crushing ability with an XC suspension fork.
Sticking with the MTB theme, ISO features a 31.6mm Reynolds 853 seat tube not just for strength, but also to accommodate a dropper post. If you so wanted to, Mason could build you a specification with meaty tyres, suspension fork and a dropper post that would create quite a stir at the local trail centre.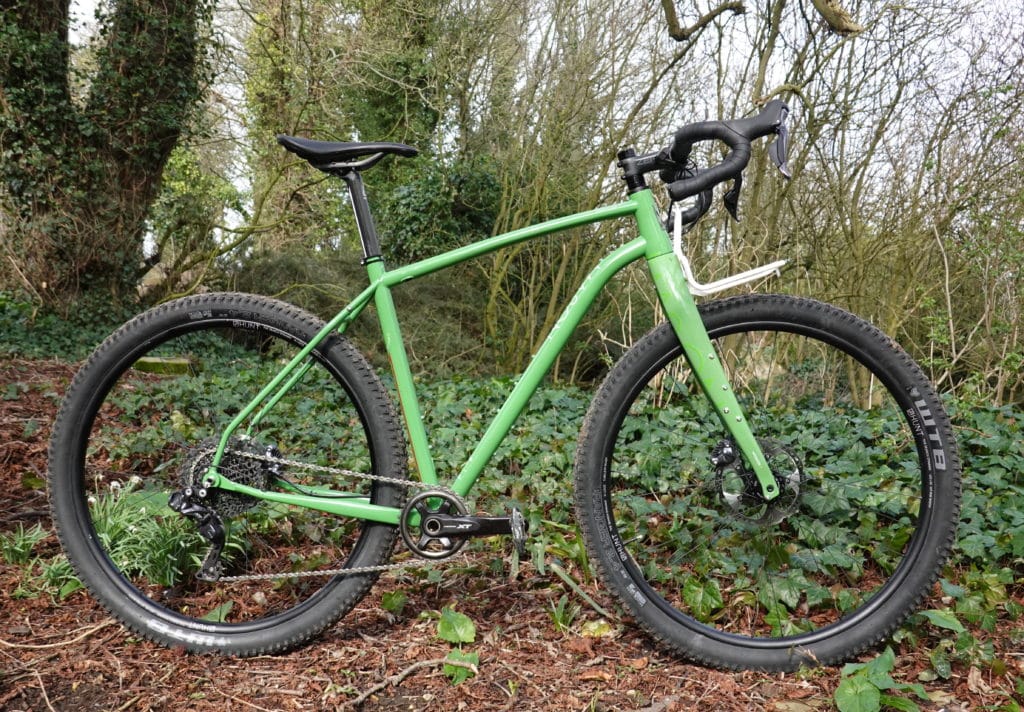 The Frame: Custom as Standard
The ISO is a steel frame with a blend of custom-formed, progressive-butted, Dedacciai 'Zero' and Reynolds 853 tubing. So much work has gone into these tubes that you could be fooled into thinking the frame is an aluminium hydroformed confection. And when we say work, we mean it. Every one of those tubes is unique to the Mason ISO. A frame builder may boast that their frames are 'custom' but they're just picking tubes off a shelf. In the case of Mason, each of these tubes is bespoke to their design and the size of the frame.
Visually, the profile of the ISO is unusual, almost an acquired taste. It isn't immediately beautiful, you won't look at it and fall in love. Given time though, you will begin to appreciate the flowing and beautifully crafted shapes. On the one hand, the top tube is a work of art, curving down to blend into the seatstays to create a bow shape. In contrast, the downtube looks almost awkward and out of place. I think it is the kink near the headtube, that gives enough clearance for a suspension fork and also adds extra strength to a highly stressed area of a frame. Don't let this put you off. Function over form usually wins out in the end.
Artisan Craft
Having viewed photos from Dom's factory visits in Italy, one thing is clear: the craftsmanship that goes into the ISO (or any Mason bike for that matter) is obsessive. Each frame is meticulously crafted by hand over many agonising hours. No shortcuts are made, in fact, they are frowned upon. The mounting points are all brazed, nut riveted. Little details like a chain-pip, the stainless steel 73mm bottom bracket shell. Custom CNC machined dropouts, even the rack eyelets are machined.
Holding a bare frame in my hands and looking at the exquisite welds and brazing, I feel as if Dom could actually sell these for double the price.
Comfort and grip… Lots of grip
The front end is relatively high and you immediately fall into a relaxed and comfortable riding position. If you engage long distance mode, the ISO will be your perfect companion. Do not let this lull you into thinking this bike is a long distance trundler. Give it some gas and it will spring to life. The only word of warning here is to watch your tyre pressures. If they are too low, you might be in for a bouncy, undamped ride from those huge, tyres!
A word on tyre pressures. Finding the sweet spot was quite a job. Just like with an MTB they are usually either too hard for off-road or too soft for the tarmac. Get it right and the rewards are there to be found.
The Fork
The frame and fork have mounting points in abundance. It is also the first production fork to feature 160/180mm flat-mount braking system. The full carbon 'HotShoe Fork' was designed by Mason exclusively for ISO and features a 'Tri-Mount' crown system for use with a range of Mason designed modular accessories.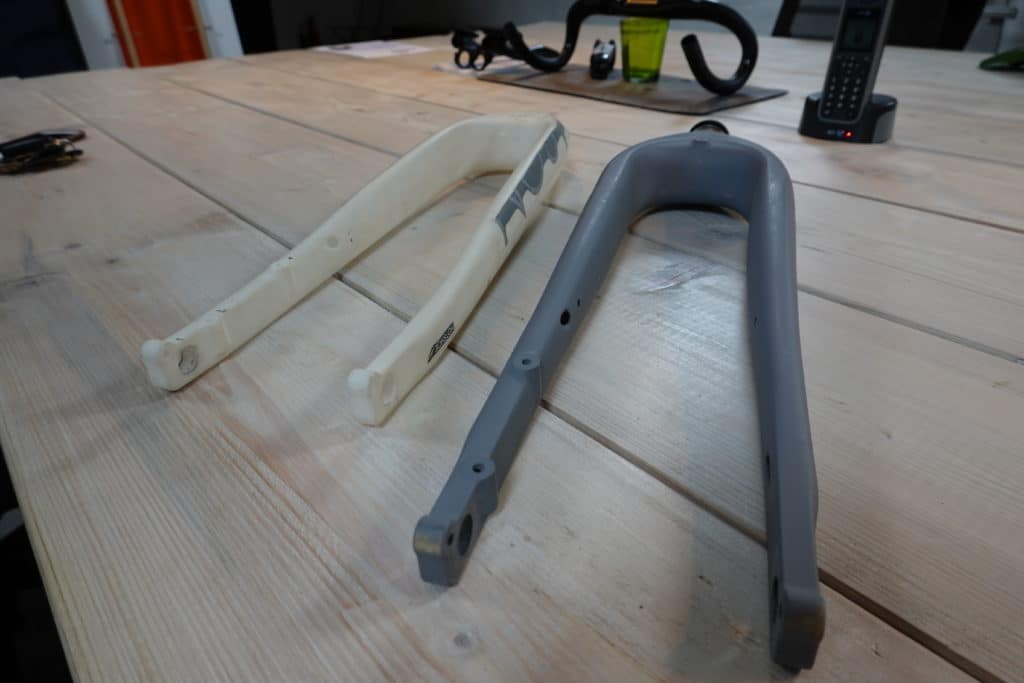 You'll see our photos feature a prototype rack, soon to enter production. There is also a very trick integrated mud guard design, the 'Shutter' that also acts as a load bearing structure. More modular designs to attach to the fork are in the pipeline. The fork features full internal routing for the front brake hose and cabling to equip power from a dynamo hub.
Like the bike itself, the fork is a thing of purposeful intent rather than exquisite beauty. Like the fork, cabling is routed internally (other than the dropper cable). It looks tidy, but perhaps not the greatest solution for a bike intended to venture into the great unknown. Replacing an external cable in the middle of nowhere is pretty simple. I wouldn't fancy trying to do the same with an internal cable outside of a workshop.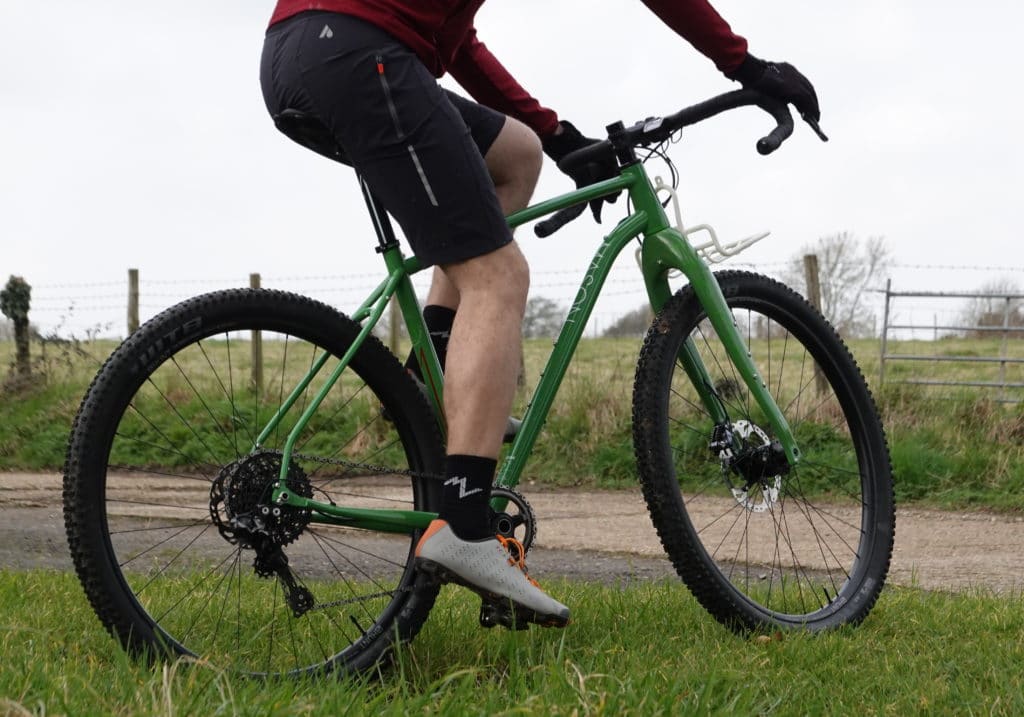 Handling
While the Mason ISO promises to provide an ideal platform for riding fully loaded, on an epic ride, we just did not have enough time to confirm this.
Generally, the bike was stable and confidence inspiring, even when the terrain gets bumpy and technical. In singletrack, you have to treat it like a mountain bike and bully it into taking a line. Treat it too gently and you'll never make it round that next bend!
While I keep referring to mountain bikes, the Mason ISO isn't just a ghetto monster cross. The geometry puts your weight lower down and much further forward than on a mountain bike with drop bars. This helps with cornering to an extent but don't get too confident on properly technical sections. It's rare that I long for a dropper post, but InSearchOf urged me to attempt descents that I'd never consider on a drop bar bike and getting the saddle out of the way, may have saved me from the humility of one to many over-the-bar moments.
650b or 29er?
Personally, I felt plus-size tyres on the 650b wheelset were overkill. I really didn't need that much tyre and the 29×2.4 was pretty much ideal. Having said that, I can see the potential of these monster truck sized tyres out on wild, rocky trails and would love the chance to try it out in rock gardens.
Going up or going down?
With a 36 tooth chainring (Our tests were on a 34t ring) and an 11-42 cassette, the Mason ISO can climb walls! You aren't going to be the first up but you may well still be pedalling while all your friends are walking. Then there's the descent. Where riders on gravel bikes will be dithering and falling over, you will be flying. It probably won't beat a hardtail MTB but you'll be out in front of all the gravel bikers.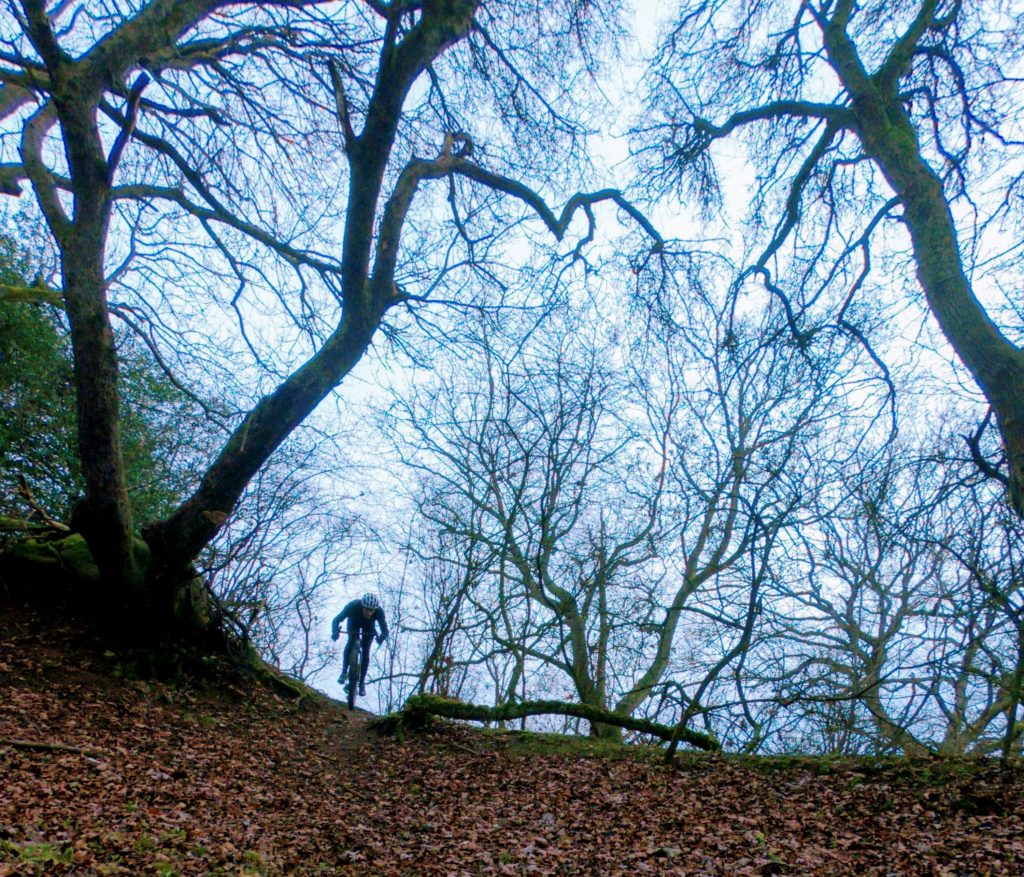 Conclusion
This is the bikepacker's dream machine. it is strong and stable, yet far from boring. Take it to the Rockies for 2,700 miles of fully laden riding and you'll be fine. On the other hand, take it to the woods and let off some steam, blasting through the twisty stuff and you'll be rewarded too.
Speaking to Dom Mason a while ago, he said one of his main aims was to design bikes that put a grin on your face. If a permanent grin is a by product of the Mason DNA, then there is no doubt that we had some by the end of the test period.
For me personally, the Mason InSearchOf is almost too specialist a tool for a specific application and a step too close to the realms of a mountain bike. As such it misses out on the basic appeal of gravel/adventure bikes. Bikes you can use on the road, off the road, down trails and back on the road again. The 'quiver killer' bike that will diminish your stable in one fell swoop. If you have a cross-continental, off-road, epic in mind, or you live in the Highlands where the gravel is actually boulders, then the Mason ISO is the tool for the job. It's a precision tool, not a Swiss Army Knife.
Mason Cycles InSearchOf
Frame: £1,600 Full builds from: £3,140 Rival 1x
The Mason ISO effectively turns the Adventure Bike category up to 11. But in doing so, it makes itself 'too much bike' for most riders.
8.0/10
Pros
Craftsmanship of the build is second to none
Will go pretty much anywhere you set your sights
The Bikepackers Superbike
Cons
Maybe a little too niche
You'll still need a gravel bike in your collection
Last modified: 30th May 2019