The VentUltra Jacket is a packable, lightweight jacket. The design parameters are to keep you dry in light rain and warm on long descents.
There aren't many long descents within a couple of hours or more drive from here so our test had to be a little less exciting than we'd like.
Aside from the stated design objectives, in an ideal jacket of this kind, I'd like it to:
Pack down really small
Be brightly coloured
To have decent reflective details
To avoid the dreaded 'boil in the bag' effect.
Details
The jacket comes with an inbuilt bag. It compresses really easily and only takes a minute to stow away completely. Even then, if you are pushed for space, you can compress it yet further. It easily fits in a back pocket and, if you really need it to, can share this space with a pump and a spare tube.
Visibility
Let's face it, you are likely to need this sort of garment when it is overcast or dull, hence wanting a bright colour. The hi viz orange certainly fits the bill. The reflective 'Galibier' logo on the back stands out pretty well, and complements the two vertical reflective strips on the rear of the jacket.
Boil in the bag?
This is a pretty common occurrence when using water repellant garments in the wet. When the outside is wetter than the inside, osmosis effectively stops and you end up increasingly  warm, soggy and uncomfortable. Undoing the zip cools you down but allows more wet in! How does this jacket fare?
Apart from dry (but cool) rides, I have used this periodically in typical early autumn conditions. Warm and damp, trending towards wet.
Once the rain develops beyond drizzle, you can't expect this jacket to keep you dry, but it will keep you warm (within reason). The fabric is quite light so you shouldn't end up overheating either.
Rear pocket access
Access to your rear pockets is via two strategically placed slits.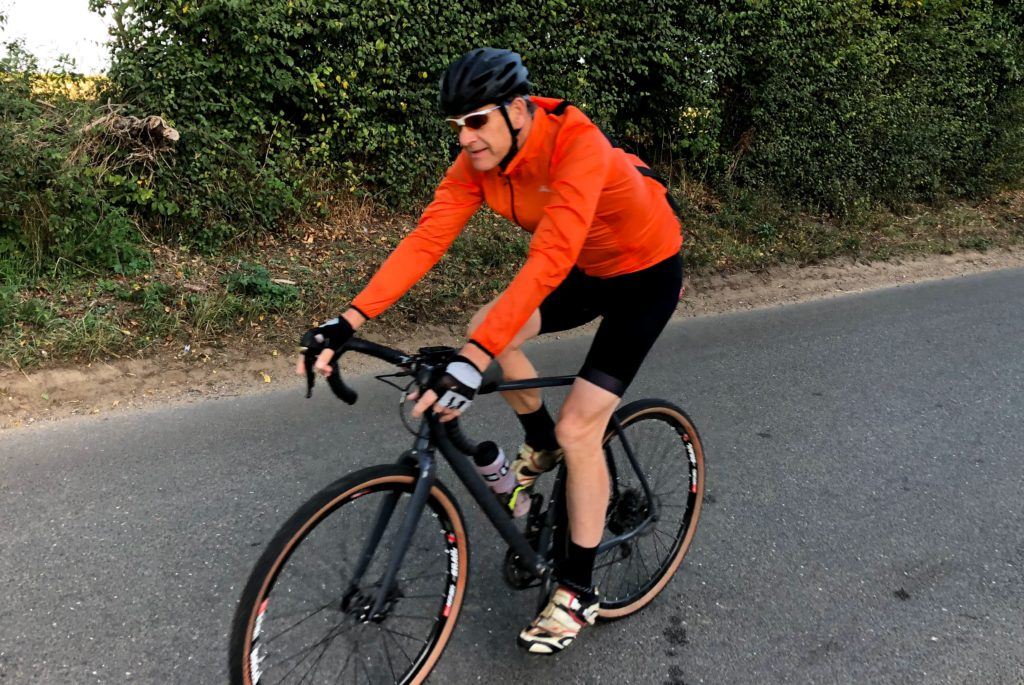 The Fit
I can't say this often enough but simply follow the sizing guide on the site. It really does correspond with the garments you end up with.
My preference is for a 'race fit' or thereabouts. The jacket fitted closely enough with minimal flapping as the pace picked up.
The offset zip is a good idea as it helps reduce windchill from overlapping closures.
The collar is nice and high and has thus far, kept all the draughts out. You will probably have to complement it with a buff though, when the temperature starts to drop.
The jacket ends at your waist. I would have liked a dropped tail to deflect the spray.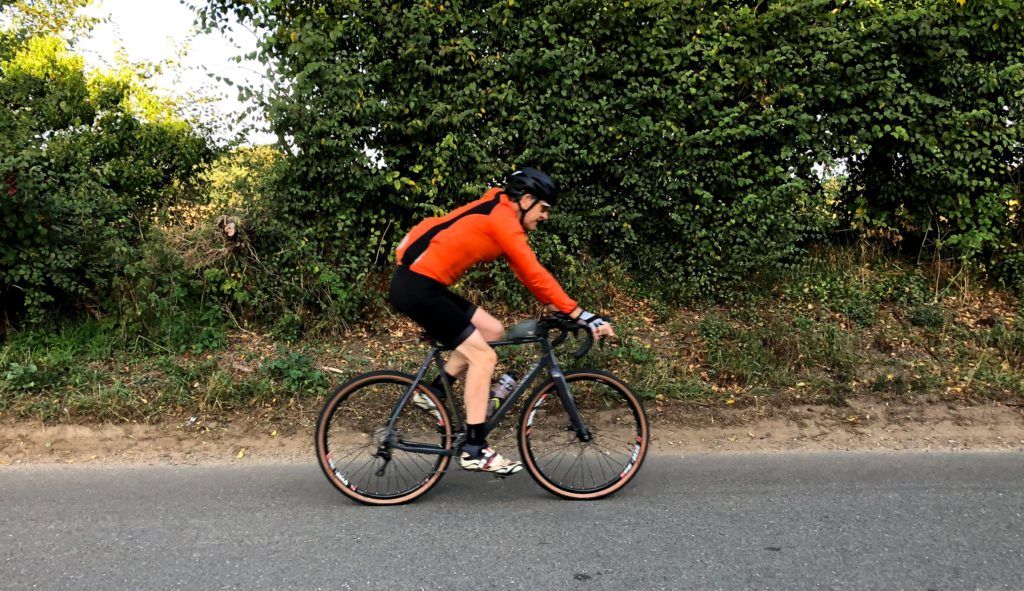 Conclusion
This jacket is spot on for autumn conditions. It stows away easily and discretely, and performs its functions perfectly adequately.
I must be beginning to sound like a scratched record but, Galibier really do produce good quality kit at killer prices. I don't get all my kit for free and when I have to dig into my own pocket, I always head to the Galibier site first. This might be why you see me reviewing their garments so often!
Please note: the fabric colour is a little more muted than my photos.
Last modified: 26th January 2019