Photographer and multi-discipline cyclist Sam Saskia Dugon has been putting Restraps new Bar Pack through its paces over her local mountains on everything from her road bike, hardtail and full-suspension rig.
At ADVNTR, we love anything that allows us to carry and keep our snacks, jackets and cameras in easy reach upfront, that's why when we heard about Restrap releasing their new Bar Pack we knew we had to give it a test. 
So, first things first, here are the nitty gritty details of the Restrap Bar Pack.
Capacity : 10-litre 
Weight : 585g
Weather Proofing : 100% waterproof
Features : 2 roll top compartments, 
Integrated D-lock holster,
Fits any bike
Restrap is everything we love, a quaint family-run business starting out on a sewing machine in the back room to a large workshop in Leeds with a workforce built from skilled machinists, family and friends. Most importantly, aside from their proud Yorkshire heritage, is the fact that they're all outdoor lovers, I mean you'd have to be to create and succeed in such a niche business. One of the things that I loved when my bar pack arrived was the note letting me know which one of their dedicated crew had put my bag together, it's the small things that count and this certainly put a smile on my face, community is everything after all. 
I was on the lookout for something that would allow me to keep my snacks, emergency jacket and my camera upfront and within easy reach when in the saddle. Being a photographer, it often pains me when I venture out to pastures new without my camera, but reluctant to always have a backpack, or worse, just throw the camera over my back whilst riding with reckless abandon, I'd yet to find a suitable bike accessory to make my life that bit easier. 
First Outing
My first venture was a gentle road ride along to Hay-On-Wye and back. My previous experience with bar bags had been quite shaky…literally. So I opted for tarmac for my first outing, doing a few curb drops to test the rigidity and security of the bag before introducing it to the rocks of the Black Mountains. I expected the bag to be stiff and secure, which I can confirm it was. No amount of curbside dropping was loosening my setup, but what I was most pleased with after my first ride was the sheer amount of space in this thing.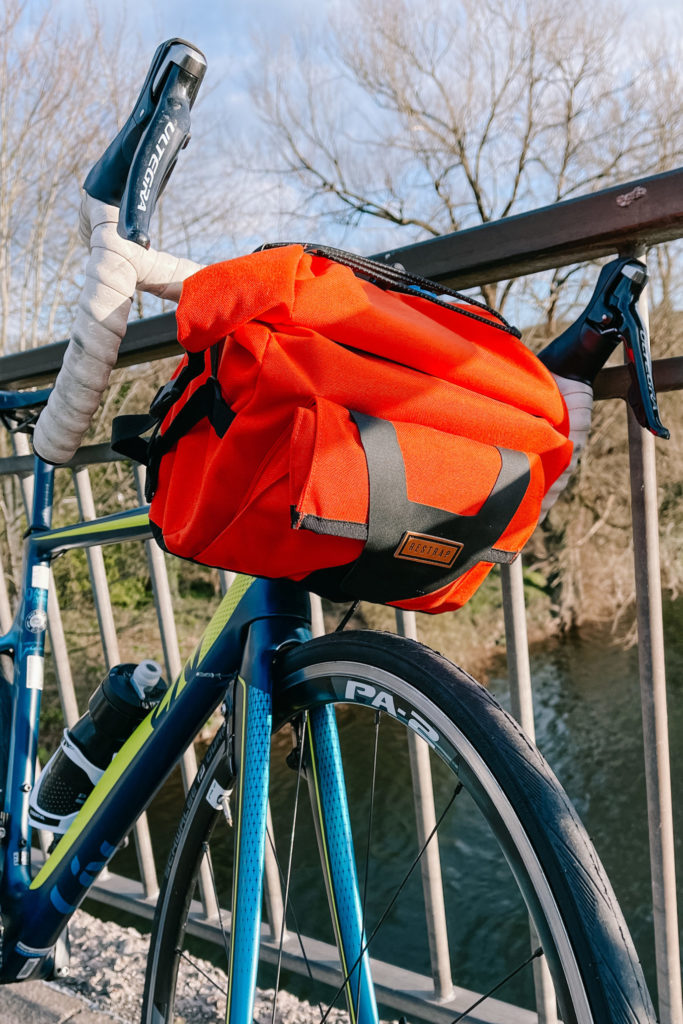 Although 10l sounds like a decent amount, dependent on a bags design, 10 litres can quickly become awkward and finicky, but Restrap have stuck with a brilliantly simple interior design, maximising that 10l of storage space. I was able to comfortably pack my Canon R5 + RF 24-105 lens and a waterproof for my first ride and had only just reached the halfway point of the depth of the bag.
The Bar Pack features an internal stiffener that ensures the pack retains its rigidity and doesn't collapse in on itself when not packed to the brim. That's not to say that it can't be compressed when packing lighter though. The sides are equipped with a side-release tension and buckle system, allowing you to compress the pack to minimise any rattling items inside, and thanks to the care that went into making the pack stiff as mentioned above, when you release the clips, you won't be sat there fighting with the pack to push it out to its original size.


The Second Outing
My second outing would be something a little tougher to test the bag, and me it seems. A loop heading up to Gospel Pass, down and around the mountains before heading back up into the Black Mountains past the Gwyrne Fawr Bothy and down the rather loose and rocky Y Das descent. I strapped the Bar Pack to my 100mm hardtail and set off with an abundance of snacks, my camera, and a jacket I wouldn't end up using as it turned out to be the hottest day of the year we'd had so far. All was well on the road and on the rough bridleway back up to the top, however, trouble struck as I began my descent. The more I braked, the more my forks compressed and as a result, the Bar Pack then began to hit the bridge of my forks and subsequently started to buzz against my tyre.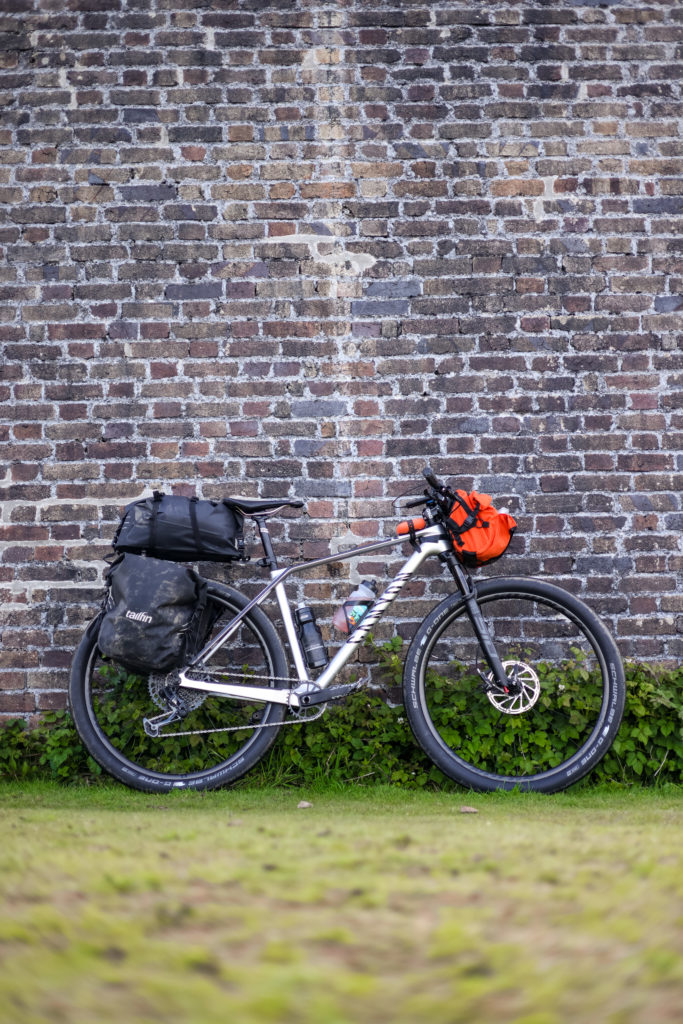 The limited space in between my handlebars and short XC forks wasn't enough to cater for the bag. However, I can confirm that the material of the bag is probably the sturdiest I've come across, after a good 15 minutes of sketchy descending (sketchy descending my fault and not the bags) and the pack rubbing against my tyre, the bag only bore some minor scuff marks on the bottom.
For the next few rides the pack would be stuck to my big bike as I headed to do 'The Gap'. I was a little hesitant as I left, worried that the same issue may occur on the descents as had done on my hardtail, but I had hope that the larger space in between my tyre and handlebar provided by the extra travel should be enough of a buffer, and I'm pleased to report that I was right!
For those of you that have some experience in riding off-road in the Brecon Beacons, you will know just how rough and loose it can get. If you're not riding over static boulder type rocks then you're riding over hundred and thousands of loose ones, and sometimes, if you're lucky, you'll be riding over both at the same time.


The Verdict
In conclusion, I'd highly recommend this bag for any road bikes, gravel bike and +140mm travel MTB's. It really does fit every bike, but I learnt my lesson on my XC bike. Go rigid, or go big.
I've done nearly 300km with this Bar Pack now and I couldn't imagine any adventure without it, but I just have one request for the guys and girls at Restrap – can I have a side pocket or two please?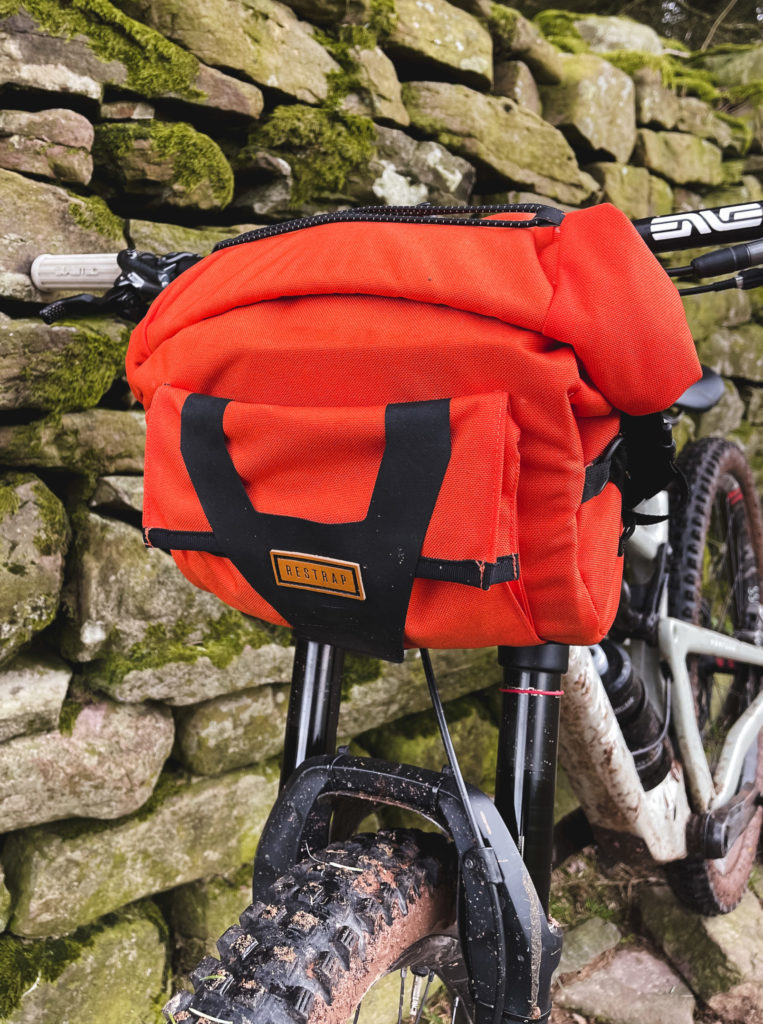 I can see why Restrap may have decided against these as the side slightly expands or contracts depending on how much you're carrying in the main storage space and that it would have stumped their "100% waterproof" tagline, but to have the option to quickly stash some snacks, wrappers, a phone or Gopro into a mesh side pocket would be my only request for this wonderful piece of kit. 
Somehow, during all the hours I'd spent testing this pack out I'd not come across any rain in order to test the packs waterproofing, madness I know, it's spring, in the uk, and no rain? Anyway, I knew I had to test out the waterproofing somehow, so a quick hosepipe test it was.
What I was packing on big rides – Tupperware, spork, camera, windproof, down jacket, variety of snacks, phone, keys. 
A super versatile option for storing quick access items, and safely suspends camera with space to spare
9.0/10
Pros
Super stable on all kinds of terrain, and hold its shape
Simple interior layout, maximising space
Fits any bike with ease
Cons
Could do with some side pockets, but not a deal breaker
Last modified: 10th August 2021