Alpine dwelling Yorkshireman, Gairy, very kindly got in touch to flaunt his new bike to us. The Orange Velo Piolet is not your average gravel bike. Think more drop bar MTB, or better still, Monster Cross!
We'll hand the story over to Gairy to tell the tale.
I had a perfectly good gravel bike…
A genuinely lovely gravel bike in fact!
But it was limited to 40mm tyres and I'm increasingly of the opinion that larger tyres are the way forward for everything other than 'racing' (and possibly even for racing).
The multi-day comfort of a drop bar 29er as well as the increased control, stability and terrain capabilities had me convinced that I needed to make a radical change in my quiver.
And so a plan was hatched to seek out the perfect 'do it all' bikepacking bike (I know, I know, the holy grail). A real mile-muncher of a machine that would take me on daft bike adventures, anywhere I wanted, for decades to come.
The Purple Orange
Enter the Piolet…of which the lovely people at Velo Orange say:
"The Piolet is our bikepacking frame. It's designed for off-road touring, including dirt and gravel roads, double track, and single track."
Sounded right up my street and so, when I found a deal on a frameset on a random German website, I went for it and this is how things turned out…
Out of the box
First thought….."oh, it sure is pretty". Sensibly chosen tubing, nice neat welds, quality paint job and some really nice attention to design detail, as well as pretty much every bolt-on feature a bikepacker, might desire. Very impressed indeed!
The Build
Gairy's Piolet
Frame/forks: Velo Orange 'Piolet' 4130 chro-mo (Size Large)
Drivetrain: SRAM 'Eagle GX' (1×12 with a 10-50T cassette) and an Absolute Black 38T oval chainring
Brakes: TRP Spyre mechanical discs
Wheels: Hope XC
Tyres: WTB Ranger 2.4″ with tan sidewalls
Bars: Salsa Woodchipper
Saddle: Brooks B17 narrow imperial

So….?
I've had the bike up and running now for a little over two weeks and in that time ridden ~250km on it over every terrain, from road to technical alpine singletrack and short fun tootles with the kids, to a scorching 150km epic day out sampling some stunning Italian gravel paths.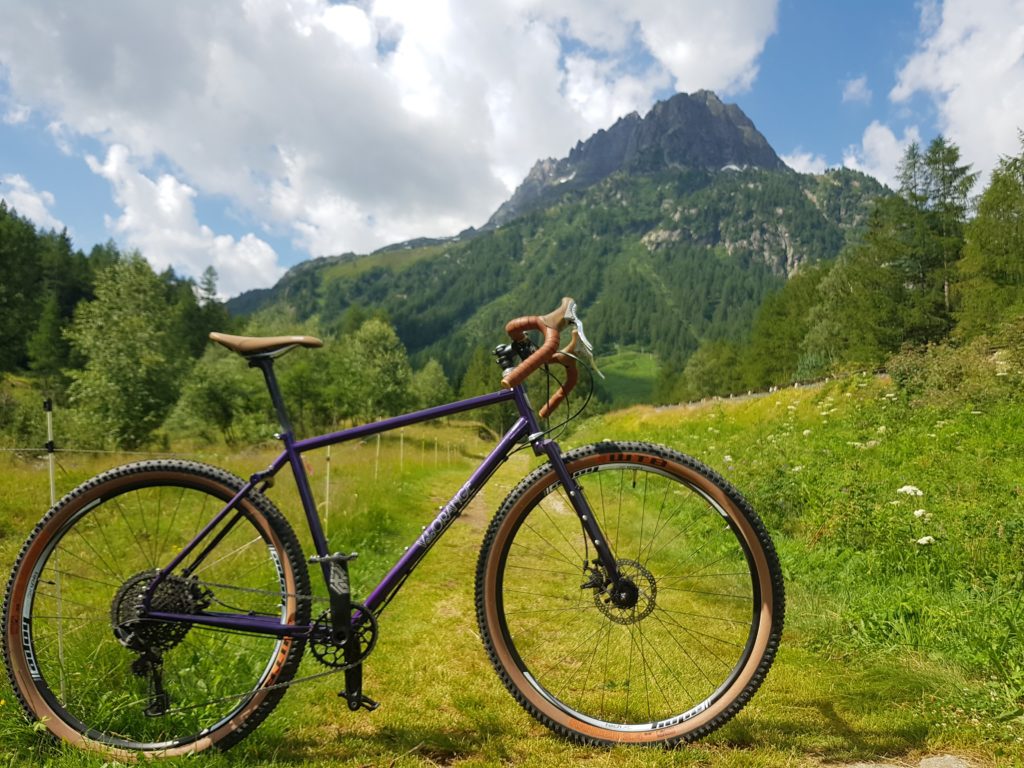 How's it ride?
In a word…..I bloody love it! The long wheelbase means the ride is stable and dependable without being sluggish and unresponsive. The combination of wide/flared drop bars with a nice volume tyre means that I'm happy to give it the beans through terrain more usually associated with mountain bikes and yet at the same time the WTB 'Rangers' roll really quite well on hardpacked fireroads and even tarmac.
I can't tell you that it's an agile and aggressive beast on technical descents as that'd be a lie but that's not it's primary function and the fact that I quite happily and confidently managed to descend some really quite challenging tech trails, says more than enough to me about its capabilities when the going gets rough.
Conclusion (at this early stage)
A massively capable and inspiring ride in a package that's well thought out produced with love and experience. It's a bike that makes me itch to get back out on it at the earliest possible opportunity.
It could be lighter but then again this isn't a bike designed to win races, it's designed to win hearts!
Follow Gairy's Alpine Adventures on Instagram
Find out more about Velo Orange on their website: www.velo-orange.com
Last modified: 19th July 2019