When you think cargo bike, you may envisage city streets, and a loaded up mixed wheel bike weaving through traffic, but Farr Out Deliveries took a hard left out of Edinburgh to take on the Rapha Pennine Rally using a Rothair Cargo Bike.
Around the world more and more people are realising the revolutionary potential of cargo bikes to not only make lives better by moving stuff quickly under human power, but, also eliminating air polluting vehicles from city streets.
It seems that as soon as Farr Out Deliveries swung their leg over the top tube of one and set off, they knew it was the best and fastest way forward, over asphalt, cobbles and even gravel the Edinburgh's based cargo bike collective, are pushing what's possible on two wheels.
It started with a love of cycling of course, a love for our home city, Edinburgh and a desire to do something good, make a difference by linking local communities and have a good time whilst doing so.  
'The decade of the cargo bike' they're calling it and with good reason. 
In March 2020 as the global coronavirus pandemic forced the first UK lockdown, our inspiration spiked with jobless desperation, we rolled off on some begged cargo bikes (much love to Sustrans Cargo Bike Library and Edinburgh's Laid Back Bikes) with some forward thinking local businesses behind us to deliver the goods around Edinburgh city. We'd inadvertently set up Edinburgh's first and most righteous cargo bike delivery service.
Our idea soon burgeoned into something tangible, physical and we quickly realised its capacity to transform the world around us for the better. We gathered support from like-minds and Farr Out Deliveries became a collective of idealistic individuals inspired to do something worthwhile. Loading up our bikes and delivering single packages one at a time, day in day out with the power of our legs, we started to create a wave of change.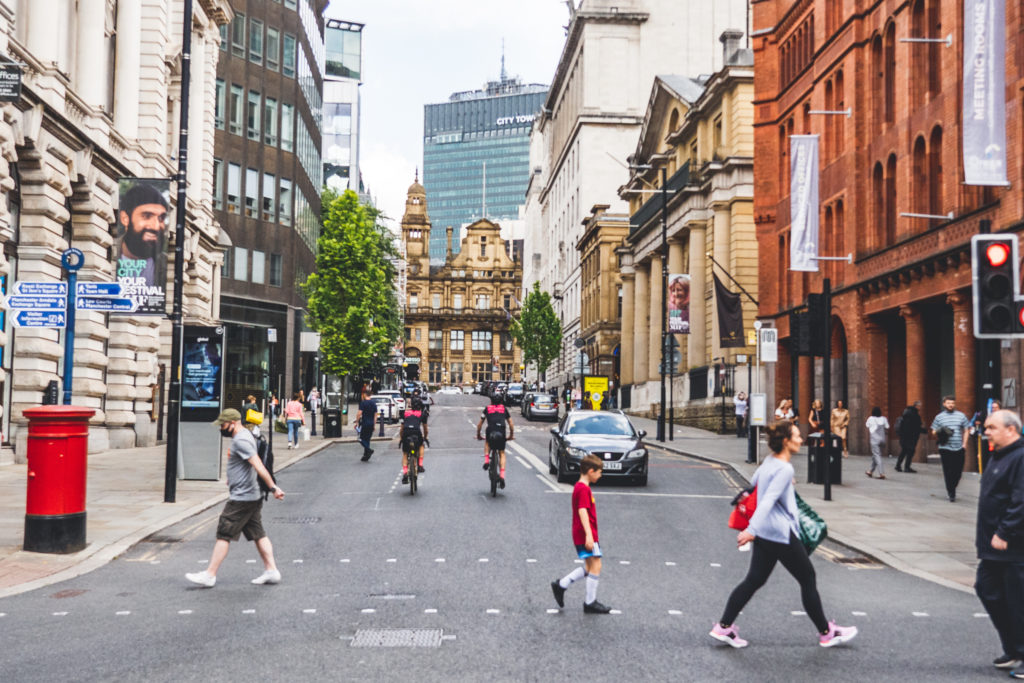 Cargo bikes rock.
Imagine carrying loads and loads of stuff all at the same time, safely, securely and quickly all with the power of your own legs (and sometimes some electrical assistance to make those awful steep hills and nasty cobbled roads easier). Cargo bike for the win! Imagine having your shopping delivered straight to your home pollution and emission free. Yes! Cargo bike again. What would it be like to have a city not clogged with vans and traffic driving round in circles polluting our lungs, slowly taking years off our lives. Uh oh. Cargo bike to the rescue again. Imagine carrying your pals round the city in hilarious fashion whizzing around seeing the sites whilst having a great time doing it…Alright, you get the idea…. If it all sounds too good to be true, let Farr Out Deliveries be the proof that it really isn't.
Over one year in the game later, we've changed perceptions about what's possible on two wheels. We've carried over 10,000 parcels for over 100 awesome local businesses to surprised, delighted and super supportive individuals. "Bet this ___ thing doesn't fit on a cargo bike though" I hear you say. Sofa? Carried it. House move? Done 'em. Carried a life-sized plastic gorilla called André just because we could? You bet. Our ambitions have doubled in size as we have. We've ridden over 20,000 miles, eliminated tonnes of CO2 emissions, helped local communities and shown that cargo bikes are a vital part of Edinburgh's green future. 
Not content with this set of illustrious achievements, we set off to push the bike even further. In order to show the extent to which cargo bikes are vastly more capable than people think, we set out into uncharted cargo bike terrain some called wholly unsuitable for tiny 20" front wheels. We decided to tackle the Rapha Pennine Rally, a 500km remote gravel ride from Edinburgh to Manchester, cargo bike style.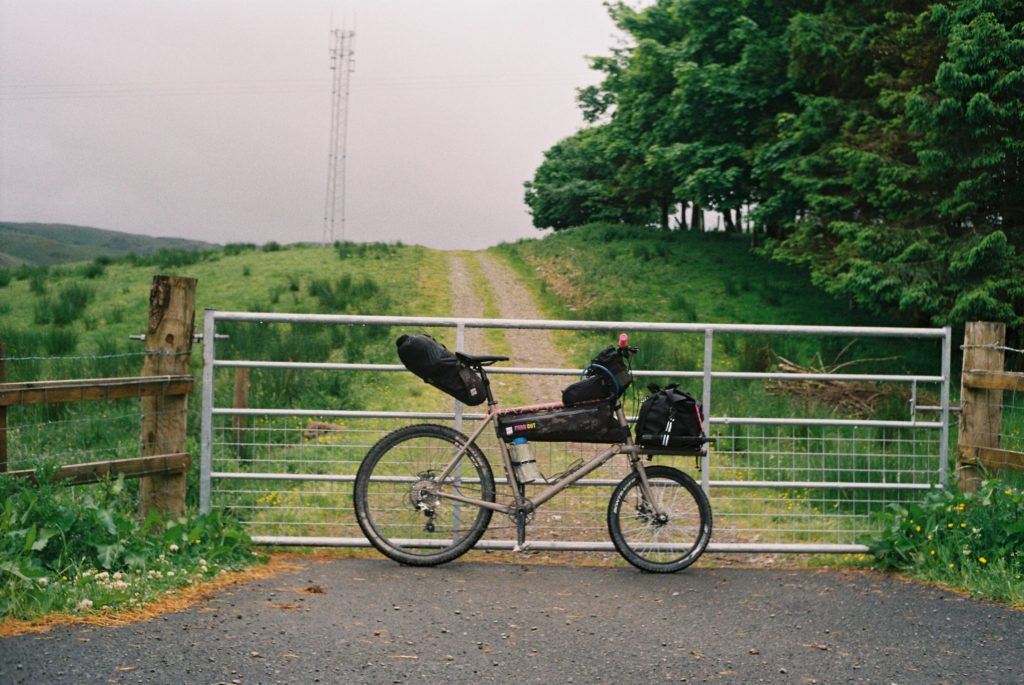 The Rapha Pennine Rally – Cargo Style
Predictably, it began in chaos. 7.30 on the start line at Gamma Edinburgh we were one man down, missing essentials like food, our film dude had forgotten the memory cards, and yet somehow we'd also packed too much of everything else, weighing our bikes down. We felt embarrassed looking around at the svelte bikes that surrounded our laden machines. But that's what cargo bikes are for right? And how better to showcase their radical potential than taking them well outside their comfort zones, laden down with cargo up the 25% gravel climbs, technical descents and challenging terrain of the inaugural Rapha Pennine Rally. Concentrating more on the pre drinks party the night before rather than packing probably didn't help but #messlife and all that.
Over 500km, 8000m climbing, the rocky gravel climbs and descents of the Pentland Hills, Kielder Forest Yorkshire Dales and The Pennines lay between us and the finish in Manchester. We scrambled around, tried to get the rest of our shit together, an hour down already and rolled out.
It was a mad idea to ride the challenging (predominantly off-road) route on cargo bikes, but why not. Cargo bikes are dramatically changing what's possible on two wheels. People around the world are increasingly realising their potential to transform everyday mobility and city logistics, significantly reduce pollution and emissions and bring some joy back to deliveries. Farr Out Deliveries have been pushing this idea over the last year and a half in Edinburgh, introducing the idea of cargo bike deliveries to the city in a big way and showing what's possible. Riding the Pennine Rally cargo style was an alternative way to push this even further, test limits and show just how much #cargobikesrock or this time how much #cargobikescangetoverrocks.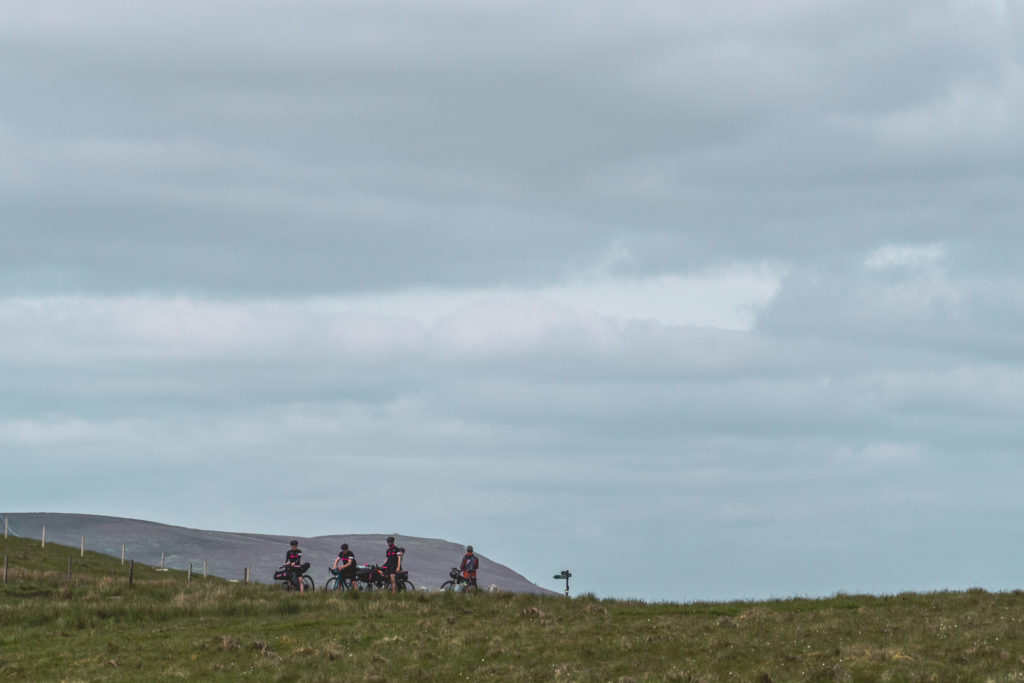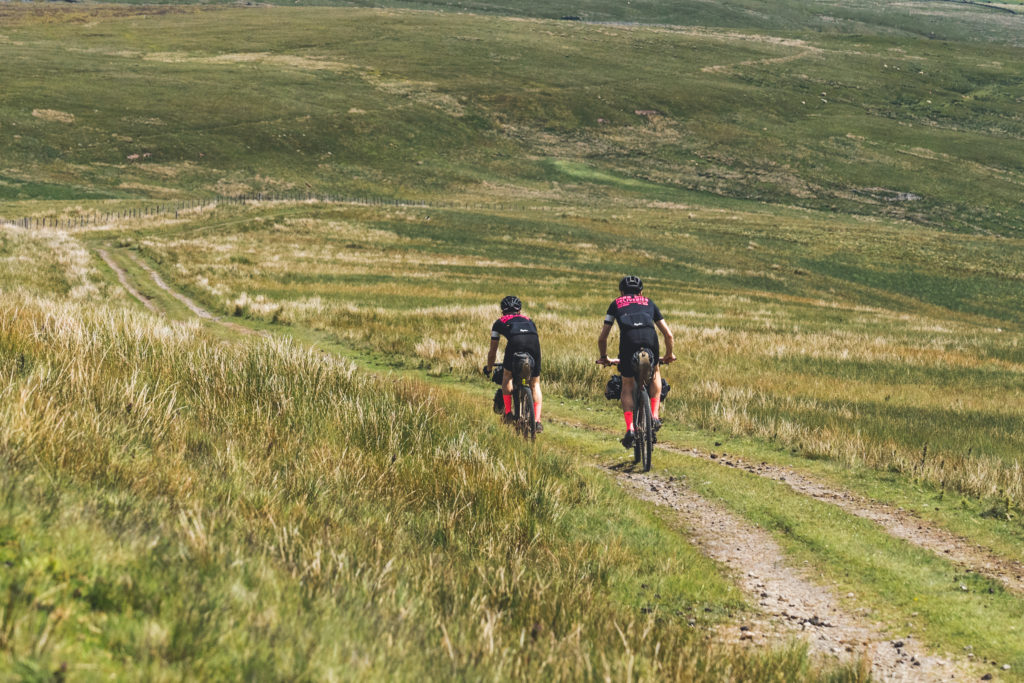 If there was a steed for the job, it had to be Scottish steel; a hand built custom mini cargo truck from Rothair cycles, which proved unbelievably capable, scaling hills many riders had to push up. The carry bay out front provided the perfect secure carry platform for a lot of gear over all the rough terrain. We beefed the bike up from its city duties; fitting knobbly tyres, climbing gears and Jones bars. Custom bike meant custom bags; keeping it local with the super talented Straight Cut Designs, kitted out with cargo carrying capacity. Note: the stash bag fits a pot of hummus perfectly for some crisp and dip sharing action at the top of a crazy steep 27% (?!) rock strewn gnarly climb hike-a-bike.
Well…. back to our Rally Diary, and day 1:
We'd anticipated being overtaken by most other riders pretty rapidly out of Edinburgh. But what a joy to meet those passing by. Lovely people, some we'd get to know over the next days. Handing out Outdoor Provisions bars and swapping stories, and astonishment in return: "Yes, this is a cargo bike, isn't it awesome," "Yes, we are carrying loads of stuff, it's a cargo bike after all," "Yes its way heavy, but no we're definitely not regretting our choice of steed, we're having a freaking awesome time." These exchanges  were even more enjoyable given the 50% split in gender entrance quota. More inclusivity means more fun. Fo sho.
Long, hard days ensued. We had trials and tribulations. Day 2: we lost half of our intrepid gang. It ended in tears, injuries and an incessant cloud of midges. We pushed on, our hearts weighed down but our loads a little lighter, which helped as we were well and truly out the back and needing to make up for the delays. The laden cargo machine ate up the sludge and damp of the Kielder forest gravel, holding firm through loose corners as the drizzle descended and we whipped through the never-ending mass of trees and trails.  Night was falling, legs more mud than skin and shoes more bucket than shoe, setting up camp was rendering impossible by our wee midges friends, so we just kept riding until they f*cked off and we'd caught up. A sure fire way of ticking off some good mileage. The day rounded out with a majestic sunset over our sheep shit strewn wild camp spot.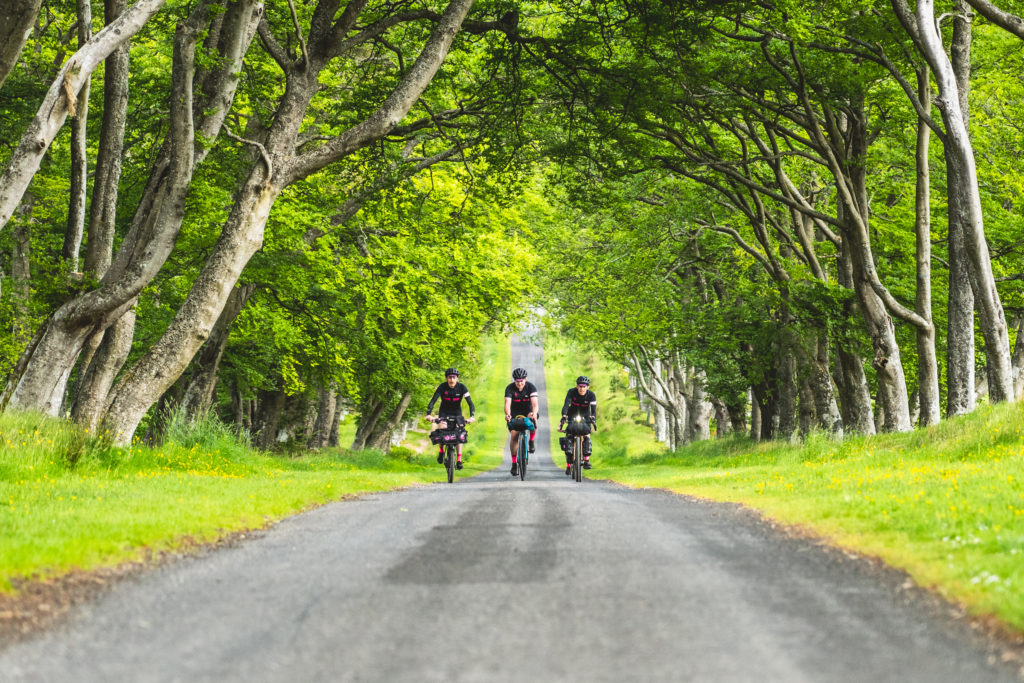 Days 3 and 4 whipped by in a blaze of stunning scenery, camaraderie, bleary fatigue and a constant awe over the linking up of consistently amazing remote routes over such a long distance. The off road climb to Tan Hill, the punishing Oxnop Scar, the stunning Cam High Road and desolately beautiful Salter Fell all came and went with much determination and probably excessive ibuprofen to quieten those pre-existing niggling knee pains. Major props to Louis VK Rapha, the Outdoor Provisions/Second City Divide hive mind for putting together such a cracking route and event, as well as nature for being truly awesome.
Last day: You've got to be kidding, a puncture along the Manchester canal, 15km from the end after surviving unscathed through all those rocky miles and even giant sized cobble stones on Rooley Moor infamously treacherous to the tubed tyre. Frustrated threats to push each other in the canal dispensed with without helping to fix the problem, we instead concentrated on the simpler task of puncture fixing, did it successfully and then haphazardly rode through the tangled Mancunian streets to a hero's welcome of specially brewed clubhouse beer and arancini at the finish line.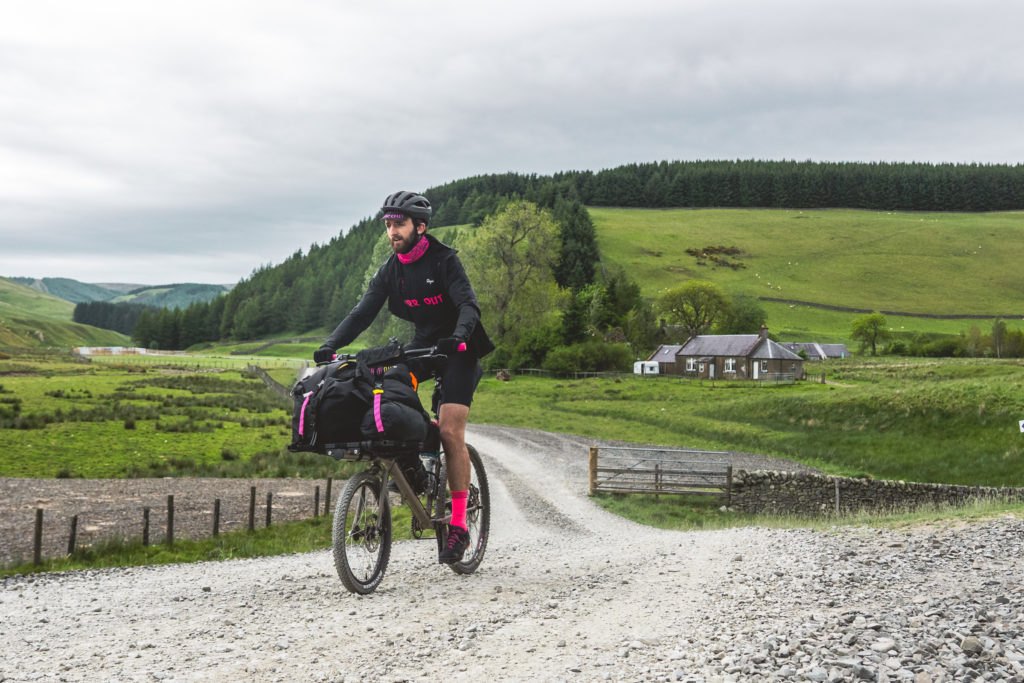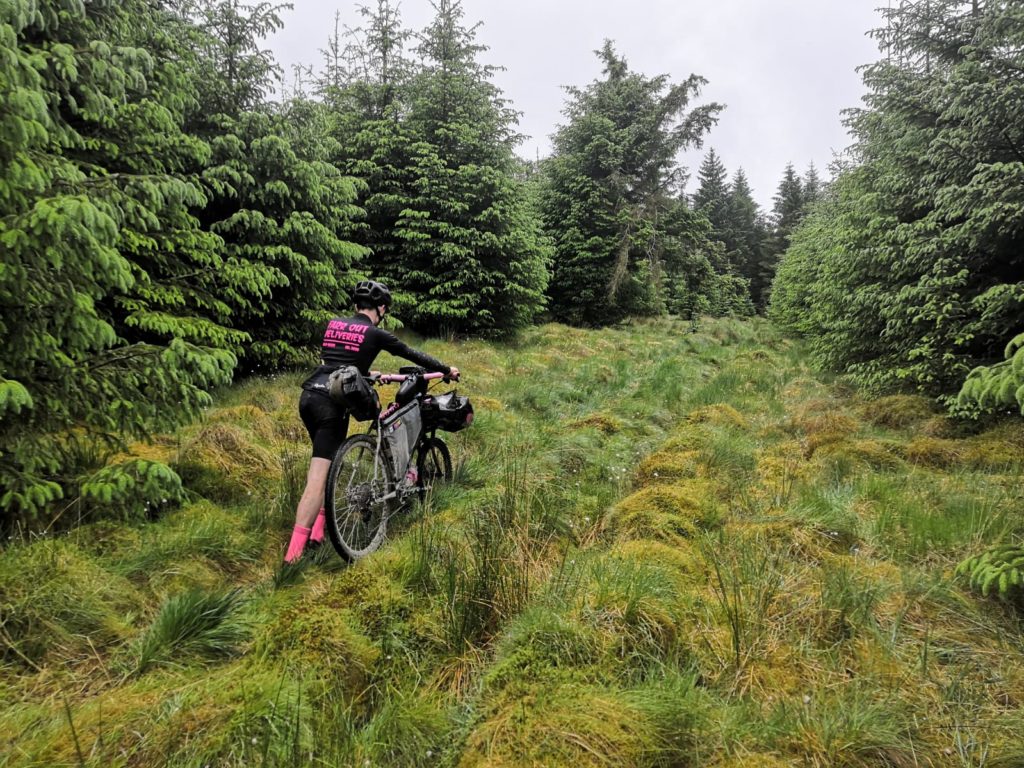 Yes! What a ride. An epic cargo adventure. Thereafter we promptly passed out very bleary eyed in our hostel beds and reveled in the luxury of eating everything for the next week. But what had we learned (aside from improved bike handling skills to take back to the streets of Edinburgh to even more safely deliver those precious goods)?
It would be a lie to say that sometimes we forgot that we were riding cargo style. The loaded platform out front as well as it being the whole reason for us doing the route were ever-present but the bike was so god damn capable, and it even surprised some of us.

Actually, the whole thing was pretty hard, all those climbs we listed there were pretty challenging but still it just took someone stupid and/ or brave enough to go ride them.
We showed that #cargobikesrock and learned that yes #youcanrideacargobikeoverrocksandhaveanawesometimedoingso
Peace.
Written by David Squire
A huge thanks to Dan Monaghan for providing the excellent photographs.
Last modified: 24th August 2021