The Rapha Explore shoes are not the first SPD offering from the brand, who previously made CX and road shoes in collaboration with Giro. They are however, the first of their off-road specific shoes that they've designed in-house. Targeted at longer off-road rides, and catering to the booming gravel market. Interestingly, they've opted for a very classic-looking shoe, bolstered with the sort of features you'd expect to tackle modern adventurous attitudes.
Fit and comfort
Let's tackle this first, as it's top priority in my book at least. Unhappy feet can put a real downer on any ride, as I unfortunately found out. Much like previous Giro models, these shoes came with a range of two different insole inserts. Enabling you to change the arch support from neutral to medium to high. As I have extremely high arches, I used a pair of personal custom inserts for the test.
I can't help but feel that the fit of the Explore shoes is rather strange. Of course we're all individual, and what works for some people won't for others. But in this case, I just couldn't get on with the high heel cup of these shoes. The design principle is good; a high, cupping fit stops the foot slipping during hike-a-bike sections (something I have experienced with the lower profile Giro GR90s), but in reality, this caused the back of my heel a lot of irritation. And in one case blistering.
As such, I've been pretty reluctant to wear them too much or commit to testing the Rapha Explore shoes over longer rides where this could again be an issue. I understand that most shoes take a bit of wearing in, but perhaps the rather rigid synthetic leather microfibre upper in combination with this high shaping on the heel means that these will take a good deal more wearing in than most.
I've worn the shoes a fair few times since the two-day bikepacking blistering weekend, opting for shorter, local gravel rides. The discomfort is easing, although that could be due to less walking in the shoes. I have no issues with any other aspect of the fit, just this very high heel.
Closure system
The traditional lace-up closure is complemented by a velcro strap across the widest part of the foot. Rather than use metal eyelets for the polyester laces to pass between, they are guided through holes in the microfibre upper, which doubles back to form part of the shoe inner. Then a pair of black metal eyelets finish the last hole. Once tied, the laces can be safely tucked out of harm's way (i.e. your drivetrain) using an elastic loop on the tongue.
While lace-up shoes might look cool and be pretty simple, I just don't think that you get the same level of adjustability on the fly as you would with BOA dials, velcro or ratchet systems. Over the course of a longer ride I find that my feet swell a little, especially when hot, so I'll inevitably have to stop to slacken off the laces a bit, which is a bit of a faff.
There's also a second pair of laces that comes in the box; black with pink braiding that match the subtle pink flecks in the rubber sole of the shoe. In that respect, the shoes are more customisable than other closure systems; you could even get whatever colour paracord you fancy and be as individual as you like!
Grip and sole
I was pleasantly surprised that the grip offered by the sole of the Explore shoes was better than  expected looking at the tread pattern. A natural rubber tread encloses a carbon fibre footplate, which is stunted to allow more flex through the toe box. That's the theory anyway; in reality they're pretty stiff for walking in, compared to the Specialized Recon range, for example.
Although not quite as flexy as other shoes, they were really good for hike-a-bike from a sole perspective, even on wet and slippery surfaces.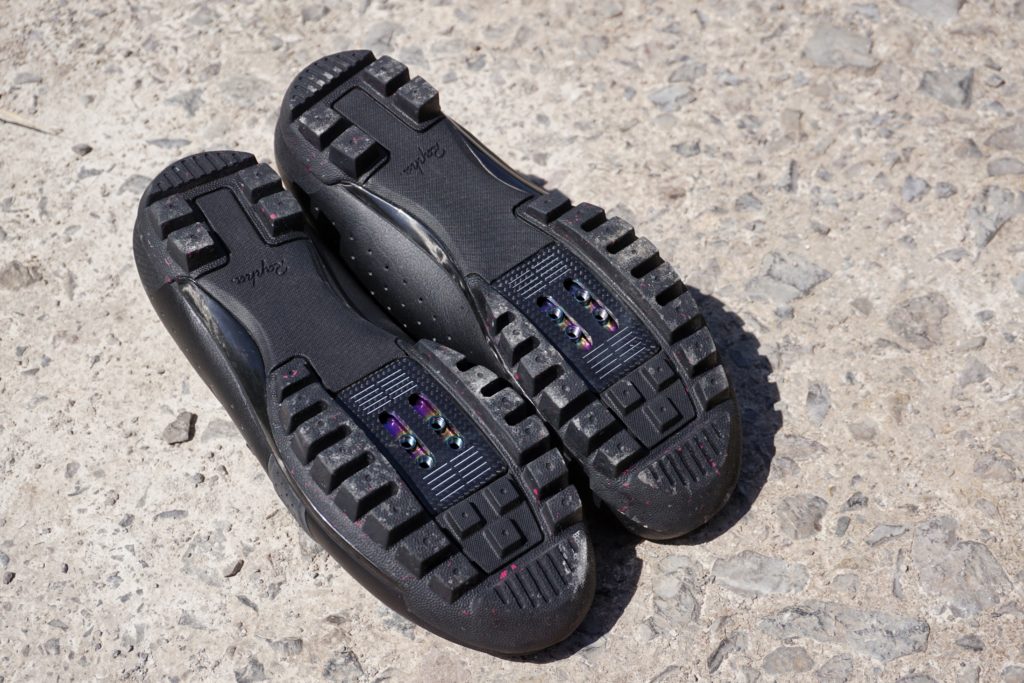 Durability
You'll find that the areas most likely to get a bit of a bashing with off-road riding are reinforced, around the toes and at the lower heel. Despite quite a beating, the one-piece upper looks in good shape, with just a few scuffs, and is really simple to wipe clean.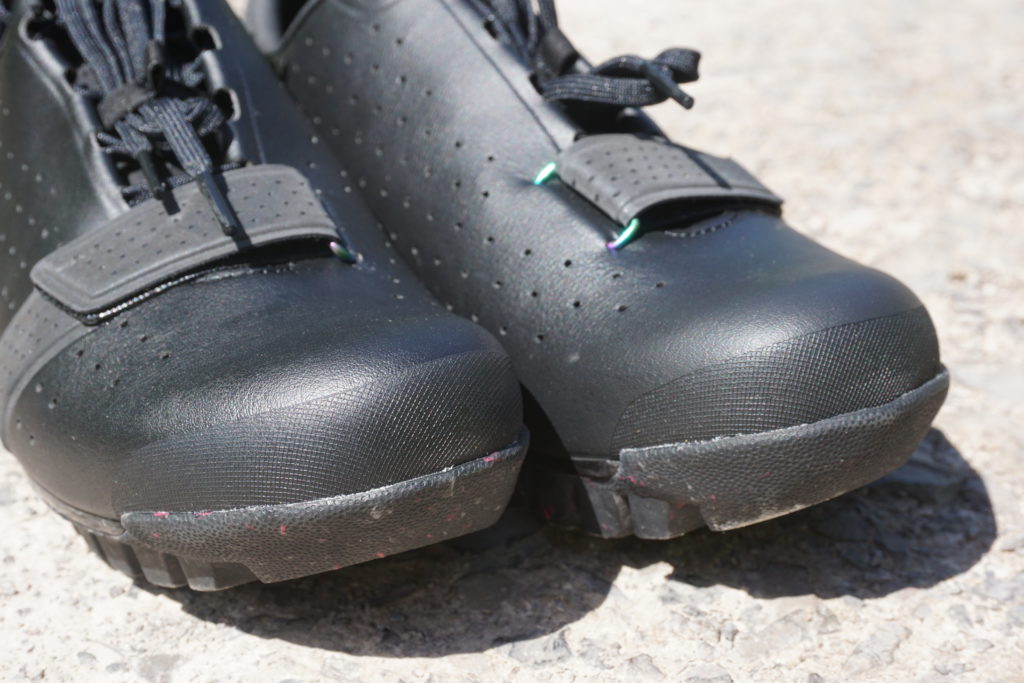 Ventilation and drying
The microfibre upper and tongue is perforated by a series of holes almost all over, except the toes and the very back of the heel. There's very minimal padding on the inside, only around the mid-foot as a fold of the outer, and the heel, so in theory they should dry out pretty quickly and keep feet cool on hotter days.
Considering the ventilation system appears to be much less than comparable meshy technical shoes, I didn't find them too hot at all. With such small holes, there's also less chance of water ingress from splashing through puddles.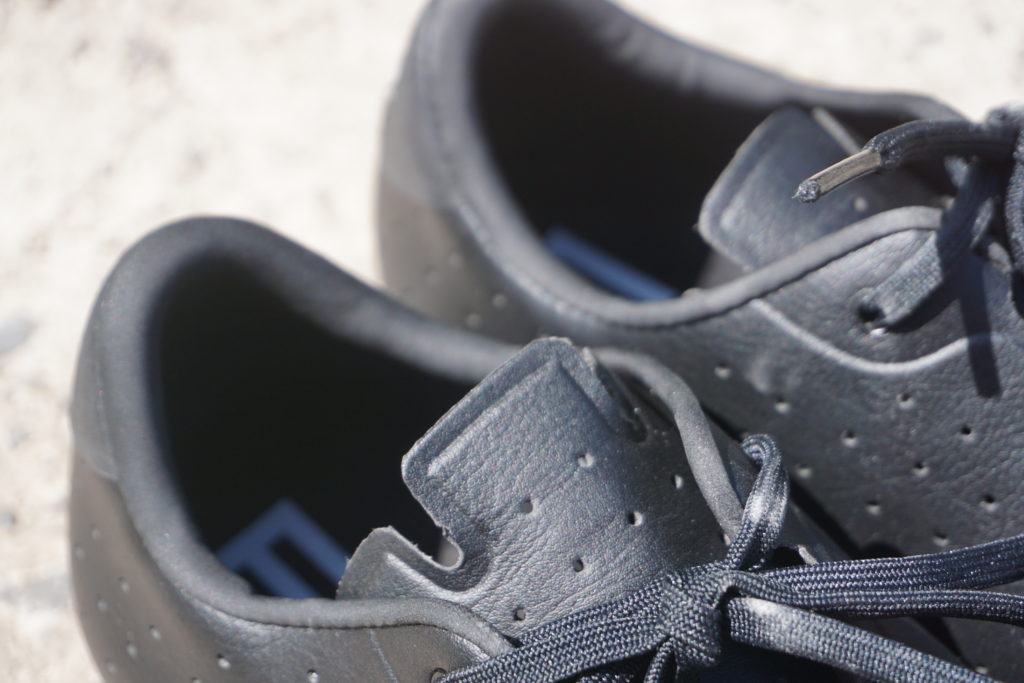 Aesthetics
I get the impression that looks were pretty high up on the priority list when the Explore shoes were conceived. In all black synthetic leather, I can't help but get triggered from school shoe shopping aged 12, but I get that's some peoples' vibe and a pretty traditional look. It's certainly a far cry from the highly technical look of many modern off-road shoes with mesh panels, ratchets and BOA dials.
They also come in two different colourways; khaki (surprise, surprise) and white with a black strap. Whatever would possess someone to opt for white shoes off-road I don't know, especially with the conditions that we have in the UK for 95% of the year.
All three colourways feature a subtle dark grey strap across the ball of the foot and a dark grey heel detail, which is a reflective material. A neat idea for sure for visibility for urban riding or when taking linking roads between dirt sectors.
Besides being very classic and traditional for the most part, there are a couple of bling details that you'll need to look closely to find. Both the buckle for the velcro strap and the cleat plate in the sole are made from titanium, anodised with an oil-slick finish. Supposedly this is to save weight, but really I feel it's more just a flashy touch. At 614g without cleats in size EU 40, they're not exactly the lightest of gravel shoes.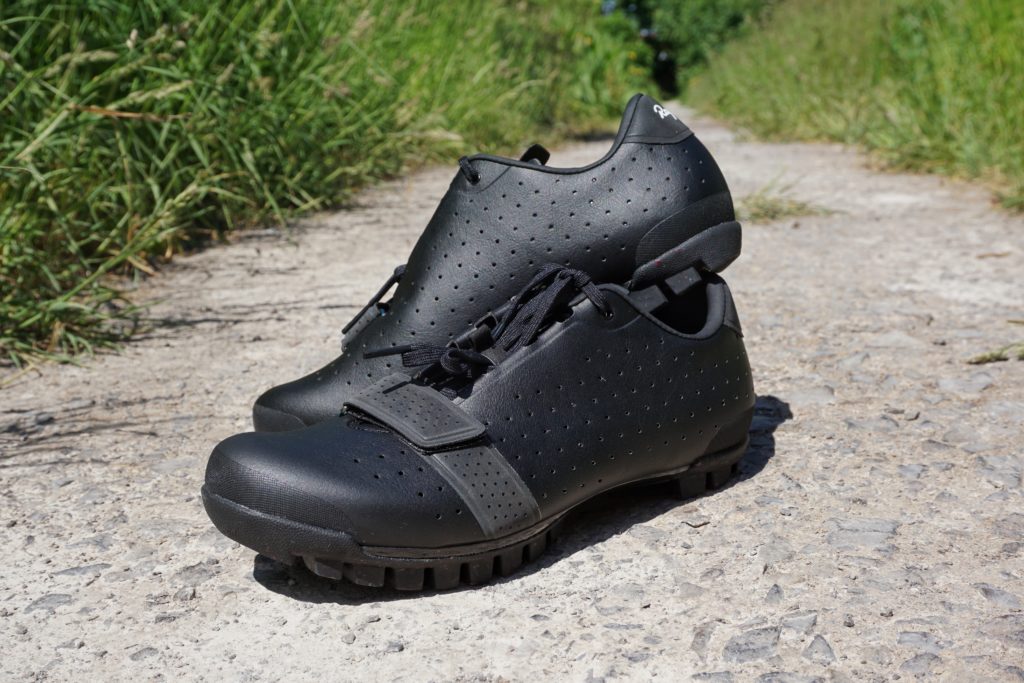 My verdict
You probably get the idea that unfortunately, the Rapha Explore shoes weren't for me, mostly based on the heel fit. I've spoken to many people who have the same shoes and rave about them. So maybe it's a personal thing. Probably best to try before you buy if you can. Then you can suss out whether the fit will work for you or not.
Having said that, there's some great elements to the Explore shoes. Most notably the natural rubber sole that gives loads of grip. If laces and a traditionally styled shoe are your bag, I can see why you'd love this new off-road offering from Rapha. £220 is definitely on the high side for gravel shoes, so you'd expect really great durability from these. Unfortunately with a non-compatible fit, that's not something I'm willing to test!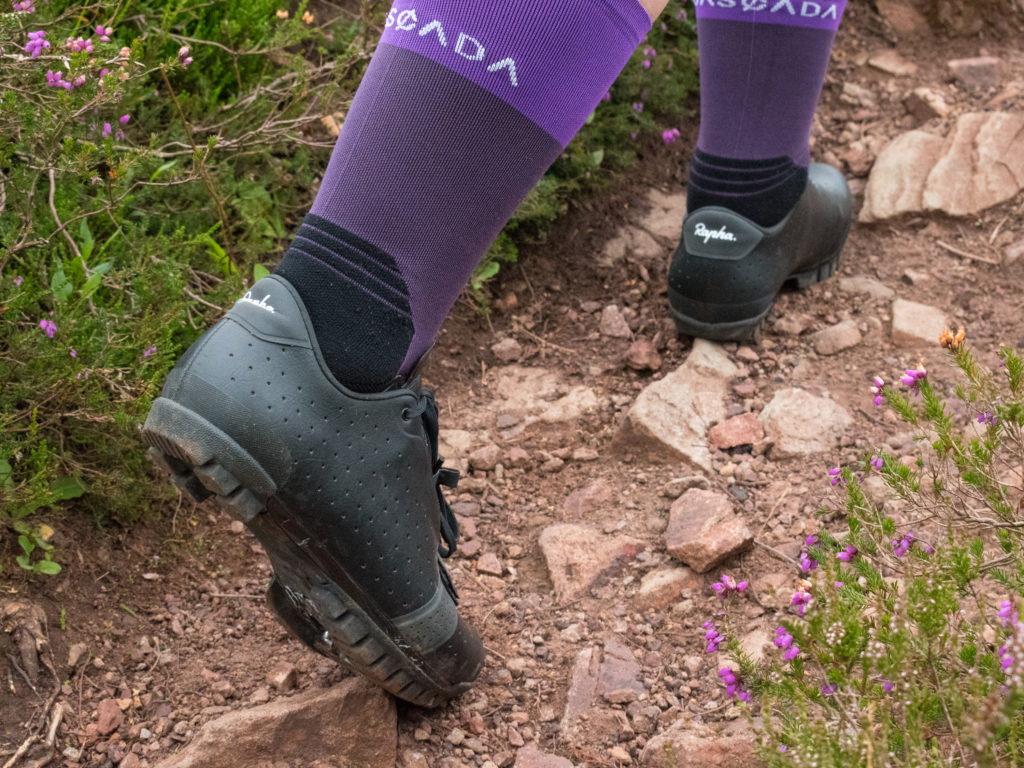 Photo Credits: Tim Wilkey for the action shots
Rapha Explore Shoes
£220 €260, $295 USD
A style-led faux leather shoe with a decent grippy sole yet obscure heel fit, the Rapha Explore shoes are a real mixed bag at a premium price
6.0/10
Pros
Really grippy sole make them easy to walk in
Range of arch support options and spare laces
Reflective strap detail
Cons
Faux leather hard to wear in
High heel cup can rub
Laces are a bit of a faff compared to other closures
Last modified: 31st July 2020