It's Summer 2015 and I finished the Bontrager 24/12 24hr (now Pivot 24/12) Solo in ninth-place. The second half of the race had been *awful* with constant rain and the resulting mud. I was thrilled to finish, get a top ten and, in my new DHB Aeron Bibs, finally end a long ride without any issues….down there.
Fast forward a year and I've got the nod to do the Tour Divide. Amongst the advice I received was "Take two pairs of shorts, of differing brands so if you get a sore spot a change won't rub in the same place" and "Get some Rapha shorts".
I'll admit that as a predominantly off-road rider Rapha didn't feature heavily on my radar, and also because of how much their products cost. If my DHBs are fine for 24hrs, how can spending 3x their cost be worth it? The same person that told me to buy Rapha also said they'd been put off by the price but the strength of the recommendation was such they relented, I was about to do the same! The Rapha Brevet range had recently been released and promised comfort for the longest rides. As I seemed to be spending a fortune getting to Banff, splashing out on an item I'd wear 18hrs a day for 3 weeks didn't seem so extravagant.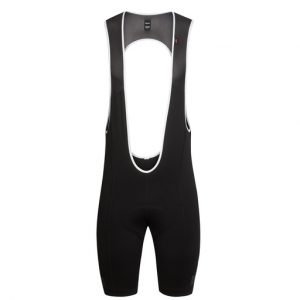 On the divide I wore the Rapha Brevet shorts from Banff for about 500 miles through Alberta, BC and Montana over the course of a few days, despite the distance, terrain and horrific weather I was still perfectly comfortable. I switched into my trusty DHB shorts and set off from Wise River to Lima, 140 miles away. After 100 miles I was in agony and barely able to remain seated. This severely slowed my pace and I rolled into Lima just as all the resupply options closed, not a boost for morale! I decided to throw caution and hygiene to the wind and put the Brevet shorts back on and see if things improved. To cut a long story short, they did. It was like the previous day's torture never happened. From there forwards I was converted.
Back into the world of normal reviews I should add that the Rapha Brevet shorts I own are the original version and there is now a revised Mk2 short, I'd hope they were just as good. Rationalising a £180 pair of shorts will be difficult for many, but when you've literally spent thousands to get yourself to the Grand Depart It can make sense. If you're stuck in the middle of the Great Basin in Wyoming having saved money on shorts but not getting to the end would be a false economy. I expect another few days of DHB induced agony and I doubt I'd have made it to Antelope Wells.
The material for the main body of the shorts is incredibly stretchy, they have a difficult to explain way of feeling supportive but not restrictive. The pad is obviously the cornerstone of the comfort and it manages to be comfortable without being excessively thick. It is also perforated to enable quick drying after an overnight wash, something that I did a lot of having consigned my DHBs to Room 101. Design wise they are simple black shorts but the black logos and stripe are retro-reflective. The mesh bib straps don't cut into your shoulders or interfere with your HRM strap. Despite covering 2500 miles in 3 weeks and being washed in motel sinks (with the free soap!) the shorts are still presentable with no loose seams or excessive pilling.
In summary then, look beyond the gritty monochrome images of suffering on Rapha.cc and treat yourself to a pair. When someone says "How much?" just remember my anecdote from paragraph 3!
Last modified: 26th January 2019