As I rolled down to the start of the inaugural Great British Escapade, I reminded myself of my plan: simply, to finish the 300 mile (482 km) route within the allotted three days. For me, that seemed like an entirely achievable goal for my first outing into bikepacking endurance racing, or so I thought…
Words by Ian Carter, photography by Kevin Francis, Charlie (Canterbury Photo Studio) & Ian Carter
What on earth is an Escapade?!
The Great British Escapade series is a new batch of bikepacking and ultra endurance events, designed to be accessible for those who can juggle a long weekend around their work or family commitments, but may struggle with the sizeable time-demands of the more big-name events.
This first edition focussed on a route that took on both the North and South Downs (we do have some hills down South, honest)! If, like me, you've ticked off the big UK one-day events like Gritfest and the Dirty Reiver and fancy taking a plunge into something more demanding but you're not quite ready to take on something like GBDuro, this series is right up your street. Running alongside the Escapade series, the team have also created the Great British Divide which will launch in 2021.
Staggered, 1-minute starts were the order of the day and due to a bit of confusion and miscommunication I ended up being the second rider to roll out. Being seeded 10th added to the pressure! All of that pent-up energy and anxiety manifested in me putting in a bit of effort from the off, which was not really part of the plan at all… To be fair, neither was taking a hole to my tyre on the first flinty climb and dumping out all my sealant, so that was probably for the best!
With the race starting at 5pm, it wasn't long until dusk started to settle in on the North Downs and its mix of rocky, chalky paths and grassy hillsides. After eventually levelling out the adrenaline and anxiety combo, I came to end up riding at a similar pace with a few other riders (Gareth, riding solo, with the pair of David and Geoff). The unspoken bond of solidarity was formed and we rode together through the night, down and up some pretty challenging terrain (hike-a-bike is even more fun in the dark), chatting away about bikes, racing and our plans until at around 100 km when our group split, with Gareth and myself deciding to continue into the night. My confidence was growing as the remainder of the ride to the checkpoint in Surrey was, in effect, my home turf.
Friday – 4am
Arriving at the checkpoint in 10th place was a shot of confidence I perhaps didn't need at this point (remember the plan)! After the next climb, Gareth decided to take the opportunity to sleep, which, given it was almost 4am, was a pretty solid decision. I opted to continue on, safe in the knowledge that the next 30 to 50km was familiar territory, so auto-pilot could be engaged. In retrospect, this may be where my ability to stay awake overtook my ability to keep riding with any sense of purpose.
Popping out from the Downs Link near Tilford, I had already planned on taking a nap on the picturesque green and popping into a nearby café for a top up. Yet as I was still feeling pretty good, I decided to keep going and had a brief ride with George who had been suffering from puncture issues from the off. Succumbing to the never-ending Surrey sandpit, I took a momentary sit down, took in the view and finished off the remains of my stowed burrito.
Riding solo through the lanes and woodlands leading to the South Downs I swung by the Lodsworth Larder for my first real break and an opportunity for a refuel, as well as having a delightful chat with the locals. Full of baked goods and stoked on sugar, the Downs came calling. Apart from a brutally steep, rocky climb, peppered with fallen trees, things were going pretty well, distance and lack of sleep considered.
My flagging energy levels were topped up when opening the 10,000th gate of the ride, Adrian O'Sullivan of the Transatlantic Way fame greeted me with a beaming smile and a tonne of posi vibes – just the encouragement that helped to spur me on as the never-ending South Downs continued.
Then it happened. Not with a bang. Not with a pop. But a gradual physical and mental shutdown whereby after another couple of hours, I couldn't get my brain to tell my legs to ride up anything steep. A bit of a problematic scenario given the route ahead, which required you to finish the South Downs, and then rejoin the North Downs after a short respite. We may be down South, but that's a pretty chunky route by anyone's standards!
Attempting to have a nap after 170 miles and over 22 hours of riding did not go to plan. The wind had picked up and was howling and my sweat was soon making me cold. Phillippa Battye greeted me as I looked up to see her making short work of the climb ahead. After having some words with myself and revelling in the joy of removing my shoes (note to self: stiff shoes are not so great for extended hike-a-bikes), I pressed on, taking a detour to a petrol station. Sat on the forecourt, looking slightly dishevelled, Craig and Chris rolled in. A knowing wave and the guys came over and assured me they were at a similar level of depletion.
Friday – 5:30pm
Craig, Chris and I rode together into the night and howling winds, and I was very glad for their companionship and local knowledge after so long riding solo in a dark hole of most of the day. The downside was, these guys were faster than me and I was holding them up, but we soldiered on together to a pub, which had stopped serving food some 30 minutes beforehand (cue massive guilt on my part for our late arrival).
But this was not my first rodeo and within 15 minutes I had secured a takeaway curry to be delivered to the pub and after a few pints in the warm we were back to top form. We decided to tackle the next portion of the course, which consisted of two of the longest and most technical climbs of the route. Fuelled by curry and beer, we made quick work of the climbs and descended down to the Cuckoo Trail; a flat, old railway line which gave some much needed respite!
Saturday – 2am
I'd be riding for 32 hours, covering 220 miles when we took shelter in a local park to sleep. This was not the plan, but it seemed to be working out pretty well, all things considered.
Saturday – 6am
Up and out early, we soldiered on with a healthy serving of road riding giving some respite. The odd bridleway and farm track peppered the route before coming back to the North Downs. At this point, I was in tatters. My right knee was in pain, something that I don't usually suffer from, and the extended time in the saddle did not make for a happy backside! I urged the guys to continue without me on more than one occasion but all that came back was "We've come this far together, we're finishing together"!
Saturday 3:15pm
So much for finishing within three days, I'd managed it within two, (with more than a little help from my riding companions), coming in at a time of 45 hours and 15 minutes. Not bad for a first race, but there was sure a lot to take in and improve on for the next time. If you're curious, the winner, Neil Lauder completed the route in 29 and a half hours. Which, frankly, is something I'm still yet to get my head around after a week has passed.
On reflection
Bike, tyre and kit choices were, for the most part, solid. I ran my Specialized Diverge (with its FutureShock system keeping hand fatigue at bay) with 700×42 Rhombus tyres , which are a pretty aggressive tread pattern and well suited to the rocky Downs (set up tubeless, naturally). The only real change from my everyday setup was , dropping the front ring of my 1x GRX setup down to a 38 by way of a Wolf Tooth Dropstop chainring, matched to the 11-42 at the rear.
As mentioned, my stiff S-Works Recon shoes might be the one for all-out gravel-racing speed, but their soles took their toll on my feet with the multiple sections of hike-a-bike. In future I'd drop down to the non-S-Works version of the Recon to take advantage of the flexible soles and gripper tread pattern.
Sleep choices and food choices… yeah, I might need some work on those.
If you fancy taking on your very own Escapade then this exact event is already on the calendar for April 2021 and I would very much encourage you to take the plunge. You're never far from civilisation, whether that's a food stop or a bail-out opportunity, so round up your mates, treat it like a long weekend of bikepacking and see how you get on!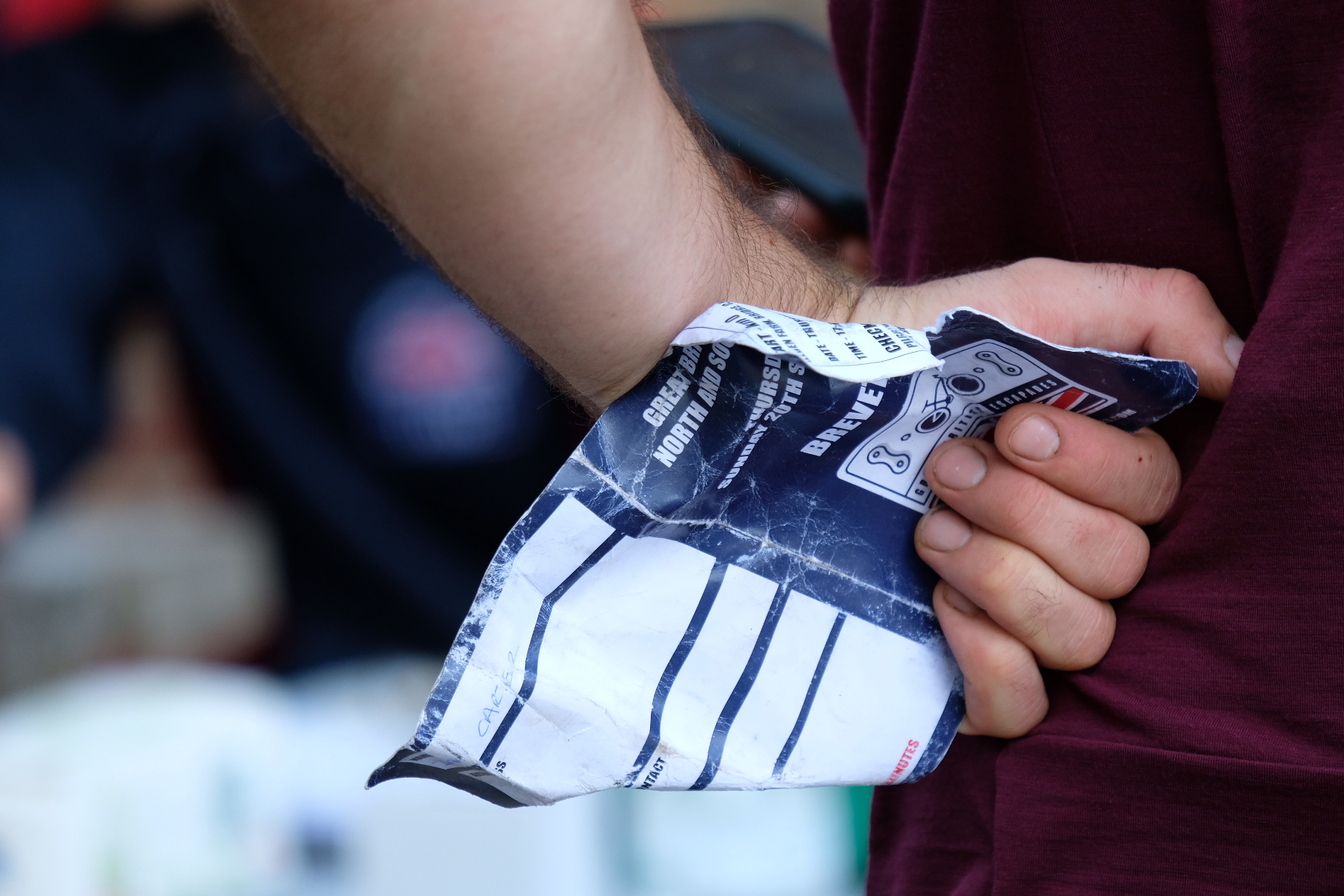 Last modified: 8th October 2020