2020 has been rather different for pro MTB photographer Samantha Saskia Dugon, with her normal schedule of a summer on the World Cup circuit with her dog Trigger totally rewritten. All was not lost though, as some summer months back at home in the Brecon Beacons of Wales turned out to be a marvellous change. 
We caught up with Sam during the AUTMNL ADVNTR challenge to chat about her changing perspective on the seasons, and why autumn might just be her new favourite time of year.
Before this year, I'd never really thought about autumn as a season, I guess. Usually I'd just come home after a full season in Europe and I wouldn't have had any summer in the UK, and think, here we go, back to dampness, and I'd forget that the UK has anything else. It can actually be dry. But I think this year when I was away for just part of the summer, I was quite a bit more homesick than I usually would be, so coming home to that was literally insane.
I was actually thinking this an hour ago as I was driving to the post office, thinking I actually fucking love autumn, I genuinely think it's the nicest season of the year. It's just the colours are just absolutely insane. I think we've had a really good one this year, so yeah… before this year I hadn't really thought much about autumn as a season, but right now I think it's beautiful for everything. For riding, for photographing, for just being outside. I love the unpredictability of it, you can wake up and all of a sudden you look out the window and there's a cloud inversion with blue skies above and you're like, shit, I need to get outside.
View this post on Instagram
Where have you seen your best autumnscapes this year?
I got back from Europe about three weeks ago, I was in Italy for a little bit and that ended up being a bit more of a winterscape as it snowed, some of the colours there were quite insane. But in terms of the most impressive autumnal scenes that I've seen, it would probably be at home. I've just really been enjoying being at home, I've never had an autumn at home and I've just moved up to Brecon too.
Some of the sunsets have been mental. I think I'd just say the local colours. When I drove back from Europe and got back to Brecon, I remember seeing this insanely red tree and just being like, shit! This is gonna be good. General autumn in the Beacons has been the best views I've seen this season.
View this post on Instagram
Sam's top tips for autumnal photography
I'd just say, when that nice light comes out, if you can, just drop everything and go out. Just photograph everything, that's what I enjoy doing. If there's nice light, I'm just gonna be outside.
If there's somebody that I can ride with and shoot then that's great, but obviously at the moment with restrictions that's a little bit harder, so I've just been photographing a lot of landscapes and forests and Trigger is always a great model! Just make the most of the autumnal light. It's just so… summer light and winter light can so often be so harsh, but autumn light just seems to be so soft all the time.
Just get out. When you see the light, go outside.
View this post on Instagram
Who do you look to for inspiration and admire for their photography?
So the photographer that got me into mountain bike photography is a guy called Laurence Crossman-Emms, his work still astounds me, I just think he work is beautiful. Every time he puts up a new photo and I start to feel like I'm going somewhere and then he puts up something new and I'm like, no I'm not!
Non-bike related photographers, I'd say there's a motorsports photographer called Amy Shore. Oh my God, if you haven't seen her work then go and do it, right now. She captures this feeling of adventure and road trips so well. Her shots from inside the car still have that feeling of outdoor adventure and documentary.
I mean, I could list of photographers all day long!
Feeling inspired?
You've got until October 31st to get snapping and enter our AUTMNL ADVNTR photography challenge, by uploading your riding pics to Instagram and tagging #ADVNTR. Samantha is one of the judges and will be joined by Dan Monaghan and Chris Hunter from ARAF.cc to pick the winners, and we've got some really ace prizes up for grabs too.
For the full details and T&C's head to our AUTMNL ADVNTR page here.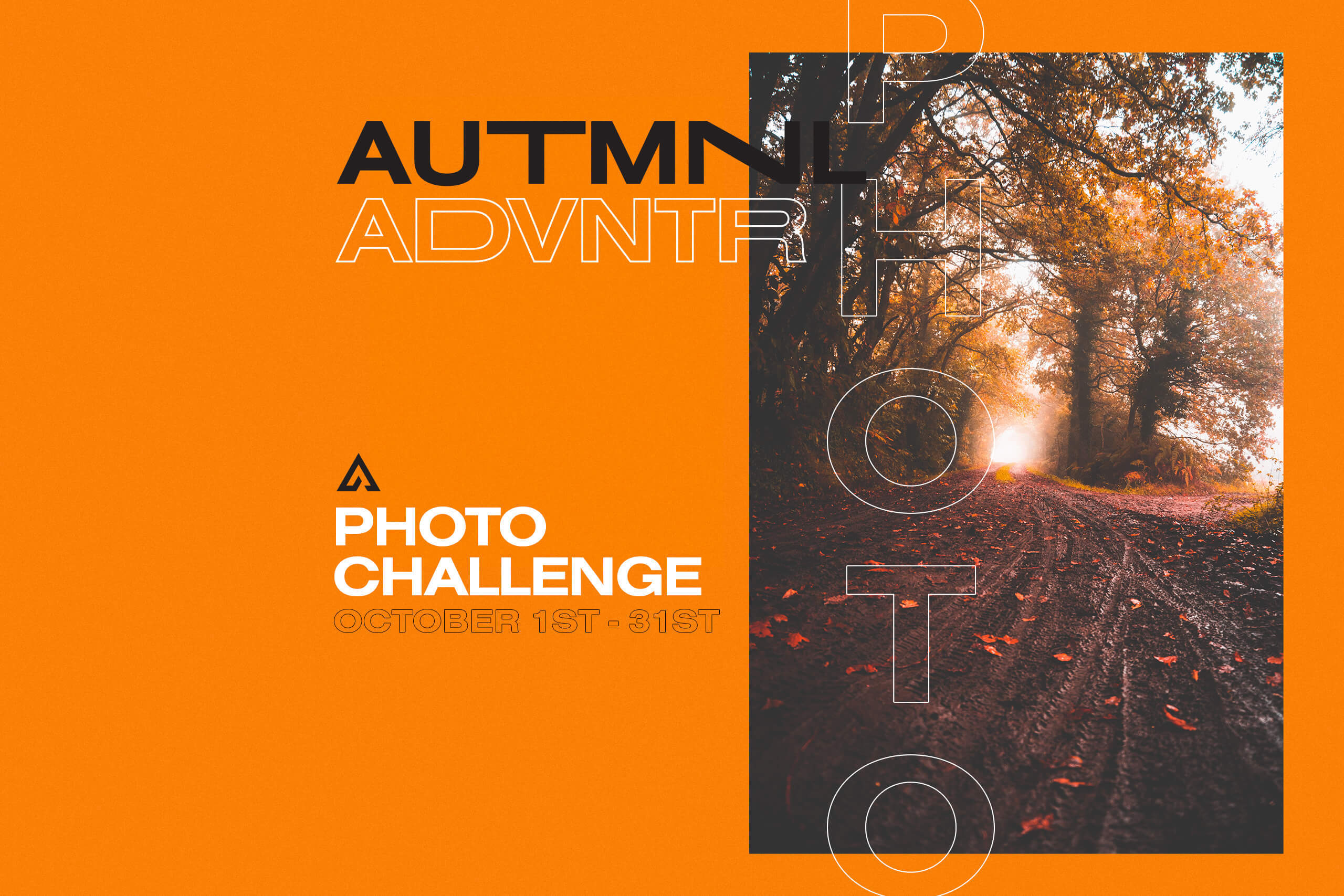 Last modified: 28th October 2020