Bib shorts and Chamois' are all a matter of fit, form and function, but whatever your size and preference the shorts themselves need to be able to stand upto whatever is thrown at them, and Steezy Collective Co-Founder Taylor Doyle went in hard to see that the Pearl Izumi Womens Expedition Bib shorts got a thorough testing.
I've actually always had Pearl Izumi chamois shorts. They were my first chamois experience a few years ago now, purchased from MEC back in Ontario when I was first getting into cycle touring, and I've sort of just stuck with them. So I was pretty pumped to try PI's fairly new Women's Expedition Bib Shorts with cargo capabilities. I've been riding the heck out of these shorts since March 2021.
They've been on various gravel and MTB day rides around Swinley Forest, on some choice off-road bikepacking routes including Bikepacking.com's Purbeck Bimble, group 'Neveresting' Mam Nick with Steezy Collective in the Peaks, ordinary solo road rides in the Surrey Hills and London – Dungeness, mountain bike route testing in Dartmoor with Brother Cycles, a Steezy London – Bristol gravel getaway, Rapha's new 500km off-road Pennine Rally event, and my first ultra distance race, the Pan Celtic Race. I'd like to think that I've put these shorts through their paces, and I'm honestly surprised that they are still in one piece.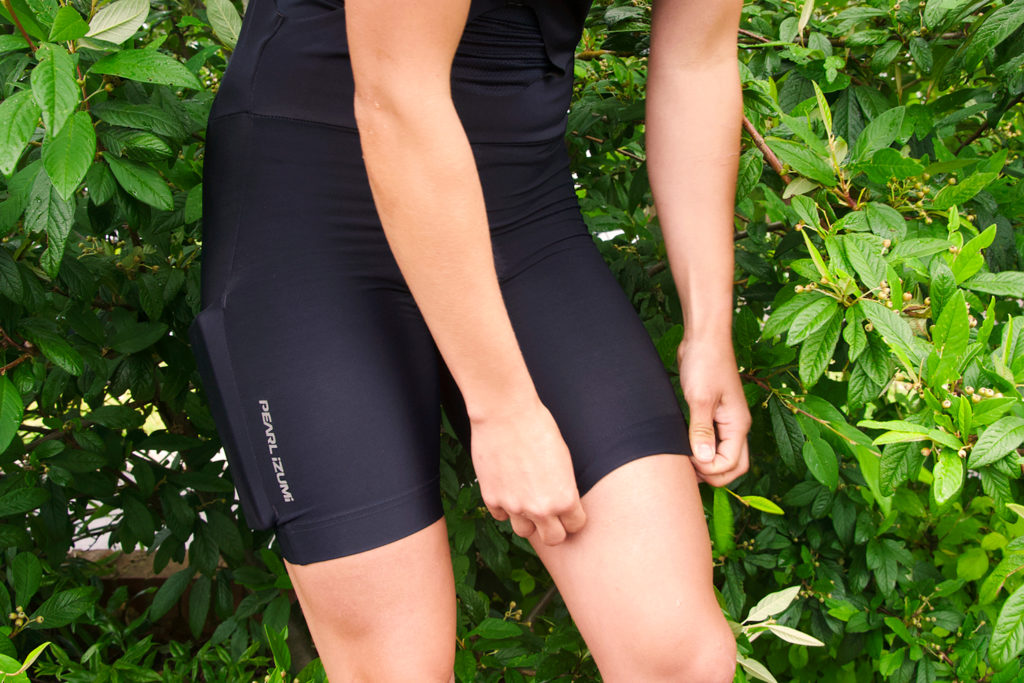 On test.
According to Pearl Izumi's website, the Women's Expedition shorts are made with 'compressive ELITE Transfer fabric made with recycled content'. Pearl Izumi offer 3 different performance levels with their apparel: Select, Elite, and Pro, so these shorts fall right in the middle and are described as 'created to go the distance', which seemed like a good fit for the kind of riding that I do. I looked into Pearl Izumi's recycled fabrics and sustainability initiatives to find out what 'made with recycled content' meant, and found that they promised that by 2020, 30% of their product line would be made from recycled, renewable, or organic materials, and that by 2022, their goal is 90%. It wasn't until I thought to look at the inner tag that I found the answer for these specific shorts which is that the bottom panel consists of 80% recycled nylon and 20% elastane, and the top panel is made with 35% recycled polyester, 34% recycled nylon, and 31% elastane. I always wish that these details were more readily available before investing in any product.
These shorts were designed by a woman which is really cool. They come in sizes XS-XXL and feature two large pockets on each outer thigh. These pockets are in a nice and low position so that they don't interfere with whatever you decide to wear up top. They have a super stretchy, yet supportive panel just above the bum at the back so that you can have easy breezy 'nature breaks' which is seriously awesome. I usually just have to choose between bibs or regular chamois shorts before multi-day or long rides, each time cursing the decision for bibs on cold or wet rides when nature calls, so these are a welcomed option. I was worried about the integrity of the back panel being so stretchy, but I still feel surprisingly secure in them even after yanking them down behind trees multiple times a day (remember, I did my first ultra in them so this was called for!).


The Fit

I have been very pleased with the fit of the shorts in general.. They are comfortable and close-fitting, which I prefer in chamois shorts. It wasn't until semi-recently that I discovered I had been wearing cycling shorts one size too big, resulting in saddle sores. Sizing down was really helpful in preventing saddle sores for me. I enjoy wearing these shorts on their own, as well as underneath looser trail shorts or even jean shorts. They have an effective silicon grip print at the bottom to prevent them riding up and the shoulder straps are comfortable. I will say that I think they are made to sit flat against the skin but that they definitely do not on me. They curl up a little bit, I don't mind this, but those who do or those who wear more tight-to-the-skin performance jerseys or the like may find this annoying.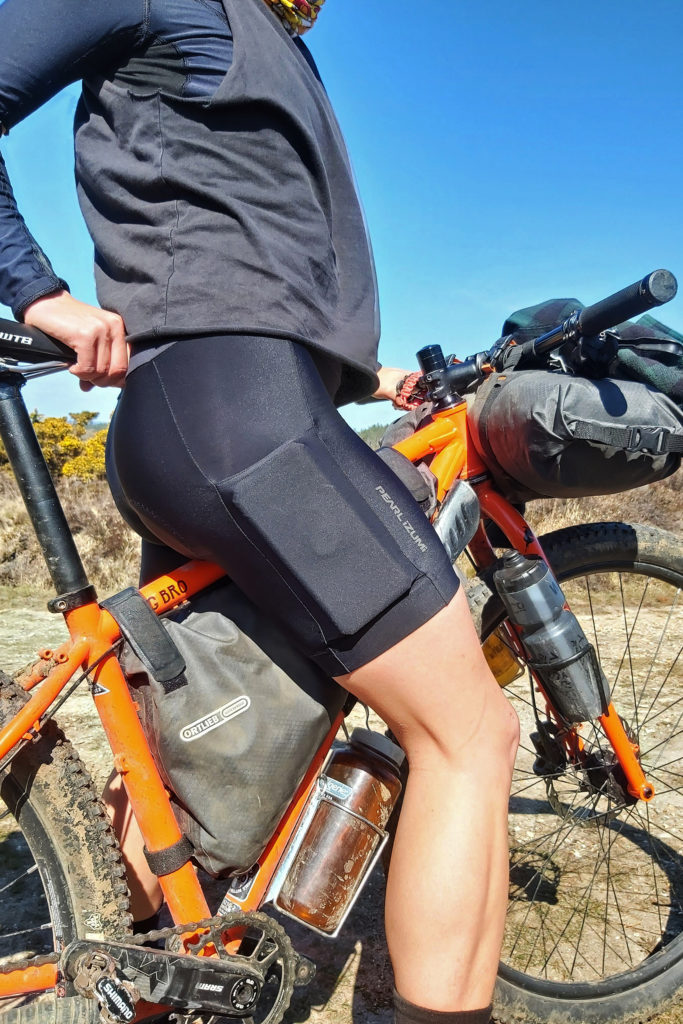 This was the first time I'd had the capacity to carry a substantial amount of goods via my bib shorts. I found them helpful for surplus snack purchases when my other bags were at capacity. Each pocket can hold at least 4 regular sized snickers bars, though this might be slightly unwieldy, it is nice to know. Each pocket can also hold, from experience, a bottle of 'innocent' brand smoothie drink or a regular sized can of anything, but more comfortably fitting a slim can such as Red Bull. The obvious and most convenient thing was carrying my phone. I was honestly really happy with how accessible my phone was in the pocket especially during the Pan Celtic when I was communicating on the go or double checking amenities and routes etc. The amount of times I've dropped my phone while fumbling with slipping it back into a framepack or handlebar bag is many. The only down-side to the phone in the pocket is condensation, so I had to be sure to have it screen-side-out. Okay I lied, there is another downside, which I tragically discovered while attempting to cross a river on my first solo bivvy out in Cornwall back in April. I totally slipped and fell over with my fully-loaded bike in the middle of the river for a brief moment of panic (I was fine), but it wasn't until I finished my foolish crossing that I realised my phone had been smashed against a rock when I slipped. I see this as completely my own fault, but it is worth noting, especially for off-roading, that items in the pockets could be at risk should a tumble occur. After this I resolved to only use the pocket as phone storage for road and tame gravel riding.
Chamois.
I feel like giving a review on a chamois is like giving a review of a saddle in some ways. Everybody's butt is different, and a chamois is an individual choice. That being said, I'll give you my personal experience. I found these shorts really comfortable for day rides and short multi-day excursions. I will continue to wear them after this review, especially for off road bikepacking. I took these shorts on the Pan Celtic Race as my only bibs and one of 3 pairs of chamois shorts for what I had planned to be a 10 day race. On the second day of the race we had relentless rain, and I rode in them wet for about 16 hours straight. This inevitably brought chafing and discomfort and by the end of the day it was pretty excruciating. I think this could have happened with any chamois I rode that day, but I couldn't wear them for a couple days after that as their specific shape had become offensive to my bottom. For extreme ultra distance racing, I discovered that I much prefer a more tapered edge to my chamois, and found the Pearl Izumi one to have too harsh of an edge all the way around, so much so that it was actually the edge of the chamois cutting into my skin. That being said, most people aren't riding for 16+ hours a day for multiple days in a row, sleeping in a bivvy and not showering much. I actually ended up having to go chamois-less on the final day anyways. These shorts are still the ones I reach for 80% of the time, and are perfect for what I am usually up to.
Longevity.
I am impressed with how little these shorts have worn out over 5 months of rigorous use. There is some slight pilling between the legs, but nothing more than that. They seem to have a good bit of life left in them, and still appear relatively new and bouncy. I've found that they wash and dry really well, and so far, never hold onto smell after a wash, even after being forgotten in a drybag for a day or two after a wild swim (yum).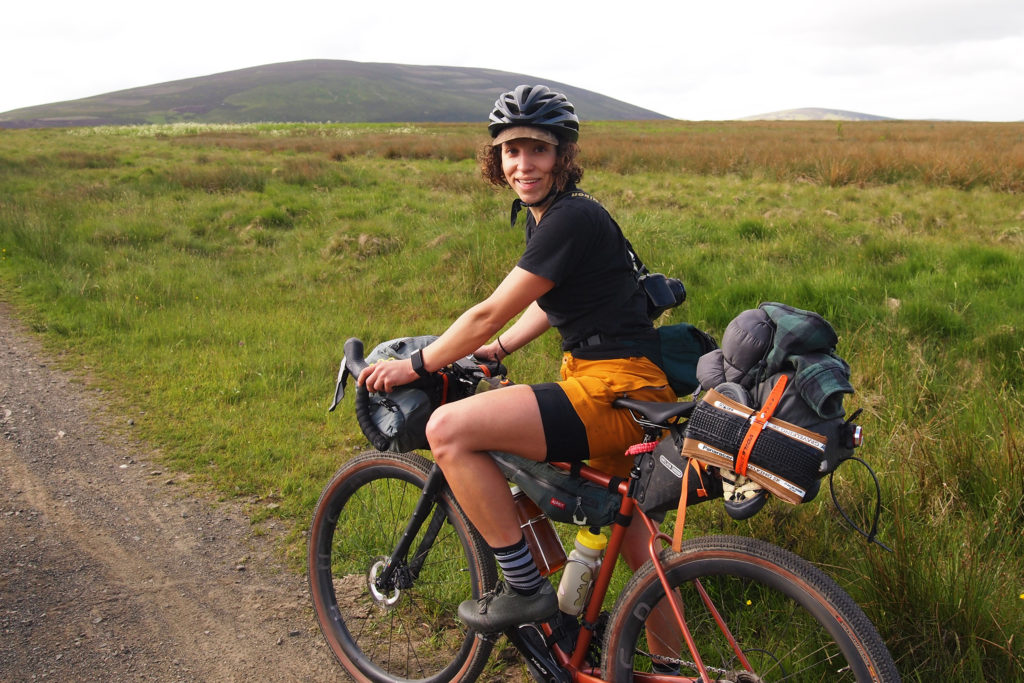 Aesthetics.
These shorts are pretty neutral looking and go with anything. Again, I like using them on their own or as a base chamois. I am a fan of the length, and would say that they are slightly on the shorter side, but not too short. There is minimal branding on these shorts, just two small reflective Pearl Izumi logos that are smaller than ones on other models that I've had. 
The verdict.
I would and already have recommended these shorts to women looking for good bibs. Beyond the exciting feature of pockets, they are just great quality bib shorts. Upon comparing prices with other similar cargo bib shorts, these definitely come up on the more expensive side of things, so for that, they get some points off. They are applauded by me for being designed by a woman (yay! More of that please) and for their handy 'drop tail' feature for convenient nature breaks, which functions wonderfully.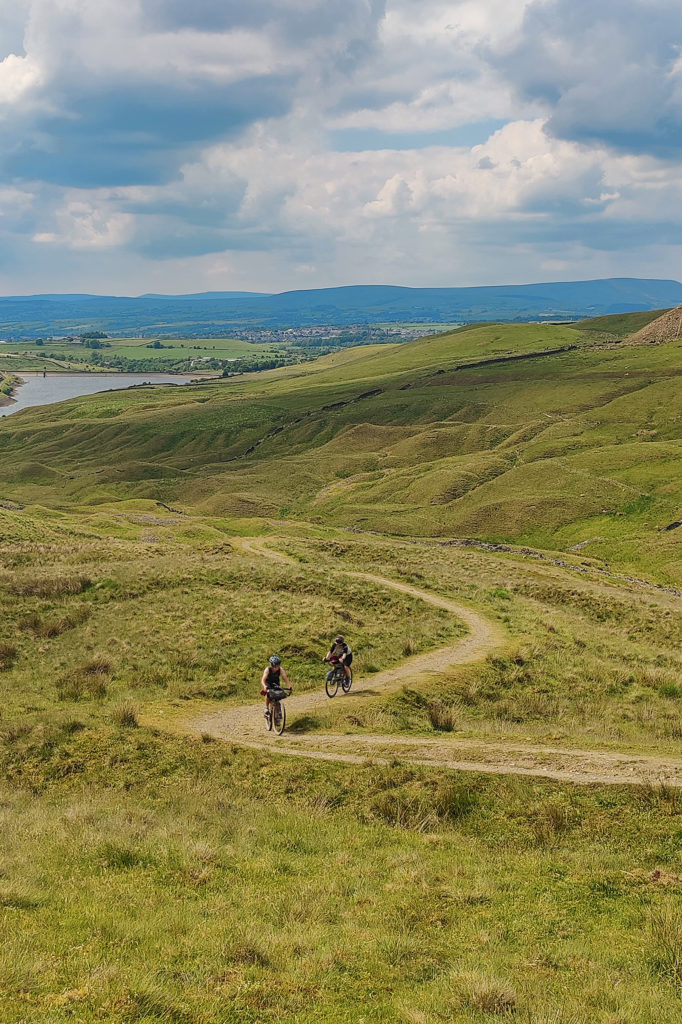 Womens Expedition Bib Short
£119.99
I would and already have recommended these shorts to women looking for good bibs. Beyond the exciting feature of pockets, they are just great quality bib shorts.
8.0/10
Pros
Perfect for surplus snack storage
Handy drop tail feature for nature breaks
Subtle branding and neat features
Last modified: 18th August 2021